A collection of 20 items to keep in your car, what are the useful items for an emergency or winter drive?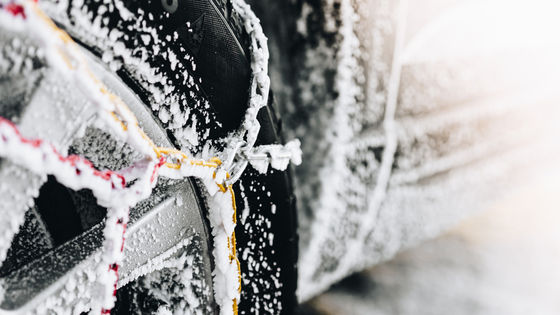 Even if you know that you should prepare for the coming winter or an emergency while driving, many people are left untouched because they don't know what to load. The Art of Manliness (AoM), a blog that deals with useful information on daily life, summarizes the items that every driver should have in their car.

What Every Man Should Keep in His Car: The Complete Guide | The Art of Manliness
https://www.artofmanliness.com/articles/complete-guide-every-man-keep-car/

AoM says, 'Being prepared for maintenance needs or sudden snowstorms not only saves you inconvenience, but can sometimes save your life.' Pointed out. The items that should be loaded in the car are summarized in 15 items that you want to prepare in any area and season, and 5 items that are especially convenient in cold areas and winter.

◆ 01: Paper map
The car navigation system of a car and the navigation function of Google Maps are convenient, but if the service becomes unavailable due to some reason, you may not know the way. AoM says, 'It's a good idea to have a paper map handy in case something goes wrong.'

◆ 02: Preserved food
If your car gets stuck, you'll need to call a tow truck or ask for help at the nearest gas station, but depending on the location and circumstances, it can take hours to get help. Therefore, if you have preserved foods that can be stored in the trunk of your car, such as snack foods and commercially available MRE (Ration), you will not have to worry about food in case of emergency.

Amazon.co.jp: MRE US Army Combat Food: Hobby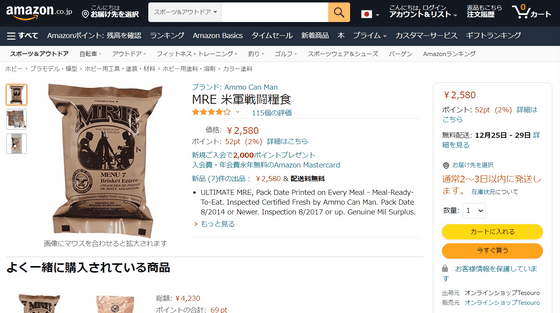 ◆ 03: Drinking water
Keeping water in addition to the above preserved foods is useful not only in an emergency but also when you run out of drinks during leisure.

◆ 04: Mobile terminal charger and spare battery
Mobile devices such as smartphones are useful for emergency contact and information gathering, but they are not useful if the battery runs out. Therefore, it is safe to have a charger and a spare battery. A mobile battery can also be used, but it would be useful to have a car charger that can be powered from a cigar socket.

◆ 05: Emergency escape hammer
In the event of a traffic accident or an emergency such as a car falling off the road, the car door may not open and you may be trapped inside the car. In such a case, if you have a hammer that can break the window glass within reach, you can escape from the car in an emergency.

◆ 06: Flashlight
Keeping the flashlight in the car is useful when you need to maintain your car at night or in a dark place.

◆ 07: Portable air compressor
According to AoM, even if a tire leaks air, unless it is completely punctured, it is possible to replenish the air with an air compressor and keep it until you go to a repair shop. Also, if you have an air compressor that can adjust the air pressure, you don't have to pay to have the tires inflated at the gas station.

◆ 08: Washer liquid
If the washer fluid runs out when the road conditions are bad and the windshield gets dirty while driving, you will often get out of the car and wipe the windshield. AoM strongly recommended the preparation of a spare washer fluid, stating that 'not so much is as essential as washer fluid.'

◆ 09: Roadside flare
In Japan, it is legally required to equip a car with a flare, so when you stop on the shoulder due to trouble, you basically use the flare. Apart from that, if there is a warning light 'Roadside Flare' that can be installed on the side of the road or attached to the car body with a magnet, it is possible to more safely inform the existence of the accident vehicle.

Amazon | Vancle LED Warning Light Emergency Signal Light Road Flare Roadside Safety Light Emergency Flashing Signal Light Intense Flash Emergency Lamp for Cars SOS Rescue Flashlight With Magnetic Base and Hook With Dedicated Storage Bag (Excluding Batteries) (4) | Cars & Bikes | Cars &bike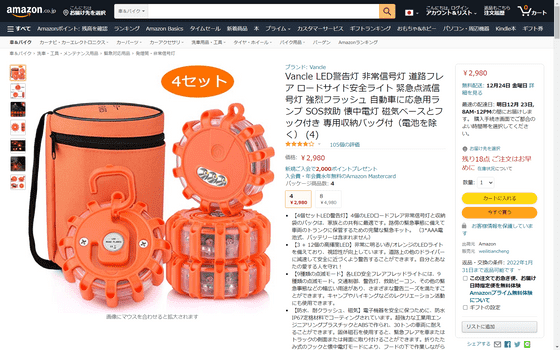 ◆ 10: Booster cable
It is safe to have a booster cable in case the battery runs out and the engine does not start, such as when you inadvertently leave the car's room light on.

There is also a mobile battery that allows you to jump start a car by itself without a rescue car.

I tried using the mobile battery 'Anker Roav Jump Starter Pro' that can jump start a car and charge a smartphone with a large capacity current --GIGAZINE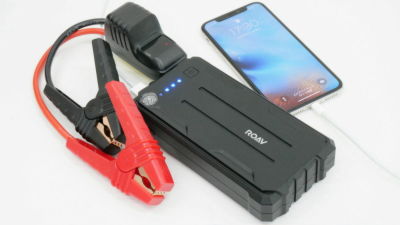 ◆ 11: Tow rope
A towing rope is a rope that connects cars to each other so that a rescue vehicle can tow a broken down vehicle. With a tow rope, you can move your car if it breaks down or if you get stuck in the sand or snow.

◆ 12: First aid kit
The first aid kit is useful not only in traffic accidents but also in case of injury due to some trouble.

◆ 13: Blanket
If you have a blanket, you can use it to protect your body from the cold, such as when staying in the car. A regular blanket is fine, but it's bulky, so a compact, space-saving emergency blanket is also an option.

◆ 14: Fire extinguisher for vehicles
AoM says, 'Vehicle fires are especially dangerous because cars are loaded with flammable fuel. Therefore, prepare a fire extinguisher that can handle fires not only in your own car but also in other cars. Let's do it. ' In particular, in- vehicle fire extinguishers are useful because they are made to extinguish fires peculiar to automobiles such as fires caused by gasoline and oil.

◆ 15: Shovel
If your tires get stuck in the snow, you can get out of the stalemate by shoveling the snow or sprinkling soil under the tires for more traction . Ordinary shovels with long handles take up space, but some shovels can be folded compactly.

Amazon | COFIT Up to 110cm Snow Shovel In-vehicle scoop Length adjustable Aluminum alloy 4-stage structure Snow shovel camping Gardening Outdoor (black) | COFIT | Sports & Outdoors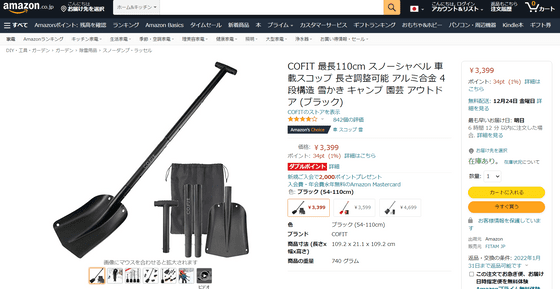 Below are some items that AoM recommends for drivers, especially those who drive cars in winter and those in snowy areas.

◆ 16: Cat sand
Even if you try to dig snow with a shovel as described above, you cannot dig if the snow is deeply piled up or hardened like ice. In such a case, using cat sand is convenient because it can increase traction instead of soil.

◆ 17: Candles with multiple cores, matches and lighters
AoM says, 'Blankets may not be enough, especially in cold places. Candles with only one core do not warm enough, but candles with multiple cores can be warmed up by holding your hand for quite a long time. You can keep the inside of the car warm. '

◆ 18: Ice scraper
Even if you don't live in an area with heavy snowfall, many drivers may have come across a situation where the windshield is covered with ice when trying to get in the car early in the winter morning. You can melt the ice by sprinkling water or using a defroster , but it's easier to remove the windshield ice with a dedicated ice scraper.

◆ 19: Hat and gloves
In addition to the blanket, it is more comfortable to have a winter hat and gloves.

◆ 20: Tire chains
Tire chains are an essential item for drivers in areas where it snows a lot. Even if you don't live in a snowy area, you may need chains suddenly, such as when you come across chain restrictions on the highway.

in Ride, Posted by log1l_ks