'Daigakuimo Frappuccino' with a rich sweetness that is a blend of Daigakuimo from Starbucks has appeared, so I drank it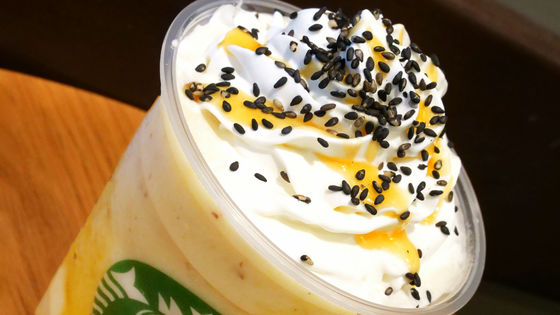 It has appeared from Billed as 'like' Frappuccino, such as taste the University of potato itself '', 'University of potato Frappuccino' is at Starbucks September 23, 2020 (water). I went to see what kind of taste the Japanese-flavored Daigaku-imo and Frappuccino had.

Introducing Frappuccino, which makes you feel as if you are enjoying Daigakuimo itself! A whole blend of 'Daigakuimo'! 'Daigakuimo Frappuccino', which allows you to fully enjoy the texture of autumn sweet potatoes, will be released on September 23 (Wednesday) | Starbucks Coffee Japan

https://www.starbucks.co.jp/press_release/pr2020-3597.php
Arrived at the Starbucks store.


At the store front, there was a banner of 'Daigakuimo Frappuccino' with a prominent yellow color.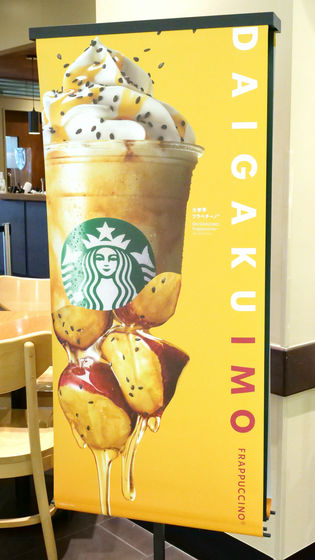 I ordered Daigakuimo Frappuccino at once.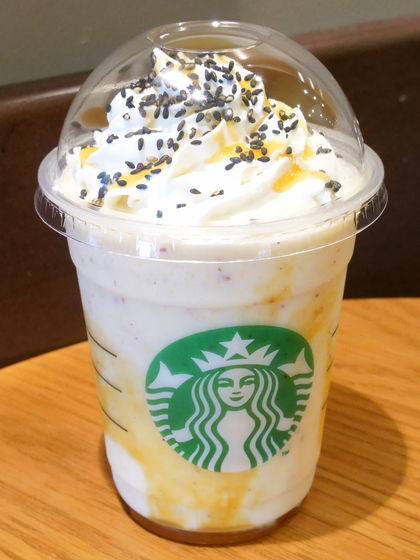 The size is only tall size, and the size is about this compared to the transportation IC card.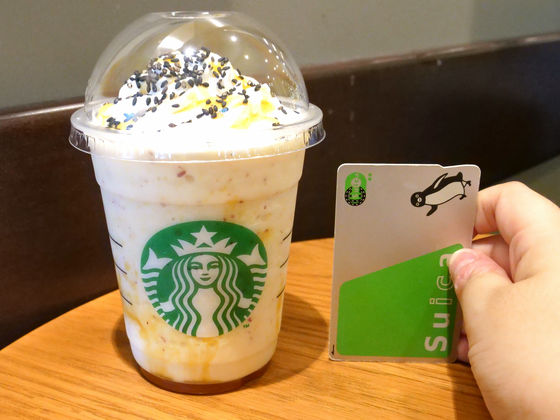 When I removed the cup, the whipped cream was topped with black sesame and sweet potato syrup.



The drink also contained sweet potato syrup, which had a marble pattern on the side of the cup and was also stored on the bottom of the cup. The purple lumps that can be seen here and there are the skins of Daigaku-imo, which contains one whole piece.



When I drank it, the honey of sweet potato syrup and the rich sweetness of Daigakuimo combined with the sweetness of mellow milk and whipped cream made it quite thick overall. Daigaku-imo is contained in the drink in the form of grains, and when chewed, it crumbles and the gentle sweetness of the sweet potato itself spreads in the mouth. Probably because it contains 'sweet potato syrup', if you drink only a drink, it tastes like sweet potato, but with the addition of black sesame flavor, it has a taste that is quite similar to Daigakuimo. Because it contains Daigakuimo, it will accumulate in your stomach, so it is a dish you want to drink when you are hungry.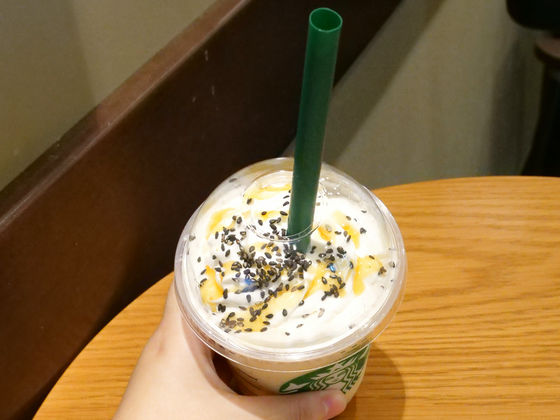 'Daigakuimo Frappuccino' can be purchased at Starbucks nationwide except for some stores for a limited time from September 23, 2020 (Wednesday) to October 31, 2020 (Saturday). The size is tall size only, the calories are (PDF file) 397kcal , and the price is 590 yen excluding tax.