I stayed at a cheap hotel in Korea with a hot spring mark like a love hotel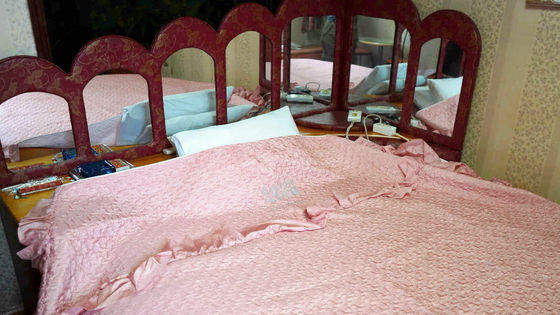 Even though it is near Busan Station where high-speed trains can also operate, it is a shocking price. Busan Metropolitan City, which is close to Kyushu, is the second largest city in Korea. Hotel of hot spring mark that was near Busan Station was very comfortable.

Hello,
Shufuji Takuya @ Charida man was around the world by bicycle
it is. I often stayed at love hotels during my trip. The same if you close your eyes. I'm not alone safety first. Speaking of cheap hotels in Korea, it was a room like a love hotel with a hot spring mark.
◆ Second Korea
In June 2019, when I was not affected by the new coronavirus, I traveled to Busan, South Korea for just a few days. Korea is the first overseas country after one round of the world. Although it was before the export restrictions to Korea, there is one thing I don't
like
about the second
visit as well as
the
first visit
. On the contrary, I didn't seem to be a foreigner. I was spoken in Korean. I can't speak Korean.
There were many things I wanted to do in the second Korea. One of them was to stay at a hotel in Onsen Mark. In Japan, the hot spring mark (♨) is used for hot springs and public baths. But it was a sign of accommodation in Korea. Moreover, it looks like a love hotel...
◆ Near Sakami Station
We stayed for one night near Sakami Station, which is a train and subway connection from the airport. I can't speak Korean at all, but I used gestures to check the price and check-out time. I was able to stay without any problems.
Corridor.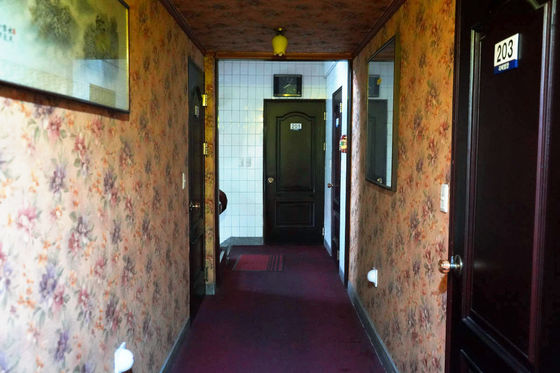 It was a room with a sense of life.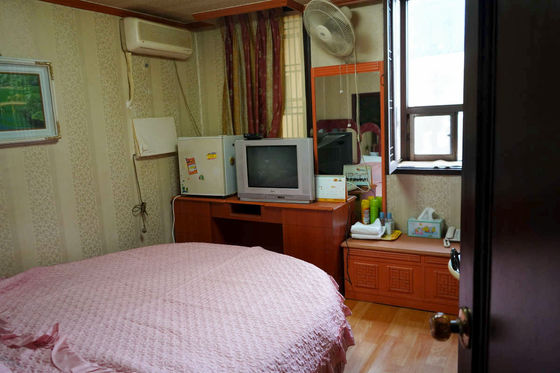 Even a single pink futon will be messy. What are the many mirrors lined up for?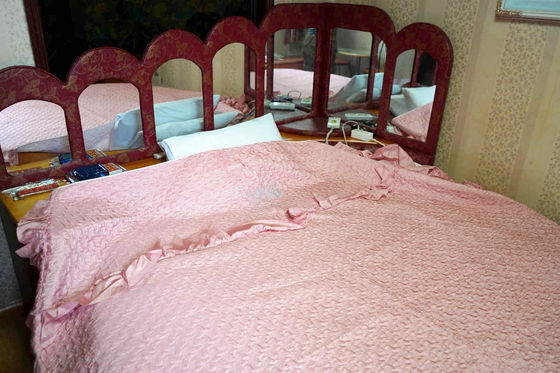 There was also an electric blanket and it was shiny.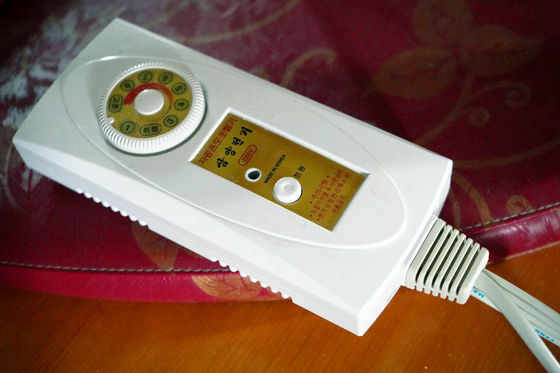 Amenity goods.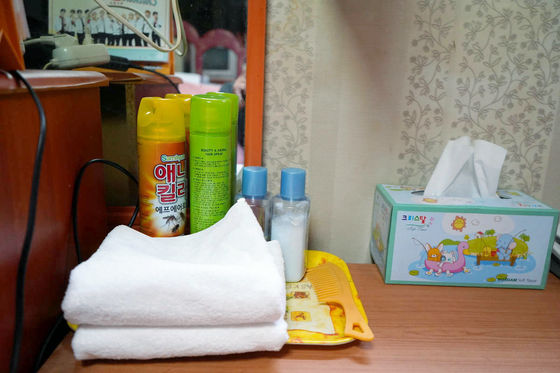 Table and chairs.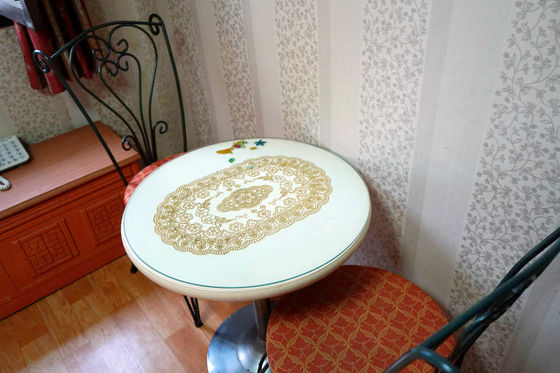 The heart symbol drawn on the lighting switch answered... I'm almost disappointed.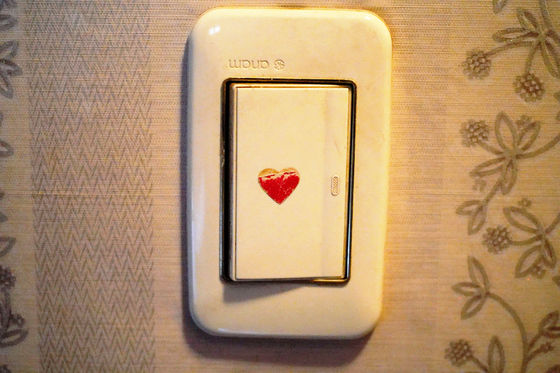 The toilet is also pink.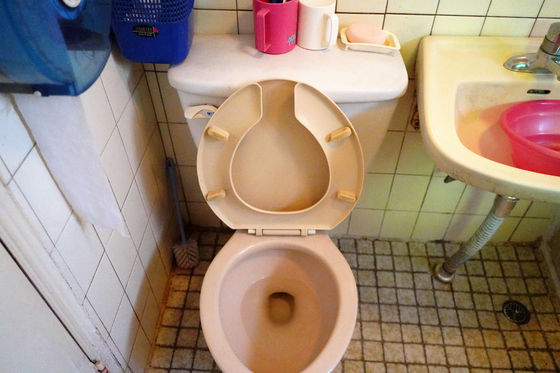 The bathtub was also pink. Discerning pink.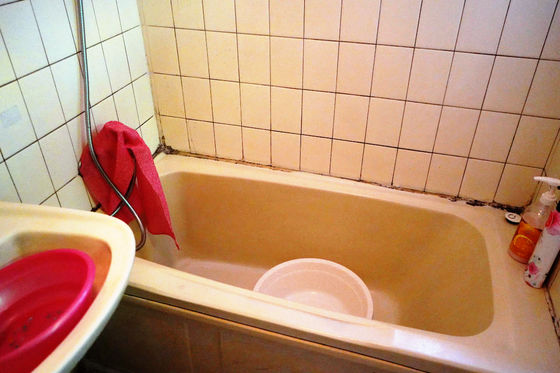 It was 25,000 won per night (about 2300 yen). It's a room with a lot of seasons, but I've become accustomed to it because of my poor travel. You cannot stop because you can feel that you are traveling by staying at a cheap hotel for locals who are not aware of tourists.

It was a big hotel with a hot spring mark. There was even a chimney.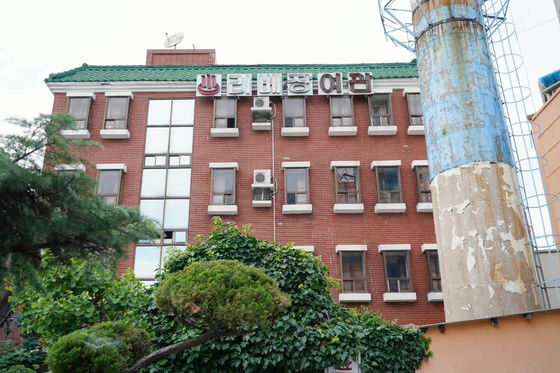 ◆ Near Busan Station
The next day, I stayed overnight near Busan station. There is Chinatown in front of the station, but it was also a Russian town. A place full of various characters such as Hangul, Kanji, Cyrillic, Latin (Roman). I had a cup of tea at a bar for Russians, and Russian sailors are coming. The lady in the store was fluent in Russian.

There was a hot spring hotel in front of Busan station.

Corridor.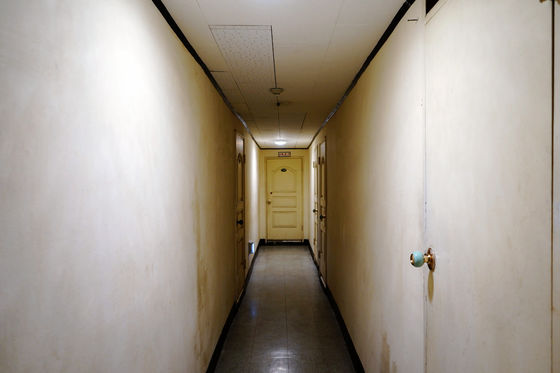 The bed was slightly larger for one person.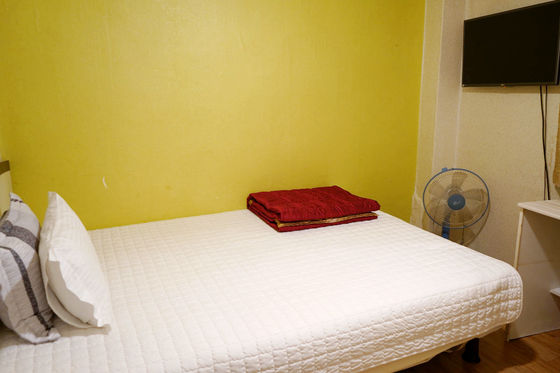 There are also two pillows. Two people can comfortably and comfortably stack two.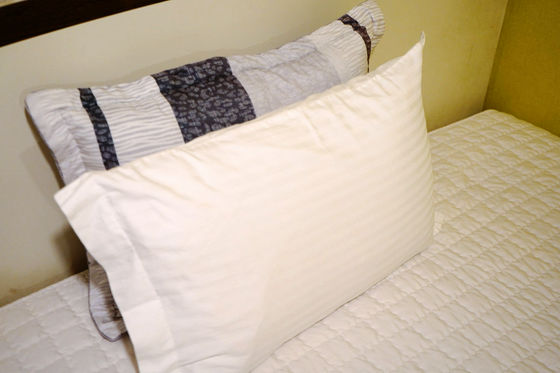 At the bedside is a tissue box, a limoncon and an ashtray.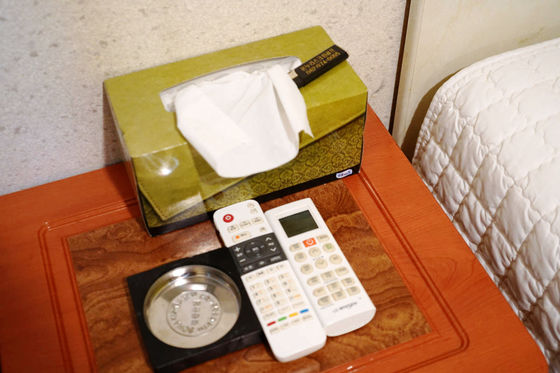 A desk like a vanity with a mirror.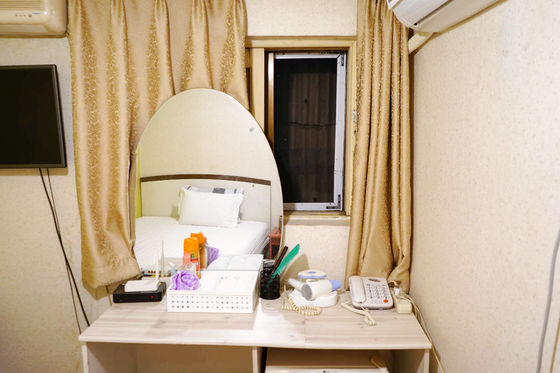 Amenity goods.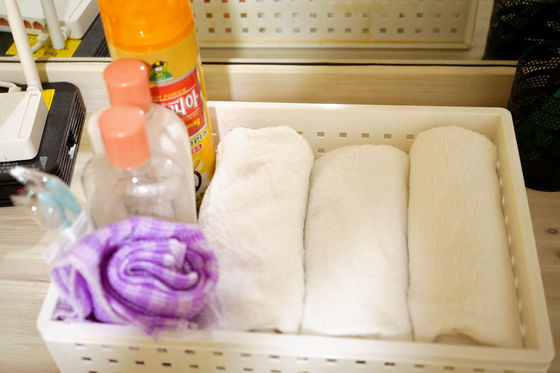 Is it a hairdryer and an extension phone?



A small refrigerator under the desk.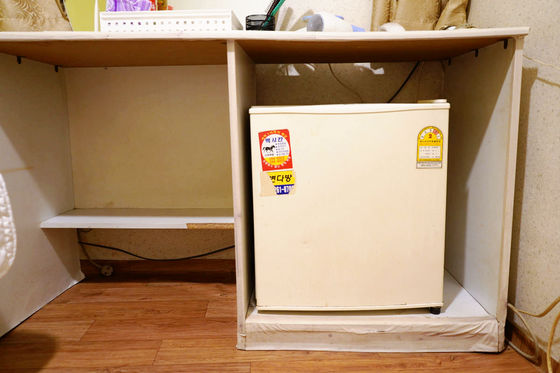 LCD TV and air conditioning.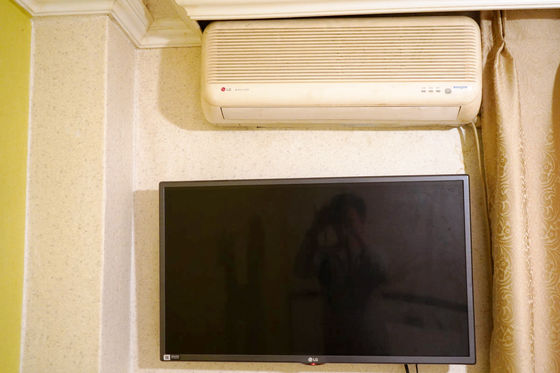 Bathtub.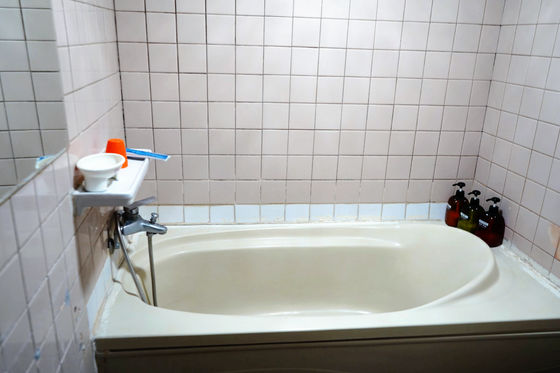 toilet.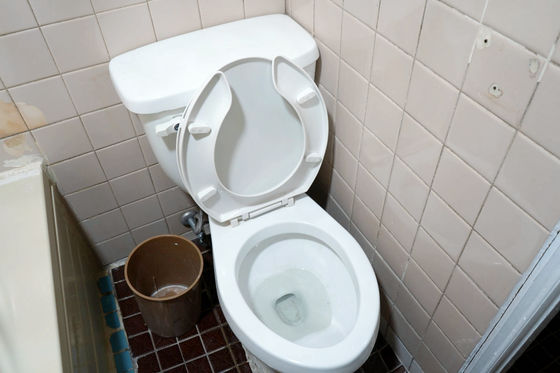 It was 20,000 won per night (about 1850 yen). Compared to the day before, the interior is calm. Not like a love hotel. Wi-Fi was usable in this hotel, too.

Reception at the end of the stairs. The auntie who was waiting on me gave me a big smile.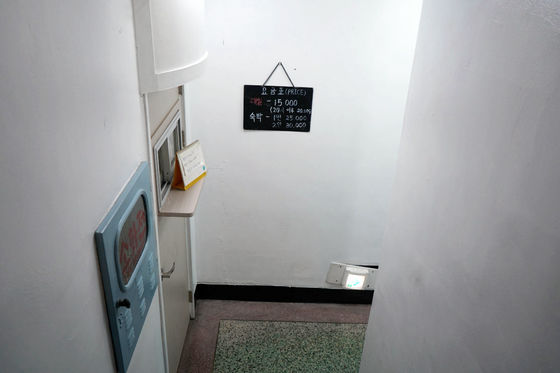 The price was also written. The deficit is 대실 (rental room, daesil), and the white is 숙박 (accommodation, sugbag), so it may be a love hotel like the rest and stay in Japan. However, since there is a notation of 1 인 (person) for accommodation, it seems that it is okay not to be a couple. The boundary between a love hotel and a general hotel is ambiguous, and it is written as 25,000 won for one person's stay, but it was said that '20,000 won for a cheap room'.



It was a hotel in this building. The hot spring mark, which is essential, is not shown, but when I looked up the name of the inn '미래장' on the Internet,
the sign of the hot spring mark
was hanging on the
building,
so the purpose was achieved.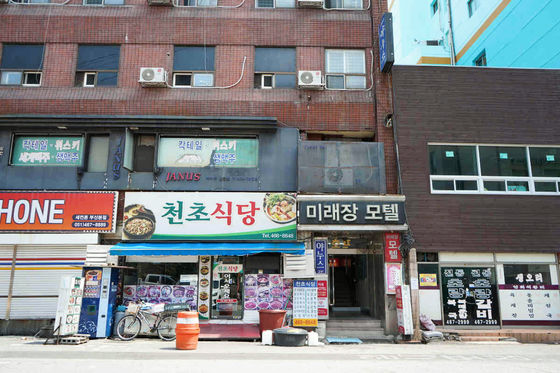 Both of the two cheap hotels I stayed at this time are like love hotels, but I could stay alone. The private room with toilet and shower is in the 2000 yen range, so the cost performance is the best. The refrigerator was also convenient.

◆Hot spring mark
Although it is a Japanese
hot spring mark, which
now has only the image of a bathing facility, it was once used as an ordinary inn. There was no problem with the hot spring mark at that time. However, the situation changed when the bring-in inn (love hotel) began to use the hot spring mark to improve the image. The hot spring mark will take on a sexual meaning. Ordinary inns hate the use of hot spring marks because they dislike sexual images. Also, the use of the hot spring mark is prohibited in the guesthouse. As a result, the Japanese hot spring mark loses the meaning of an inn.
South Korea used the same hot springs mark as Japan because Japan was in the age of rule. However, because there was no regulation like Japan, hot springs marks were used in Korea today regardless of inns, love hotels or bathing facilities. In fact, there are hot spring marks on the Korean sauna, Jjimjilbang. Also, it seems that
another hot spring mark
was created for a real hot spring.
Hotel of hot spring mark.


Similarly a motel.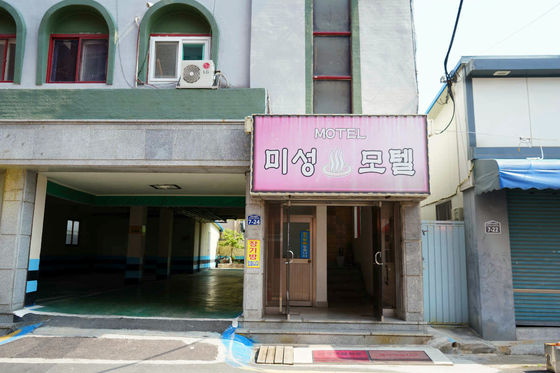 Busan station front like a hot spring town.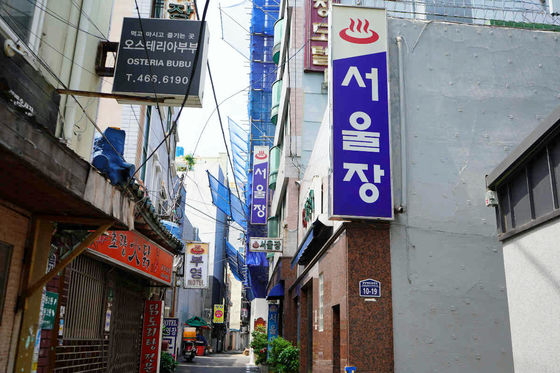 ◆In the first Korea
I stay in a love hotel-like room when I travel around Korea on a bicycle.

Busan room. It was 20,000 won (1650 yen) per night.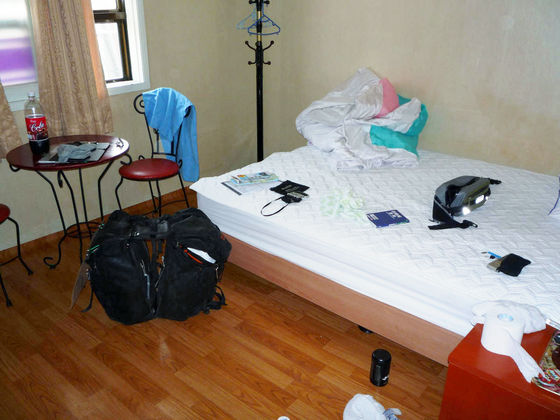 There is also an air conditioner and a refrigerator.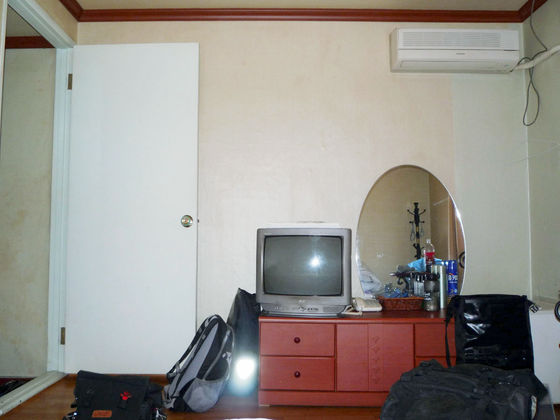 ]

The rooms at cheap hotels in somewhere were also pink.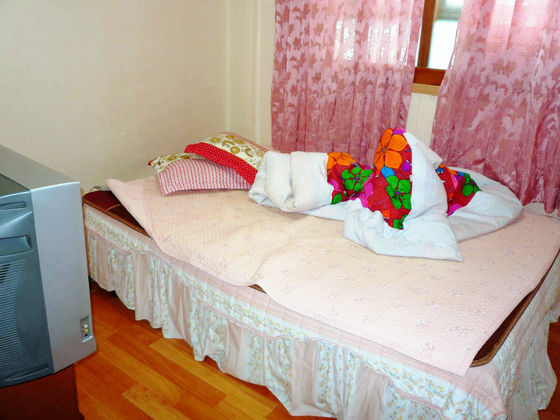 The building has a hot spring sign. It was a cheap lodging that was taught by the local police.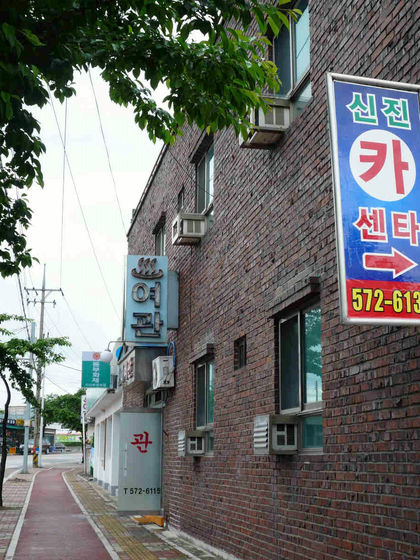 A love hotel in Korea for the first time in about 10 years. It's not growing...

Still, I was filled with overseas after a long absence. The hot spring mark hotel in Korea was something I wanted to introduce someday, so I finally hoped for it.

(Sentence/Photo: Takuya Suto @ Chariderman
Bicycle tour around the world http://shuutak.com
Twitter @shuutak
Facebook page https://www.facebook.com/chariderman/
Instagram https://www.instagram.com/shuto.takuya/
DMM lecture request https://kouenirai.dmm.com/speaker/takuya-shuto/ )

The electronic book 'Charider-Man Bicycle Traveling Man-Run the World', which describes the days of Charider-Man's round-the-world journey, is available for sale on Amazon in both upper and lower volume.




In addition, we are working to publish a paper book about the Bicycle World. Thank you for your support.