The 'Tutankhamen race' and 'Tutankhamen chair removal' using the Tutankhamen secretly added in the 'Atsume Animal Forest' appde are devised.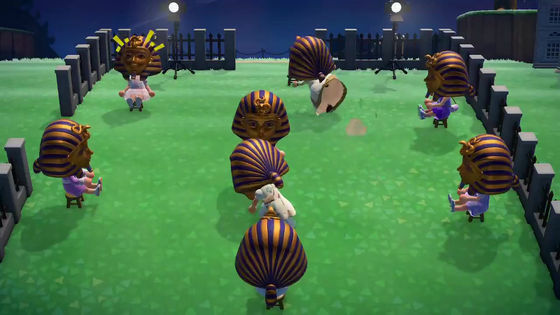 Two free summer updates for Atsume Animal Forest added new elements such as fireworks . Not only fireworks were added along with the update, but also a new DIY recipe ' Tutankhamen ' was added, but mini games played wearing this Tutankhamen are suddenly popular.

Animal Crossing: New Horizons fans are playing King Tut minigames-Polygon
https://www.polygon.com/2020/8/3/21352584/animal-crossing-new-horizons-acnh-king-tut-mask-race-musical-chairs-minigame-nintendo-switch

In the second summer free update, a 'fall' element has been added. This is because the player rarely falls when running around.

Be careful when running around your island with a balloon in Animal Crossing: New Horizons after the latest update... you never know when you might trip and fall! ???? #ACNH pic.twitter.com/GHZE6vwWqf

— Animal Crossing World ????️????️ (@ACWorldBlog) July 30, 2020


In addition, a new DIY recipe "Tutankhamen" has been added in the second free update for summer as well. The recipe seems to be inspirational at the moment when you get 'kinkoseki' which can be rarely obtained when you hit the rock in the game.

Wearing this Tutankhamen will greatly increase the probability of a player falling. How often you will fall is obvious at the following movie. The frequency of falls seems to be completely random.

THE KING TUT MASK IN ANIMAL CROSSING IS HAVING ME LAUGHING SO EARLY IN THE MORNING! #ACNH #AnimalCrossing #AnimalCrossingNewHorizons #animalcrossingupdate #animalcrossing pic.twitter.com/x8nMTMYw70

— ???? ???????????????????????????? | ᴏꜱᴀᴋɪ ???? (@kirneth) July 30, 2020


With the advent of a special item that makes it easier to fall, Atsumaru Animal Forest users are devising 'play with Tutankhamen'. Overseas game media Polygon wrote, 'If you put on a tutankhamun and add random elements, even a simple act of moving from one place to another will be very interesting.'

As for how you are actually playing, for example, the following users wear Tutankhamen and run on the beach. Since it falls completely randomly, the result of the race seems to be unlucky.

Won my first King Tut race! #AnimalCrossing #ACNH #NintendoSwitch pic.twitter.com/iKKPZDMGP9

— Aixa ???? (@illumi_x3) August 2, 2020


There are also people who are racing with a large number of people.

king tut race at alicante pic.twitter.com/2EGbv1QayO

— Jolele (@joreee_020) August 1, 2020


A person who tweeted, 'Because it was defeated in the Tutankhamen race, it was also a problem in Mario Kart and in the Animal Forest.'

last on mario kart, last on animal crossing ???????? #ACNH #ACNHclowns pic.twitter.com/lLh3Z7l4Tf

— Rui ????on a break ????❤️???? (@acnhRuii) July 31, 2020


In addition, there are people who use 'Otoshiana no Seed' to make the race even more ferocious.

— ୭ .⋆.⋆༶⋆˙⊹

had a king tut and pitfall race with my filo qties + navi ???? NWBSHHAHA had lots of fun today <3 here's to more hangouts wu guys! @konichwiwa @juiiciest @tsukipetals @monocrossing @jinmais_vu @AhgaseACNH @vivi_acnh pic.twitter. com/cdM76LRB4R

— Nana ଘ(੭ˊ꒳​ˋ)੭♡︎ (@luvvtsukki) August 1, 2020


Some people said, "I tried competing for insects and fishing while wearing Tutankhamen".

Scavenger hunt but with King Tut masks. #ACNH pic.twitter.com/4zVBJJOmJT

— Jennie-Photo Contest Pinned ???? (@KisiwaTu) August 3, 2020


There are also people who play a chair-picking game while wearing Tutankhamen.

king tut mask musical chairs at my bday party yesterday c: THE WAY I WAS CACKLING AT EVERYONE FALLING #AnimalCrossing #ACNH pic.twitter.com/XoeydDptMK

— Allie ♡ (@kyocrossing) August 3, 2020


The flocks of Tutankhamen running around are chaos itself.

????King Tut Musical Chairs??????
I'm hosting a few games of musical chairs with the grand prize of a Grape Harvest Bag! There are also prizes for 2nd & 3rd place!If you're interested in playing comment/Dm me and I'll send u the rules! #acnh #dodocode pic.twitter.com/38MoV6UuOd

— Jake ?Giveaway Pinned???? (@jakeonika) August 4, 2020


It falls completely randomly when you wear Tutankhamen, so if you fall at the moment when the music stops, you will be completely unable to sit down.

King Tut Musical Chairs! | Animal Crossing New Horizons-YouTube


In addition, you can see how to play the chair picking game with your friends in 'Atsume Animal Forest' by reading the following article.

How to play a chair-picking game with your friends in ``Atsume Animal Forest''-GIGAZINE