Domino's Pizza 'The Most Horrible' Heavy Mayonnaise 'Clump of Desire Quattro' & '3 kg Potato Fries' Tasting Review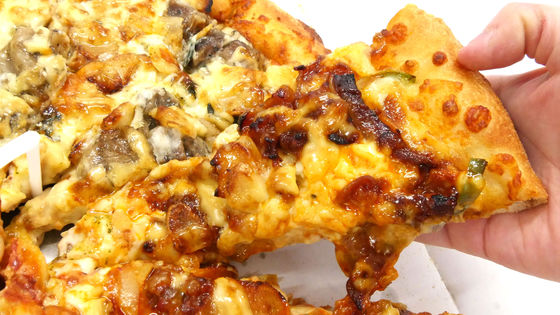 Domino's pizza says ``the horrible pizza and the horrible side menu'', `` 3 kg potato '' which is a mixture of 4 flavors and `` desire mass quattro '' with plenty of mayonnaise and meat and garlic topped 2020 It will be available from July 13th (Monday) for a limited time. Domino Pizza I actually ordered and tried to find out what the deadliest pizza and potatoes were.

Back Domino | Domino's Pizza

https://www.dominos.jp/topics/200713_uradomino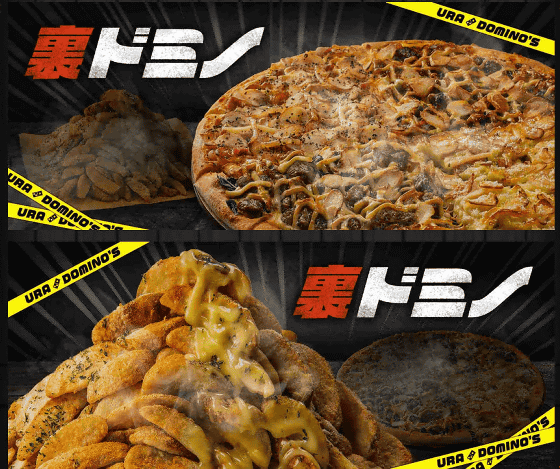 ???? Finally lifted! A lump of desire Quattro appears for a limited time????
Double Domino's classic popular pizza, double the garlic????! Furthermore, the mayonnaise is tripled!
Now is the time to release your desires with 'back domino' without worrying about anything! !! # Domino's Pizza # Back Domino # Guilty # Guilt https://t.co/HmZTn53pXl pic.twitter.com/mw1naIAkTn

— Domino's Pizza (@dominos_JP) July 13, 2020
It's no exaggeration to say that I loved potatoes, were loved by potatoes, and were born for potatoes.....
3kg potato bombing! !! (There's also 1kg!) ???????????? #Domino Pizza #Back Domino #3kg Potato #1kg Potato https://t.co/HmZTn53pXl pic.twitter.com/Ux0Z7LTjoZ

— Domino's Pizza (@dominos_JP) July 13, 2020


This time I ordered a pizza from the internet. In about 40 minutes, the 'lump of desire quattro' and '3 kg potato' arrived.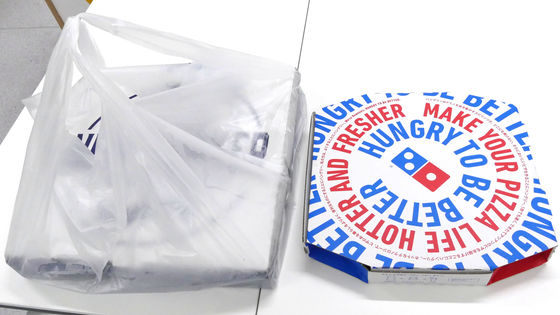 First of all, from the mass of desire, Quattro. The lump of desire Quattro ordered an L size hand toss dough, so the calorie per piece is 275 kcal, and 12 pieces is 3300 kcal.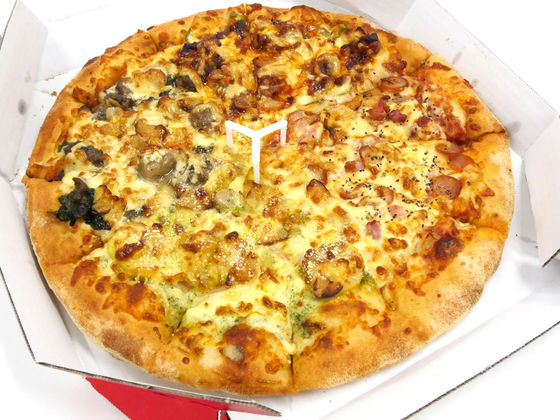 The diameter is 158 x 77.8 mm, which is about twice that of the Phone 11 Pro.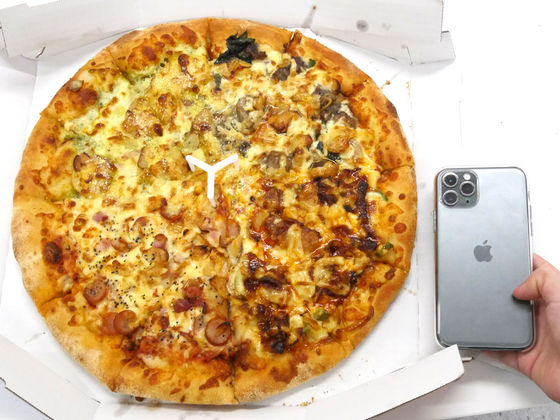 The lump of desire Quattro is a combination of four types of pizza. First, 'Guilty Genovese' with parmesan mixed cheese over ham potatoes, basil sauce and mayonnaise.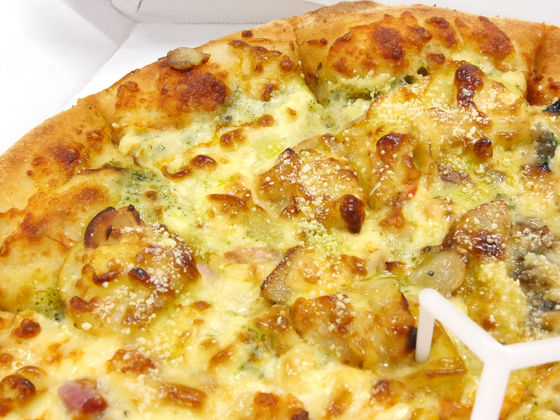 Guilty Genovese, which has the simplest toppings, is characterized by the potato's softness. The ham has a fairly thin presence, and the mayonnaise claim is strong. However, the refreshing scent of basil and the flavor of garlic work well without competing with mayonnaise, so it is a rich and modest taste among the four types.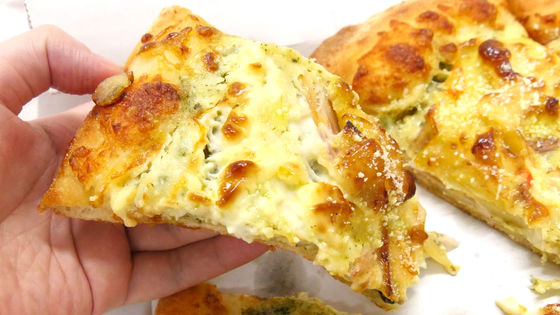 Right next to Guilty Genovese is 'Forbidden Charcoal Grilled Beef', which is a bite-sized cut of beef roasted over charcoal and spinach and mushrooms with mayonnaise.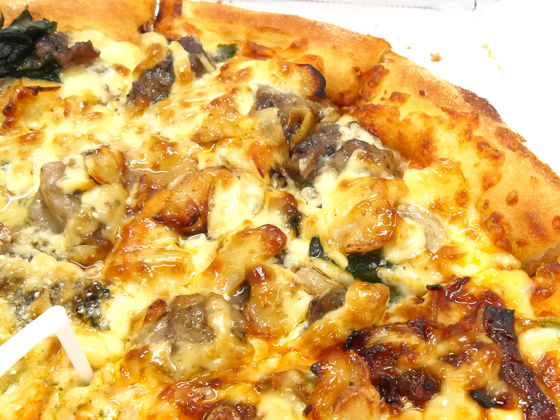 It's very difficult to eat with one hand without dropping the beef as it is topped with savory beef. You can feel the taste of beef that is as good as the mayonnaise. The rich texture of beef fat and the rich aroma of cheese and garlic are a perfect balance. The scent of the charcoal fire that passed through my nose became a habit, and it seemed to suit beer.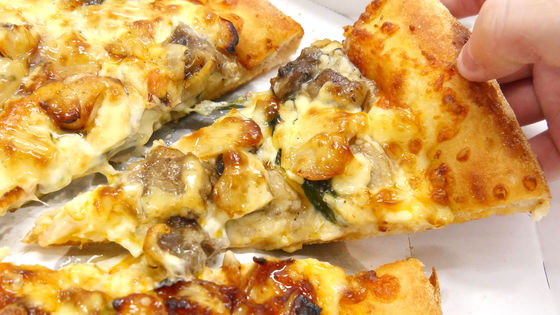 'Korean Calvi of Immorality' with plenty of mayonnaise on beef ribs and peppers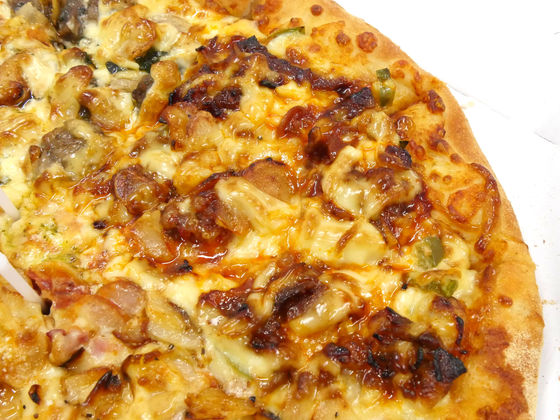 The sweet and spicy seasoned ribs have a good balance of mayo. An orthodox combination of sweet and spicy seasoning and mayonnaise that is likely to be enjoyed by everyone. The crispy texture of the bell pepper and the slight bitterness were accents.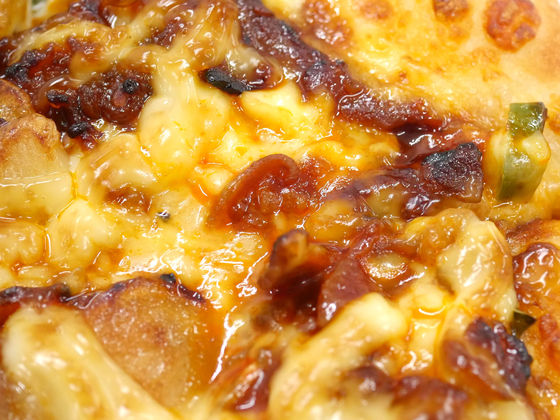 'Shameful Garlic Master' is topped with tomato sauce, coarsely ground sausage, pancetta, garlic, mayonnaise and black pepper.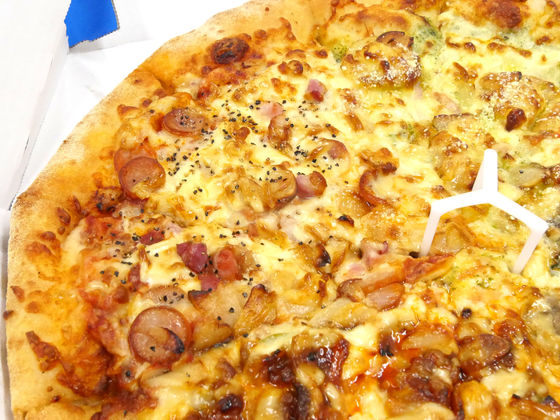 Garlic sliced hidden in cheese is topped with gutsuri garlic. The presence of mayonnaise is so strong that it doesn't lose against such garlic, and coarsely ground sausages and pancetta are hazy and salty. The impression is a pizza with garlic and cheese.



All four types had plenty of mayonnaise, and the slightly scorched mayonnaise was a savory combination that was irresistible for mayonnaise lovers.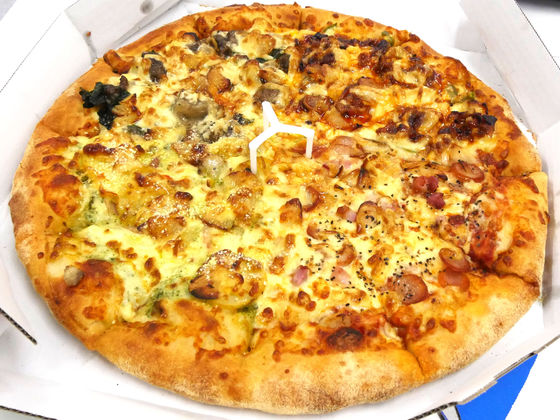 ◆ 3kg potato fries
The size of the 3kg potato fry box is more than twice as large as the iPhone 11 Pro. It's in a larger box than the L size pizza.



When I opened the box, the potatoes had fallen to one side. Since there are only 3 kg, the weight of the potatoes sticks to each other, and even if it is shaken, it will not budge.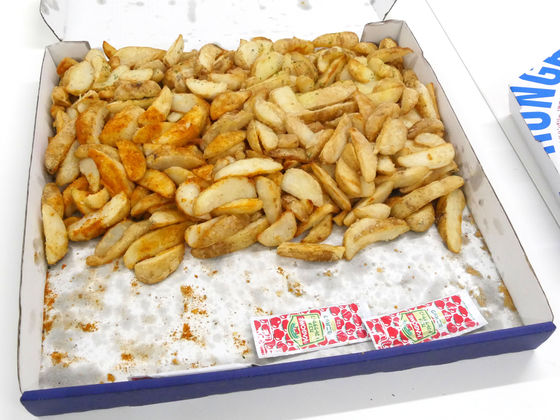 The box is about 42 cm on a side. It seems that the 42 x 42 cm box was covered with potato fries.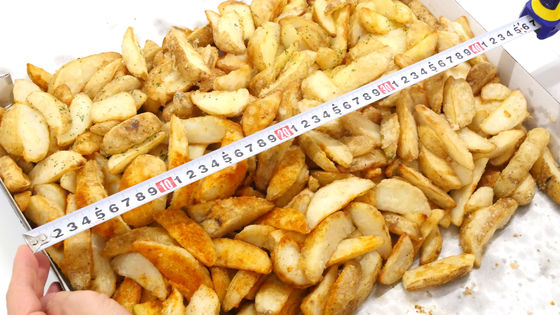 The 3kg potato fry contains four flavors, from the top left it is a regular potato fry, butter sauce, chili garlic flavor and consomme flavor. The total calorie of 3 kg potato fries is
5292 kcal
, which is 2.5 times
the energy required by
an
adult man for 2200 kcal
a day.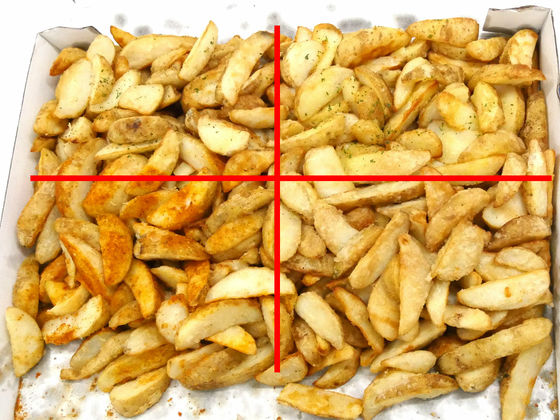 Ordinary potato fries are covered with parsley, and have a simple salty orthodox taste with hokuhoku potatoes.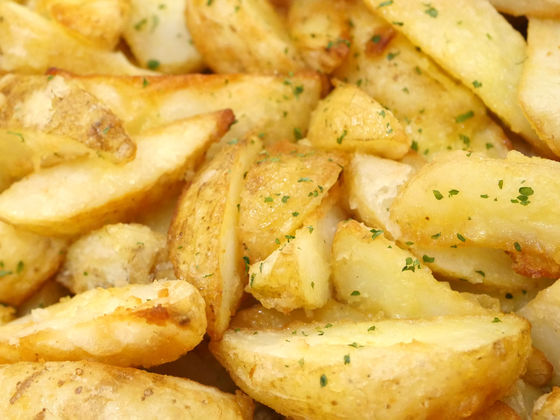 The butter sauce flavor with parsley, just like regular potato fries, is soaked in butter when you look closely at the surface. Unlike normal potato fries, the thick butter is salty and has a heavy taste, and even one is quite satisfying.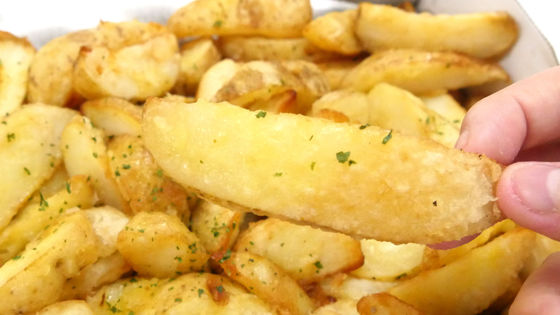 The spicy chili garlic flavor is a spicy spiciness that makes your tongue crunchy. Even after I finished eating, my mouth was so hot that I could not neutralize it with the gentle sweetness of potatoes.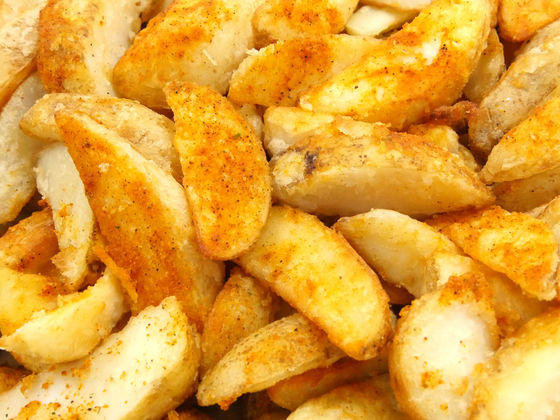 The potatoes without parsley and red spices are consomme flavors. The surface is covered with yellow powdery consomme. It tasted as if the consomme taste of potato chips was made even stronger, and it was perfect with potato fries.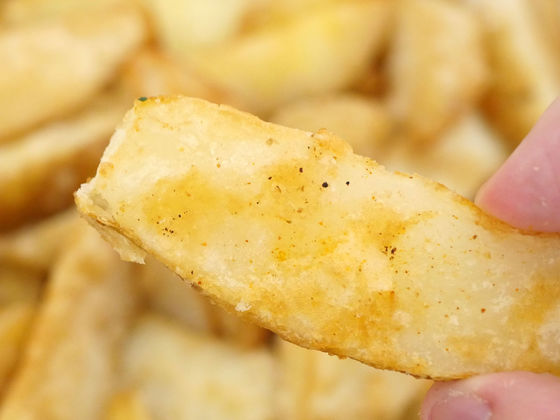 As 3kg potato fries comes with 3 bags of ketchup...



You can also eat potato fries while changing the taste with sour ketchup. Only chili garlic flavor is hot enough to cancel ketchup, so if you use ketchup personally, I recommend other than chili garlic flavor.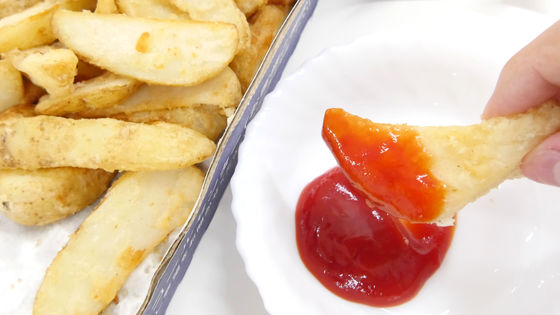 If you order by delivery, 'Massage of Desire Quattro' is 2400 yen excluding tax for M size, 2999 yen excluding tax for R size, 3500 yen including tax for L size. '3 kg potato' is 2499 yen excluding tax.