The cost of mobile data communication is up to 300 times or more by country and there is a tremendous disparity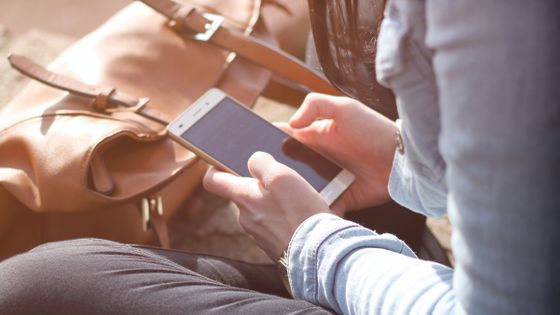 Mobile phones and smartphones that can connect to the Internet have become widespread in the past few years, and billions of people are using mobile data communications, not only in developed countries but also in developing countries. While the market of mobile phones and mobile data communication is expanding all over the world, there is a large gap in the cost of accessing the Internet, so mobile data communication per 1 GB in 155 countries and regions around the world The results of comparing the costs are published.

Worldwide Mobile Data Pricing League | Cost of 1GB in 230 countries-Cable.co.uk

https://www.cable.co.uk/mobiles/worldwide-data-pricing/
What Does 1GB of Mobile Data Cost in Every Country?
https://www.visualcapitalist.com/cost-of-mobile-data-worldwide/
The mobile network market continues to grow year by year, with 1 billion people gaining new access to mobile data communications over the past five years alone. However, although it has become universal to access the Internet through mobile data communication, there are tremendous differences in the cost of using mobile data communication from country to country.
VISUAL CAPITALIST,
which provides various data infographics, uses data collected by
Cable.co.uk,
a website that compares various broadband services, between February 3 and February 25, 2020, using 155 countries. This is a diagram comparing mobile data communication costs per GB in each region. The higher the circle and the larger the circle surrounding the flag, the higher the cost per GB, and the lower or the smaller the circle, the lower the cost.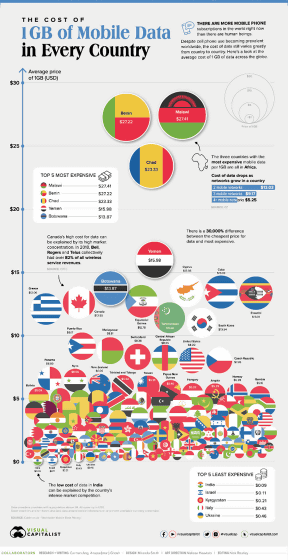 This is the top 3 countries with the highest cost per GB.
Malawi
in the southeastern part of the African continent ranked first at $27.41 (about 2950 yen) per GB,
Benin
in West Africa came in second at $27.22 (about 2930 yen), and third place was
Chad
in central Africa at $23.33 (about 2510 yen). ), both are African countries.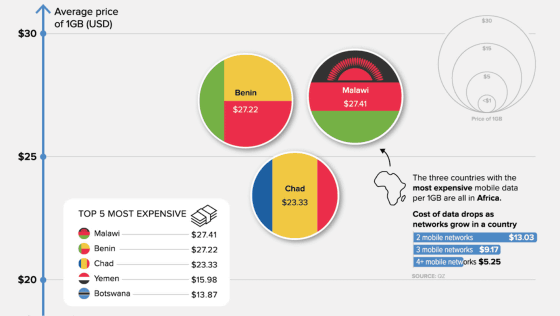 Next is
Yemen
at the southern end of the Arabian Peninsula at $15.98 (about 1720 yen), and
Botswana
in Southern Africa at $13.87 (about 1490 yen). Four of the top five countries are located in
Sub-Saharan Africa
south of the Sahara Desert, and mobile data communication prices are rising due to lack of necessary infrastructure. Cyprus and Cuba, which are island countries, will follow, but Canada ($12.55/approx. 1350 yen) and South Korea ($10.94/approx. 1180 yen) are also ranked high, so mobile data communication costs are not necessarily developing countries. It's not expensive.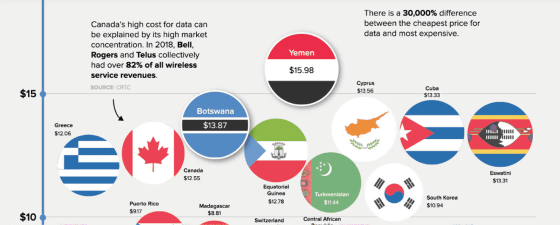 Looking at countries where the mobile data communication cost per GB is less than $ 10 (about 1075 yen), Switzerland is $ 8.38 (about 900 yen), the United States is $ 8 (about 860 yen), Czech is $ 7.95 (about 855 yen), which is higher than Syria ($6.55/about 705 yen) where the civil war continues.




Most countries cost less than $5 (about 535 yen), and Japan ($3.91 / about 420 yen) has the 108th highest mobile data communication cost as a whole. In addition, the 107th place is Jamaica ($3.88 / about 415 yen) and the 109th place is Germany (4.06 dollar / about 435 yen).




The top 5 countries with the lowest mobile data communication costs are Ukraine (0.46 dollars / about 50 yen), Italy (0.43 dollars / about 45 yen),
Kyrgyz
(0.21 dollars / about 20 yen), Israel (0.11 dollars / about 50 yen) 10 yen), India (0.09 dollars/about 10 yen). Surprisingly, Malawi, which has the highest mobile data costs, costs 304 times more than India for the same traffic.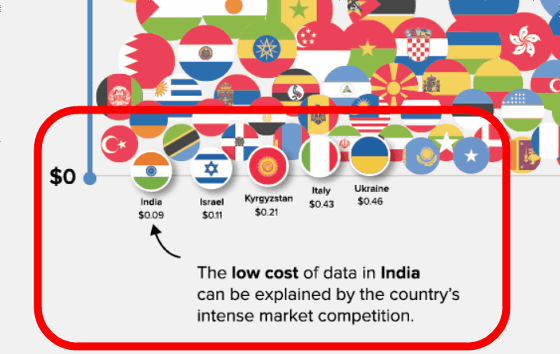 India's mobile data communications costs are so low due to the fierce market competition driven by
Jio,
a telecommunications company participating in
Reliance Industries
, India's largest conglomerate. Jio offers a free trial period and an ultra low price plan of less than $ 1 a month (about 107 yen), other companies are forced to hold down mobile data communication costs, and overall mobile data communication cost is low It seems that it has become. Mobile data communication costs in India have dropped by 65% from 2019, and it is unlikely that this price will continue in the long term in the future.
Similar to India, Israel and Italy are as competitive as multiple providers, and have a good infrastructure in place to provide mobile data communications costs. In addition, although infrastructure is never developing in Kyrgyzstan, most of the population uses mobile data communication as the main access method to the Internet, so it seems that the price is kept low as a result. It is being done.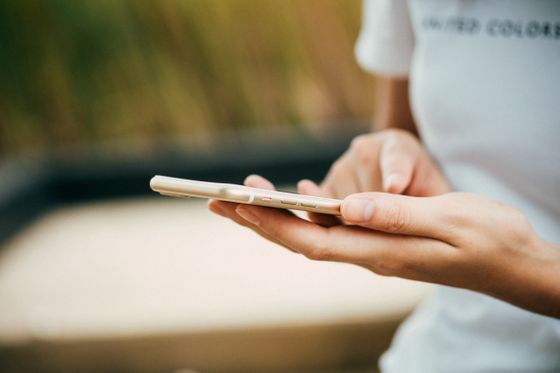 According to Cable.co.uk, which collected the data, the following four factors are involved in mobile data communication costs.

◆ 1: Infrastructure level
In countries where the infrastructure for providing mobile data communications is highly developed, mobile data communications costs as a whole tend to be cheap. These countries also offer plans with caps of hundreds of GB per month and unlimited plans, with India, Italy and Israel being examples.

◆2: Dependence on mobile data communication
Countries with few fixed-line broadband services offer a strong reliance on mobile data for access to the Internet. While there are many competing telecommunications providers in these countries, the average income tends to be low, and mobile data communication costs per GB tend to be cheaper than in other countries. Examples of this type of country include Kyrgyz and Kazakhstan ($0.46/about 50 yen), which is the 6th largest country in the country with low mobile data communication costs.

◆3: Mobile data communication consumption
Although mobile data communication is widely used, there are some countries where the amount of data communication available is extremely low due to issues such as infrastructure. Chad and Benin, which have plans with an upper limit of 2 to 5 MB and plans to use mobile data communication for only one day, are typical of this, and as a result the communication cost per 1 GB is extremely high. That.

◆ 4: National economic situation
Wealthier countries also tend to pay more for mobile infrastructures, and in some cases higher mobile data costs per GB, coupled with the ability for people to pay higher prices for mobile data. For example, Canada and South Korea are advanced countries, but mobile data communication costs are high.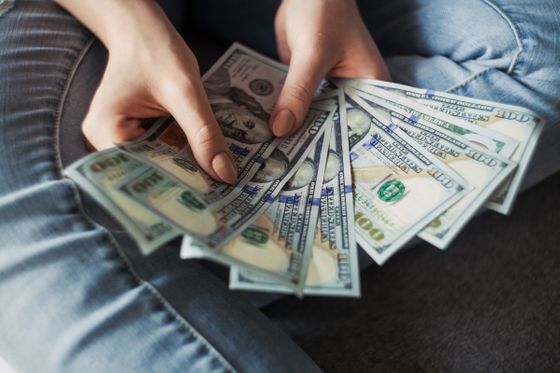 Looking at the data, basically, developing countries tend to have higher mobile data communication costs per 1GB, but there are large differences among developed countries. In addition, Tanzania, which borders Malawi, which is the country with the highest mobile data communication cost even in the same region, has a low cost of $ 0.73 (about 80 yen) 21st country, 6th cheaper country In Turkmenistan , which borders Kazakhstan, the price is 11.44 dollars (about 1230 yen). Mobile data communications costs in each country are greatly influenced by each situation, and it is still unclear whether the gap will continue to widen or shrink.