Nissin ``Tokyo NOODLES AFURI Awakening Super Yuzu Shio Ramen'' tasting review with a refreshing fragrance of yuzu spread with exciting spiciness and rich umami


From
NISSIN FOODS
known for cup noodles,
Tokyo NOODLES AFURI Awakened Super Spicy Yuzu Shio Ramen,
which reproduces the taste of Yuzu Spicy Ramen, the signature menu of
AFURI
Spicy Ramen shop in Shinjuku-ku, Tokyo, is 2020. It appeared on June 29.
I tried
to
eat
it because it was a spicy soup based on
chicken Seiyu
and an
exciting spice
of pepper and a refreshing aroma of yuzu.
'NISSIN TOKYO NOODLES AFURI Awakening Geki Yuzu Shio Ramen' (Released on June 29) | NISSIN FOODS GROUP
https://www.nissin.com/jp/news/8701
NISSIN TOKYO NOODLES AFURI Awakening Spicy Yuzu Shio Ramen | NISSIN FOODS Group Online Store
https://store.nissin.com/jp/products/product/9983/
Tokyo NOODLES AFURI Awakening The spicy Yuzu Shio Ramen package looks like this.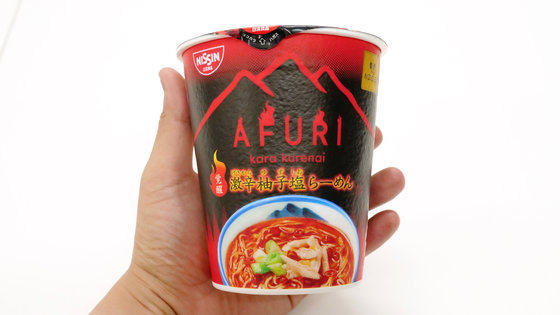 A bag of awakening perfume was attached to the lid.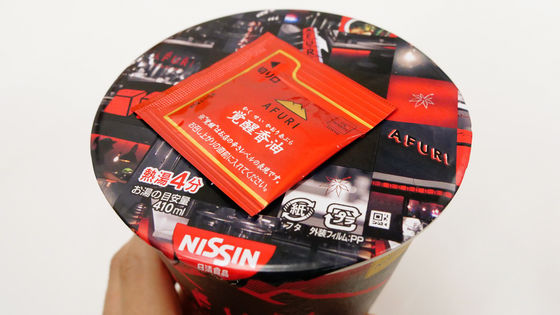 The spiciness level is set to '5', which is the most spicy in the 5-step evaluation.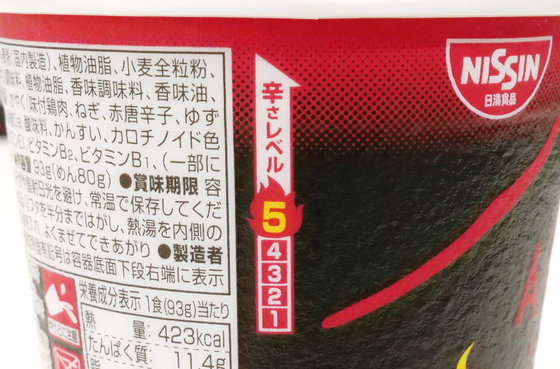 Raw materials look like this. The noodles are fried and fried and
whole grains
are used. The contents of the soup are fish meal, spices, sugar, chicken seasonings, vegetable oils, flavor seasonings, flavor oils, lard, salt, bonito flakes seasoning, powdered soy sauce, and fish sauce. Kayaku is seasoned chicken, green onions, red pepper, and yuzu peel.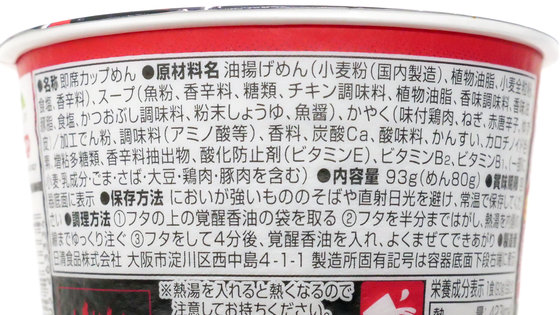 The calorie was 423 kcal per cup.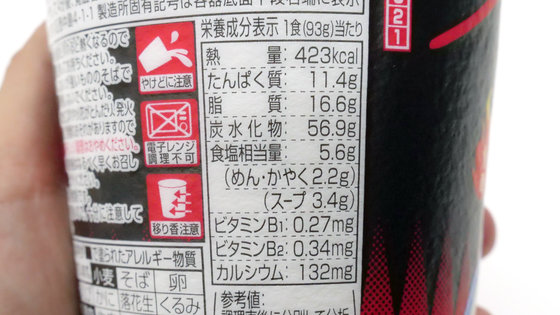 The place I opened the lid looks like this. You can see dried seasoned chicken, sliced red pepper and leeks. Also, at this point, you can feel the strong scent of yuzu.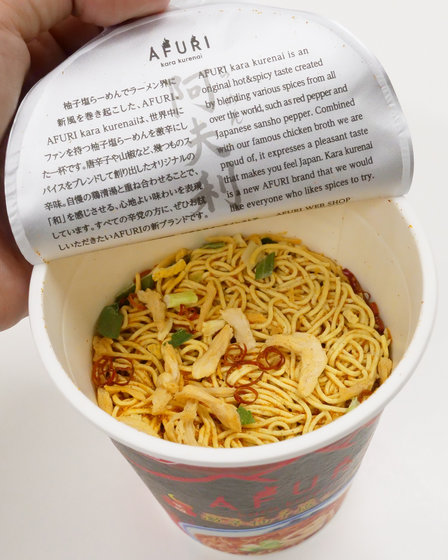 Pour an appropriate amount of hot water and wait for 4 minutes.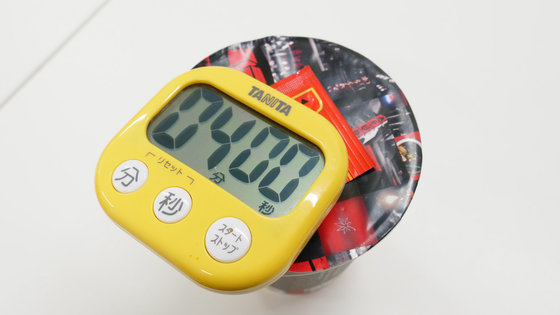 After 4 minutes, remove the lid...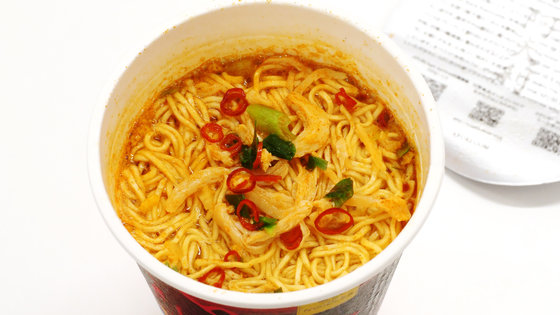 Apply awakening balm.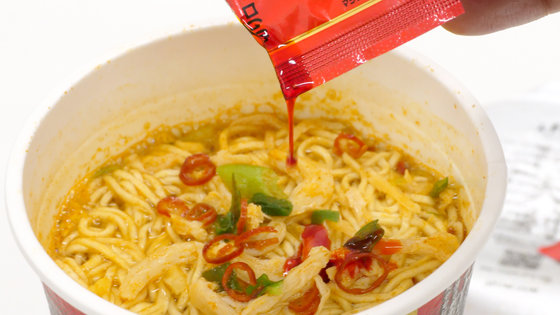 Complete by stirring well



When I first sip the soup, the refreshing scent of yuzu was passed through my nose, and I felt the sharp spiciness of the pepper along with the delicious taste of chicken and seafood. However, it is not just a soup that only stimulates pain, but the taste of the soup remains firmly after the spiciness has been pulled out, and the taste is long.



The noodles are thin straight noodles. The texture and aroma unique to noodles made from whole grains are perfect for spicy soup and yuzu aroma. Although the spiciness itself is at a level that 'certainly people who are not good at spicy foods cannot do it,' it is not as 'spicy as they can't eat.' Some of the hot spicy ramen are simply 'painful', but the taste of soup and noodles can be felt firmly, and the aroma of yuzu produces a refreshing aftertaste, which is said to be quite complete. I got an impression.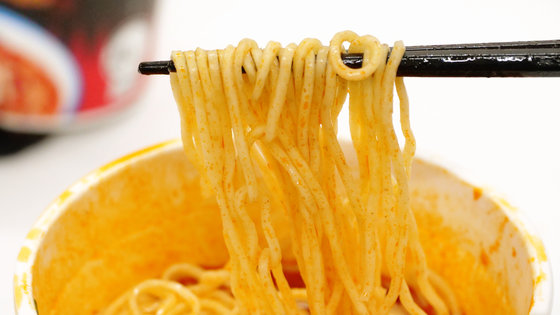 'Tokyo NOODLES AFURI Awakening Geki Yuzu Shio Ramen' is also available on Amazon.co.jp, and at the time of article creation, a set of 12 can be purchased at 2715 yen including tax.

Amazon | Nissin Tokyo Noodles AFURI Awakening Super Yuzu Shio Ramen 93g x 12 | Famous Store Series | Ramen Online Store