Twitch announced that it will 'permanently ban access' regarding sexual harassment by distributors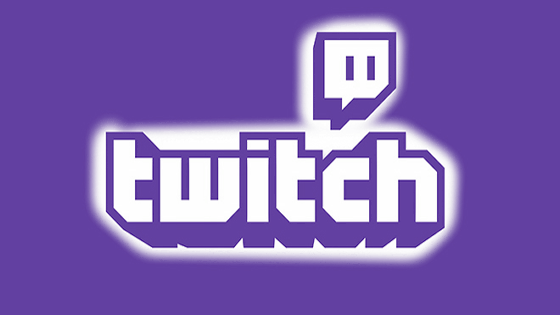 by
Dinah888
On
Twitch,
a distribution platform specialized for game live conditions, the number of reports that popular game distributors with many viewers were sexually harassing women is rapidly increasing, which is a big problem .. Twitch, who saw the sexual harassment damage on the platform seriously, announced that it would investigate the suspicion and report it to law enforcement agencies in some cases, as well as permanently suspend the account of the criminal and review the policy. Did.
An Update to Our Community
https://blog.twitch.tv/en/2020/06/24/an-update-to-our-community/
VICE-Twitch Says It's Investigating Allegations of Sexual Harassment Against Streamers
https://www.vice.com/en_us/article/v7g7vb/twitch-says-its-investigating-allegations-of-sexual-harassment-against-streamers
Twitch reckons with sexual assault as it begins permanently suspending streamers-The Verge
https://www.theverge.com/2020/6/25/21303185/twitch-sexual-harassment-assault-permanent-bans-streamers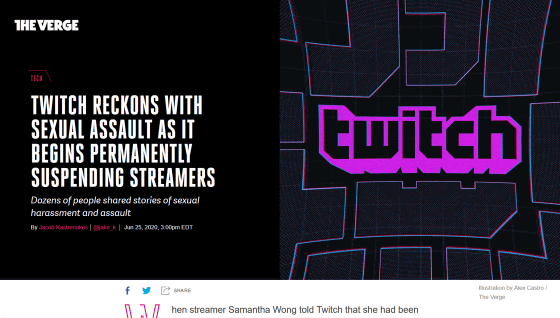 Since June 19, 2020, Jewels Verne, who acts as a game distributor on Twitch, confessed that ``I was sexually harassed by game distributor Lono '', and several women have been on Twitch since I confess about the sexual harassment damage I received. On June 20, the day after Verne confessed, Lono released a movie apologizing for his past wrongdoing.

The existence of sexual harassment prevalent in Twitch is clear, and a boycott seeking specific countermeasures spreads-GIGAZINE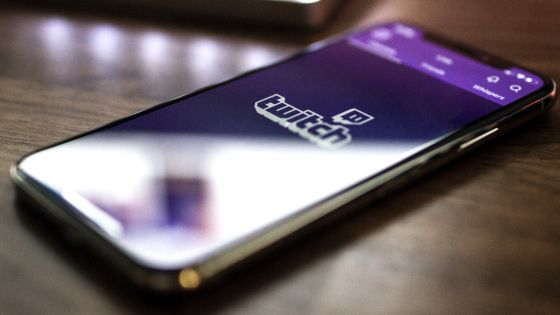 This is not the first time that harassment or harassment on Twitch has been a problem. In 2017, game media Kotaku reported that it is very easy to discover harassment and harassment on Twitch, and in 2012 the sexual harassment that occurred at the game tournament hosted by Twitch was controversial. It was. In response to these problems, Twitch strengthened its sexual harassment policy in 2018, but it seems that many users are still suffering from sexual harassment.

Male distributors who have been accused of harassment and sexual harassment have a wide range of subscribers, from thousands to hundreds of thousands, most of whom are members of the Twitch Partner Program . The fact that 'Twitch has been approved for the partner program' has also been criticized for giving male distributors a 'strong position' to prey on female fans and other female distributors.

Some users have also reported damage from adult distributors to minors. In Twitch, you can have an account from the age of 13, and you can also use the whisper function to interact with specific users one-on-one. It seems that some male distributors use the whisper function to send personal messages to minors, and there are cases in which sexual statements can be cast. On the other hand, a whisper function can not exchange images, and if you do not want to exchange messages you can turn it off, a spokesperson for Twitch pointed out.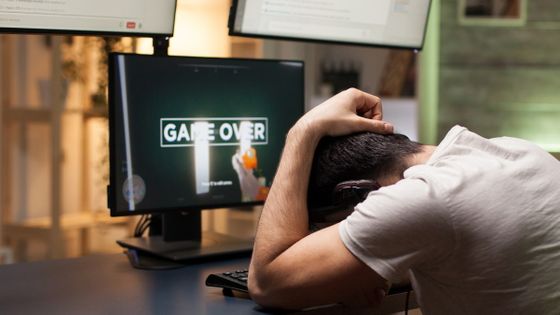 Twitch issued a statement on the official blog on June 24 after confessing sexual harassment from various users. 'We'll evaluate these serious allegations with due care and consider the cases that emerged as soon as possible,' he said, based on the findings of the investigation and initiating a permanent suspension of the account. Announced.

On the other hand, not all sexual harassment occurs on Twitch, and there are cases where you interact with people you meet through Twitch on another platform, or when you engage in offline events, you will behave erratically. ``In many cases, the alleged incident occurred outside of Twitch's platform, so more information is needed to make a decision,'' Twitch said, to law enforcement agencies and others to conduct more in-depth investigations. It may report the case.

In addition, Twitch announced that it will continue efforts to make Twitch a safer environment by increasing the tools to deal with problem behaviors such as harassment. Twitch said it will be working on policies for malicious behavior and harassment, strengthening the system to detect offensive users, and improving the list of words prohibited from being messaged.