Twitch temporarily suspends President Trump's official account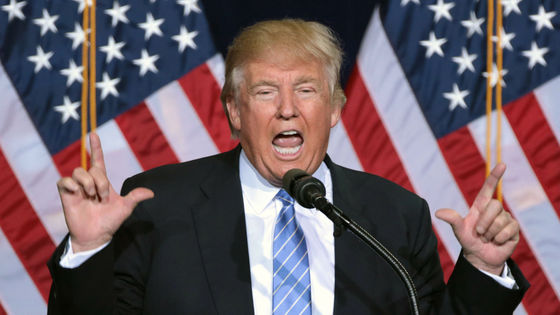 by
Gage Skidmore
Local time June 29, 2020,
Twitch,
a game-playing specialized distribution platform under Amazon, temporarily suspended the account of President Trump. For that reason, Twitch explains, 'We will take action without exception if the content reported violates our rules.'
Twitch temporarily bans President Trump-The Verge
https://www.theverge.com/2020/6/29/21307145/twitch-donald-trump-ban-campaign-account
Twitch suspends President Trump's account for'hateful' comments-The Washington Post
https://www.washingtonpost.com/technology/2020/06/29/trump-twitch-account-suspended/
Twitch Suspends Trump's Account for'Hateful Conduct'-Bloomberg
https://www.bloomberg.com/news/articles/2020-06-29/twitch-suspends-president-trump-s-account-for-hateful-conduct
Amazon's video site Twitch bans Trump for'hateful conduct'
https://www.cnbc.com/2020/06/29/amazons-video-site-twitch-bans-trump-for-hateful-conduct.html
President Trump opened an
official channel
on Twitch in October 2019 to deliver political speeches and supporters' meetings for the election.
President Donald Trump opens channel on Twitch-GIGAZINE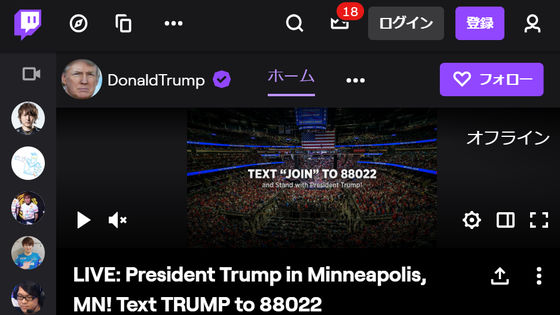 However, on June 29, 2020 local time, President Trump's official channel was stopped by Twitch. According to Twitch, the direct cause of this disposition is President Trump's remarks in the broadcast. 'Tough Mexican immigrants are trying to attack a young woman in the absence of her husband,' Trump said at a rally in Tulsa, Oklahoma on June 20, 2020. In a rebroadcast in 2015, Trump said, 'Mexico is sending criminals such as rapes and drug dealers to the United States.' Twitch has identified these two statements as 'malicious behavior' and has suspended the account.
'The malicious activity is not allowed on Twitch. In line with our policy, President Trump's channel will be temporarily suspended and the content in question removed,' said Twitch spokeswoman Brelle Villablanca. It was done.' At the time of article creation, when I try to access President Trump's official Twitch channel, I get the message 'Sorry. This content is currently unavailable for viewing.' In addition, the ban date and time of this suspension will not be disclosed.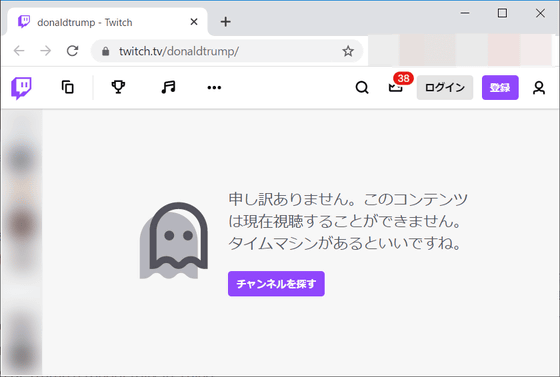 This move is believed to be a result of Twitch's strengthening of harassment measures announced on June 24, 2020. Twitch announced that it would improve its harassment policy and augment its tools to address behavioral behaviors such as harassment because of the proliferation of reports of sexual harassment.

Twitch announces that ``permanent access ban will be implemented'' regarding sexual harassment by distributors-GIGAZINE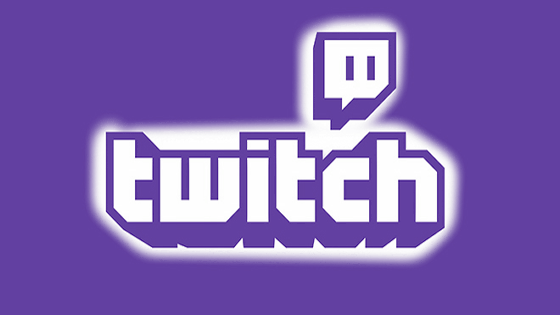 by Dinah888

In addition to strengthening anti-harassment measures, it is believed that one of the causes is a feud between President Trump and Amazon, the managing body of Twitch. President Trump criticized that Amazon will make a profit of 1 trillion yen and will pay no tax, and blame the Washington Post, a newspaper company affiliated with Amazon , as 'fake news', and with Amazon for a long time I've been in conflict. It has been pointed out that this has affected the response of Twitch, an Amazon company.