'Facebook Shops' that can open a full-scale online shop on Facebook and Instagram appeared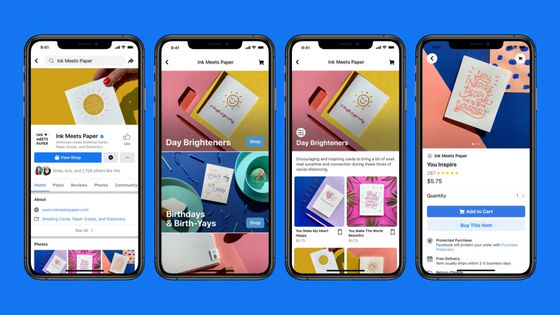 Facebook had
Facebook Marketplace
, a platform for individuals and companies to sell products, but this will evolve further, allowing companies to create full-scale online shops on Facebook ``
Facebook Shops
'has arrived. With an online shop opened at Facebook Shops, users can visit external sites and browse and purchase products directly from Facebook and Instagram.
Introducing Facebook Shops: Helping Small Businesses Sell Online-About Facebook
https://about.fb.com/news/2020/05/introducing-facebook-shops/
Facebook and Instagram have supported some e-commerce features so far, but this is the evolution of Facebook Shops. "We want to give people a place to experience the fun of shopping," says Facebook. SMEs are adapting to Facebook Shops to make it easier for people to find and love what they like. We want to make it easier. '
In addition, the pandemic of the new coronavirus has put many small and medium-sized enterprises in a difficult situation where they have no choice but to shorten operations or stop operations at stores, saying, 'More companies are going online. Our goal is to enable seamless shopping (on our platforms like Facebook and Instagram) so everyone from small businesses to global brands can connect with their customers via the Facebook app. Is to be able to do that. '
If you use Facebook Shops, you can access the online shop established on the platform from the Facebook page or Instagram profile screen and purchase products as it is. You can see what the online shop opened at Facebook Shops looks like by watching the following movie.
Facebook Shops makes it easy to set up a single online shop accessible from both Facebook and Instagram. Facebook Shops is free to use, and companies can customize the look of their shop by selecting recommended products, selecting a cover image showing the brand, and an accent color. As a result, Facebook said, "Sellers can move their business online, regardless of size or budget, and connect with their customers anytime, anywhere at a convenient time."
Basically, Facebook Shops can be moved from the Facebook page and Instagram profile screen, but it is also possible to access the shop page from Instagram stories and advertisements. In addition, at the time of article creation, only US-based sellers can complete the entire shopping process on the app.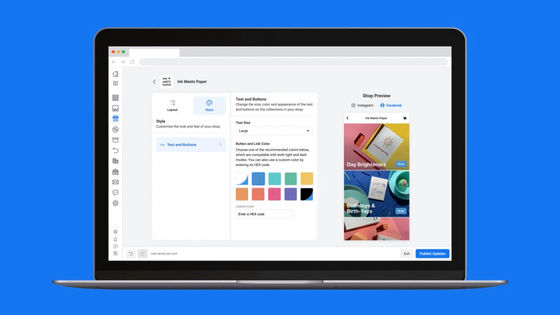 In addition, Facebook Shops can ask questions about products, get support, and track delivery status by sending messages to the shop using message apps such as WhatsApp, Messenger, Instagram Direct. In the future, we will be able to view and purchase shops from within WhatsApp, Messenger, Instagram Direct chats.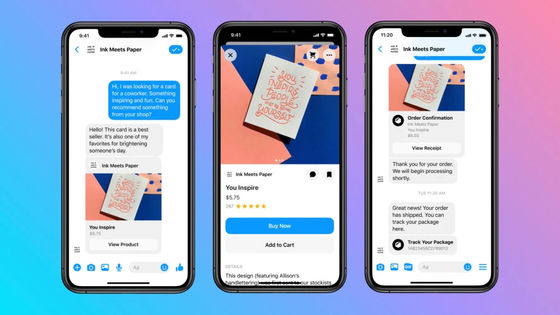 Facebook Shops has been available since May 20, 2020 and will be more widely available in the coming months.

In addition, the "Instagram Shop" will be introduced to Instagram in the United States in the summer of 2020. At the same time, a new 'Shop' tab will be added to Instagram's navigation bar, so you can access the Instagram Shop with one tap.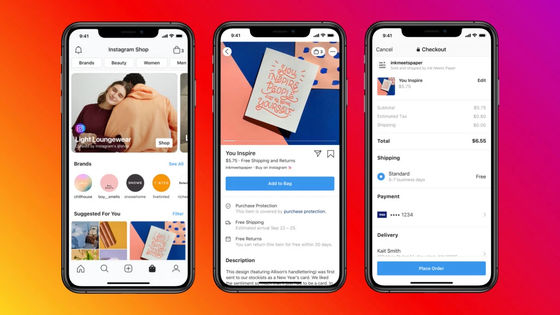 Besides, it is also possible to access the online shop established at Facebook Shops and purchase products from the live distribution delivered with the live function of Facebook and Instagram. Products can be tagged from Facebook Shops before live distribution, and the tagged items will be displayed on the screen during live distribution.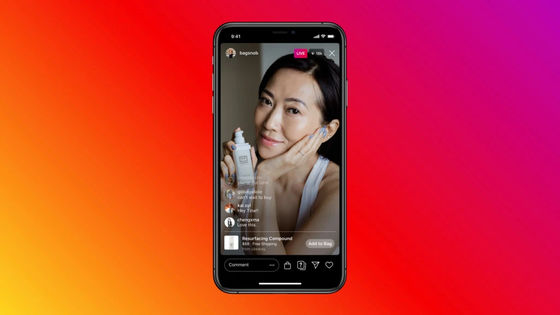 Facebook is also testing a feature that will allow loyalty programs, such as local cafe points programs, to connect to a Facebook account.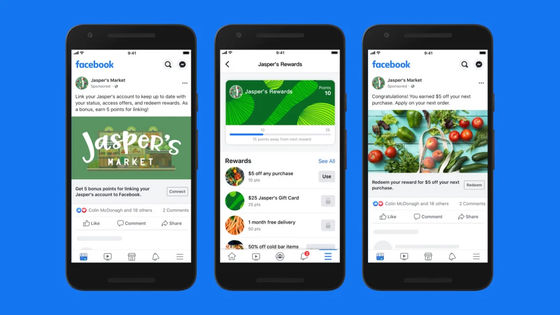 In addition, Facebook has revealed that it will work closely with partner companies such as Shopify, BigCommerce, WooCommerce, ChannelAdvisor, CedCommerce, Cafe24, Tienda Nube and Feedonomics to provide the support needed for small businesses. "These organizations provide powerful tools to help entrepreneurs get their business up and running and going online. SMEs help small businesses build and grow Facebook Shops." However, you will be able to use other e-commerce tools. '