I tried to verify whether the ingredients of Yoshinoya's `` Stamina super special bowl '' beef ribs, pork, chicken, which garlic worked well, were really 3 times the ingredients of beef bowl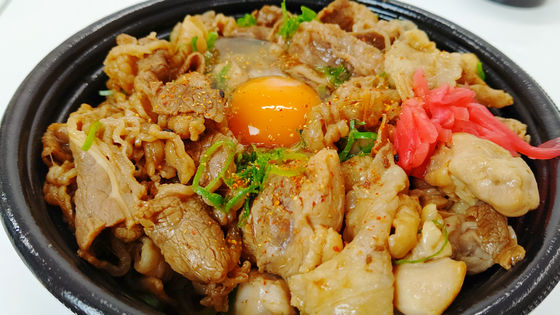 Yoshinoya's ' Stamina Ultra Special Bowl ', which is made with beef ribs, pork, and chicken, made with specially made garlic sauce, has appeared on April 30, 2020 (Thursday). The new menu of beef bowls is the same as the regular beef bowls and pork bowls, with the same amount of beef and pork plus the same amount of chicken, and raw eggs dropped on top of it. It is said that it boasts a volume that is far more than 3 times, so I actually bought it and tried it.

Stamina Super Special Bowl | Yoshinoya Official Website

https://www.yoshinoya.com/menu/stamina/stamina-chotokumori-don/
Beef ribs, pork, chicken all 'Stamina super special bowl' to be sold from April 30 (Thursday)
(PDF file) https://contents.xj-storage.jp/xcontents/AS08813/665bc60d/0aa0/4404/9cbe/e061783df44b/140120200427499759.pdf
Arrived at the Yoshinoya.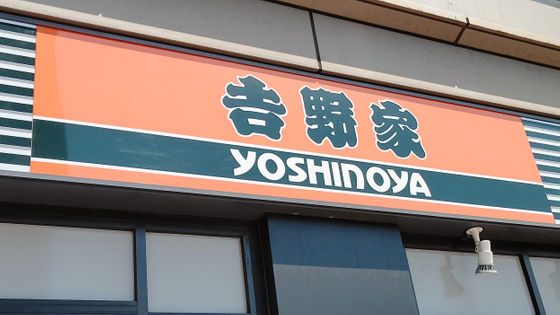 I bought it immediately. When you take out 'Stamina Super Special Bowl', 'Nanami Chili', 'Red Ginger', 'Mayonnaise' and 'Raw Egg' will be included.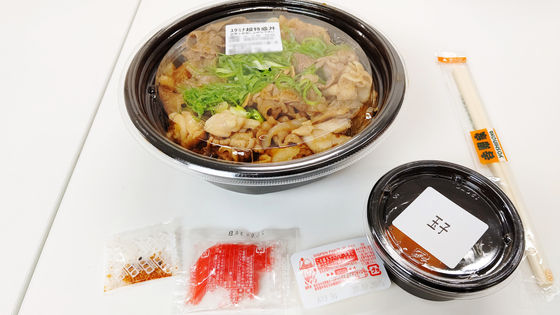 When I opened the lid, I saw plenty of green onions and fried garlic on top of the ingredients. The smell of garlic just pops into the room and fills the room.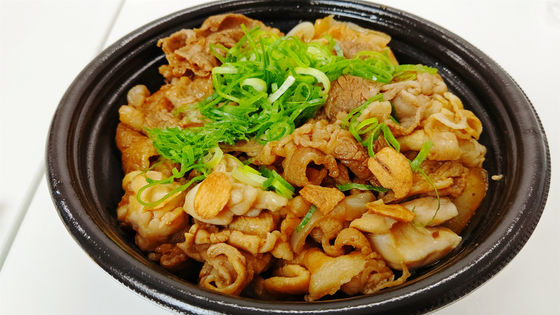 Compared to the size of a transportation IC card, it looks like this.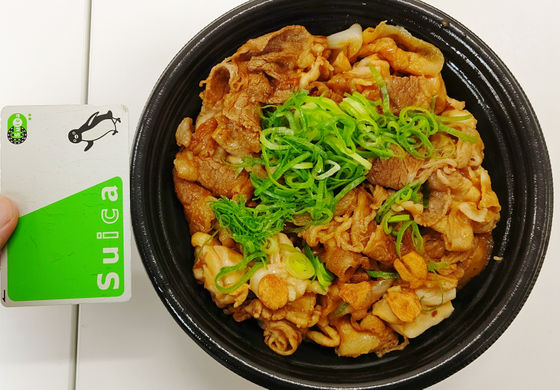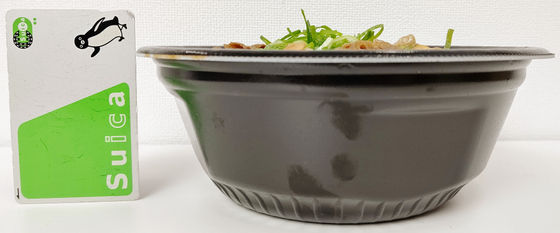 The difference can be seen at a glance when compared to the beef bowl Narimori purchased for comparison.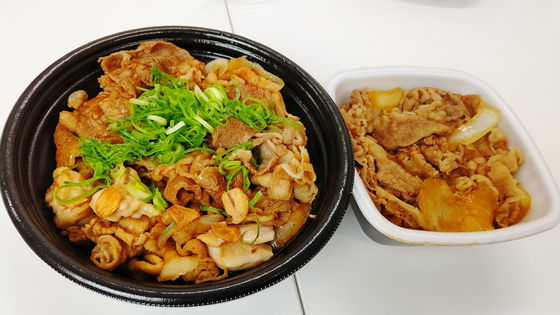 Check the volume of ingredients before eating. First of all, the weight of the beef bowl regular assortment purchased for comparison was '79 g'.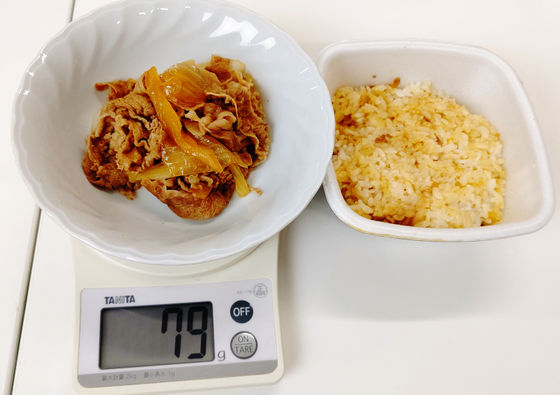 Next, the weight of the ingredients of 'Stamina Cho Tokumori Don' was measured, and the result was '283g'. Because raw eggs are added to this, the volume is certainly more than 3 times that of Gyudon.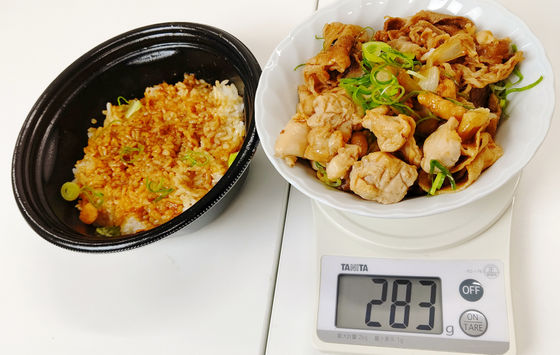 I will eat it at once. First, add raw egg, add red ginger, sprinkle with shichimi pepper ...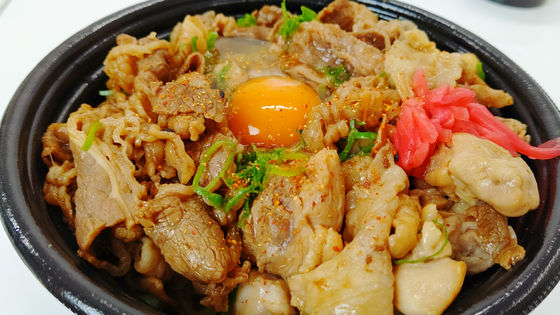 Then add mayonnaise and it's done.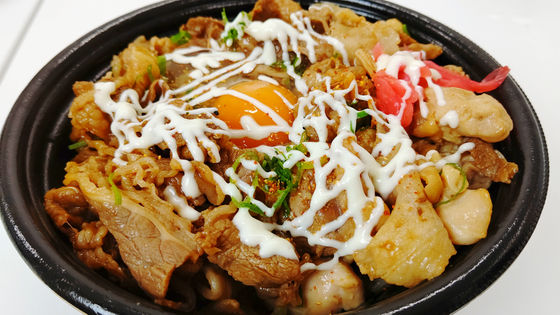 When the beef rib meat is full of garlic and a lot of garlic is entwined with it, the meat taste will melt in your mouth along with the taste of the sweet and soy sauce-based sauce.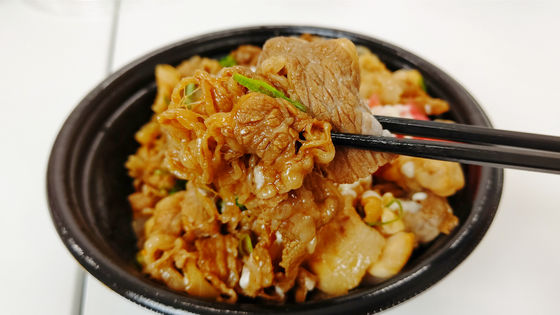 The pork is said to be served in the same amount as the regular pork bowl on the menu, and the savory flavor of the pork and the sauce of the yakiniku are surprisingly compatible, making it a perfect meal.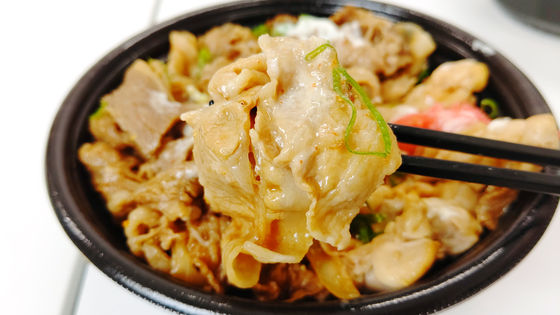 When you eat fluffy chicken, the meat juice overflows from inside. The flavor of garlic, which is felt from the sauce and fried garlic, enhances the appetite while complementing the taste of the meat of the trinity of beef, pork, chicken, so it is possible to eat meat and rice with a total calorie of 1700 kcal with Morimori I can do it. Even after finishing eating, the dish with a strong garlic scent from the stomach was exactly the taste when you had to avoid going out and crowded.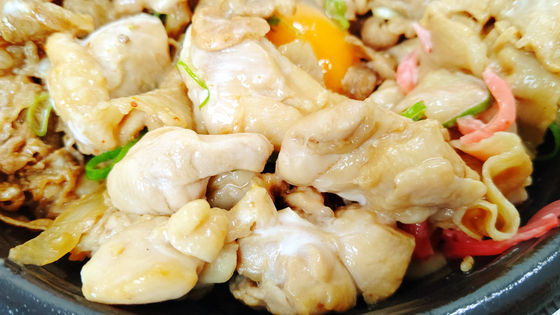 'Stamina Cho Tokumori Don' has been on sale at Yoshinoya nationwide since April 30, 2020 (Thursday), and the price is 877 yen including tax when eating at the store, and 861 yen including tax for takeout.