Menu using Chinese eels exceeding 1000 yen at Sukiya "Special Udori" and all 3 other items Taste Review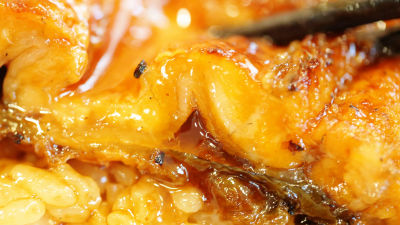 Sukiya has sold the menu using the eel from the end of May. The other dayAt Yoshinoya, eel don bowlAs I went to eat, I went to eat for comparison to see if there are any differences in the bowl of the house with a higher plow.

Sukiya's eel | Campaign | Sukiya
http://www.sukiya.jp/campaign/2013/unagi.html

Arrived Sukiya.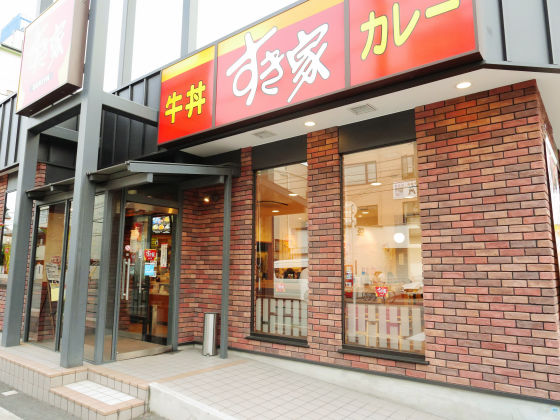 I also appeal new products at the shop front.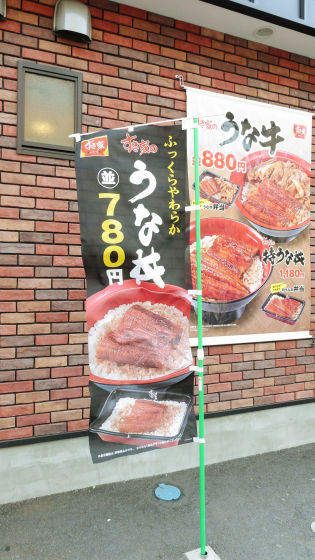 When sitting in a seat new products using eels were pasted. Order immediately.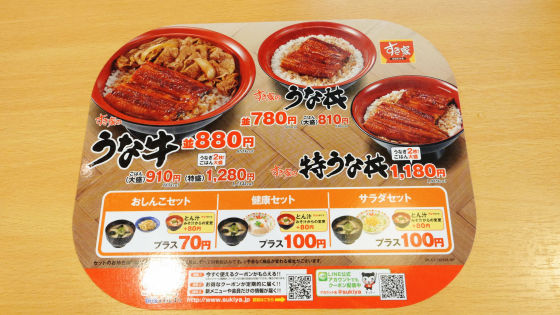 Wait about 5 minutes and 3 types of goods arrive. From the leftA cow·Special bowl·Unadon.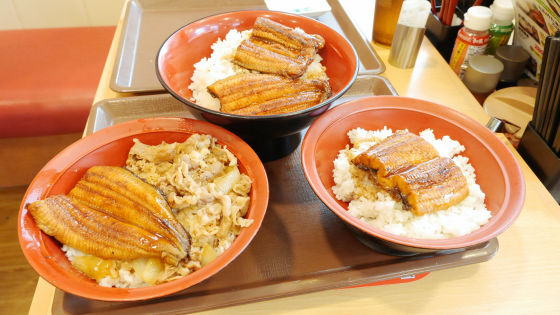 We use 2 specialty bowls for kabuki-yaki and 1 bakubaki for unadon.



Bowls are made of plastic with black on the outside and red on the inside, special bowls are high ones.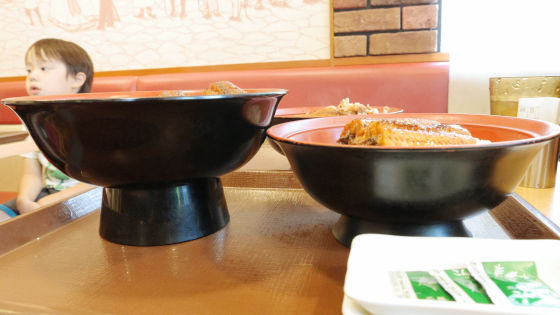 First off from a normal bowl. The price is 780 yen including tax, set 100 yen higher than Yoshinoya.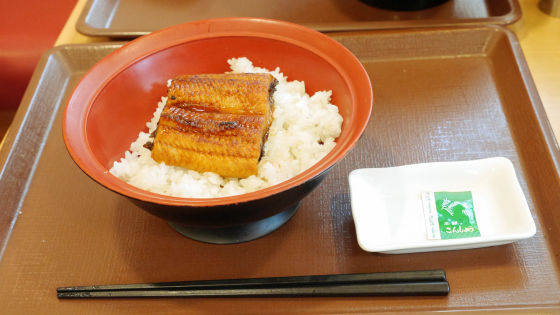 At Yoshinoya, one slice of barbecue was divided vertically into three, but it was in a state where it was not cut at Sukiya.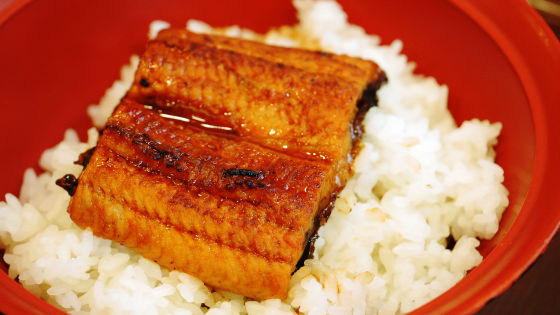 Includes "luxury pepper" in a bag.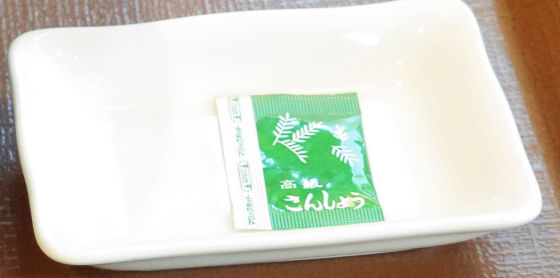 Looking at the eel from the side it looks something like this, there is thickness as it is.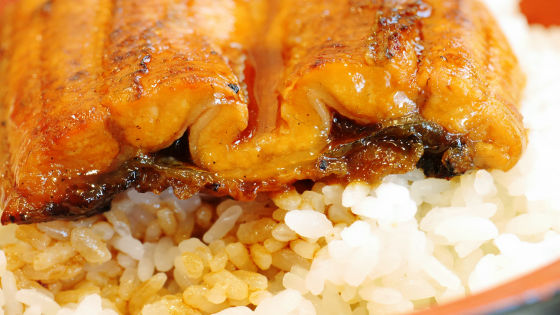 It seems that the kabuki is not sticking to the sauce, it is wearing a sauce just before putting it as a wild bowl.



When turned inside out like this.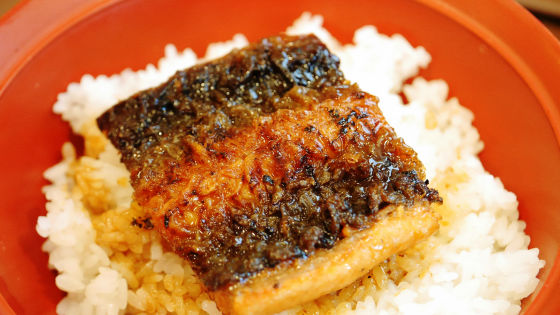 I'm burning with a nice touch.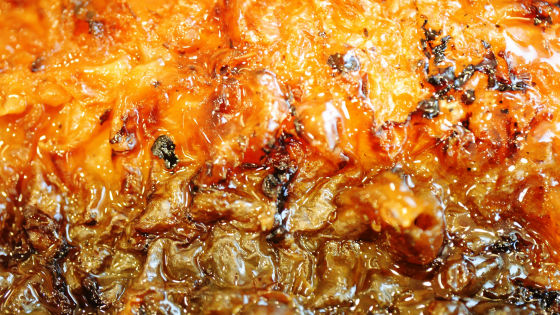 Sauce is also soaked in rice favorably.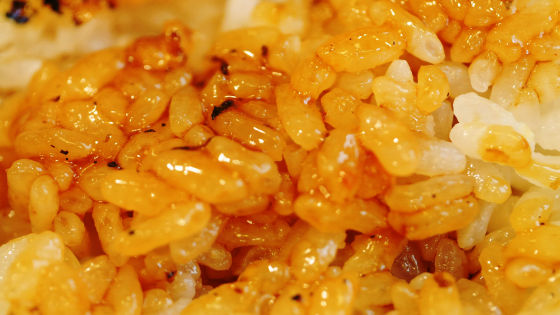 When I try to cut with chopsticks, fat is coming out of the eel and it is very juicy.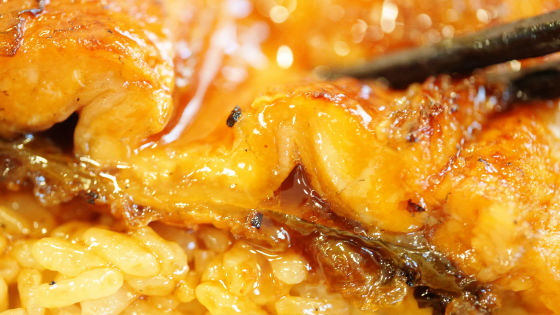 Cutting the eel with chopsticks and looking from the side looks like this.



I will eat it at once.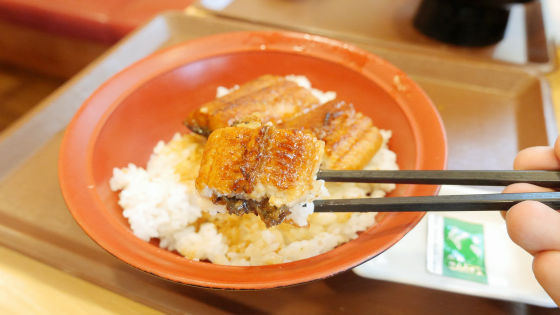 Impression that the fat content of the eel is thick and it responds as it is, but the fat content of the eel is slightly intense and comfortable. For a bowl of rice bowl, there is little sauce and the taste of the eel is better than the sauce, so it may be good to order with a big dish. The taste of the eel itself is not so strong, it does not harden like an unpleasant smell or rubber, but it makes me feel a bit stricter to make me eat around the taste of eels. I do not eat soaked eely savory taste.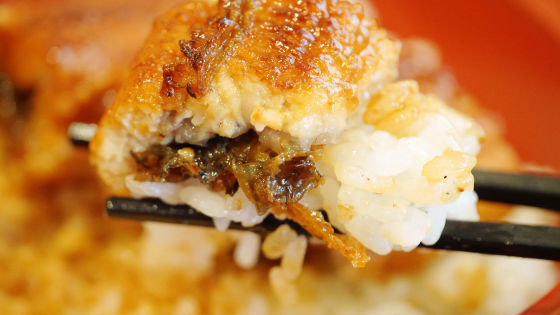 Sauce does not cost so much.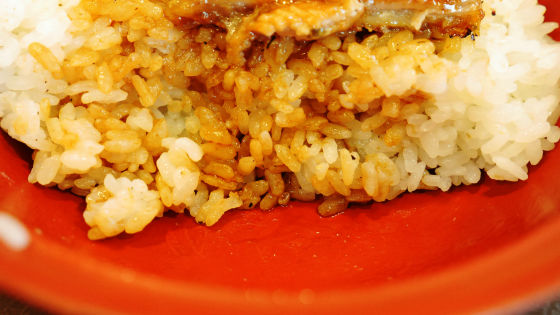 I will try to eat half as much as I can. After all it is good compatibility with the eel, because it uses high-grade pepper, or is it because it is contained in a sealed bag, fragrance, spiritual spirit that was twisted and high quality was also high quality.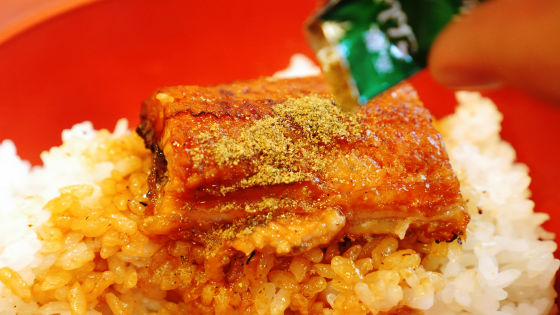 A special bowl is 1180 yen including tax. Looking at only the price, I am surprised at "Sukiya over 1000 yen!", But the price rise of recent eel is tremendous, this yearThe price of the eel trading is three times that of 2011It seems that this neighborhood is the limits even though the cheapness of Uri's favorite house has become.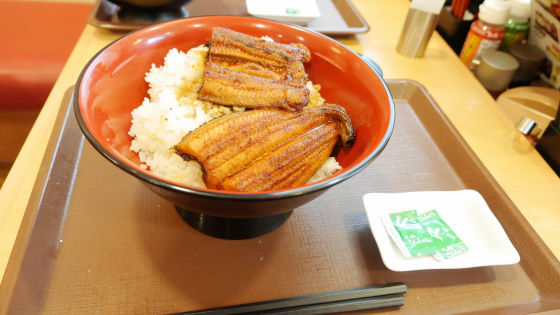 There are two Japanese pickles in the special bowl.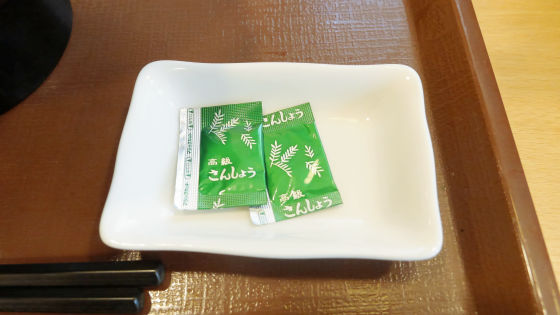 After all I ate a couple of eels. Because there are two bamboo grill rides, there is a response to eat, but may be leaning because a little eel fat is strong.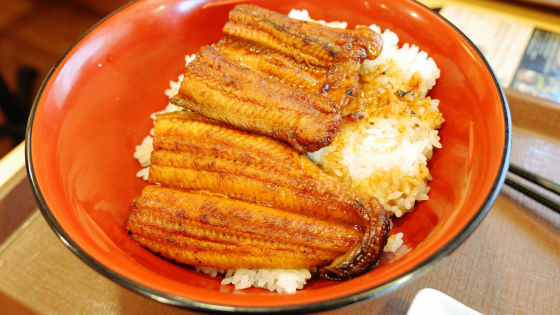 The last is a cow. The menu with the ingredients of beef bowl served in the eel bowl is the price 880 yen including tax. I will eat it at once.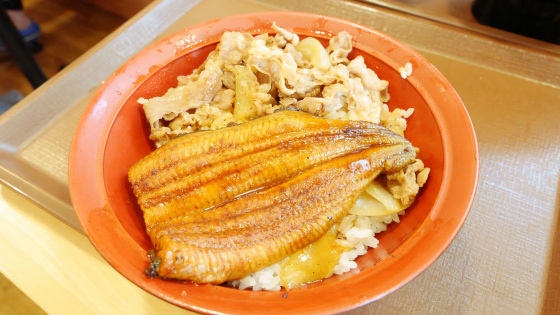 Eating together eel with eel and beef bowl without eating good or bad. Just thinking about the price of eels these days, I feel a waste to eat with eels. It may be good to simply eat with eels when you want to eat eels together, or when you are unsatisfied with just eel.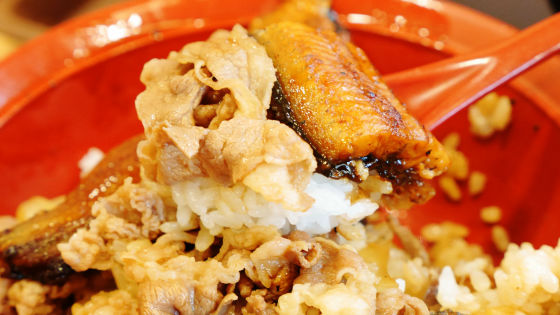 In the short term, I decided to eat eels from Yukono family and Yukuno's eel, but in terms of quantity, it was a feeling that equal strength, price and taste will rise in Yoshinoya.