`` Collected Animal Crossing '' is a new place where Hong Kong protesters can gather without worrying about infection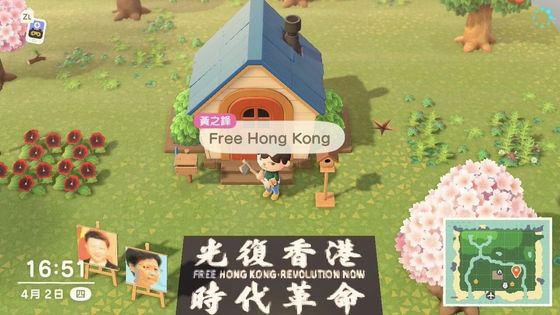 The
Hong Kong Democratization Demonstration
(Hong Kong Demonstration), which has been taking place in Hong Kong since March 2019, is closely related to the game. For example,
professional gamers who have expressed their support
for the
Hong Kong demonstration have been banned from winnings and banned from participating in tournaments
, and
overwatch characters
have been
symbolized in the demonstration
. And newly, in a world where the new coronavirus infection spreads, it is clear that Nintendo's popular game ``
Atsuma Animal Crossing
'' is attracting attention as a place to perform demonstration activities as much as you want without worrying about virus infection Has become.
Animal Crossing: New Horizons is Fast Becoming a New Way for Hong Kong Protesters to Fight for Democracy | USgamer
https://www.usgamer.net/articles/animal-crossing-new-horizons-is-fast-becoming-a-new-way-for-hong-kong-protesters-to-fight-for-democracy
As the spread of the new coronavirus infectious disease (COVID-19) is required to maintain a social distance, rallying in public places is banned in many countries and regions. Hong Kong has also been banned from gathering more than four people in public places, making it difficult to conduct outdoor Hong Kong demonstrations starting around March 2019. However, demo players have gathered at the Nintendo Switch game "Atsumara Animal Crossing" released on March 20, 2020, and
USgamer
reports that overseas game media is continuing demonstrations.
According to USgamer, he went to the island of a Hong Kong demonstrator in the 'Gathered Animal Crossing' and said, 'The first time I came across the island, I found the mouth of a picture of Hong Kong Secretary-General
Lin
Jung Moon-e. The dog's food plate was placed there, 'he wrote. In addition, on the island, a statement calling for an official investigation on police atrocities and letters calling for pardon to demonstrators are stuck on the floor using My Design. USgamer wrote, 'You can't run 5 feet without hitting any protest text.'


According to USgamer, when they went to the island where the Hong Kong demonstration was taking place, residents of the island were given a black mask and
dressed
in
black clothes
.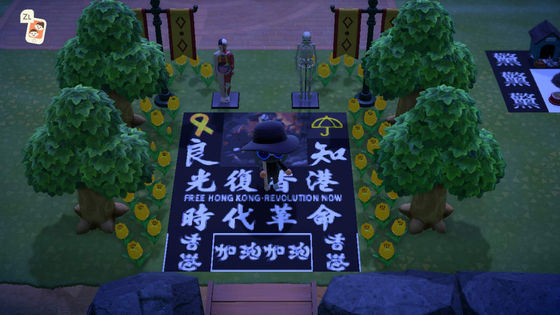 A Hong Kong demonstration being held on the "Gathering Animal Crossing" has also been posted
on the Taiwanese game forum
.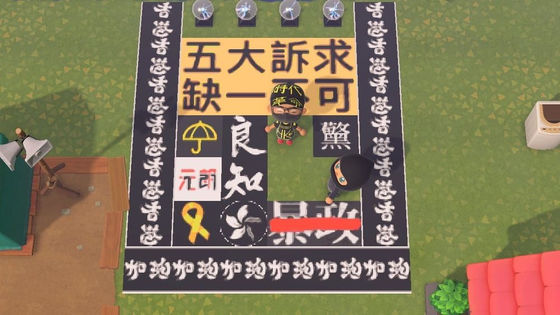 @Heung_yan , a Twitter user who is a student in his 20s, seems to have never played the Animal Crossing series until now, but since the city blockade was announced in Hong Kong, demonstration activities using Animal Crossing have been done It seems to have continued. @heung_yan said that he created a black shirt and artwork for the Hong Kong demonstration in My Design two days after getting the game. This artwork seems to be popular among the demonstrators.

h / t @cclamoncc Apparently, Animal Crossing x HK protest art * totally * exists, because of course. ????

Source: FB-link here: https://t.co/tJb0pPSeMm pic.twitter.com/zAW14xBEXN

— Uwu (@uwu_uwu_mo) March 26, 2020


Joshua Wong, an activist who has participated in the Hong Kong demonstration, also posted on Twitter about the Hong Kong demonstration spreading on the gathered animal forest.

Crossing Is Fast Animal Becoming A New Way For Hong Kong Protesters To Fight For Democracy! The # Covid_19 Pandemic Has Halted Public Demonstrations, So Protesters Are Taking Their Cause To #AnimalCrossing . Https://T.Co/A599kjlYsV

(This is my island!) Pic.twitter.com/vjBhzw1nUa

— Joshua Wong 黃 之 峰 ???? (@joshuawongcf) April 2, 2020


In addition, it seems that my design like the photo was created using Animal Crossing Pattern Tool .


in Game, Posted by logu_ii