A game company that has made the character of the game a symbol of Hong Kong demo will be protested even at a real event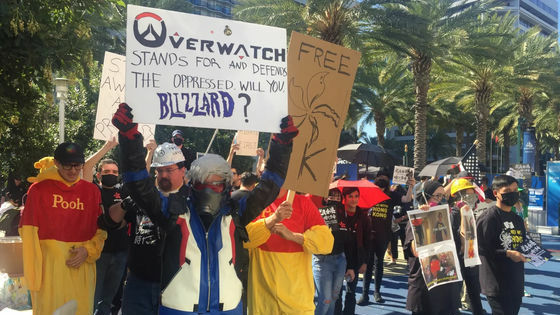 '
Diablo
,' '
over-watch
', '
Hearthstone
Blizzard Entertainment's leading game makers to deal with the popular games such as' may, large-scale event of fan-friendly '
BlizzCon 2019
has been held', the Diablo series latest installment in this '
Diablo
'
IV
' and '
Overwatch 2
' that will be the official sequel to
Overwatch
. Several overseas game media reported that users who were dissatisfied with responding to the Hong Kong demonstration of Blizzard were gathering and protesting behind the scenes where the new titles were brilliantly announced at the company's event.
Hong Kong Protests Are Growing Outside Of BlizzCon [Update]
https://kotaku.com/hong-kong-protest-is-growing-outside-of-blizzcon-1839542568
Hong Kong protesters are assembling outside of BlizzCon-Polygon
https://www.polygon.com/2019/11/1/20943761/hong-kong-protests-blizzcon-2019-blitzchung
The beginning of the event was the "
2019 Hong Kong Democratization Demonstration
(Hong Kong Demonstration)"
, a
demonstration activity that has started around March
2019
. Blizzard was closely related to the Hong Kong demo when Hong Kong-born professional gamer
Blitzchung
participated in the official Hearthstone tournament and made comments in support of the Hong Kong demo. Because. Blizzard was forbidden to make political comments during the official tournament, so the blitzchung took away the prize money he won at the tournament and banned him from participating in the official tournament.
A professional gamer who expressed support for the Hong Kong demonstration will be robbed of the prize money and banned from participating in the tournament-GIGAZINE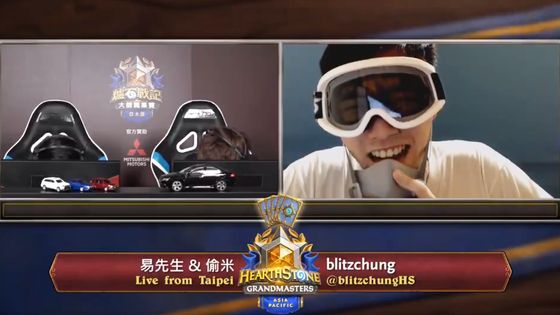 However, the disposition that Blizzard gave to Blitzchung is in line with the Chinese government's intention to calm down the Hong Kong demonstration, and that
China is strengthening its speech control over foreign companies.
As a result of this, criticism has been gathered from gamers, Blizzard employees, and even politicians.
Voices of criticism from fans and employees against companies who disposed of to professional gamers who supported Hong Kong demonstrations-GIGAZINE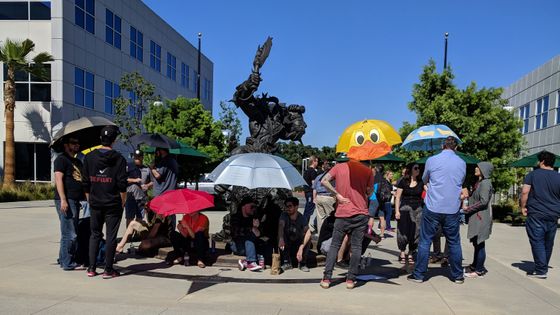 As a result, Blizzard
lost
some of the
sponsors,
and it has developed into a situation where Blizzard's popular content, Overwatch characters, is celebrated as a symbol of the Hong Kong demo.
Why are Overwatch characters so popular as a symbol of Hong Kong demos? -GIGAZINE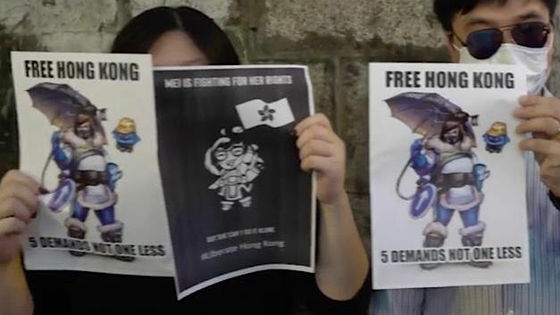 Under such circumstances, BlizzCon 2019 has been held in California, USA from November 2, 2019 in local time, and more than 30 activists gathered at the venue to protest the disposition of Blizzard against Hong Kong demonstration supporters. It is reported that you are doing.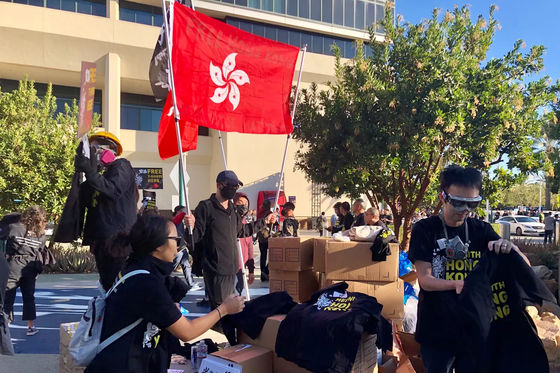 Some of the groups participating in the demo also distributed a free T-shirt called "Mei with Hong Kong" that printed the overwatch character May. According to Polygon of overseas game media, Zephronica, who participated in the demonstration with May 's cosplay, said, "My family lives in Hong Kong and has been demonstrating for months. I really didn't have anything I could do to help, but I felt I was able to do it when Mei spread as a symbol of the Hong Kong demo on the internet. '



According to Kotaku of overseas game media, protesters are carrying out demonstration activities with signs such as "Free Hong Kong". There are several Hong Kong demo support groups participating in the demo, in addition to the protesters groups `` Freedom Hong Kong '' and `` Fight For The Future '' Volunteers gathered at Reddit on the overseas bulletin board were confirmed. The demonstration activity seems to have continued until the afternoon of BlizzCon 2019.

Charles Lam, who participated in the demonstration, told Kotaku: "It is clear that many people have been silenced by the pressure from China. Gamers are being censored for supporting democracy. "This is unacceptable in the United States," he said.

In addition, Dayton Young, member of Fight For The Future, one of the protest groups, said, "Protest should continue until Blizzard and many other companies listen. This is not just a blizzard issue. No, it's a problem for all game and digital media companies, they need to listen to and talk to us, and keep their platform safe and free '

In BlizzCon 2019, Blizzard president Allen Black said about blitzchung's disposal, `` Blizzard had the opportunity to connect the difficult situation faced by Hearthstone eSports about a month ago with the real world. But it wasn't possible to do so, because Blizzard made a decision so quickly when he faced a problem, he made a mistake, and should spend more time talking to the whole community. Blizzard was unable to meet the high standards set by them, 'he
officially apologized
.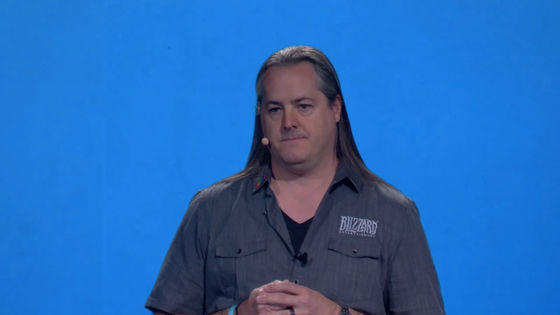 Pattern in the people who participated in the protest activities of the BlizzCon, that wearing a Winnie the Pooh costume, were some people wearing your face of Xi Jinping Jintao of China. And say why was multiplied by the Pooh and Xi Jinping Jintao, on the Internet, '
Xi Jinping and Winnie the Pooh is similar
to the'
be nothing else
because there is that.
A protester dressed in a Pooh costume said, "The first reaction of Blizzard really spoke of the company's heart. Blizzard did not apologize because he thought it was right. 'I apologized at BlizzCon because I thought it would lead to a net profit. I think it's really everything.'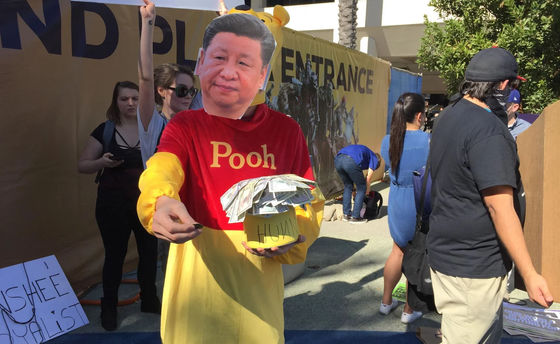 A protester from China said, "There is only one thing Blizzard has to do, it's theoretically simple. Blizzard says that" supporting democracy and basic human rights everywhere in the world " It should have been clear, but we have continued protests because we just made a few statements that there were actually problems, "Blizzard said, neutral to political statements. Pointed out that he should have shown a good position.

Blizzard finally apologized for dealing with Blitzchung and allowed BlizzCon to talk about the Hong Kong demo. When Kotaku contacted a blizzard spokesperson, he said that "employees can theoretically participate in protests".

However, Kotaku notes that the motives of the protests taking place at BlizzCon are not exactly the same for all participants, and some of the protesters who have spoken to support the Hong Kong demo Some people say that Blizzard's recent policy is not to conduct demonstration activities for this purpose, but to blame that they are "too close to making money".

In the afternoon of BlizzCon, the number of protesters increased to 40-50. Some participants stop spending money on Blizzard games and products. Some people reported having deleted their account.


in Game, Posted by logu_ii