A professional gamer who expressed his support for the Hong Kong demonstration will be robbed of the prize money and banned from participating in the tournament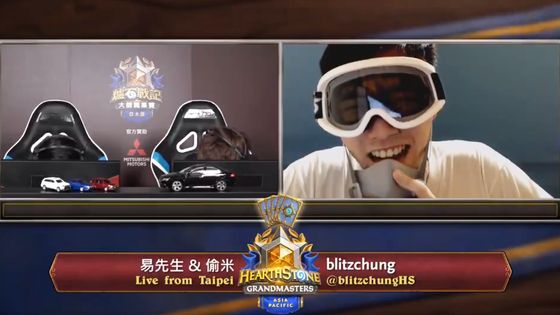 Is an American game company Blizzard Entertainment is, of professional gamers Blitzchung Mr. popular game ' Hearthstone questioned that in the tournament after the interview and expressed their support for the Hong Kong demonstration of' prize deprivation and the next year Measures were taken to ban tournament participation. Concerns have been raised from inside the company and senators that Western companies investing in China are showing signs of oppressing the Chinese government and oppressing freedom of speech. .

Hearthstone Grandmasters Asia-Pacific Ruling-Hearthstone
https://playhearthstone.com/en-us/blog/23179289

Hearthstone: Hong Kong player Blitzchung calls for liberation of his country in post-game interview-Inven Global
https://www.invenglobal.com/articles/9242/hong-kong-player-blitzchung-calls-for-liberation-of-his-country-in-post-game-interview

Blizzard bans pro Hearthstone gamer for statement supporting Hong Kong | Ars Technica
https://arstechnica.com/tech-policy/2019/10/blizzard-bans-pro-hearthstone-gamer-for-statement-supporting-hong-kong/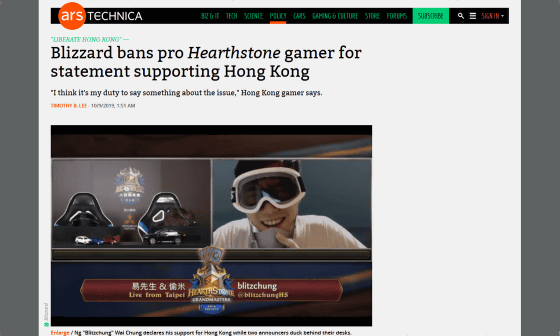 In Hong Kong, demonstrations that originated from the amendment to the fugitive code have been ongoing for several months, and the Chinese government has been carrying out activities to conclude Hong Kong demonstrations on SNS such as Twitter.

What is the strategy that Chinese authorities are deploying on Twitter to conclude the Hong Kong demonstration? -GIGAZINE


by PPPSDavid

Blitzchung is a Hong Kong professional gamer who was active in the Grand Masters , a hearthstone pro tournament. In October 2019, Blitzchung made a big topic in a post-Grand Masters interview with a statement supporting the Hong Kong demonstration.

Blizzard Entertainment, who considered this incident as a problem, determined that 'the act of angering some people and public groups' was violated. Blitzchung will take away from the Grandmasters eligibility and winnings, and will ban from participating in Hearthstone tournaments for one year from October 5, 2019 to October 5, 2020. It was.

Blizzard Entertainment has deleted the movie in question, but eSports-related media, Inven Global, has posted the questioned interview on Twitter.

[BREAKING] Hong Kong Hearthstone player @blitzchungHS calls for liberation of his country in post-game interview: https://t.co/3AgQAaPioj

@Matthieist #Hearthstone pic.twitter.com/DnaMSEaM4g

— ???? Inven Global ???? (@InvenGlobal) October 6, 2019


Two interviewers are on the left and Blitzchung is on the right. Blitzchung is wearing a gas mask, a symbol of the Hong Kong demonstration.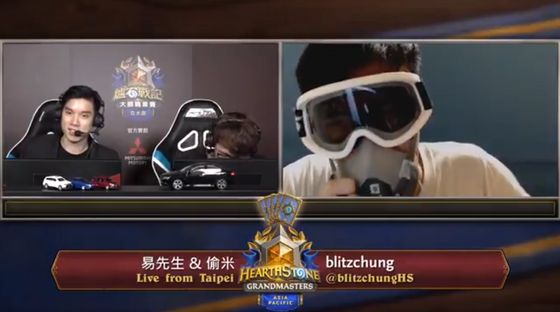 Mr. Blitzchung staggered the gas mask mouthpiece and said in Chinese, 'Release Hong Kong and revolutionize our time!' In order to avoid getting involved in political statements, two interviewers faced down. Mr. Blitzchung's face is smiling, and the interviewer's laughter is also leaking, suggesting that the comments were made in a friendly nori.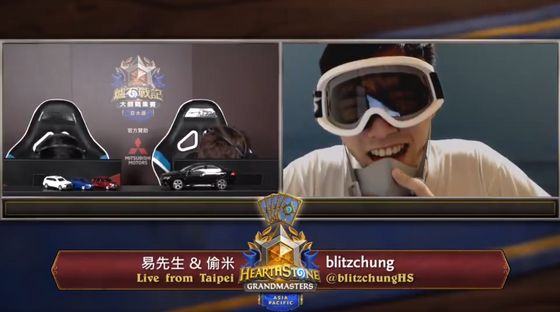 After that, the screen went dark and the sponsor's logo was displayed. When the screen returned, Blitzchung was absent. The two interviewers were also fired later.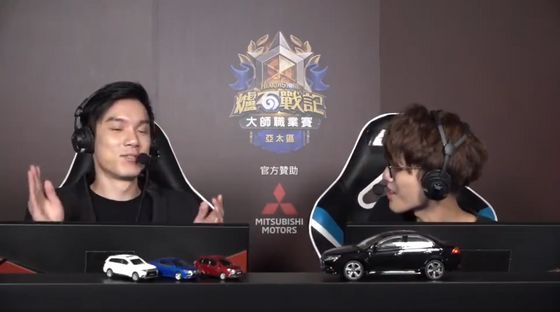 Blitzchung issued a statement to Inven Global, "As you know, there is a serious protest in my country (Hong Kong). The remarks on the broadcast were a different form of participation in the protest. 'I wanted to get more attention,' commented. Blitzchung himself understands the meaning of making a political statement in the broadcast, and said that it may have a negative impact on the safety of real life, but expressing his support for the Hong Kong demonstration is his own Insist that it is an obligation.

The Hong Kong demonstration is a headache for the Chinese government, and the Chinese government is actively using its economic power to suppress the remarks made by Western companies to support Hong Kong. Around the same time as Blitzchung's uproar, Daryl Morley, General Manager (GM) of Houston Rockets , an American professional basketball team, announced support for the Hong Kong demo on Twitter. This statement caused a backlash in China, and Rockets lost its sponsorship contract in China.

Opposition from the US Senators and Western companies has also been raised against this trend.

After Hearthstone player's ban, Blizzard is in hot water with lawmakers-The Verge
https://www.theverge.com/2019/10/8/20905181/blizzard-hearthstone-player-ban-marco-rubio-ron-wyden-china-hong-kong-protests-blitzchung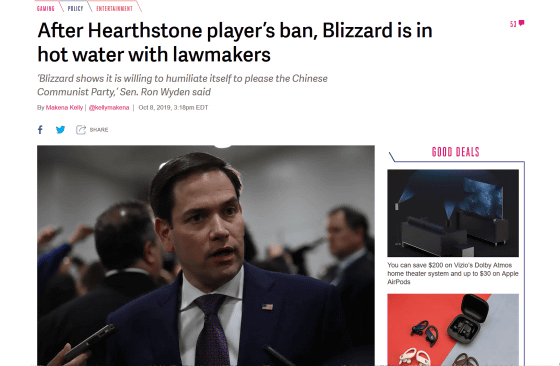 US Senator Ron Weiden received Blizzard Entertainment's decision, 'Blizzard did a shame to please the Chinese Communist Party,' 'American companies should not censor voices seeking freedom.' Commented.

Senator Marco Rubio also responded to this incident: "People who do not live in China must self-censor or face dismissal or suspension" "China uses market access. 'I am destroying freedom of speech on a global scale,' and criticized the repression of speech.

Blizzard entertainment decisions have been repelled not only from outside, but also from inside the company. Employees who were angry about the decision took protests such as `` Think Globally '' and `` Every Voice Matters '' in Blizzard Entertainment's office. It is said that.

Not everyone at Blizzard agrees with what happened.

The Both 'Think Globally' And 'Every Voice Matters' Values Have Been Covered Up By Incensed Employees This Morning. Pic.Twitter.Com/I7nAYUes6Q

— Kevin Hovdestad (@lackofrealism) October 8, 2019


The voice of criticism is spreading among fans, and the criticism of Blizzard Entertainment is gathered on Twitter using " #BoycottBlizzard ".

Blizzard boycott campaign gathers momentum-Polygon
https://www.polygon.com/2019/10/8/20904972/blizzard-boycott-campaign-hearthstone-hong-kong-blitzchung-china