I asked Mr. Michael von over the Asian region of Blizzard about the Japanese market · prospect of e-sports · the philosophy of making Blizzard games


Overwatch (overwatch)YaHearthstone (Hearthstone)Known for popular games such asBlizzard Entertainment(Blizzard)But,Constructed bronze statue of Arthas of 10 feet (about 3 meters) in total height in Taichung, TaiwanDid. At the timing of the Amber event of Arthas bronze statue (Statue), Michael von who oversees offices in each region of Asia and is responsible for market development throughout Asia, including Japan, talks about strategies in the Japanese market, future e I asked about the outlook of sports, the meaning put in Statue, what kind of idea is passed through Blizzard's game making.

Mr. Michael Fong, regional managing director of Blizzard Entertainment and senior vice president of publishing for Asia.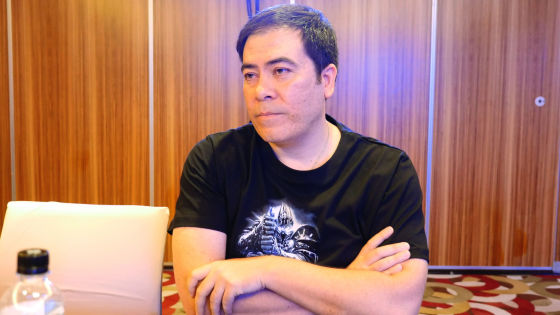 GIGAZINE (hereinafter referred to as "G"):
Overwatch and Haasstone are also hit in Japan. However, compared to overseas, it is still not a big break. What is difficult? How do you capture the Japanese market?

Mr. Michael Fong (hereinafter referred to as "phone"):
First of all, I believe that as a blizzard we have succeeded in the Japanese market. It is only recently that Blizzard extended its business to the Japanese market. I started with the console with Diablo 3, released the hearthstone in Japanese version in 2015, and overwatch.

Japan is one of the largest game markets in the world, and it is also a unique market. However, we are very passionate about the Japanese market. I already have a very strong game title like Haasstone. I'm very pleased about the success of Herstone's mobile, and I am excited. And it is about success on overwatch console (PS 4) and PC. With the success of these games as a foothold, we will expand our service in Japan in the near future by providing Blizzard's brave game experience to enthusiastic blizzard fans in Japan.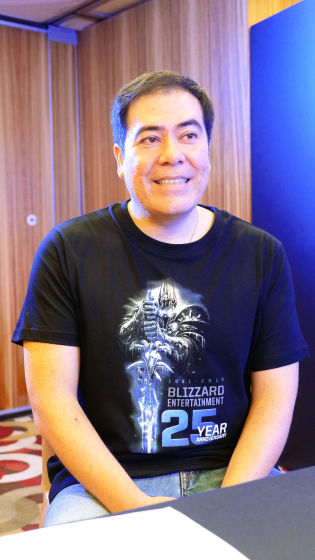 G:
I think that it took a while for Warcraft to release the Hairstone, but did you mean that this was ready?

phone:
There are various reasons, firstly there is a lot of work to localize the game, it takes time to release. There is one thing called "Commit To Quality" as one of the core values ​​of Blizzard, but there are many work which is necessary to satisfy the quality demanded by us.

G:
Do you not be particularly conscious of the specialty of the Japanese market, do you have confidence to succeed in Japan in the future?

phone:
Yes. I am confident. Blizzard has many fans all over the world. Blizzard has a strong IP (intellectual property). And I've been feeling a very strong passion (passion) to the Japanese of us so far, I am optimistic and strong confident about the future.

G:
As Blizzard, do you particularly want to grow the "PC game" market? If you succeed in the console and mobile game market in the Japanese market, are you thinking that PC games do not have to grow?

phone:
We are developing and releasing games not only on PC but also at console and mobile. "To deliver Blizzard's game to as many people as possible" has always been our aim. We consider various factors in deciding the game platform. But ultimately in light of its game nature, I will decide on the optimal platform. For example, hearthstones are PCs, tablets, smartphones, overwatches and Diablo 3 are the way they released on PCs and consoles.

As many Blizzard games platform PCs, it is pleasing that the PC game market will continue to grow. However, I am excited about continuing to support Blizzard quality gaming experience on other platforms as well.

G:
Not only PC games but "E Sports"Is still not popular in Japan yet. Why do you think that e-sports is not breaking only in Japan unlike other Asian countries?

phone:
Certainly the name "e sports" may not be major, but there have been numerous game competitions in Japan so far. Street fighter and Tekken. There are many game competitions close to e sports everywhere. However, the number of big tournament style game competitions and professional gamers is negligible. One of the biggest reasons is that it is impossible to give huge prize money to the winner of the convention owing to the limitation of the law (prize marking law). In addition, it is difficult to recruit sponsors at console and arcade game events.

However, e-Sports is getting popular gradually even in Japan. At the Haasstone World Cup held at Brizzcon 2015, when Kno, the leading Japanese striker, defeated many talented players from all over the world, countless Japanese fans cheered Sent. Although I have a time difference, I am watching live streaming. At this time we were able to feel the possibility of e sports in Japan.

There is another example. More than 500 spectators gathered at Haasstone's Spring Japan championship held in Yokohama in June 2016. This is a huge number in the e-sports scene in Japan, it's just the number of registrants reached the limit in just a few hours after registering on the official website. TBS's N Stars came to shoot the tournament and Fuji TV also launched the e-sports special channel called "Good Sunday!" Many Japanese are starting to look like "Gaming competitions are fun!" In the near future, I think there is a possibility that e sports in Japan will be big like many other countries.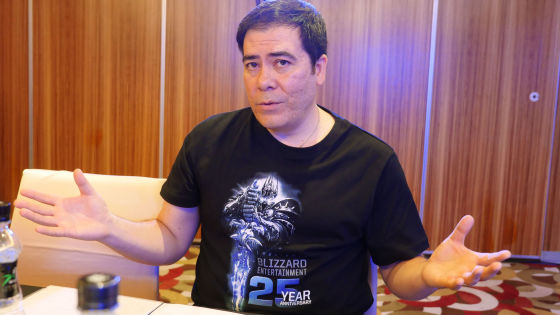 G:
All Blizzard games have a strong community. How do you think about the importance of the community that has been understood over the years by "steering" of community making? Why does Blizzard care the community so much?

phone:
First of all, at Blizzard, I believe that "Every Voice Matters (no important words)". Also, the great idea comes from somewhere else. It is because Blizzard is listening to the voice of the player today. Continuous communication is difficult, but we understand that a great game will be created with the help of the community. And interact with the community and interlock. There are various channels, such as websites, bulletin boards such as reddit.

The community is one of the most important assets for Blizzard. To convey our gratitude to the community, we have held a big event called Blizzcon from Anaheim since 2005 and have shared the experiences with fans for two days. I introduce the latest game among those events earlier than anywhere. Through the event we share our passion for the game with the community.

From the history of Blizzard for 25 years, I learned that "passionate community" is the most important thing for game companies. So, I will continue to make games with the community in the future. Of course, it is so in Japan. I want to communicate with the Japanese community more frequently than before, through various channels. in the future,Fireside GatheringsI hope to be able to create such community events like.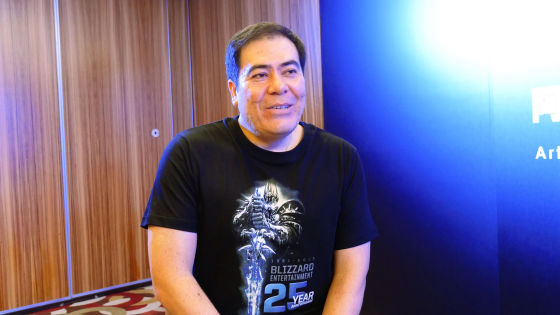 G:
I think that it was not successfully succeeded in making a community. What is difficult in community making?

phone:
I feel it is difficult to continuously communicate. I think that there are aspects of both proactive and reactive. For example, you may use voices from fans for games in practice, or you can not make use of them. Even in such a case, as you can see in "Every Voice Matters (no important words)", I think that it is important for fans to think that "Blizzard is listening to their voices properly".

G:
Certainly,He was also seriously dealing with the voice that seems to be excessive, "Is not it a sexual expression?" Against overwatch tracer's "victory pose"It was impressive. So, is there no plan to establish an organization like Blizzard Japan to bring Japanese gamers feedback? It is a great help if there is a window.

phone:
I do not have any concrete plan at the moment, but I feel strongly the passion of Japanese players from the game I released so far. It is in the process of always reviewing and evaluating what to do for deployment in Japan.

G:
Eight core values ​​"Gameplay First (Gameplay First)" "Commit To Quality" "Play Nice; Play Fair (Game Play First)" that are frequently coming out in this interview, which is the attitude of game development of Blizzard itself, Embrace Your Inner Geek "," Every Voice Matters "," Think Globally "," Lead Responsibly "(responsible) "How did you decide on" Learn & amp; Grow "(learning, growing)?

phone:
Founded in 1994, soon, Blizzard has become a very popular gaming company in a short period of time. And in the computer game industry, it became a respected company. As the company grew, Michael Morheim and the leader of Brizard felt the necessity to share the "values" of Blizzard that existed since its inception. Then, the mission statement "dedicated to creating the most epic entertainment experiences ever (dedicated to creating the best entertainment experience ever)" and eight core values ​​were born. These core values ​​represent principles and beliefs that have led Blizzard over the years. They are reflected in the day-to-day decisions and actions of employees.

G:
Core value is not something that suddenly occurred one day, is gradually gradually being cultivated?

phone:
The core value was what the founder had before what Blizzard started from the beginning. Over time the number of employees has increased, and it is what we made concrete sentences like this in order to share our philosophy.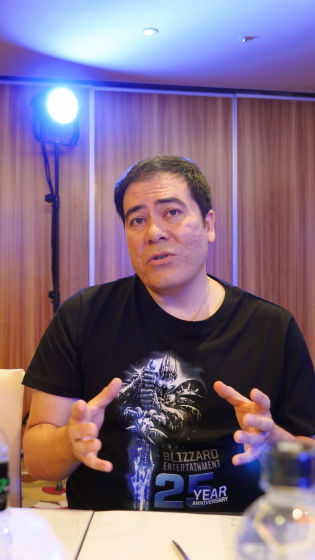 G:
I will ask about game production. Game development is time consuming as much as a major episode, but Blizzard sometimes thrown away without mercy if judging it is no good even though it was a title that developed over time. On what basis do you judge "This is useless"? What kind of judgment do you make to make a decision to cancel?

phone:
Everything Blizzard is doing is based on the objective of having the game player "have the best gaming experience." The eight principles of Blizzard that I mentioned earlier are all for this goal. It is the goal that everyone who can reach Blizzard in all respects such as image beauty, programming, customer support, etc. wants to enjoy as much as possible.

Everyone working at Blizzard is a gamer and is a player of a game developed by Blizzard. If we can enjoy the game under development, we are ready for fans of Blizzard to have fun. If not, if the game can not come about us (the thought) and we are not satisfying what we are pursuing, "Should I invest further in that project?" Or "Should I leave development Do you have to make a very difficult decision of? And we have to focus on different things.

According to one of the core values ​​of Blizzard "Commit to Quality", we will focus on "iteration" in the game development process and invest as much time and resources as possible to refine the game. Also, through the game development process, we receive feedback from every test from closed alpha version to open beta version. This includes public tests to confirm the fans' reaction for the first time in an event like Blizzcon. Through these tests, if it seems to be "able to deliver the best entertainment experience ever," it will be released. More importantly, I think that it is very important that you continue to gaze at the community after releasing the game, keep on giving feedback and enjoying the game all the time.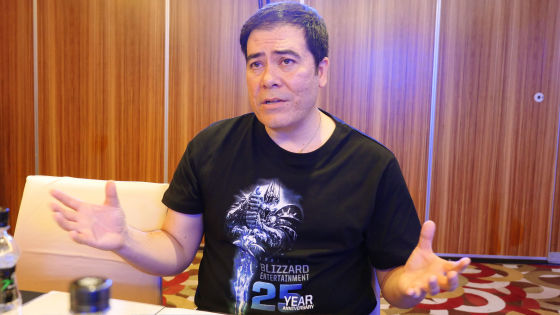 G:
The thing that developers who are gamers themselves can enjoy is the prerequisite. On the contrary, there seems to be a danger that it will become a game that only advanced users can enjoy, but will not it become a game for advanced users?

phone:
"To deliver epic experiences to as many people as possible" is top priority. To that end, I am playing games not only on PC but also at console and mobile. One philosophy not in core value is "Easy to play, Hard to master (it is easy to play but it is difficult to master)". So, I do not consider developing games for advanced users only.

G:
Finally. Blizzard decided to build Statue, which is the first Asia in Taiwan · Taichung. Blizzard loves Statue, but why did you start making Statue?

I went to an exhibition event of huge "Arthas" Statue (bronze statue) symbolizing the idea of ​​Blizzard, the first in Asia - GIGAZINE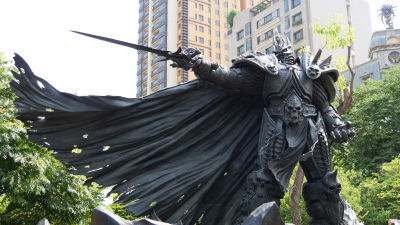 phone:
As an entertainment company, I would like to make the opportunity to experience Blizzard's game view of the world as much as possible. I want people to have access to the world of Blizzard. For example, I introduced the world of Blizzard through games, trailer movies, movies, comics, figures and other products. Like releasing Warcraft movies in Japan in July 2016. One such initiative is Statue.

G:
Taichung is the first in Asia, are you planning to make the Statue of Blizzard all over the world? Do you have the possibility to make it in Japan in the future?

phone:
There are two bronze statues besides the one to showcase in Taichung, one is "Statue of Oak" made at the Blizzard headquarters in 2009, the other is the Statue of Starcraft's "Carragan" in the EU office It is the 3rd body this time it is made in 2012. Of course I wish I could make it in Japan.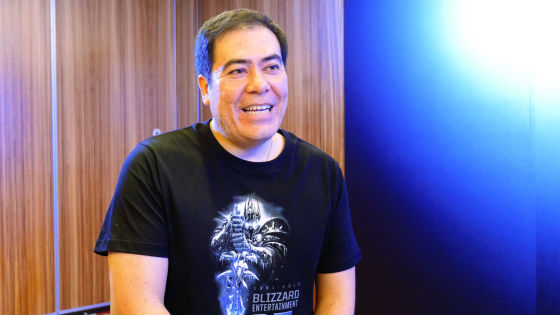 G:
Thank you very much for your busy schedule today.