Twitter and Facebook announce that Chinese government is manipulating information on SNS about Hong Kong demo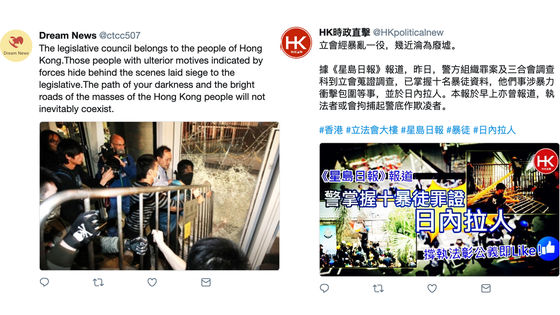 Demonstration activities have started in Hong Kong against opposition to the amendment of the fugitive law, and it is
reported that
the impact on the Hong Kong economy is getting worse. In this Hong Kong demo, Twitter itself reveals that the Chinese government was manipulating information using a Twitter account.
Information operations directed at Hong Kong
https://blog.twitter.com/en_us/topics/company/2019/information_operations_directed_at_Hong_Kong.html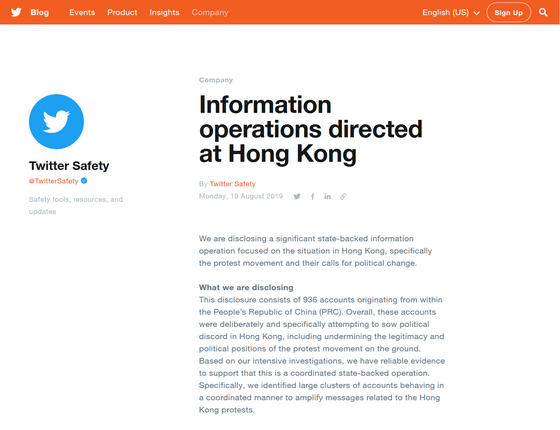 Twitter is an official blog, and there are 936 intentionally and clearly `` Twitter accounts that intentionally spread political disagreement by weakening the legitimacy of ground protests '' Have also been detected. According to a survey, Twitter claims that the information operations performed by 936 Twitter accounts "provide evidence that it is a state support project (government activity)". Specifically, Twitter accounts are being used to amplify negative messages about the Hong Kong demo.
In China, access to Twitter is blocked, so many of these accounts are accessing Twitter via VPN. However, some accounts have been shown to access Twitter from certain unblocked IP addresses originating from mainland China.
The 936 accounts that Twitter pointed out are "accounts that are particularly active in information operations from mainland China", and about 200,000 accounts form a large spam network The team is guessing. In addition, it seems that many of these accounts were created after the first account suspension treatment by Twitter, and most of the accounts were frozen before actually starting activities. These accounts appear to violate multiple
policy policies
, primarily
related
to
platform operations
.
In fact, Twitter has published screenshots of content that violates policy. With tweets in Chinese ...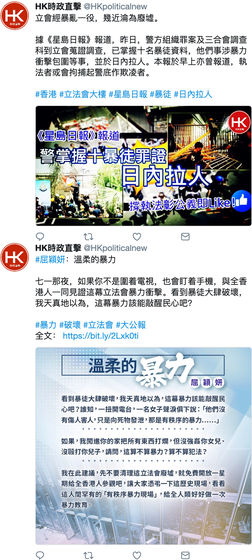 There are tweets in English. In the tweet, along with a picture of the people who participated in the Hong Kong demonstration, `` The darkness of the people surrounding the parliament (demonstrators) with impure motives shown by violence and the light path that many other Hong Kong people are traveling A sentence such as 'I don't exchange' is tweeted.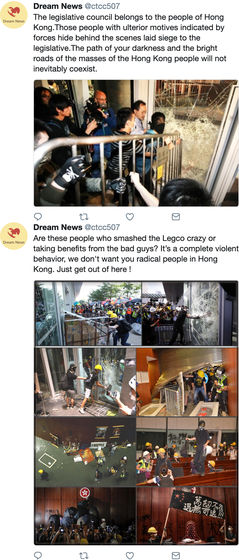 On the blog, Twitter criticized that "information manipulation by the Chinese government violates Twitter's basic principles" and pointed out that such information manipulation has existed for a long time before Twitter launched its service. As geopolitical landforms have evolved around the world and new technologies have emerged, information manipulation has evolved to a higher degree and efforts are being made to deal with it. Twitter publishes Twitter account information and tweet information that appears to have been used for information manipulation by the Chinese government on its blog .

On the same day, Facebook also announced the deletion of the account that committed fraudulent acts related to the Hong Kong demonstration.

Removing Coordinated Inauthentic Behavior From China | Facebook Newsroom
https://newsroom.fb.com/news/2019/08/removing-cib-china/



According to Facebook, seven pages, three groups and five accounts on topics focused on Hong Kong originated by a small Chinese network were removed as violating policy. The person who used the account deleted by Facebook seems to be managing a Facebook page, posting to a group, spreading content, trying to guide users to news sites outside Facebook, pretending to be a news organization is. The account was dealing with a topic about protests in Hong Kong, and a Facebook survey revealed that people related to the Chinese government operated the account.

Facebook says that it has succeeded in detecting information operations performed on Facebook from information on `` information operations on Hong Kong demonstrations by the Chinese government '' revealed by Twitter, and responding to accounts that violate policies by continuing monitoring Is going to advance. It also reveals that the findings have been shared with law enforcement and industry partners.

Posting people who participate in protests in Hong Kong called ISIL, "The result is the same even if the weapons are different!"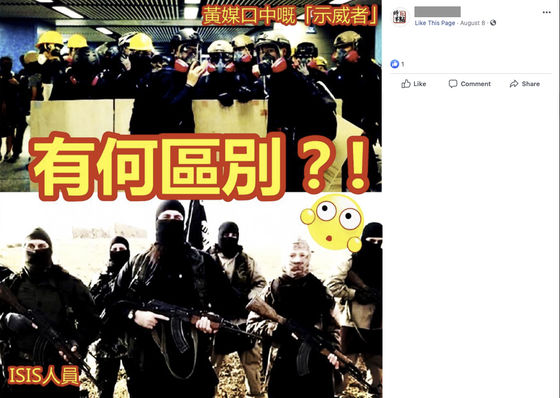 I have posted photos of victims of Hong Kong demonstrations and criticizing protests as 'chaos caused by cockroaches in Hong Kong'.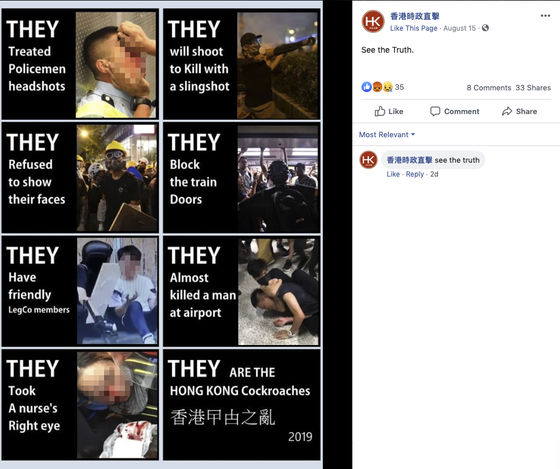 In addition to the account itself, criticism has gathered not only about the account itself but also how to use Promoted Tweets , which is an advertising function on Twitter, and one user searched for a hash tag that attracted particular attention in the Hong Kong demo, protest activities Point out that critical Promoted Tweets will be displayed.

The tweet says, "I'm watching Promoted Tweets on Twitter that claim to be the exact opposite of what I saw outside my eyes. Twitter is from a Chinese Provaganda organization ( Xinhua News Agency ). 'We receive money and display promo tweets that show negative views in the demo when searching for the most popular hashtags in Hong Kong protests.'

Every day I go out and see stuff with my own eyes, and then I go to report it on Twitter and see promoted tweets saying the opposite of what I saw.Twitter is taking money from Chinese propaganda outfits and running these promoted tweets against the top Hong Kong protest hashtags pic.twitter.com/6Wb0Km6GOb

— Pinboard (@Pinboard) August 17, 2019