'AirDrop' of iPhone is playing an active part as information spread method of censorship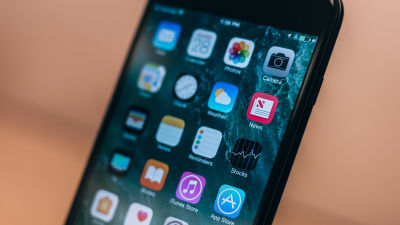 by Fancycrave.com

In China, where strict censorship takes place and the Internet is restricted, the message of protests and protesters will soon be wiped out by the government. As information on how to use such a censorship system 'Great Firewall', 'information spread using AirDrop is spreading,' said Mary Hui, a reporter for overseas news media and Quartz.

Hong Kong protesters use AirDrop to breach China's Firewall — Quartz
https://qz.com/1660460/hong-kong-protesters-use-airdrop-to-breach-chinas-firewall/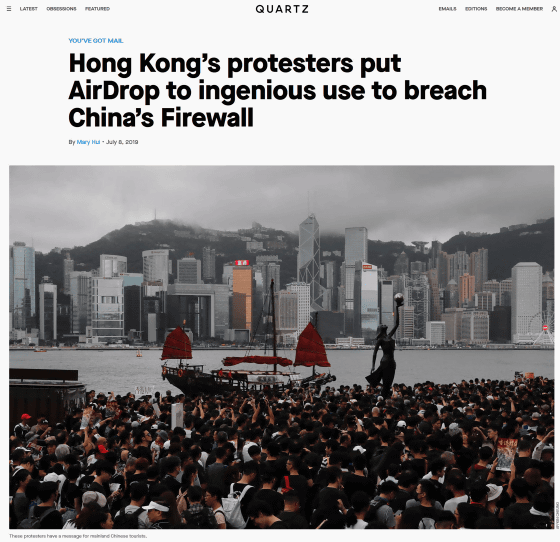 Large-scale demonstrations are continuing in Hong Kong to protest the revision of the Fugitive Ordinance, which will allow transfer of suspects in Hong Kong to mainland China. A demonstration was held in the Kowloon area on July 7, 2019. According to the police announcement, 56,000 people participated and 230,000 organizers participated.

CNN.co.jp: Large-scale demonstration in Kowloon district in Hong Kong, appealed to Chinese tourists
https://www.cnn.co.jp/world/35139581.html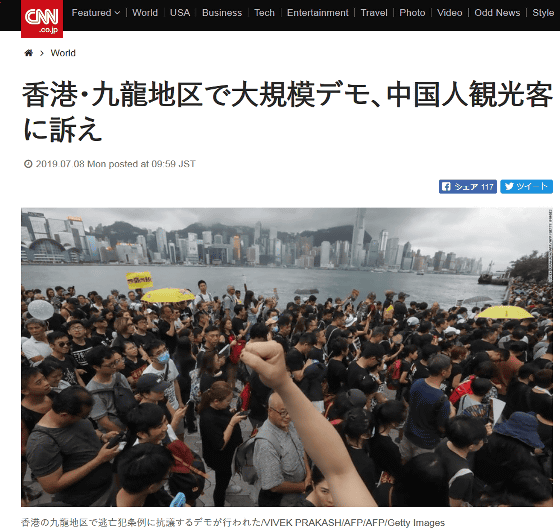 In the mainland of China, there is a large-scale censorship system 'Great Firewall' that blocks and filters to block information that is inconvenient to the Chinese Communist Party and politicians. Because of this, even if a large-scale rally is held and a message is issued from the protester, the message will be wiped out and voices can not be delivered to more people in mainland China.

The purpose of the demonstration held in the Kowloon area was to inform people in mainland China of the problem. However, as censorship continues to erase even the song about Hong Kong , protesters are using AirDrop to send a message to travelers visiting Hong Kong to overtake censorship. . AirDrop is a technology for sharing photos and movies through Bluetooth and Wi-Fi, and when the user sets AirDrop's acceptance setting to 'All people', anyone near you can share content You will be able to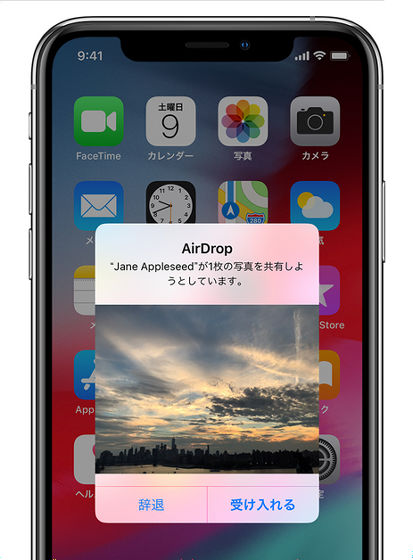 People living in Hong Kong use traditional characters , but messages spread via AirDrop were written in simplified characters , so the message is supposed to be for Chinese travelers.

This is an example of an AirDrop-spread message.

Arrived at TST station, immediate bombarded with anti-extradition billers via Airdrop in simplified Chinese #antiELAB # Hong Kong pic.twitter.com/3Xh1lrOFPJ

— Alice Su (@aliceysu) July 7, 2019


The contents of the message vary, but 'Three large-scale rallies have been held in Hong Kong over the past few months and as many as 2 million people have occupied the way.' 'We just wait for freedom to disappear and to lament it. Freedom is not given by God but is won by people. "

Getting lots of airdrop request for flyers spreading information about the hk protests in simplified Chinese
The tiny space for freedom is the reason why we fight. " Pic.twitter.com/aaOAba5DwN " Hope your have a pleasant journey and feel the freedom of assembly along the way.

— Aria Hangyu Chen 航 (@ariahychen) July 7, 2019


Some AirDrop posters have a QR code attached. The destination of QR code is payment application such as Alipay and WeChat Pay, and it looks like a QR code that looks like you can get free money at first glance, but it is a mechanism that information of protest action is described in the link destination .

But once you scan them-instead of getting free money-you get information about why representing the extradition law will protect any assets you have got you in Hong Kong pic.Twitter .com / 5vc0wMveTO

— Sue-Lin Wong Twilight (@suelinwong) July 7, 2019


There are also people in the town who actually give out posters to travelers.

some protesters hand a bunch of leaflets to chinese tourists, one is now perusing one containing names of political prisoners in china pic.twitter.com/Px6ZdgfQIE

— Isabella steger (@stegersaurus) July 7, 2019


It is not the first time in China that communication methods that do not depend on mobile phone networks are used, and mesh networks that can exchange messages and data even if the communication infrastructure is controlled by the government are becoming widespread.

What measures are the 'Mesh Network' in response to the protesters preparing for the regulation of the Internet? -GIGAZINE