Disney's streaming service 'Disney +' compatible terminals and service areas revealed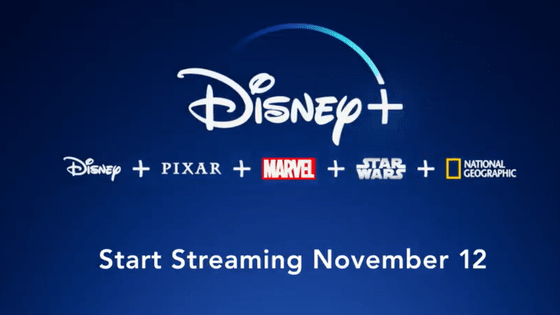 On August 19, 2019,
Disney
announced a compatible device for the streaming service '
Disney +
', which is scheduled to start on November 12. The announcement reveals that Disney has partnered with companies such as Apple, Google, Microsoft, and Sony to enjoy Disney + on almost all major devices.
New Global Launch Dates Confirmed for Disney +-The Walt Disney Company
https://www.thewaltdisneycompany.com/new-global-launch-dates-confirmed-for-disney/
The Disney + status announced by Disney is as follows.
・ Apple:
iPhone, iPad, iPod touch, Apple TV. On Apple TV, you can watch Disney + via in-app purchase from the
Apple TV app
.
・ Google:
Android smartphone ・ Android TV ・ Google Chromecast and Chromecast built-in terminal
・ Microsoft:
Xbox One
Sony: All
PlayStation 4 and Android-based Sony TV
・
Roku
: Roku TV and Roku streaming terminal
Disney + covers most of the current media distribution platforms, but no plans to partner with Amazon have been disclosed, and it is unclear at the time of writing the article whether you can watch Disney + on Fire TV.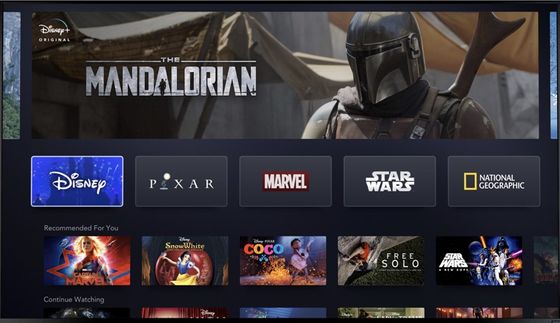 Disney also announced plans to expand globally outside the US at the same time. First, on November 12, 2019, the service started not only in the US but also in Canada and the Netherlands. A week later, on November 19, it will also be available in Australia and New Zealand.

Disney does not mention the planned service deployment in Japan, but the announcement says that it is scheduled to start in almost all major markets within two years, and distribution will start in Japan at the latest in 2021 Is likely to be.

The latest information on Disney + can be checked by registering your email address on the official website , and on August 19, 2019, Disney + 's official Twitter account will be active. Disney is going to send out the latest information about the service from time to time on SNS including Facebook and Instagram .

Someone asked us to formally introduce ourselves so of course we made a video.pic.twitter.com/VZLrJ6ff7k

— Disney + (@disneyplus) August 19, 2019