The disinfectant is not just alcohol, a recipe of disinfectant that can be made at home is being released in the movie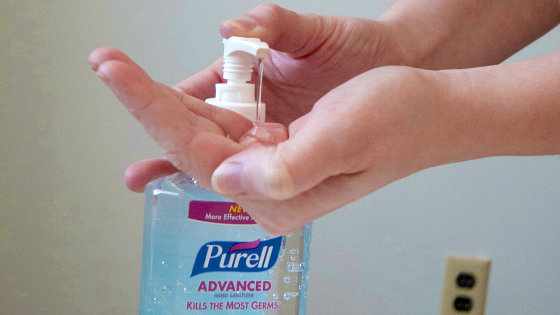 by
Penn State
Due to the spread of the new coronavirus (SARS-CoV-2), masks and disinfectants have been sold out in various places. The shortage of disinfectants is likely to lead to the idea of 'the same alcohol, can you substitute for alcohol?', But in fact, the amount of alcohol that can be used as a disinfectant is limited. So what is in a commercial gel disinfectant? Is described by science communicator
George Zaidan and
is actually trying to reproduce it at home.
What's in Hand Sanitizer? | Ingredients With George Zaidan (Episode 9)-YouTube
The substance that kills the bacteria in the disinfectant is called
ethanol
or ethyl alcohol. Ethanol is a type of alcohol, but hands cannot be disinfected with vodka, wine or beer. This is due to the low concentration of ethanol in alcoholic beverages.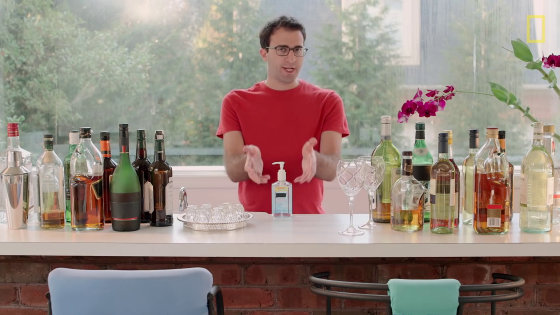 For use as a disinfectant to kill diseased bacteria, ethanol concentrations of 60-95% are required.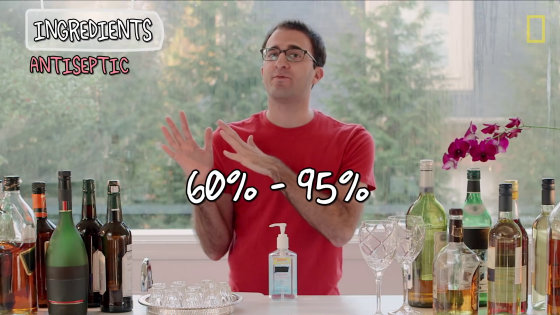 In other words, if you mix water and ethanol to make ethanol water with a concentration of 70%, it can be used as a disinfectant.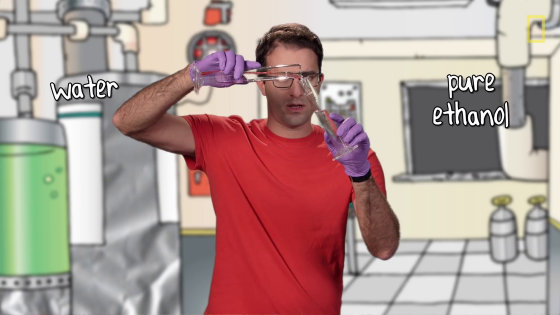 However, ethanol water just put in a test tube is very difficult to use.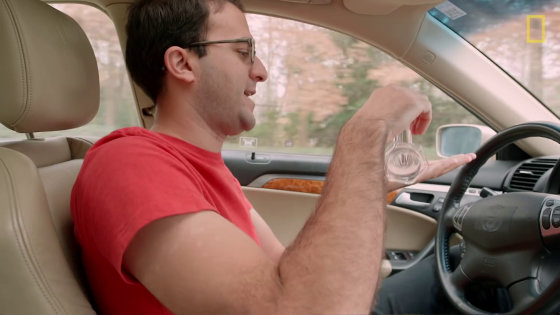 Alcohol also has the disadvantage of drying the skin ...



When selling a disinfectant as a product, 'fragrance' is also important.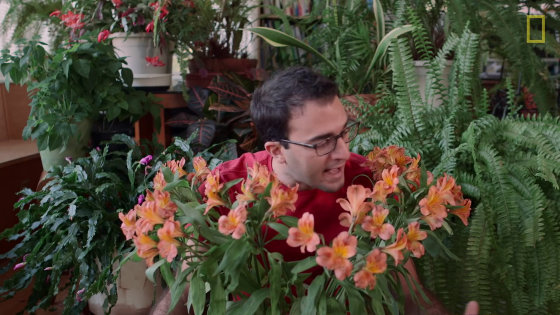 In addition, the taste of the disinfectant must be 'poor' so that those who do not have legal access to alcohol can substitute the disinfectant for alcohol or use the disinfectant as 'cheap liquor'.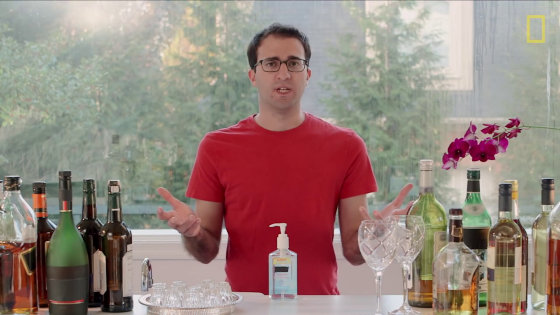 That is why the disinfectant is not just 'ethanol water'. A certain commercially available disinfectant was confirmed to contain 70% ethanol, water, isopropyl alcohol, caprylyl glycol, glycerin, isopropyl myristate, tocopheryl acetate, alkyl acrylate (C10-30) crosspolymer, aminomethyl It was said that propanol fragrances were included. Mr. Zaidan called the manufacturer and asked what each material was, but he did not disclose the information.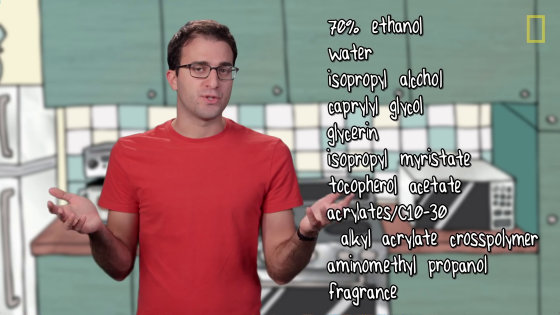 For this reason, each material must be guessed.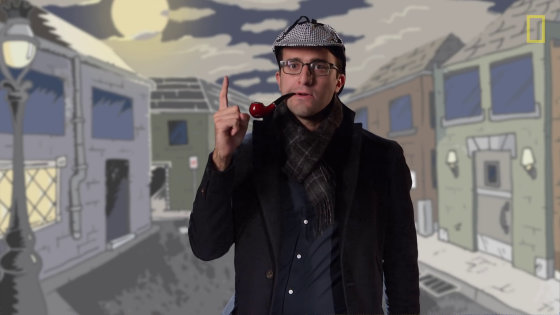 A tip from the manufacturer's website suggests that the antiseptic solution she is holding contains four skin conditioners to prevent drying and chemicals that add bitterness to avoid drinking. thing.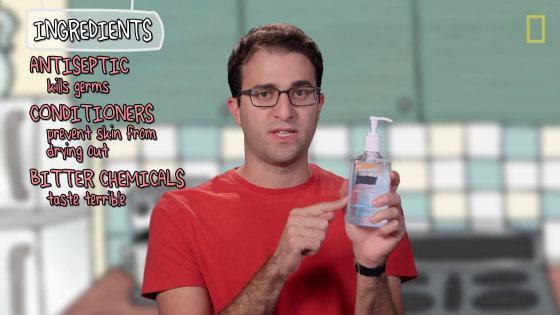 The conditioner is relatively easy to guess and is thought to be caprylyl glycol, glycerin, isopropyl myristate, and tocopheryl acetate. Tocopheryl acetate is a substance that is chemically similar to vitamin E and is used in many cosmetics.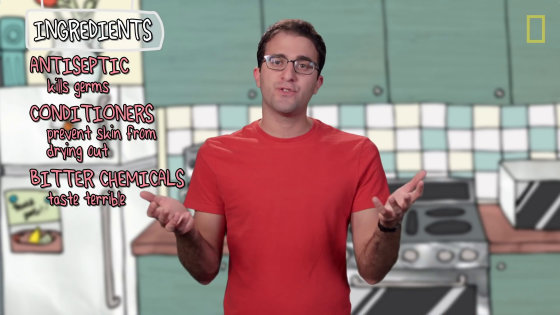 Zaidan speculates that an alkyl acrylate (C10-30) crosspolymer is used to make the gel.



Aminomethylpropanol is used to adjust pH. However, it has a fishy smell and is also used to avoid drinking. Isopropyl alcohol is not a bad smell, but a bitter substance. For this reason, isopropyl alcohol appears to be used to avoid drinking. Fragrance, as the name implies, is fragrant.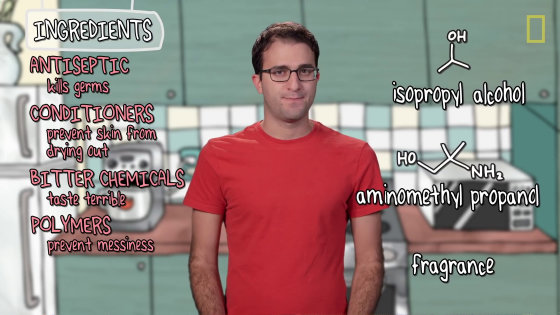 Now that we know what's in the disinfectant, we'll experiment to see if we can make our own using substances that are close to nature.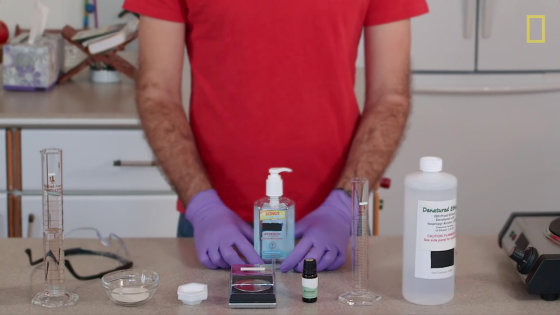 The first thing you need is ethanol. Zaidan prepared 99% ethanol.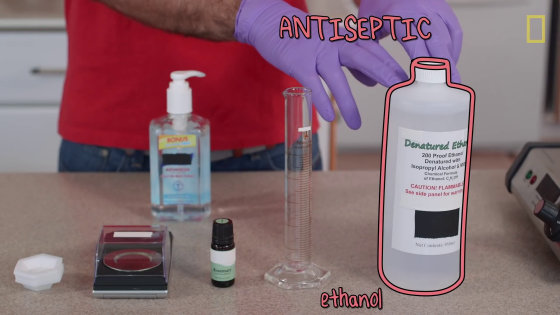 Rosemary essential oil was prepared for fragrance.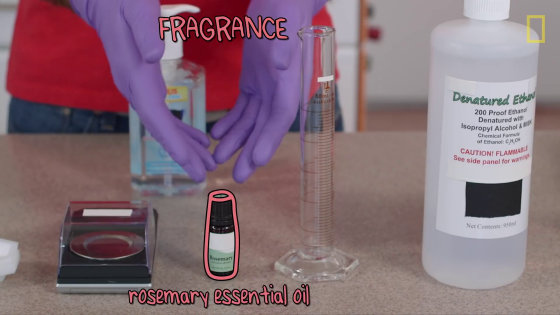 However, the alkyl acrylate (C10-30) crosspolymer used to make the gel is not a natural substance.
Agar
and
gelatin
are candidates for
gelling
with natural substances. This time we have an agar.


So we weigh the agar ...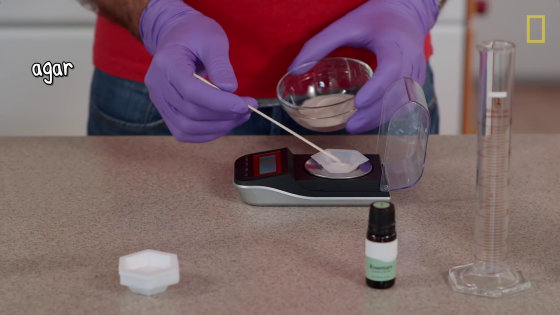 Mix with water.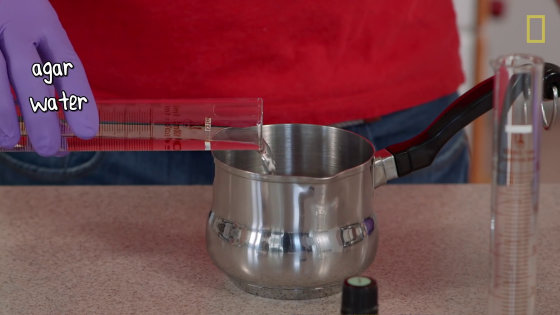 Mix agar water and ethanol ...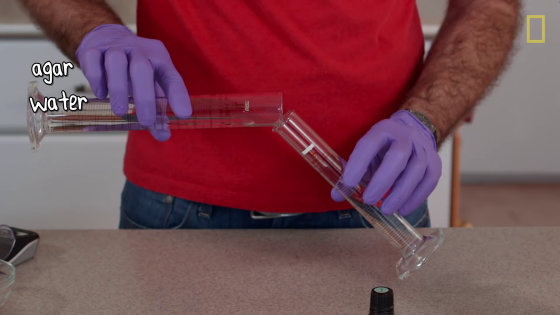 Scent with essential oils.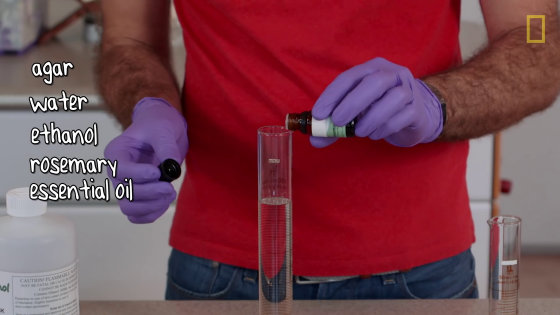 Stir the ingredients in a pan, cover with aluminum foil and warm for a while.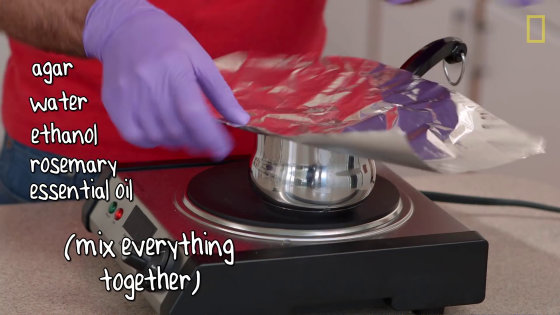 When I looked inside the pot after heating, there was a thick cloudy liquid.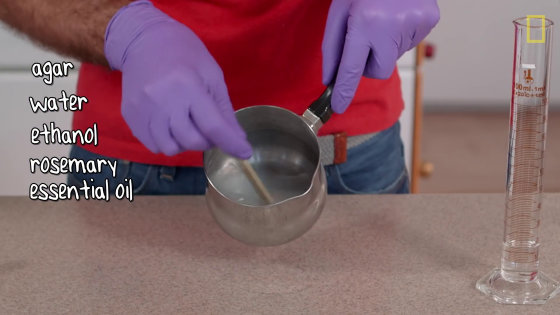 Put it in a small dish and let it cool, then the disinfectant is complete.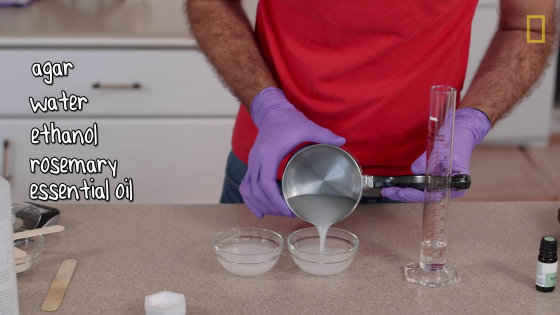 When I cooled, the liquid and solid separated when cooled, and white powder accumulated on the bottom of the small dish. Apparently the agar has separated.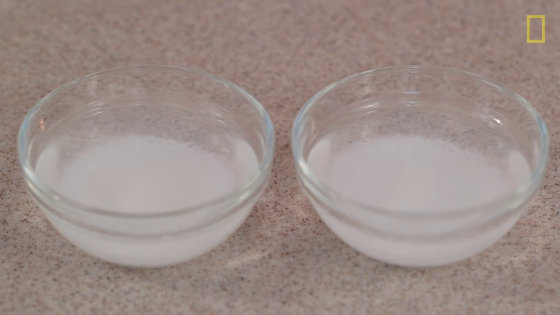 So, the experiment to make a gel-like disinfectant ended in failure, but conversely, if it was not necessary to make it into a gel, it would be OK if you did not mix the agar. In addition, in the comment section of YouTube, there is a note saying `` You can put the disinfectant made like a movie in a spray bottle '', and there is also an idea to make it into a gel form using glycerin, coconut butter,
aloe vera
etc. did.