The best selling smartphone in 2019 is `` iPhone XR ''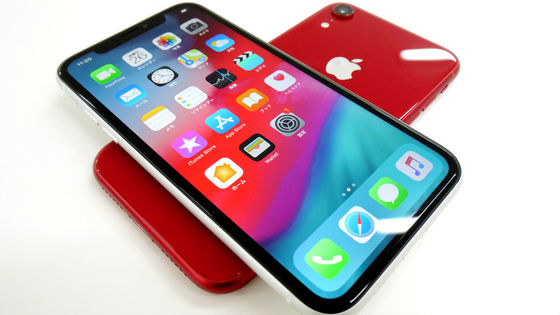 Market research firm
Counterpoint Research
released data on smartphone sales share in the third quarter of 2019 (October to December), revealing that the best-selling smartphone in the same period was ``
iPhone XR
'' . The iPhone XR has maintained the top market share in smartphone sales for the full year from Q4 2018 to Q3 2019, making it the '
Best Selling Smartphone in 2019
'.
iPhone XR was the Top-Selling Model Globally in Q3 2019-Counterpoint Research
https://www.counterpointresearch.com/iphone-xr-top-selling-model-globally-q3-2019/
Best-selling smartphone every quarter this year was iPhone XR-9to5Mac
https://ww.9to5mac.com/2019/12/24/best-selling-smartphone/
Counterpoint Research announces third-quarter 2019 smartphone sales share. The best-selling smartphone in the third quarter of 2019 is Apple's iPhone XR, which accounts for 3% of smartphones sold in the same period. The iPhone XR has been the best-selling smartphone of all quarters since Q4 2018 (January-March 2019).
The following graph summarizes the top 10 best selling smartphones in the third quarter of 2019. Apple's iPhone 11 (1.6%), released on September 20, 2019, also ranked in.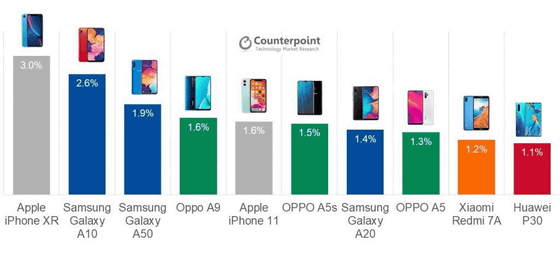 Of the iPhones sold by Apple, only the iPhone XR contributes more than 25% of Apple's total sales in each quarter. The iPhone XR, the world's most popular iPhone, has been price-adjusted in several markets, including China, and will continue to see significant demand in the third quarter of 2019 when new models appear. Counterpoint Research speculates that it was possible.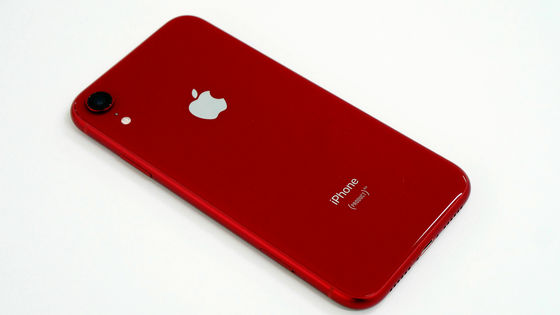 The smartphones that have entered the rankings other than the iPhone XR include Samsung's Galaxy A10 (2.6%), Galaxy A50 (1.9%), Oppo A9 (1.6%), iPhone 11 (1.6%), Oppo A5s (1.5%), Galaxy A20 ( Nine vehicles: 1.4%), Oppo A5 (1.3%), Xiaomi Redmi 7A (1.2%) and Huawei P30 (1.1%).

In addition, Huawei's P30 is ranked in the top 10, but due to the technology cold war between the United States and China , Huawei smartphones are moving away from American parts and OS . It is rumored that a smartphone that does not adopt Google Mobile Service equipped with its own OS will appear soon, but `` If GMS is not installed, Huawei's terminal may leak from the top 10 '' Counterpoint Research points out.

It is reported that Huawei's own OS-equipped smartphone will appear in 2019-GIGAZINE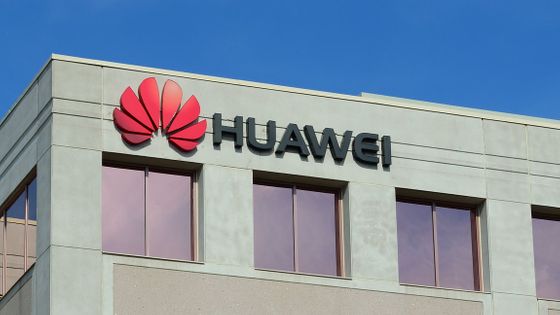 by Open Grid Scheduler / Grid Engine

Xiaomi's Redmi 7A is particularly strong in India, with more than half of total sales in Q3 2019 coming from the Indian market.

Sales share of the top 10 best-selling smartphone models in the same period increased by 9% year-on-year to 17.2%. The top 10 models account for 17% of total smartphone sales in the same period. It seems that 5 out of 10 models were flagship models of each manufacturer in the ranking of the same period last year, but in the third quarter of 2019 the number of flagship models in the top 10 has decreased to 3 units, consumers It is clear that it is flowing to cheaper smartphones. And while each smartphone maker is responding to that demand, middle-range models are equipped with features not available in the flagship model a year ago. For example, Samsung's Galaxy A50 has multiple features beyond the old flagship, such as a triple camera on the back, a 25 megapixel front camera, and a fingerprint sensor in the display, making it an attractive option for consumers. That it is.

With consumer demand for middle-range models, smartphone OEM revenues declined in the third quarter of 2019, and overall smartphone market revenues declined 11% year-over-year.