Samsung starts mysterious artificial intelligence project `` NEON ''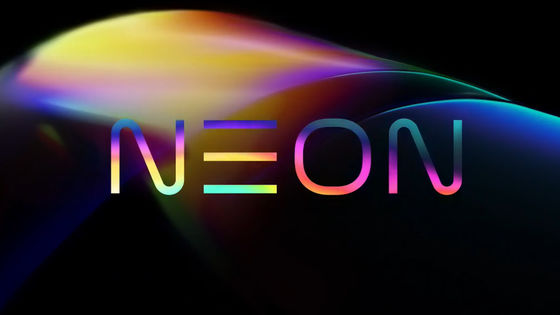 Samsung Technology & Advanced Research (STAR) Labs, Samsung's top secret development division, announced that it will publish an artificial intelligence (AI) project called `` NEON '' at CES 2020 , a computer trade fair held from January 7 to 10, 2020 .

NEON
https://www.neon.life/

Samsung Prepares Neon AI For CES Debut | News & Opinion | PCMag.com
https://www.pcmag.com/news/372695/samsung-prepares-neon-ai-for-ces-debut

NEON's official website has already been released, but even when accessed, only swirling colored waves and logos are displayed. Although Twitter and Instagram accounts are also open, at the time of article creation, only images and catch phrases are posted, and it is completely unknown what to do at all.

आप उनसे मिले हैं, जो 'ARTIFICIAL' हैं? # NEON pic.twitter.com/e9s9UHJhrE

— NEON (@neondotlife) December 24, 2019


Bo Moon, the strategy director of STAR Labs, suggested on Twitter on December 10, 2019 that 'a big announcement will be made at CES 2020'.

Been working late nights and weekends and totally feeling that start-up life again.Looking forward to unveiling the new company with the team at # CES2020 in January.You won't want to miss this ...

— Bo Moon (@bomoon) December 10, 2019


STAR Labs' director, CEO Pranafu Mistry, also tweeted about NEON every day. On December 20, it was announced that CES 2020 will announce details about NEON.

The Future Begin Let. #NEON Attoneondotlife AttoCES 2020. Https://T.Co/e1sbDE9Tfu

— Pranav Mistry (@pranavmistry) December 20, 2019


Sheikh Kapoor , director of the movie Elizabeth, said, 'We are preparing artificial intelligence so that Samsung can be a 'best friend' of people,' suggesting involvement with NEON. He also tweeted on December 17, 2019, 'It's artificial intelligence that makes you think which one is real. NEON is where artificial intelligence stops being artificial.'

Finally, Artifical Intelligence That Will Make You Wonder Which One Of You Is Real. Coming Soon From The Brilliant Mind Of Attopranavmistry The Amazing Attoneondotlife .. Where Artificial Intelligence Ceases To Be Artificial .. Https://T.Co/FXHOGc6eqB Https : //t.co/E8c37ghI4l

— Shekhar Kapur (@shekharkapur) December 17, 2019


At the time of writing the article is a NEON project whose details are completely unknown only with images, but PCMag.com of tech media said, `` It is said that the spread of the 5th generation mobile communication system (5G) will start in 2020, NEON speculated that Samsung could be the successor to Bixby , an AI assistant announced in 2017.