I listened to 3D music with 'Amazon Echo Studio' with built-in Echo series sound quality & smart home hub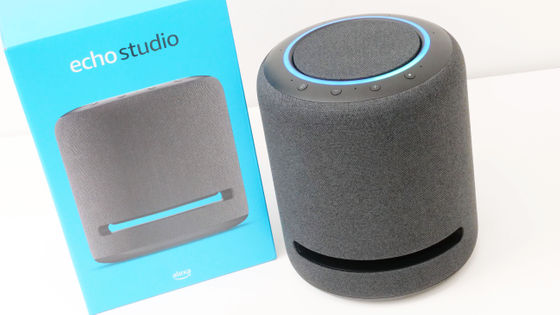 Amazon has released ' Echo Studio ', which boasts the best sound quality of the 3rd generation Echo series. In Amazon Music, " 3D music " that uses spatial acoustic technology such as
Dolby Atmos
and
Sony 360 Reality Audio,
which are also used in movies, has started to be distributed, and Echo Studio can play such 3D music. In addition, it also has a built-in smart home hub. I actually tried using Echo Studio to listen to 3D music and use smart home appliances.
Amazon | Echo Studio-Studio Quality Hi-Fi Smart Speaker
https://www.amazon.co.jp/dp/B07NQDQWW6/
The following movies can understand the difference in sound quality between Echo Studio and the first generation Echo Plus in one shot. Echo Studio plays Amazon's newly released "3D Music". Echo Plus does not support 3D music, so it plays HD quality music. Since the first generation Echo Plus is released in 2017, it is natural that there is a difference, but you can see that the profound feeling when multiple sounds overlap is quite different.
The difference in sound quality between Echo Plus and Echo Studio looks like this-YouTube
The outer box of Echo Studio looks like this.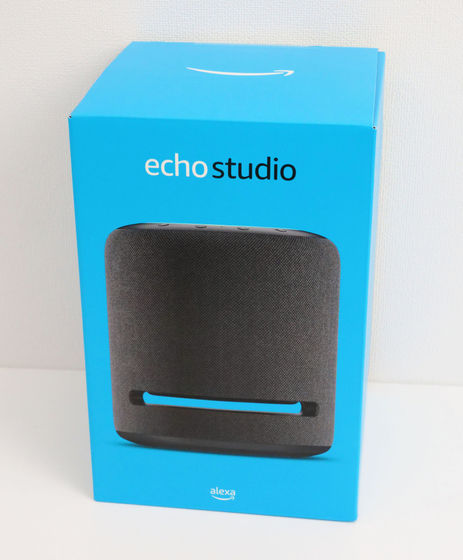 When I opened the box, the Echo Studio itself was in a non-woven bag with the Alexa logo.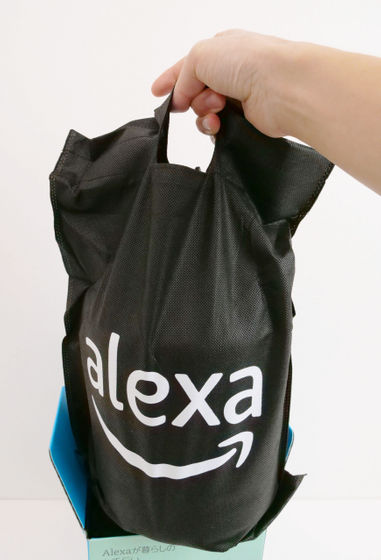 Included items are non-woven bags, Echo Studio main unit, power cable and start guide.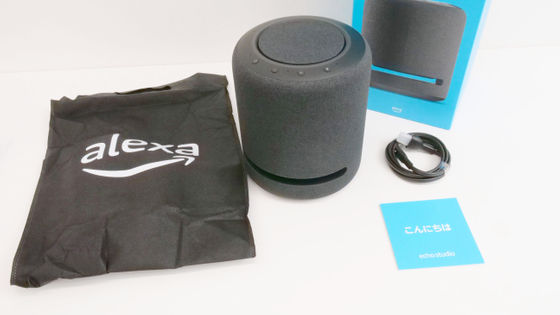 This is Echo Studio itself. Cylindrical round design.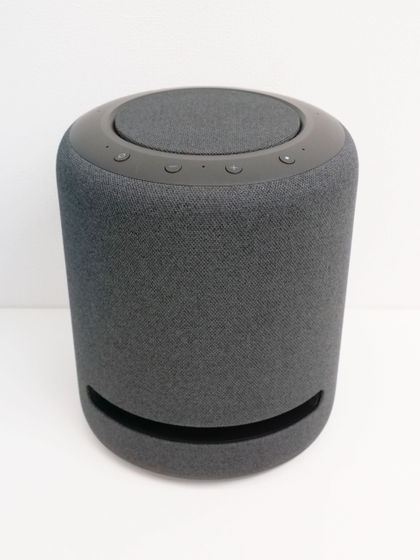 It looks like this when you lift it. The size is 175mm in diameter x 206mm in height, and the weight is 3.5kg.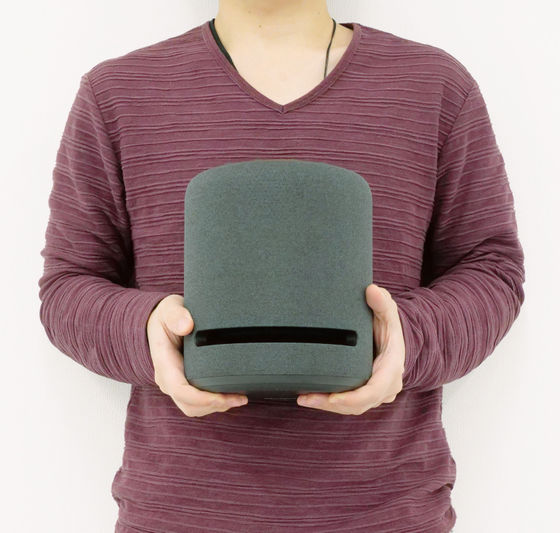 In the center of the top surface is a 2-inch 3D upward launch midrange speaker.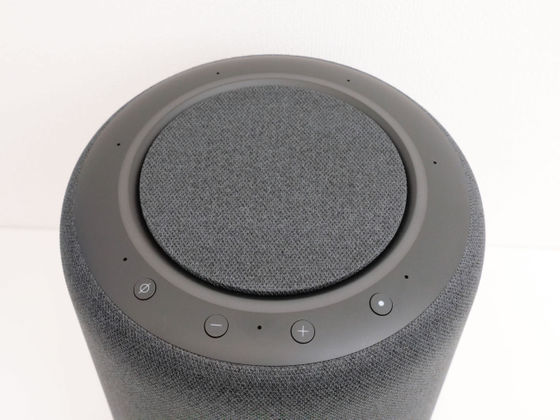 There are four buttons on the top of the top: microphone on / off, volume down, volume up, and action.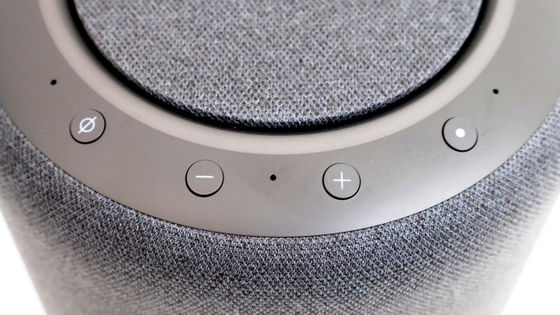 There is a hole for the speaker so as to surround the outer edge of the top.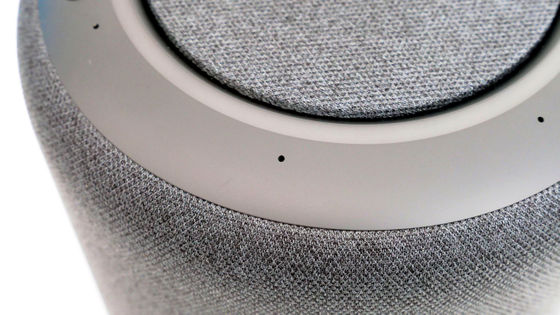 There is no logo on the body. When touched, it feels like a fabric.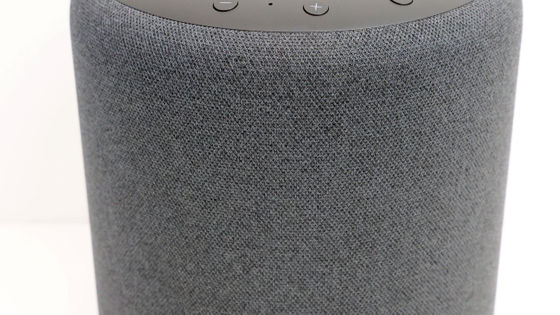 At the bottom, you can see the woofer opening to maximize bass output. This opening is pulled out to the opposite side, so you can see the opposite side when you look into it.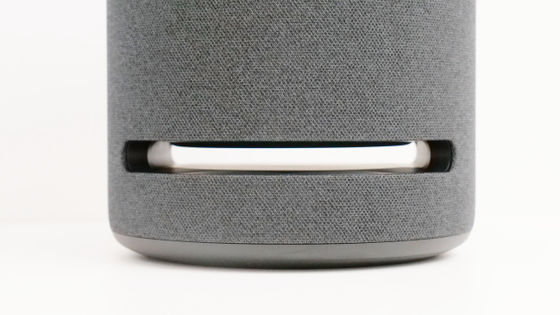 Micro USB port, power port, and external audio output (3.5 mm mini jack, mini-optical combination) are installed at the bottom of the back.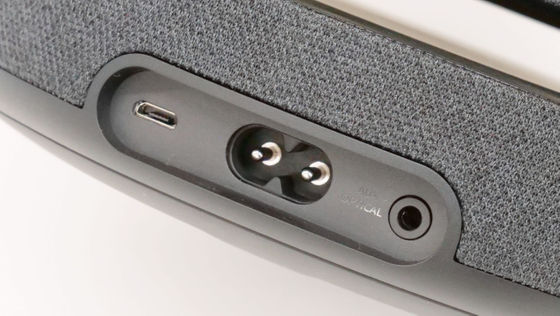 That's why I decided to actually use it. Echo Studio needs to be installed at least 15cm away from the wall.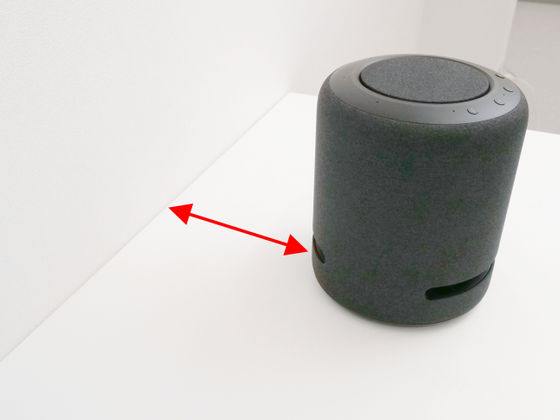 There must be enough space on the top and sides.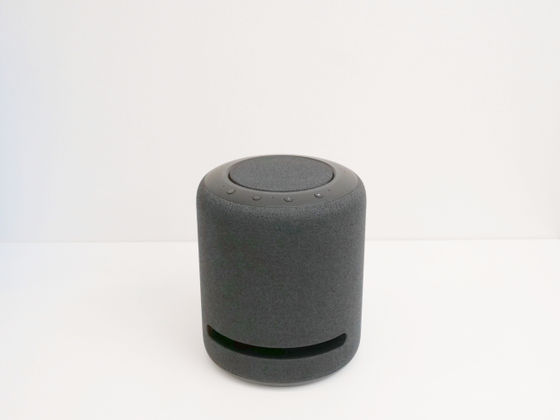 When you plug in the power cord ...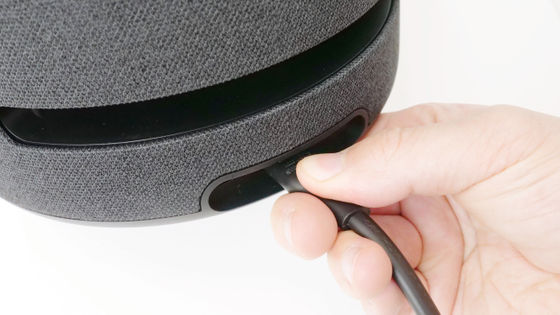 The outer edge of the top is lit. You can see visually that the power is turned on.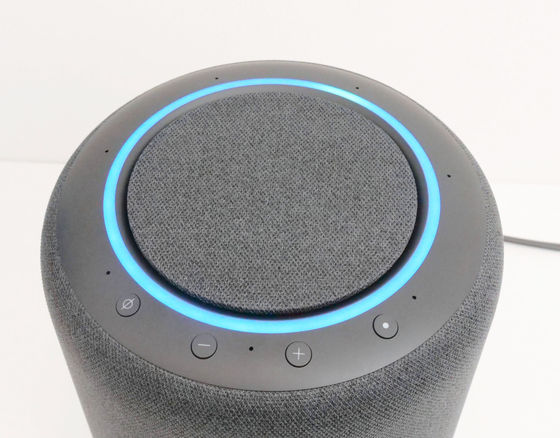 From here, set up your smartphone. To use Echo Studio, an environment that can connect to the Alexa app and Wi-Fi is required. The Alexa app can be downloaded from the following URL.

`` Amazon Alexa '' on the App Store

https://apps.apple.com/app/amazon-alexa/id944011620
Amazon Alexa-apps on google play
https://play.google.com/store/apps/details?id=com.amazon.dee.app&hl=en
This time I downloaded and installed the iOS version. Tap 'Open' to start the Alexa app.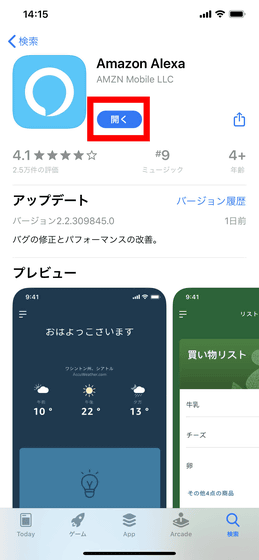 Enter your Amazon account ID and password and tap "Login".



Tap the option "I am (account name)".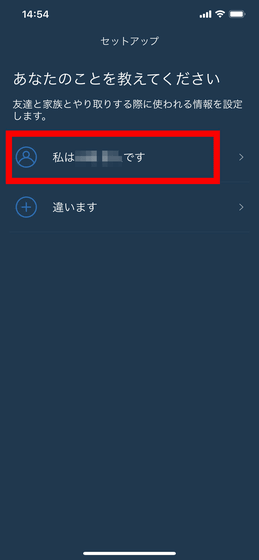 If Bluetooth is enabled on your smartphone, Echo Studio will automatically connect to the app, so tap "Continue".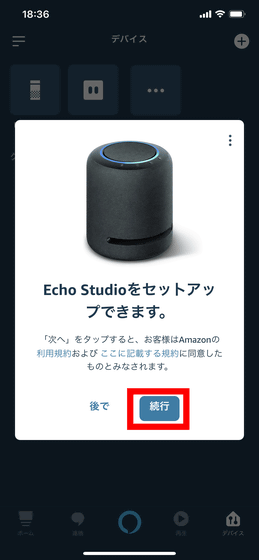 Then, Echo Studio will start "automatic acoustic adjustment" in order to analyze the placement location and output the best sound. The actual situation is as follows.


Echo Studio's automatic acoustic adjustment looks something like this-YouTube
After performing the automatic sound adjustment for the first time, even if Echo Studio is moved, the sound is adjusted according to the location.
When automatic sound adjustment is finished, tap "Next".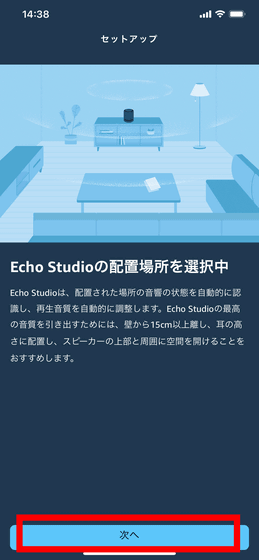 Select the Wi-Fi network to connect to.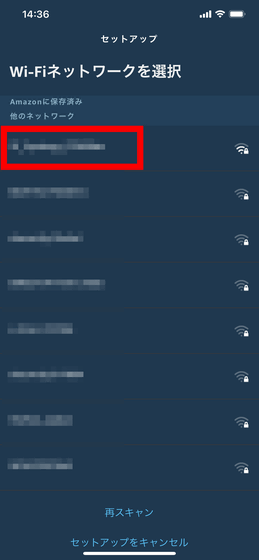 Enter the password for the selected Wi-Fi network and tap "Connect".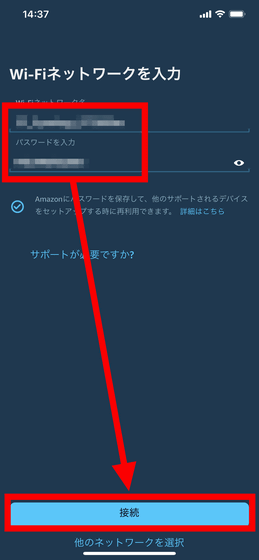 Tap "Next" to complete the Echo Studio settings.



Echo Studio can stream music using Amazon Music, Apple Music, Spotify, etc. This time, Echo Studio will listen to "3D music" using Dolby Atmos and Sony 360 Reality Audio distributed on Amazon Music HD . "Alexa, apply 3D music", when you apply 3D music with voice instructions, it looks like this.

I tried playing 3D music with Echo Studio-YouTube


Although there is only one housing, the sound can be heard in stereo through multiple built-in speakers. The sound quality of Echo Studio itself is a balanced sound quality in a good sense, with neither the bass nor the treble being emphasized strangely. In addition, the sound quality remains fine regardless of whether the sound is louder or louder.

Since 3D music can not be switched on and off, it was not possible to compare the '3D effect' purely using the same song, but with 3D music there is a treble that can be stretched and a bass that has power It is an impression that can be heard separately. However, it was not true "3D" like "sound comes from the ceiling or behind".

If you 're playing 3D music, the app will display an "3D" icon above the song title.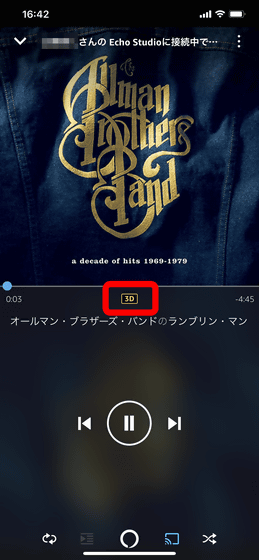 It is also possible to adjust to your favorite sound with the equalizer.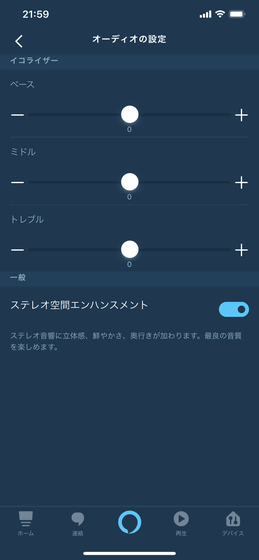 The first movie compared to Echo Plus in order to investigate "How good is the sound of Echo Studio + 3D music?". Echo Plus does not support 3D music, so it plays HD quality music.


The difference in sound quality between Echo Plus and Echo Studio looks like this-YouTube
Another important point is that the music from Echo Studio sounds like the same texture no matter where you are in the room.
Echo Studio can enjoy three-dimensional sound anywhere in the room-YouTube
Unlike
Echo Flex
and
Echo Dot
, Echo Studio has a built-in smart home hub. Therefore, it is possible to control
Zigbee
compatible home appliances with voice using Alexa. In the following, the light bulbs are actually turned on and off and the light intensity is adjusted by voice operation.
I tried the smart home hub function built in Echo Studio-YouTube
Compared to 5.1ch and 7.1ch surround speakers, multiple speakers are not required and setup is easy. In addition, there is an advantage of maintaining a certain sound quality wherever you are in the room. On the other hand, in Echo Studio, you can not enjoy full surround audio that `` sound can be heard from up and down, left and right '', but considering the price of 20,000 yen level and one case, it is sufficiently realistic I enjoyed the sound.
Also, the biggest difference between Echo Studio and general surround speakers is Alexa compatible, so everyday life such as ordering Amazon products, chatting with Alexa, getting alarms The point that support is possible is attractive. Since you can listen to music from around the world by streaming from Amazon Music, Spotify, etc., it is recommended for those who want to fill their daily lives with music.
Echo Studio can be purchased at Amazon.co.jp for 24,980 yen.
Amazon | Echo Studio-Studio Quality Hi-Fi Smart Speaker