Lawson `` 100 yen New Year '' 2019 edition review that collects 100 yen New Year dishes per item and can make your own `` best original New Year dishes ''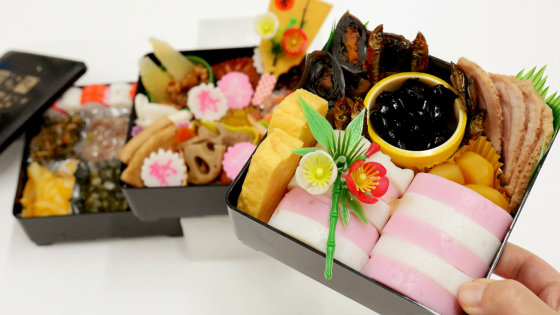 New Year's is New Year's Day, but large New Year's is expensive and tends to be large, so there are many people who are hesitant to buy or make a living alone or living alone. The 100 yen Osechi from Lawson Store 100, which is perfect for people who want to eat small quantities of their favorite New Year dishes and eat them before they get bored ... is 100 yen per item. From classic New Year dishes such as Kanro-ni and Kombu rolls, pork simmered, seafood salad, and the number of high-class ingredients are also 100 yen, so I tried to make a mini-sized rice cake with 100 yen New Year and eat it .

100 Yen Osechi Product Lineup | Lawson Store 100-Fresh, 100 Yen, Living Support Store-

https://store100.lawson.co.jp/special/osechi/201912/lineup.html
The 2019 version of 100 yen Osechi has a total of 32 types. This time we were able to obtain 31 types excluding the volume.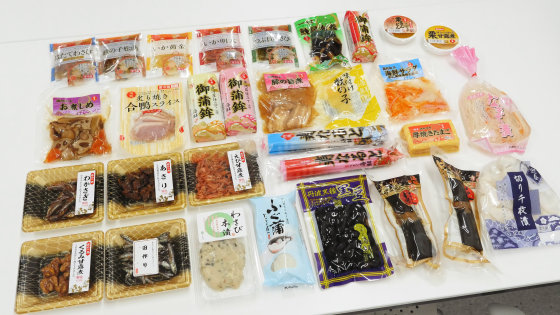 100 yen Osechi is reviewed in
2015
,
2016
,
2018,
but the 2019 version is `` Boiled pork '', `` Boiled simmered '', `` Seafood salad '', `` Kurumi Kanro-ni '', `` Gyoen red and white (with salmon) '' New year dishes.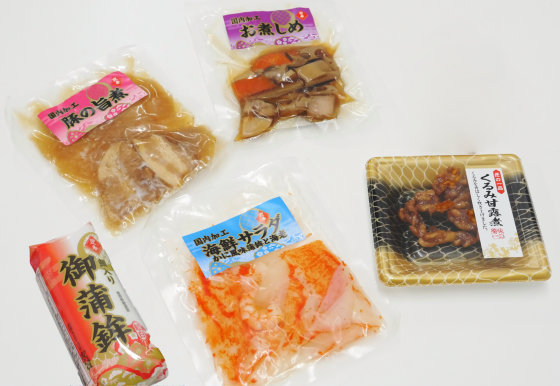 Pork tsukudani has an internal capacity of 80g and contains 2 sliced simmered kakudo and onions.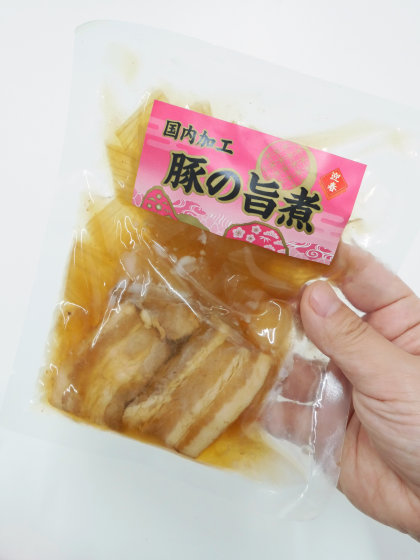 Looking at the back side, the raw material names are pork, onion, soy sauce, sugar, sugar and bonito extract.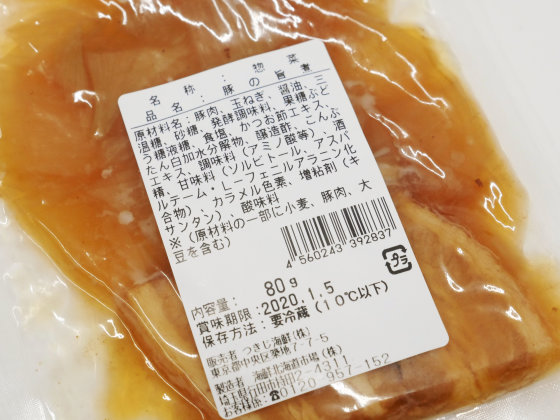 Boiled sushi is the same size as Kaku-ni and has a capacity of 80g. Kakuni was simple, but there are plenty of ingredients.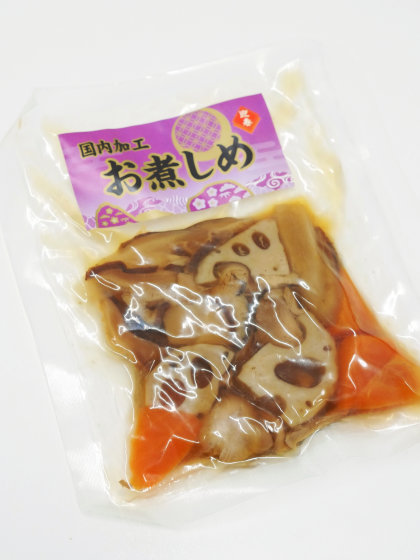 Includes chicken, carrots, burdock, lotus root, bamboo shoots, shiitake mushrooms, and bonito.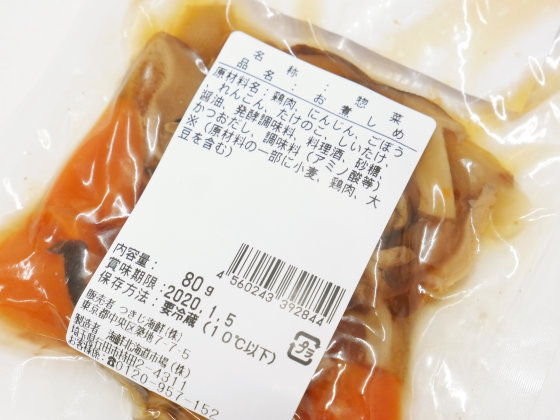 'Seafood salad crab-flavored miso and shrimp' also contains 80g.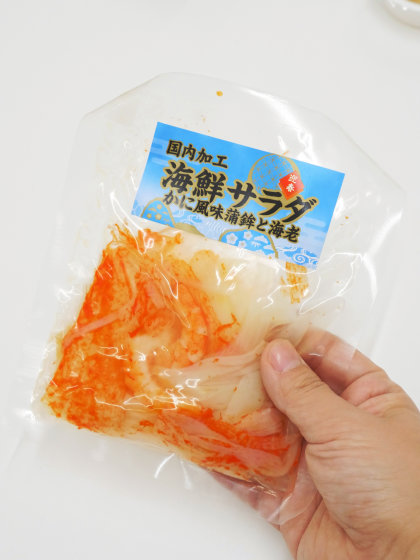 In addition to crab-flavored miso, it contains onions and shrimps.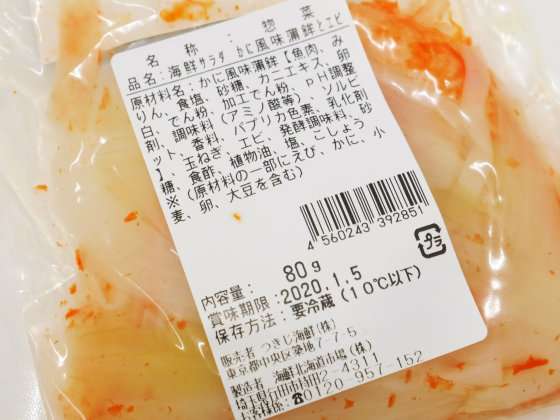 "Ontake red and white (with salmon)" has a content of 90g.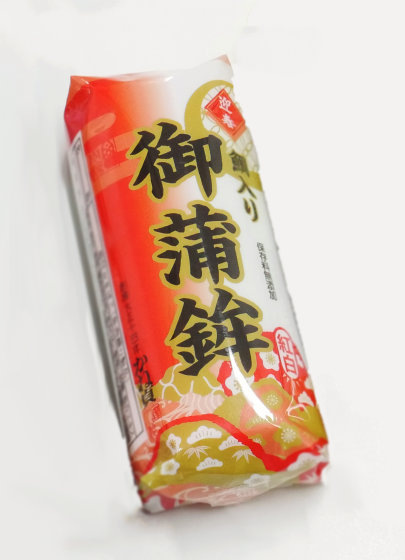 It contains fish, egg white, brewed seasoning, sugar, seafood extract, etc., but there is no "鯛".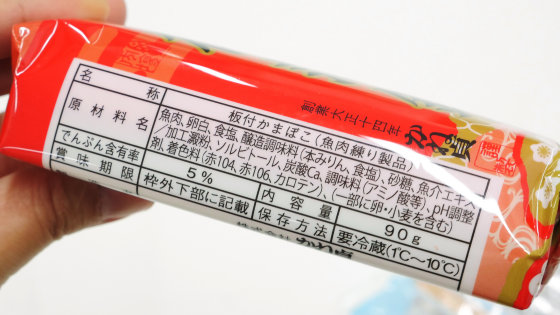 Kurumi Kanro-ni is in a pack with a capacity of 17g.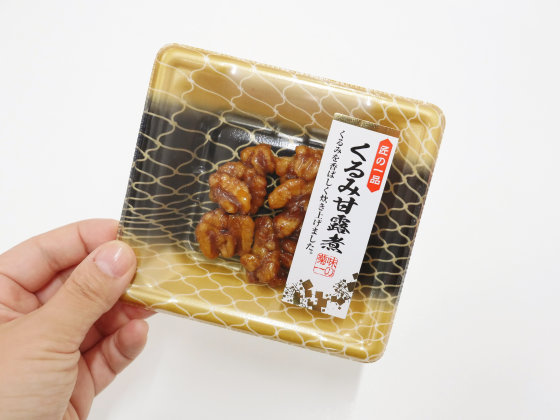 Walnuts, reduced water candy, sugar, soy sauce, etc. are written. There was no nutritional labeling for kakuni or simmered, but there is a description for Kurumi Kanro-ni, and the energy is 93 kcal per pack.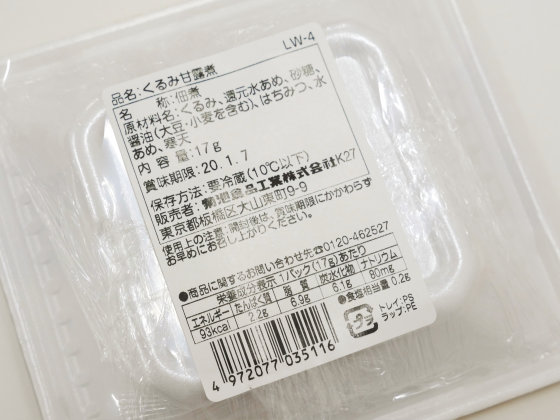 In addition, the classic New Year's dishes include mini packs that contain "mussel wasabi," "Kazunokomatsumae," "Ikeita," "scallop wasabi" and "squid gold". Both contents are 40g.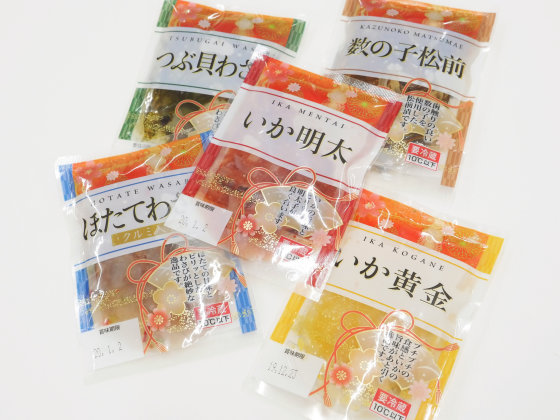 Standard products in the same series as Kurumi Kanro-ni are "Shrimp Kanro-ni", "Making", "Asari" and "Wakasagi". The content is 17-25g, all about the same size as Kandeo-ni.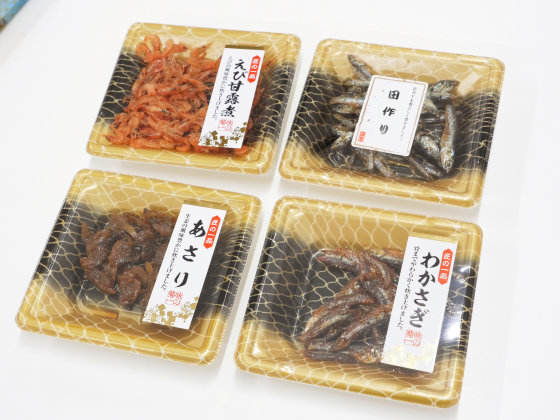 "Crush Chestnut Kinton" has an internal capacity of 60g, and "Churitsu Kanro-ni" has an internal capacity of 58g.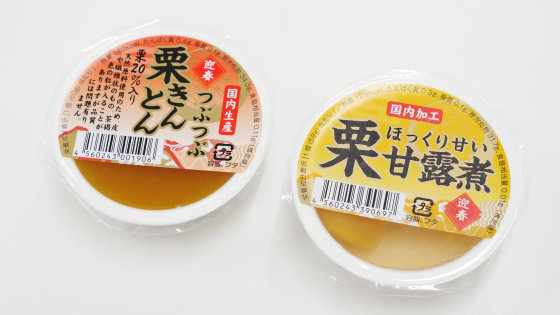 From the left, the kneaded products are `` Shou Naruto '' (red and white) (100g) from the left. , 'Fugu' (60g) is abundant.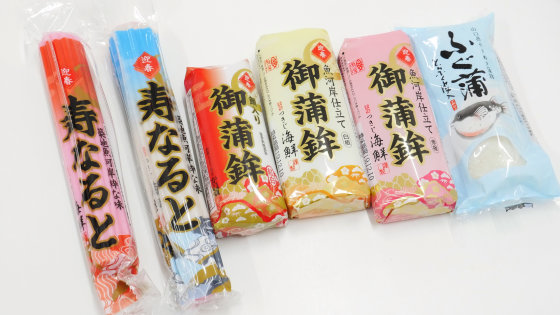 As for vinegared pickles, 'Thousand slices' (100g) and 'Namasuke' (120g)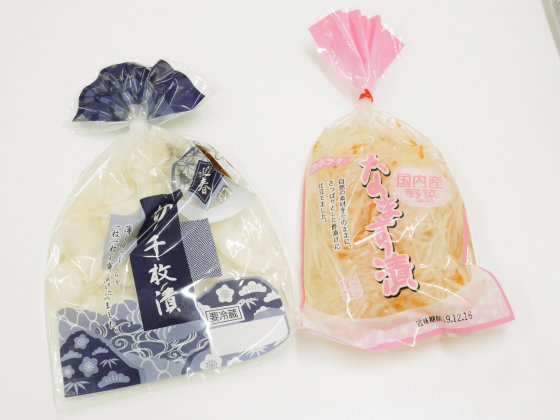 There are three types of kelp rolls: "Konbumaki" (1), "Ninen Kombu" (1), and "One-necked Kelp" (5 pieces).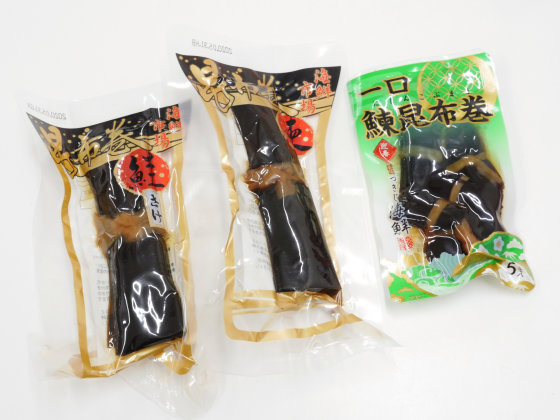 In addition, there are "Seasoned Number Child" (14 g), "Amo Duck Grilled Slice" (4), "Wasabi Honzuke" (60 g), "Black Bean" (110 g), and "Atsuyaki Egg" (120 g).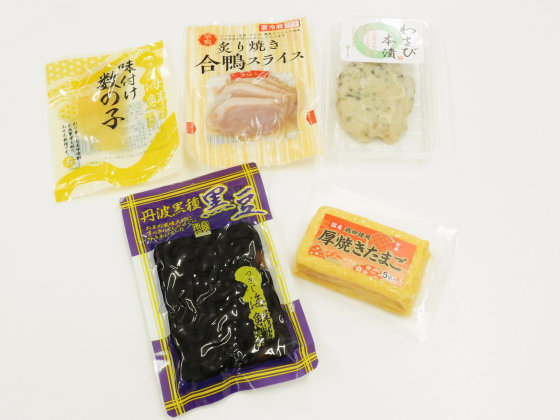 So, we prepared a mini-sized weight like this. Three weights of 13.5 x 13.5 x 5cm are available.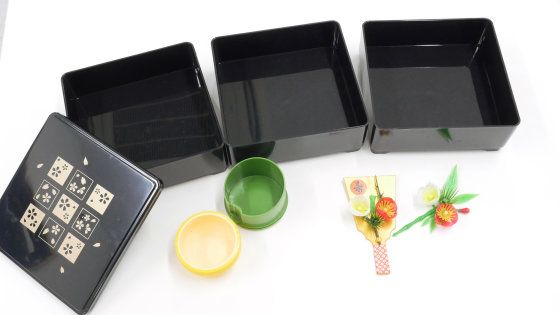 Kamaboko comes with a plate, and you can cut it to your favorite size with a knife ...



Thick baked eggs are already cut into five, so it can be served directly with a chopstick.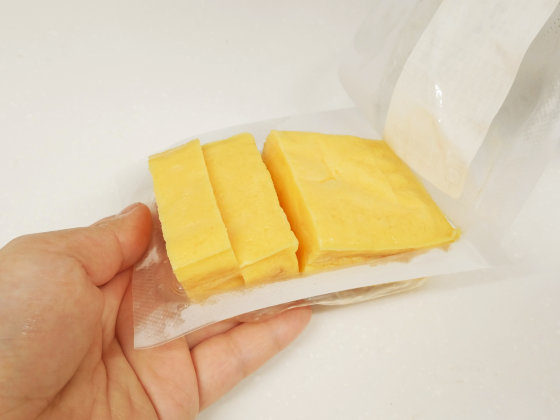 All of them are eaten sizes that are likely to be eaten in a few mouths, so it leaves a lot of New Year's ingredients ... It's good that it doesn't seem to happen.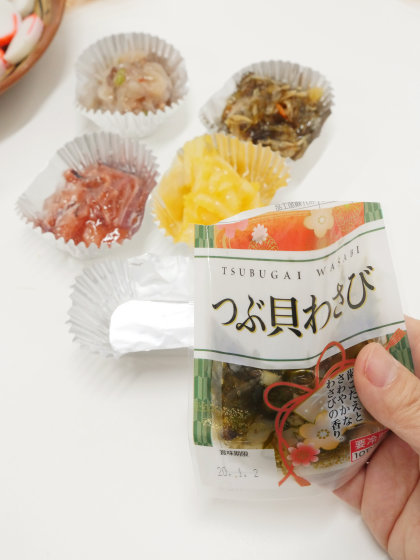 Here are 31 kinds of New Year dishes.



I will try it out immediately.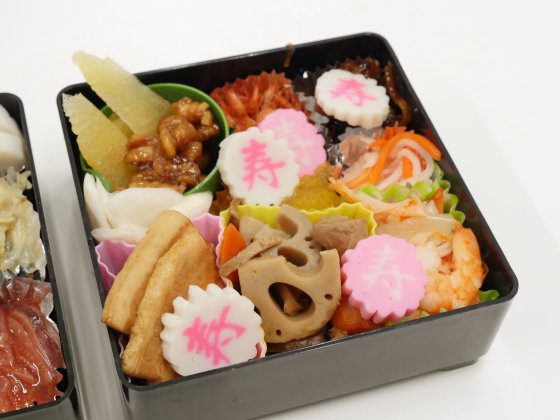 First of all, from the new product of simmered pork. I ate it cold, but the meat was soft and moist. When simmered, the fat solidifies when it cools, but there is no such thing and you can feel the scent of dashi stock with a slightly sweet seasoning. The onion has a strong taste, but the texture is crispy. It's not a lump but a slice, so it's just like a char siu, but it feels like you can add a feeling of sticking to New Year dishes with less meat.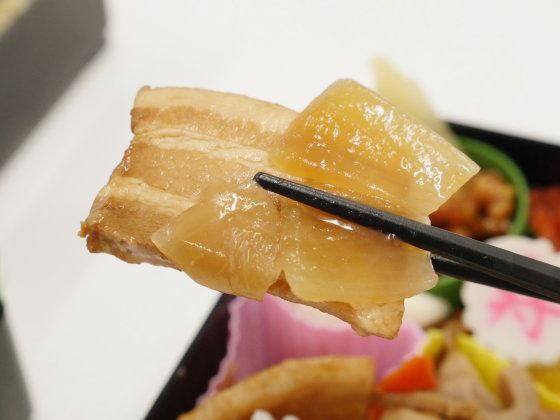 Boiled rice is made with chicken, lotus root, carrots, burdock, shiitake mushrooms, etc., all of which are boiled softly. The soy sauce and dashi are solid, so you can eat deliciously even if it is cold.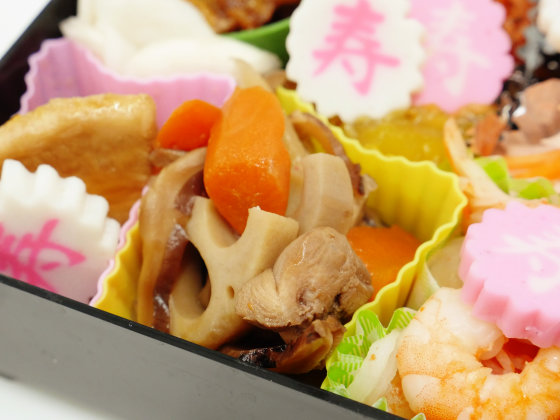 The new seafood salad from New Year's 2019 was thought to be sour from the appearance of pickled vinegar, but when it was eaten it was refreshed with vinegar, but it was not sour. Osechi has a lot of sweet boiled dishes, so a freshly prepared salad made with crispy onions, shrimp shrimp, and crab kamaboko seems to be a good rest for chopsticks.



Crab kamaboko was like this and was cut into large pieces.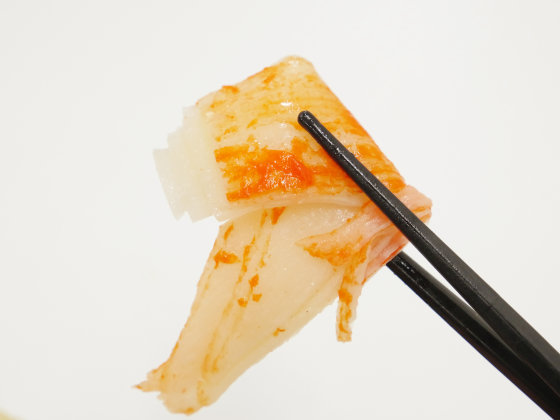 Thousands of slices are sliced domestic turnips and pickled with sweet vinegar. It is sliced slightly thicker and has a soft texture with little "crispy" texture. The seasoning is not sour and has a gentle taste.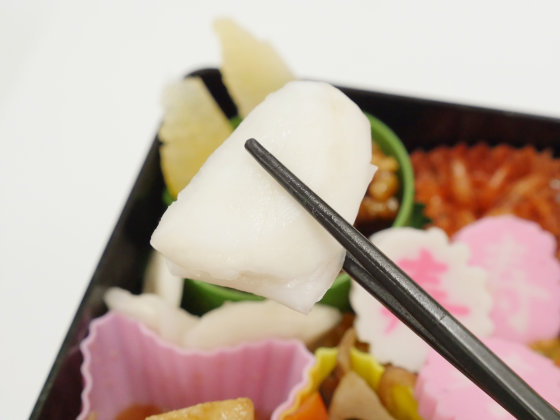 I think that Kotobuki is a kind of kamaboko, or because of the addition of soy protein in addition to fish meat, a unique texture between kneaded and Koya tofu. The flavor is also unique, and it seems that likes and dislikes are divided. The color is beautiful, but it has become the item with the lowest popularity among editorial staff.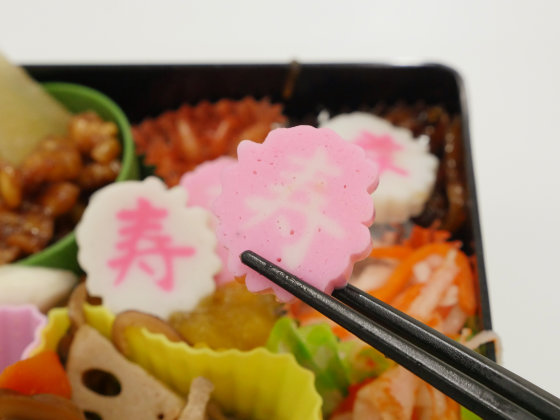 On the other hand, Kurumi Kanro-ni is an exquisite dish that some people commented, "I want to eat it all the time ...!". The sweetness of sugar and soy sauce was exquisite with the aroma of nuts.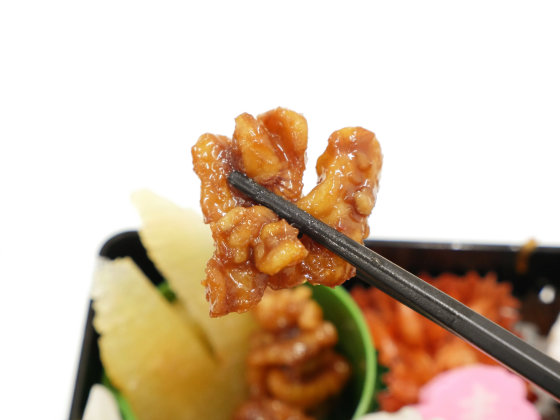 The number of children that are high-quality ingredients is also included in the 100 yen New Year dishes. The crispy texture of crispness and crispness is the same as a general number of children.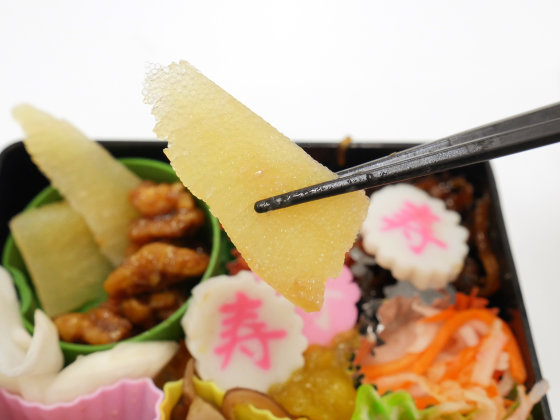 Although it is sliced quite thinly, it is not something that you can eat so much, so the impression that this amount is enough. Because it is 100 yen New Year, it is also a point that you can easily add for 100 yen if you want more kazuko.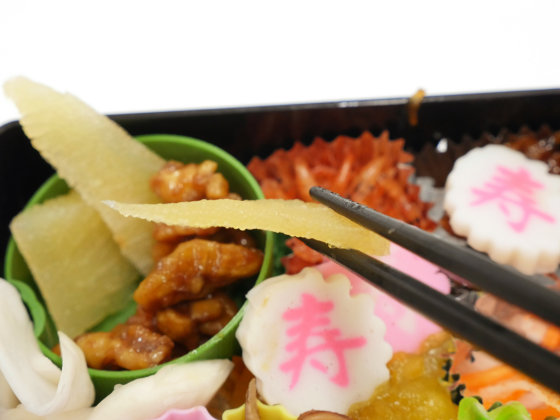 Mushuri Chestnut Kinton is a sweet potato paste base with chestnut sweet roast. Sweet and sticky sweet potatoes are like desserts.



The crispy texture of shrimp Kanro-ni is lightly sweet and the scent of shrimp is firmly felt and can be eaten as a snack.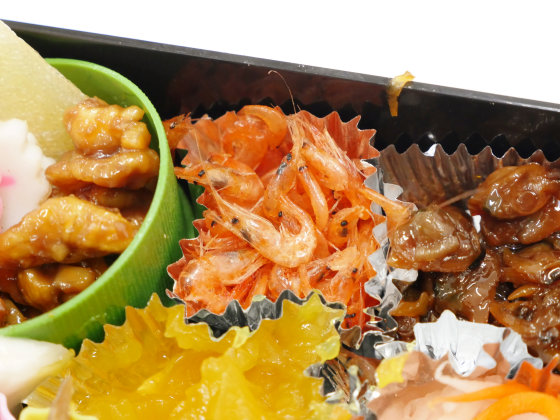 Namaszuke was more acidic than a thousand pieces, and the scent and sweetness of vinegar was balanced. Red and white eggplant is a dish that wishes for 'peace' and 'peace', and it is a dish you want to put in New Year as a refreshing chopstick rest.



The clams are cooked sweet and spicy, and have a deeper flavor than simmered. It was a dish that I wanted to eat on hot rice.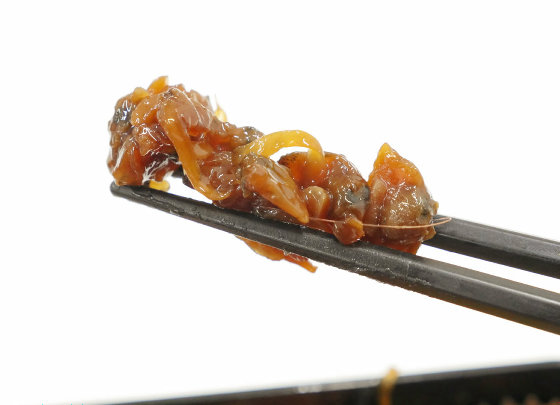 So to the next weight.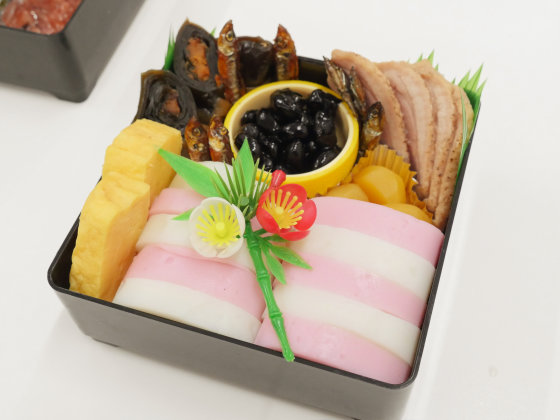 Red and white kamaboko are softer than kamaboko and lightly seasoned. Osechi tends to be seasoned as a whole, so this seasoning may be the best.



The fluffy and crisp thick baked eggs are fairly sweet.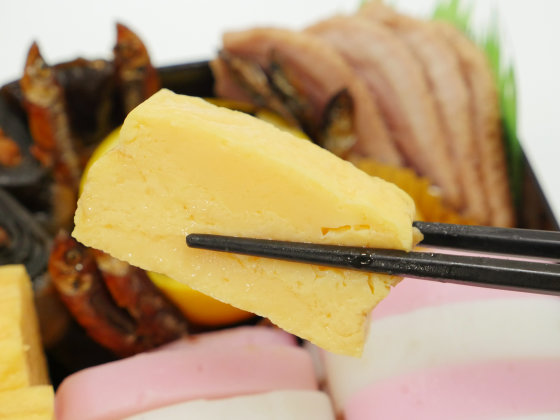 Although slightly stiff, the Aigamo grilled slice spreads the flavor of the meat every time you bite. There was also fragrance because the fat part was beaten.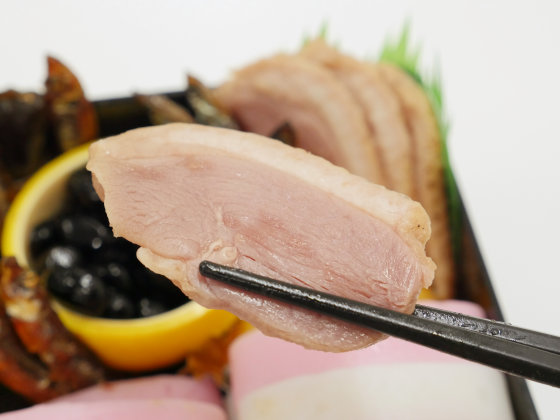 There are two types of kelp rolls: strawberry and herring. The kelp roll itself has the same seasoning, but the sea bream has a slightly larger amount of fish, and the impression is that you can feel the texture and taste firmly.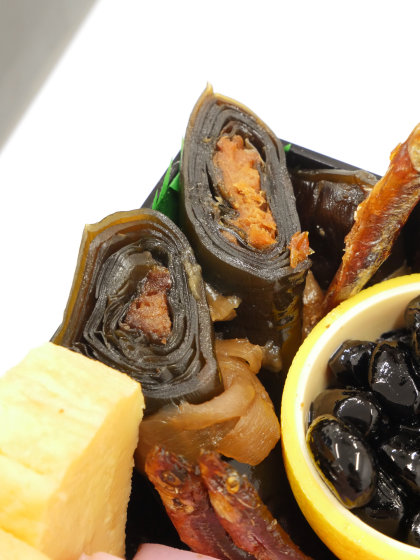 Wakasagi and ...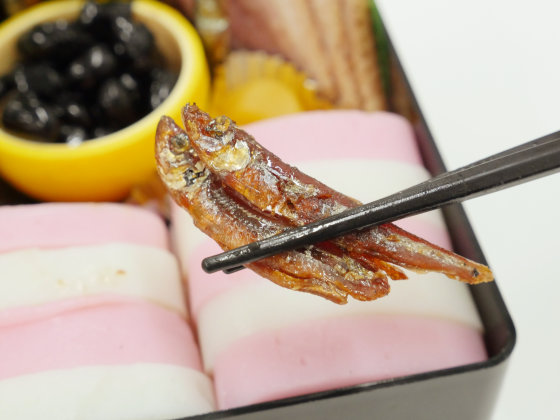 Making rice. It looks like two types, but the rice-making is a little harder, more bone-like, and more bitter, so it may be for adults. All of them are boiled softly to the bones, so you can eat them crisply.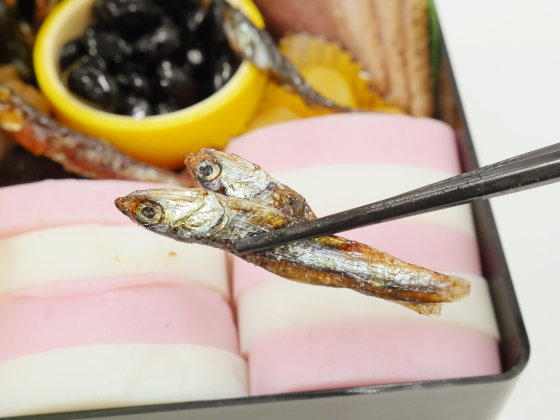 Chestnut sweet roast contains 3 large chestnuts per pack. It is easy to eat and is perfect for dessert.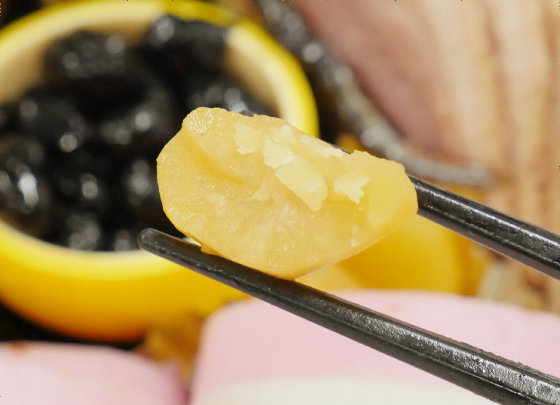 Although black beans are slightly small, they are softly cooked with Okinawan brown sugar. It 's sweet enough to stretch your hands.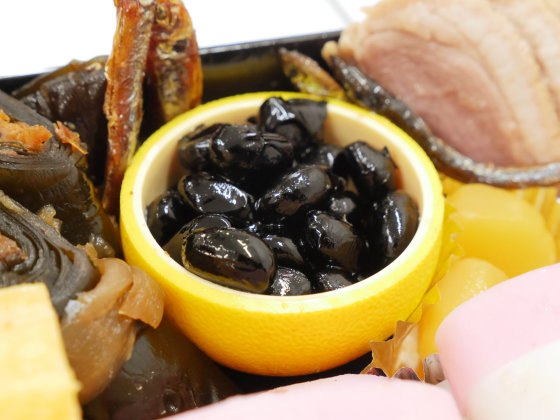 The 2nd tier had a slightly sweeter seasoning, but the 3rd tier had a heavy salty seasoning.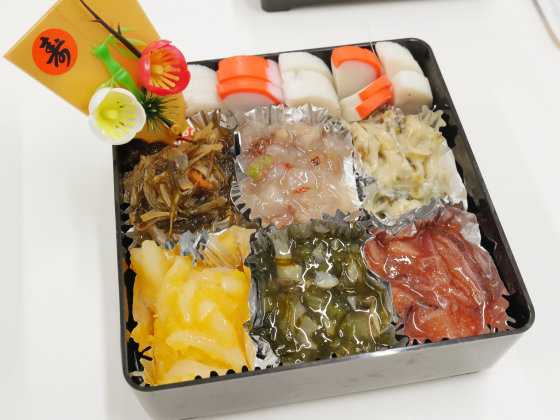 The golden squid is a true squid body combined with a caraft shisha egg. There is no hotness such as chili peppers, and rice goes well because it is salty.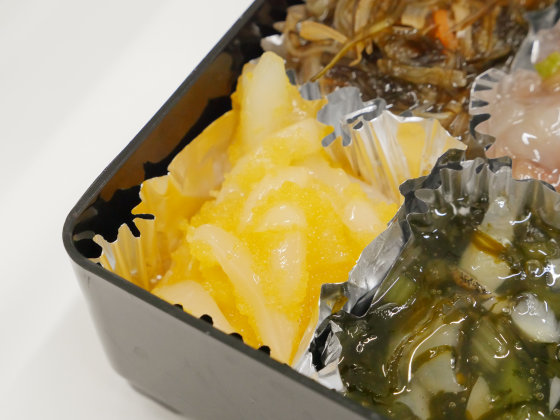 Mussel wasabi is a combination of Hokkaido mussels and kelp, with a distinctive shell texture. The scent of dashi and the radish and wasabi are good.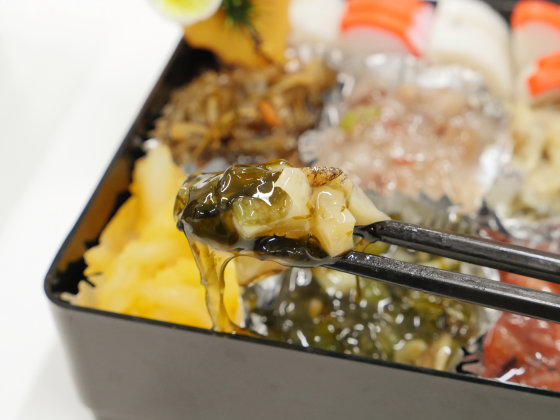 Mentaiko used to tell if Ikuta is not soft. There is a pungent stimulus different from wasabi.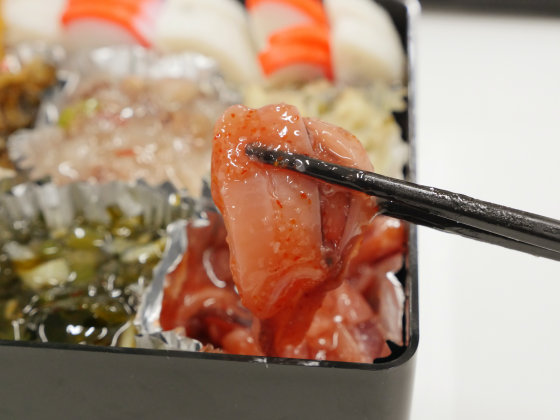 Number of pine pine mae is made by adding a number of scallops to sumimeika, kelp and carrot and seasoning with white soy sauce. It is a taste of adults with a slight fragrance of sake.



In addition to scallops, scallops also contain walnuts. This is also the finish of the stem wasabi, and the sake scents softly.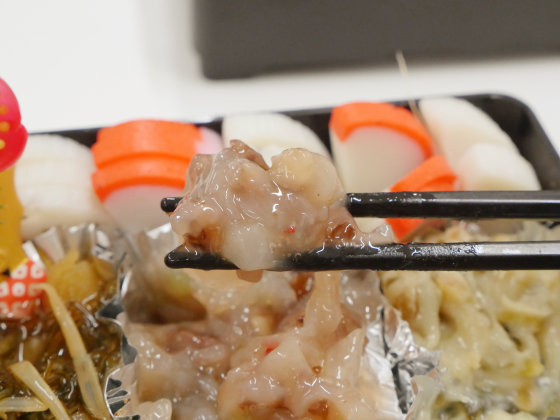 The strongest scent of sake was pickled in wasabi with sake lees. There are plenty of wasabi stalks, so the degree to which it comes to the nose is outstanding, and it should be irresistible for those who like it.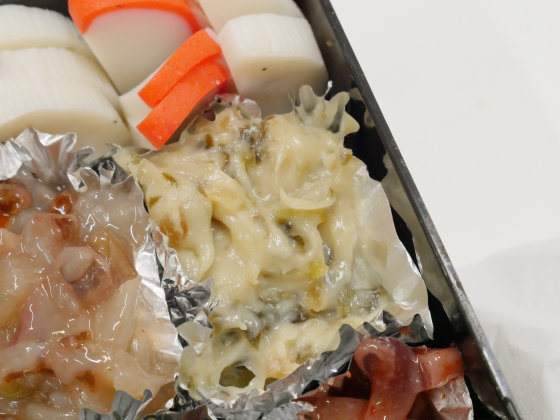 The red kamaboko and the white fugu kamaboko. Finish with a subtle flavor of fish. It's more crisp than the red and white kamaboko, and it's rich in seasoning, so it's better to eat it alone and feel 'delicious'. In particular, the kamaboko of the strawberry has a vibrant hue, so the New Year's is gorgeous.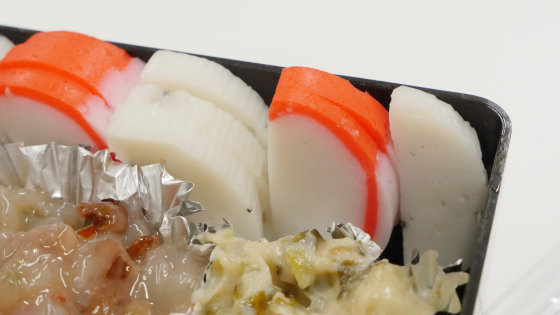 The 100-yen New Year dishes are quite inexpensive, with 3200 yen excluding tax even if you have 32 types and all types, and it was an amount that could not fit in the 3-stage New Year dishes. It seems that 1-2 people would not be able to eat all of them, so if you collect as much as you like and put it on a mini, you can produce a gorgeous New Year.