A bug that suddenly shuts down on MacBook Pro, Apple's official solution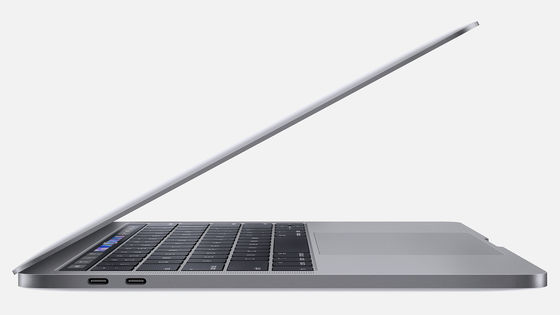 The MacBook Pro 13-inch model that appeared in 2019 has a bug that keeps the device shutting down. Apple acknowledges the existence of this bug and has published a workaround.

Apple acknowledges random shutdown issue with some 2019 13-inch MacBook Pros-The Verge
https://www.theverge.com/2019/12/4/20995200/apple-2019-macbook-pro-13-inch-shutdown-turn-off-bug

Terminal that it was first reported a that is occurring bug that shut down in appeared in MacBook Pro13-inch model in 2019 MacRumors it is. A report posted on the MacRumors support forum reveals that multiple MacBook Pro 13-inch users are experiencing bugs that cause their devices to suddenly shut down.

Apple is also aware of the existence of bugs and released a support page on the official website `` If your MacBook Pro (2019 13-inch model, Thunderbolt 3 port × 2) keeps shutting down '', `` Battery remaining We have released a solution for the case where the terminal shuts down suddenly even though the amount remains.

If your MacBook Pro (13-inch, 2019, Two Thunderbolt 3 ports) keeps shutting down-Apple support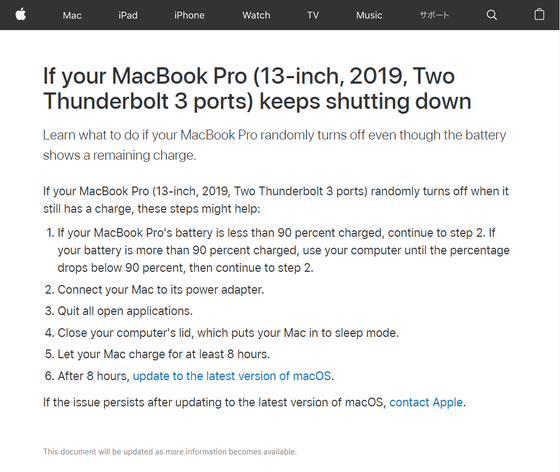 According to Apple, the shutdown bug is occurring in the 13-inch MacBook Pro that appeared in 2019 with two Thunderbolt 3 ports. Bugs do not appear on models with four Thunderbolt 3 ports. Apple's official solution is as follows.

1: If your MacBook Pro battery is less than 90%, go to the next step. If the battery level is 90% or more, use the MacBook Pro until it drops below 90% before proceeding to the next step.
2: Connect the power adapter to MacBook Pro.
3: Quit all open applications.
4: Close the display and put your MacBook Pro into sleep mode.
5: Charge MacBook Pro for at least 8 hours.
6: After that, macOS is updated to the latest version .

Since Apple's official coping method ultimately prompted a macOS update, 'The cause of the shutdown bug may be software,' the overseas technology media The Verge points out. If the bugs are not fixed even after Apple's official action is taken, it is recommended that you contact Apple official support or bring your device to the Apple Store .