Open Source 3DCG Software 'Blender' 2.80 Released, UI Revamped with New Physical-Based New Real-time Renderer and Eevee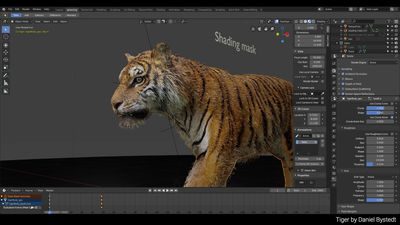 The open source 3DCG software '
Blender
' version 2.80, which can be used free of charge and can be displayed in Japanese, has been in beta for eight months, and '2.80' has finally been released. The user interface and operability have been changed significantly in version 2.80, and it is also kind to people who will start using it.
2.80 — blender.org
https://www.blender.org/download/releases/2-80/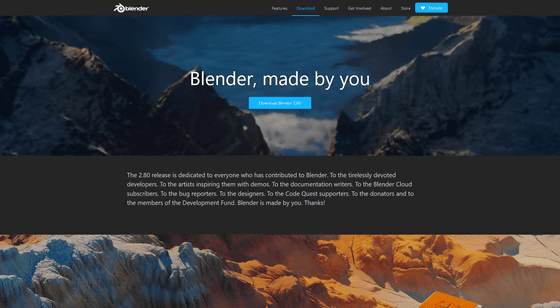 Dev: JA / Ref / Release Notes / 2.80-wiki

https://wiki.blender.jp/Dev: JA / Ref / Release_Notes / 2.80
Tiger-Blender 2.80 demo by Daniel Bystedt-YouTube
◆ Change of UI
Version 2.80 has a big difference in appearance compared to 2.79. 2.79 is like this.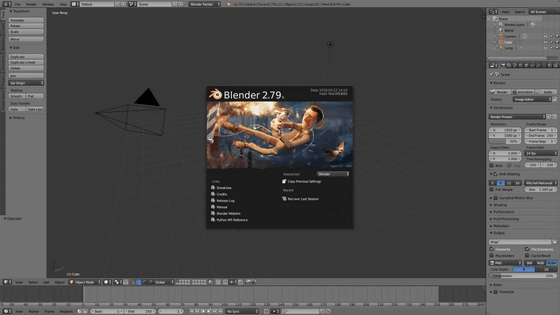 And, 2.80 is like this. Redesigned with a new dark theme and icon set to focus on artwork. The icons are color-coded for each theme, and visibility is improved.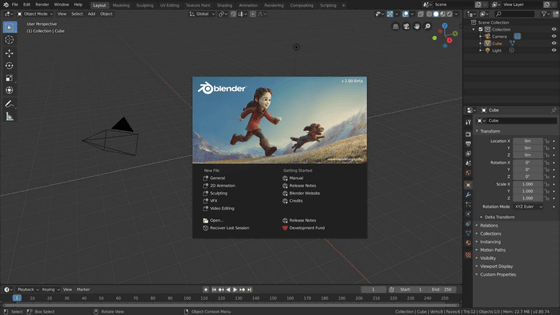 ◆ Grease pencil (Grease Pencil) is more suitable for 2D drawing & animation
'Greece pencil' was originally a function to write notes like correction instructions on a 3D model, but people who draw pictures and make animations appear. Grease pencil is treated as a normal object in 2.80, making it easier to make drawings and animations. The official YouTube channel has published an animation called 'HERO' as an example.

HERO-Blender Grease Pencil Showcase-YouTube


◆ Shortcut key
As shortcut keys have also been reduced as a result of years of expansion, the default keymaps have been adopted, with many shortcut key settings changed to allow users to assign themselves. However, in addition to key maps for people who use shortcuts that have been used before, there are also key maps for other 3DCG software. The list of changes in the new key map looks like this.

⚓ T55194 Shortcut Keys Changed in 2.8x
https://developer.blender.org/T55194

A new arrangement of key cheat sheets is also available.

[2.8] Blender 2.80 shortcut key cheat sheet (beta) | MITSUDA Tetsuo | note
https://note.mu/lab1092/n/n 68184440b901

◆ Left click selection
In Blender, the right click was 'Select' by default, but with 2.80 it is the default to 'Select' by left click. The selection range is extended / deleted while holding Shift / Ctrl while the right click is assigned a context menu. However, right-click selection is still available for use with the keyboard and mouse.

In addition, Blender's internal renders have been scraped and replaced with new physical-based real-time renderers Eevee and Cycles .

In addition, it is announced that Epic Games known as 'Fort Night' and 'Unreal' will provide 130 million yen to Blender, but this is followed by the studio under 'Shin Evangelion Movie version' production. Color and its subsidiary, Studio Q have also made it clear that they agree with Blender Development Fund.


The Japanese animation studios Khara and their child company Project Studio Q sign up as Corporate Silver and Bronze members of Development Fund. They're working on the Evangelion feature animation movie. Https://t.co/HyupFnOcfo https: // t. co / mA5n Tiaz8E # b3d

— Blender (@blender_org) July 24, 2019
Agreement with Blender Development Foundation https://t.co/mU4V9oGqC1

— Color Corporation (@khara_inc) July 30, 2019