What is 'our nipple' to release the female nipple from regulation?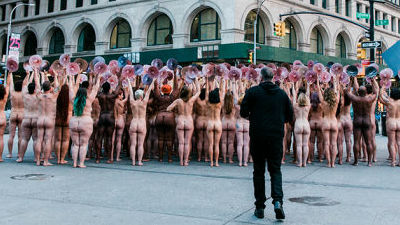 Photographer
Spencer Tunick
is shooting
hundreds of men and women nudes
and filming
18,000 nudes
. He is working outside the Facebook and Instagram offices for a nipple release.
We The Nipple-National Coalition Against Censorship
https://ncac.org/we-the-nipple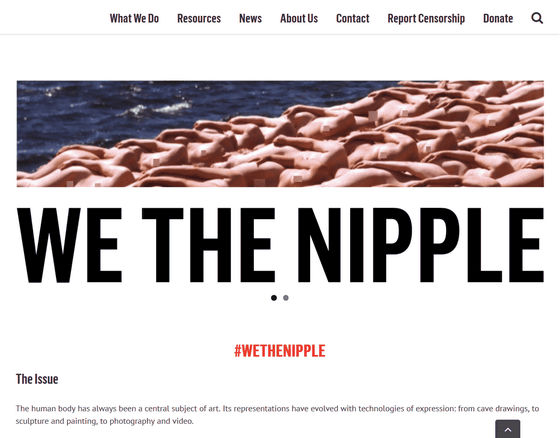 Inside Spencer Tunick's Nude Photo Shoot to Challenge Facebook Censorship-Artsy
https://www.artsy.net/article/artsy-editorial-inside-spencer-tunicks-massive-nude-photo-shoot-challenge-facebook-censorship
On June 2, 2019, under the guidance of Mr. Tunick of the photographer, over 100 'people who printed genitals and nipples with printed male nipple photos' were lying on the pavement and nipples We did activity to appeal for release. The "male nipple photo" that women use to hide their genitals and nipples is the artist Andrés Serrano and
Paul Moupi Sepya
, popular TV presenter Andy Cohen, and Red Provided by
Chad Smith
et al., A hot chili peppers drummer.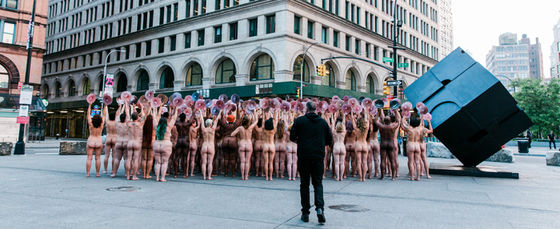 This activity is called 'We The Nipple' (our nipple) and is spread over SNS using a hashtag ' #wethenipple '.

We The Nipple was born out of a collaboration between Tunic and the National Coalition Against Censorship (NCAC), a national association for censorship. Although it is safe to expose men's nipples, We The Nipple is a protest against women's nipples being banned from publishing on Facebook and Instagram community guidelines.

Similar activities include 'Free the Nipple' and ...

'Free the Nipple' exposes the nipple in the presence of the public because it is funny that 'only women hide the nipple'-GIGAZINE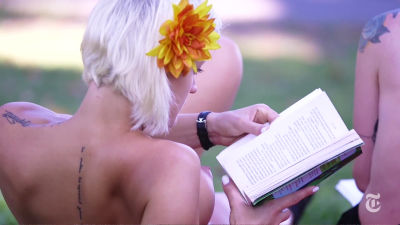 The existence of the Instagram account 'Genderless Nipples' is mentioned.

'Genderless nipples' account appeared on Instagram to challenge which levels of nipples are not banned in order to free all nipples from regulation by women's nipples-GIGAZINE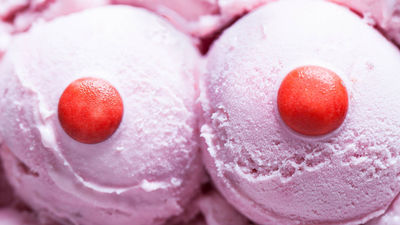 At We The Nipple, over 250 artists, art museums and art organizations including Tunic have started signing activities.

Tunic, who is the main figure of the activity, is known as an artist performing nude installations around the world. In 2000, the Supreme Court of the United States rejected Tunic's lawsuit regarding nude shooting under the Williamsburg Bridge in New York, so this was the first nude installation done in New York City in the last 20 years. The

Such tunic-led We The Nipple took place in front of Facebook's office on June 2nd, but about tunic's activity, 'This is a picture of the people who got dressed. It was only the male nipples. " In the activity, male nipples use a printed photo to hide genitals and female nipples, so as not to violate Facebook's community guidelines.

Facebook and Instagram allow nudity to be expressed in works of art such as paintings and sculptures, but only photos are an exception. This policy is particularly difficult for photographers like Tunic, who use extreme caution when posting work on these social networks to ensure that nipples and genitals are not captured is. If you violate the Community Guidelines, the image or the account itself will be deleted without any warning, so artists who handle naked photos need to re-create their account and re-follow from 1 there is.

Tweets of people who participated in We The Nipple

To Have Taken Proud Part In Spencer Tunick'S #Wethenipple Protest Against Censorship Ando Misogyny Early This Morning. Social Media Must Remedy Their Rules. They Suppress Art Ando Freedom Ando Beauty. Pic.Twitter.Com/xO8ULxVN60

— Ullie Emigh (@ullieemigh) June 2, 2019


NCAC points out that Facebook and Instagram's community guidelines are 'imposing the convictions of Facebook users on the whole world, such as blocking artistic expression and forcing gender discrimination.' In addition, Facebook and Instagram require that a filter system be implemented so that users have finer control over their nude content.

Many of the participants are not dedicated to SNS censorship, but we are working to address broader cultural issues, such as how women and transgender are treated by society. I participate in the activities of Nipple. 'This problem is a philosophical issue about the woman's body and is ashamed of nudity and sexuality,' said Dawn Robertson, a female participant.



Also, photographer Savanna Spirit, who has published his own naked photos as art, is also participating in We The Nipple's activities. Robertson claims that women's rights, and because Spirit posts naked photos as works of art on SNS, he has often been deleted accounts without any explanation. Therefore, Mr. Spirit said that she still feels uneasy about posting naked photos online.

In response to We The Nipple's activity on June 2nd, Facebook stated that we would like to make some comments on the activity, but it was posted with a hashtag of We The Nipple as of that evening. More than 500 photos have been deleted from Instagram. Later, late in the evening, all images that were hashtaged were restricted and could be viewed again the next afternoon.


in Art, Posted by logu_ii