Vertical tabletop storage `` PEGGY '' review that can customize storage space freely with zero tools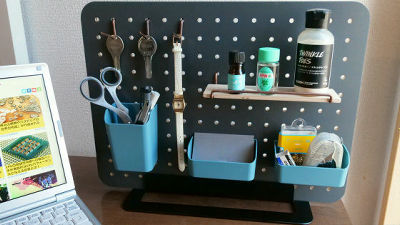 ' PEGGY ', a desktop storage that can be used to customize the storage style, will be available from King Jim on June 7, 2019. Storage using `` pegboard '' used for building materials can create a storage space in the vertical direction without occupying the desk, and it seems that it looks fashionable, so try using it actually one step ahead Was.

PEGGY | File and Tepra King Gym

https://www.kingjim.co.jp/sp/peggy/
PEGGY comes in two color variations: charcoal black and off-white. There are also L-shaped hooks, mini-containers, pen stands and mini shelves as optional parts.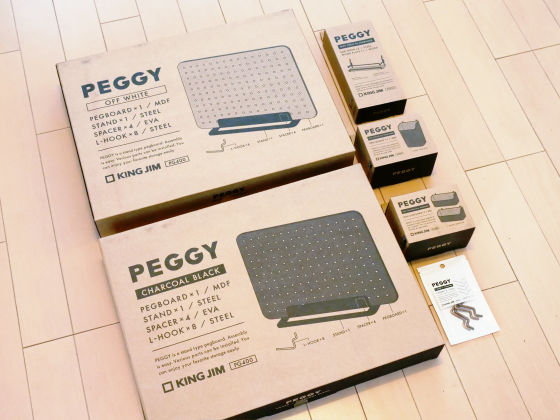 When I opened the charcoal black PEGGY, it contained a pegboard, a stand, four spacers, and eight L-shaped hooks.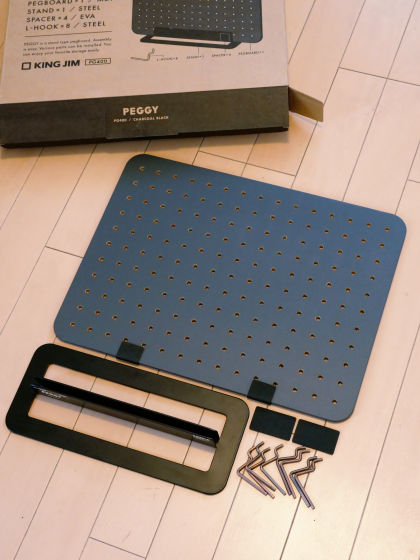 The size of the pegboard is 400x300mm. This is how it looks when compared to the 123.8mm iPhone SE. The material is
medium density fiberboard
.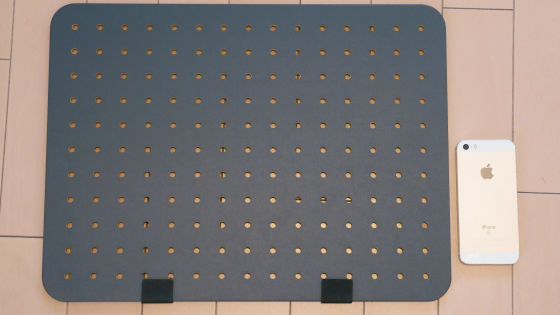 The thickness is 6mm.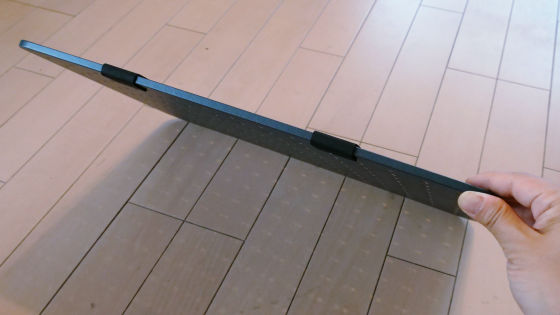 The spacer is used to stabilize the pegboard when it is inserted into the stand. Each PEGGY comes with four spacers, two of which were pasted to the body from the beginning.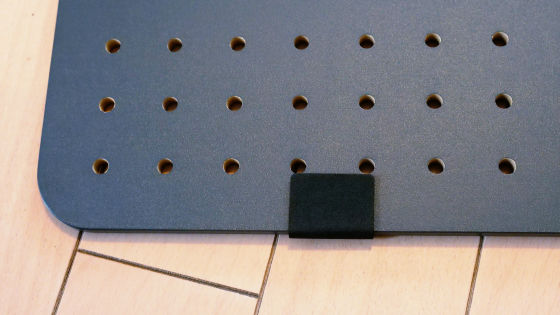 It is very simple to use, just sandwich a pegboard with a spacer on the stand.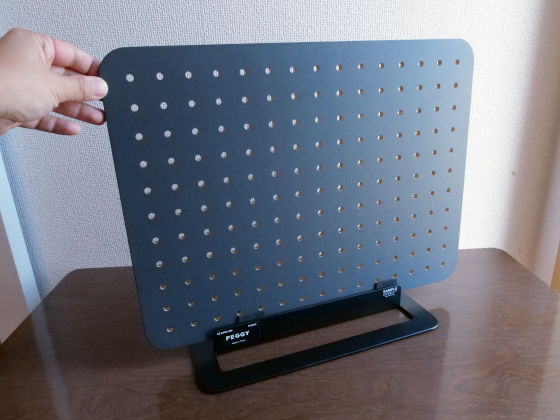 PEGGY comes with eight L-shaped hooks that look like a series of two large and small 'L' s ...



Insert as follows.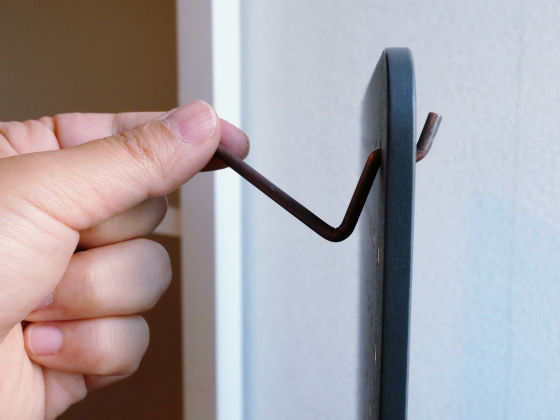 The unique shape of the L-shaped hook is stable by simply inserting it into the hole, and it does not come off in the forward or downward direction. There are a total of 165 holes in 15 columns and 11 rows, and you can freely place the L-shaped hook anywhere you like ...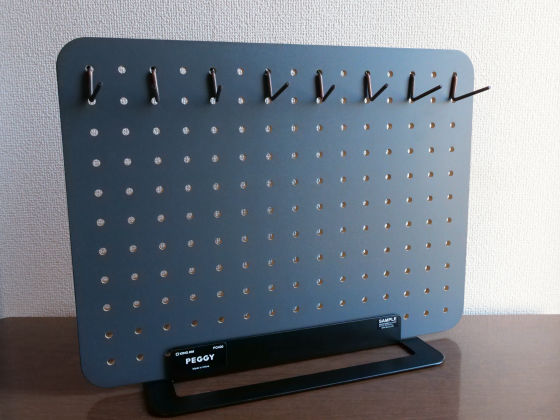 You can organize and display chains and accessories like this.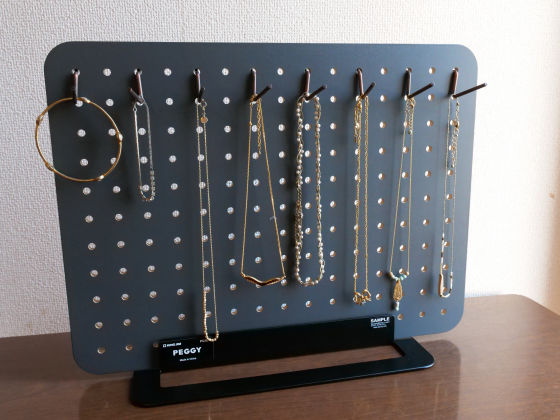 There are also pen stands, mini shelves, mini containers, etc., sold separately, so I will use this as well.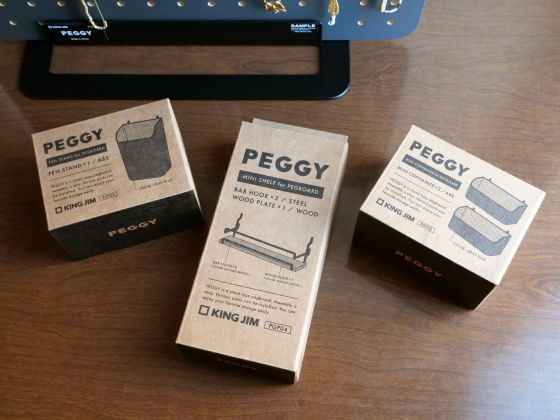 Opened.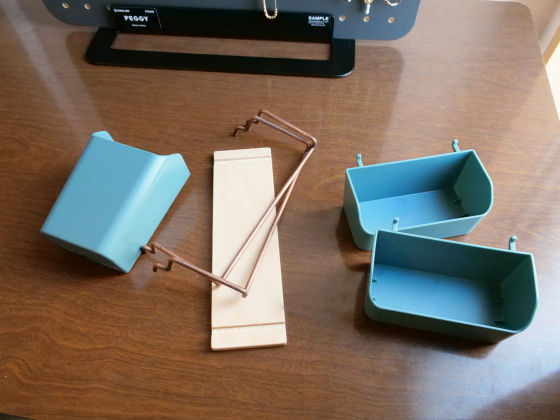 There are small hooks on the container, pen stand and back ...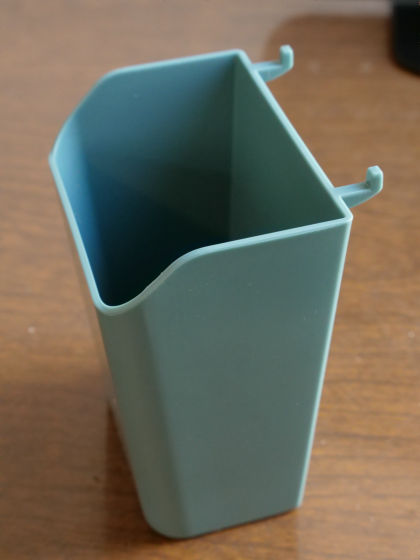 It is designed to be hooked on the peg board with one hand,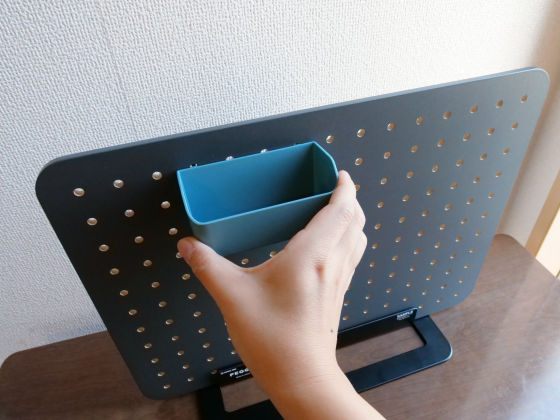 In the same way, I will attach a mini shelf ...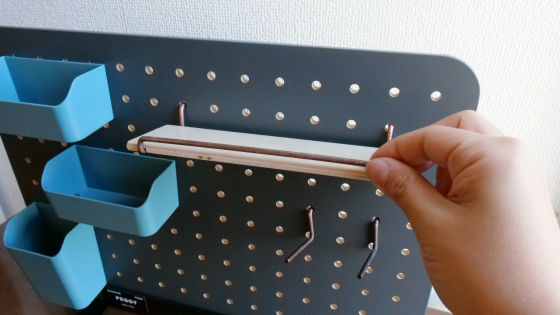 Using an additional L-shaped hook ...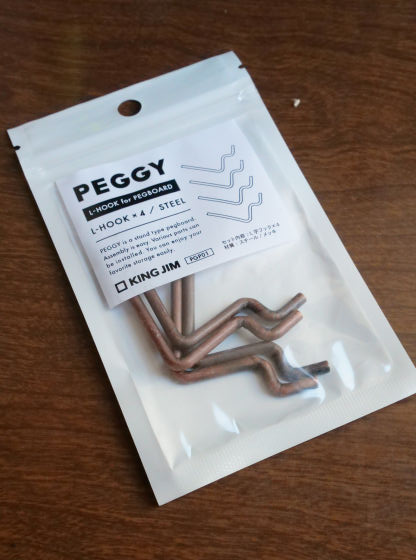 I customized it.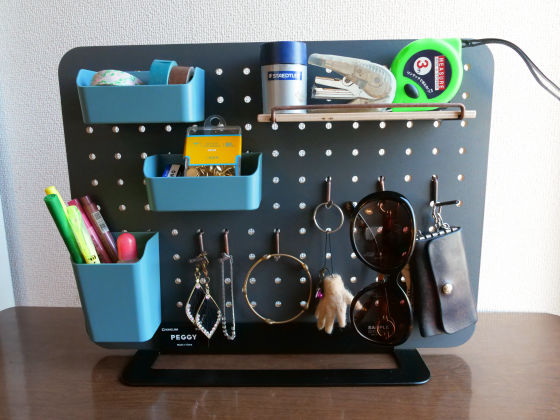 If you put something you need when you go out, such as a key or sunglasses, and leave it at the entrance, you don't have to look for 'Where did you do it?'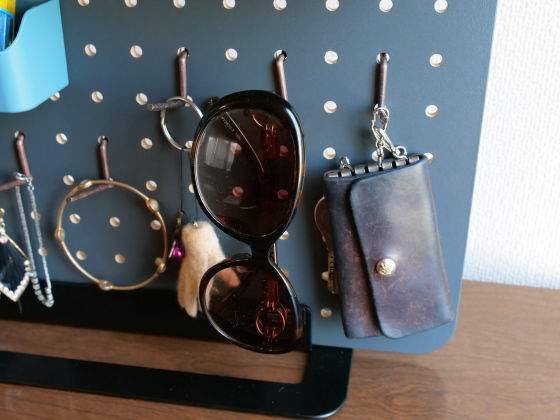 Using a mini-container, mini-shelf, pen stand, etc., it is possible to display on a desk that is apt to be cluttered with stationery while also displaying a stylish look.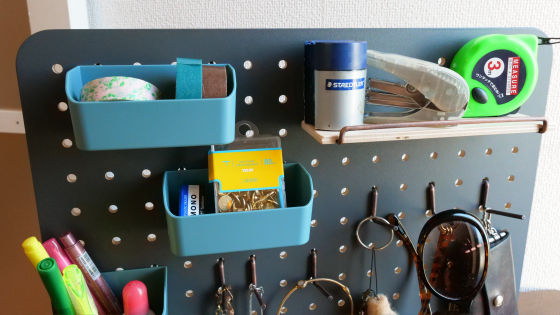 Accessories that tend to get entangled in the box can be stored neatly.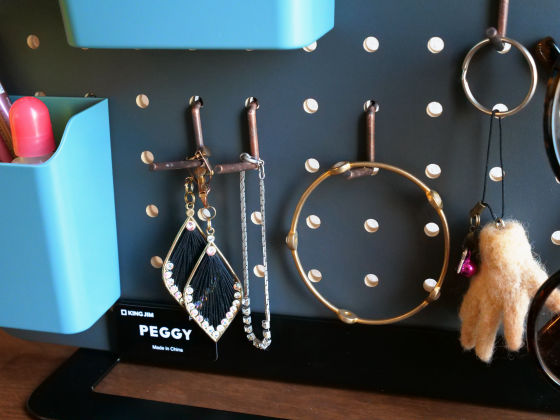 What's special about PEGGY is the overwhelming ease of rearranging and customizing. It can be easily removed and attached with one hand while keeping things that are hooked or stored in a stable state. Looking at the following movie, you can see its excellence.


Rearrange `` PEGGY '' that can customize storage space freely-YouTube
The stand was made of steel and was quite heavy, with a load capacity of 3 kg, so it did not fall down during use even if a load was applied to the front of the storage. If it is only a pegboard, it will be necessary to attach it to the wall using tools, but if you have this stand you will be independent, so it is important to use it anywhere if it is flat.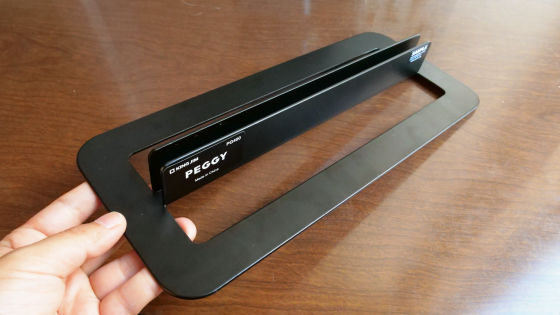 Another shade of PEGGY, off-white, looks like this. The contents of the set are the same as charcoal black, including a stand, four spacers, and eight L-shaped hooks.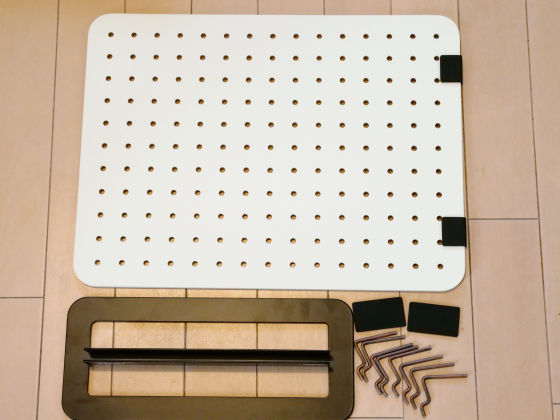 The usage is the same, but off-white is used in the vertical direction because it can be used vertically. The atmosphere changes when the color changes.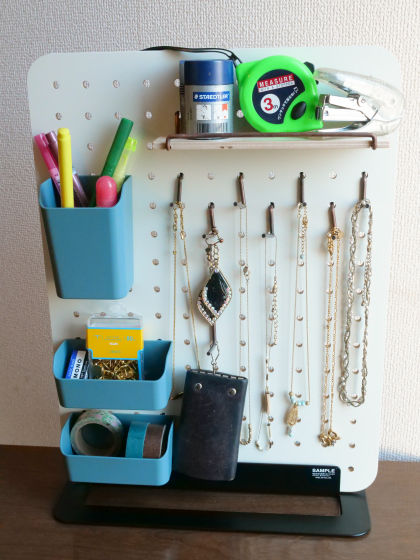 PEGGY is 3780 yen including tax, L-shaped hook, mini container and pen stand sold separately are 540 yen including tax, mini shelf is 756 yen including tax. At the time of article creation, reservation order from Amazon is possible.

Amazon | King Jim Board Table Storage Perforated Board Toolless PEGGY Black PG400 Black | Stationery & Office Supplies | Stationery & Office Supplies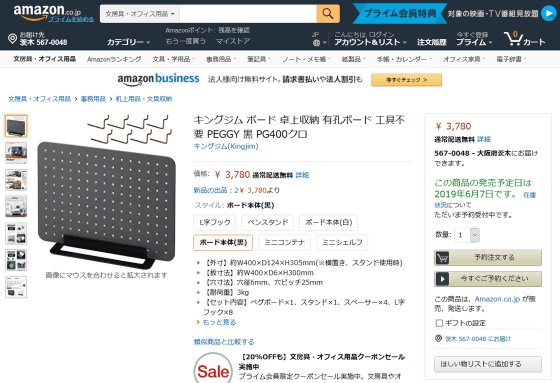 You can also get PEGGY from the following gift articles.

GIGAZINE New Year's holiday gift large release project 'Please answer the questionnaire and bring all together!'-GIGAZINE