Is there any chance of winning the next podcast of the music industry's savior 'Spotify'?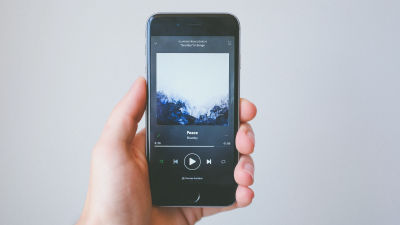 by NeONBRAND

The appearance of the music streaming service " Spotify " has revolutionized the digital music market that pirated rampant, and the streaming service began to play most of the profit generated by the music industry . Stratechery analyzes the next step taken by Spotify as "entering the podcast industry" as to how to monetize and whether there is winning podcast in the first place with data.

Spotify's Podcast Aggregation Play - Stratechery by Ben Thompson
https://stratechery.com/2019/spotifys-podcast-aggregation-play/

Spotify's Daniel E. CEO said in a news release revealing the acquisition of podcast related companies, "More than ten years ago we established Spotify to provide what consumers could not get until then "What consumers could not get until that time" is a service that allows you to listen to music at a reasonable price anytime anywhere.In the process of Spotify becoming popular, we are pirated I regained the power of the music industry I was going through and succeeded in building the foundation for the world's music to grow again through paid streaming service.We are proud of what we have accomplished , When I launched a service for consumers in 2008, I also have noticed that it is not only music, but also audio For the whole industry talks about the service is that is can be a hope for the future "that Spotify, that Spotify has played a major contribution in the music industry, and not only the music in the future podcast for also actively digital audio, such as It is revealing that it is a policy to work on.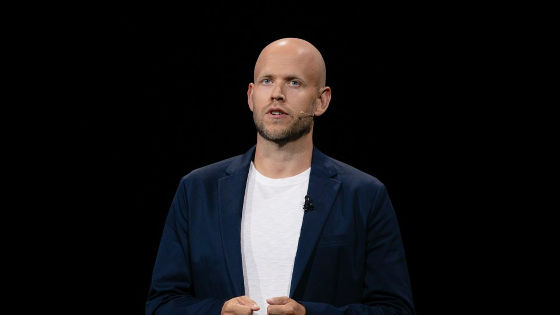 Ben Thompson of Stratechery, a blog analyzing corporate strategy, analyzes whether this claim of CEO is truly correct.

The following data describes sales of the entire music industry in the United States from 1973 to 2017. Broadly speaking, it shows a dark blue record, a light blue color cassette, an orange color CD, a purple color download, and a green color a sales by streaming service. As you can see clearly on the graph, demand for streaming services is gradually increasing since around the second half of 2000 when Spotify appeared, and the sales that has continued to decline in the industry as a whole is finally recovering in 2016 . It is obviously a streaming service that is the driving force behind it, "Thompson expects streaming service in the future," There is a possibility that it may exceed sales at the peak of CD in the next few years. "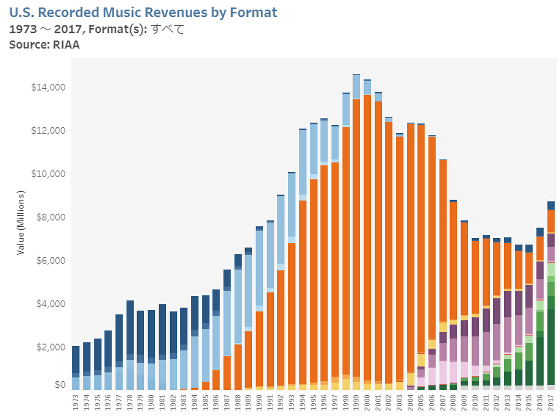 In the meantime, Mr. Thompson argued that Spotify took it, "It is not to fight existing music labels, but to build a completely new business model assuming the Internet". The spread of pirated software has made copying and distribution of digital media free, but instead of forbidding digital media there, we can access digital audio that we have abundantly enough to overflow, "can access any song It is said that there is greatness of Spotify that it made it "service."

Thompson points out that the issue of Spotify is "in inverse proportion to the magnitude of the impact Spotify gave to the music industry, it has not been so successful in terms of profitability." According to Spotify 's fourth quarter results of 2018, although the revenue was EUR 1.5 billion (about 190 billion yen), the biggest factor was "The operating expenses in Sweden decreased by 17% due to stock price declines That's right. Spotify claims that even if operating expenses are not diminishing Spotify has been able to make a profit, but in the long-term outlook, Spotify's net profit will be 27% of sales as in the third quarter of 2018 Thompson points out that "It is a hard figure" that it is not too much.

The main reason for lowering the net profit of Spotify is not that there is a fixed investment in research and development and sales & marketing like other high-tech enterprises, but the minimum payment to music label is enormous expenditure Mr. Thompson points out that it is a problem that it is becoming. Basically Spotify produces a lot of revenue, but the fact that fixed and large expenditure exists can be a big factor hindering the growth of companies called Spotify in the long run.

But "It's at least as long as Spotify is a music company," Thompson said. In other words, Mr. Thompson thinks that Ecuo started looking at not only music but also Internet radio like podcasts to grow Spotify into a company that can make a bigger profit .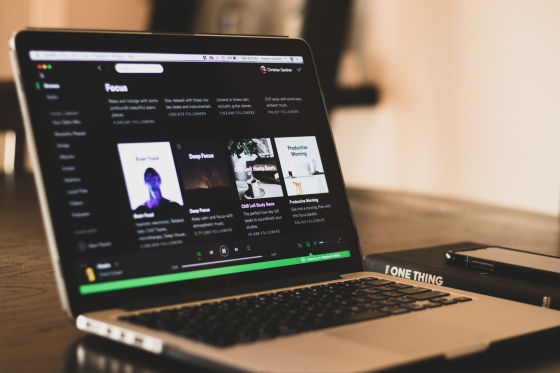 by sgcreative

As Spotify looks at the audio as a whole from music, at the time of writing the article is working on podcasts. "At least from the user's point of view, it's a natural extension," says Thompson.

Playback of a podcast, which is a kind of Internet radio, downloads or streams digital files over the Internet, decodes them on the device and plays them. This is basically the same as playing music data. In the case of music, melodies, harmonies, and podcasts are words, but from a technical point of view they are "distinctive distinctions" and there is no big obstacle.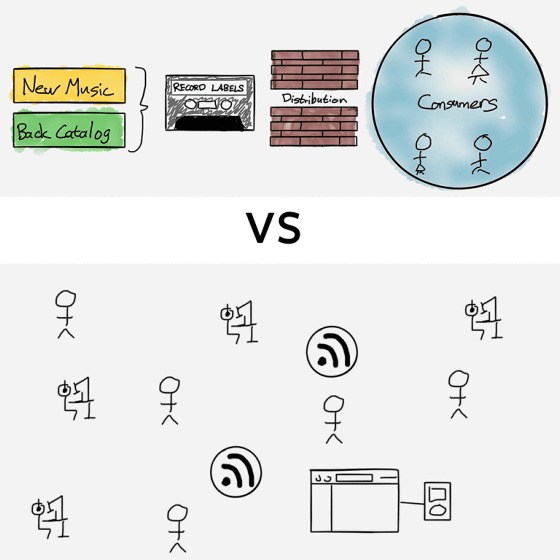 However, there are different aspects of music and podcasts. For example, music is managed mainly by three huge labels, but podcasts are managed by individual podcasters. Music is content that can legally be played only through licensed services or downloads, but podcasts are open content that anyone can freely play over the Internet. According to the data of 2017, sales in the music industry in the United States were $ 8.7 billion (about 950 billion yen), while podcast sales were only about 300 million dollars (about 33 billion yen) You can see that the scale is quite different.

Spotify is made up of "a subscription type business model that collects royalties directly from users" and "a business model that collects publication fees from advertisers by posting advertisements." Spotify has raised advertising revenue of 542 million euros (70 billion yen) in 2018 and recorded revenues exceeding the total sales in the podcast market in the United States. This number seems to be a big number given that half of Spotify users are not watching ads through subscriptions.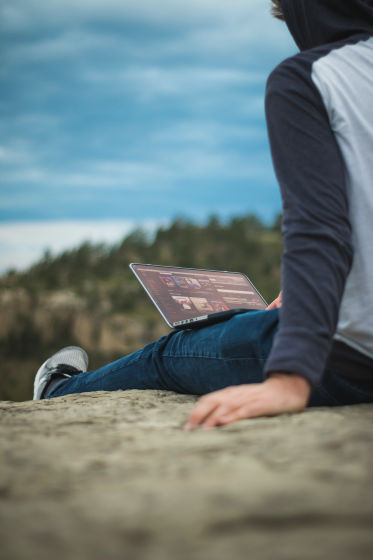 by Steve Halama

According to a study conducted by Edison Research on Americans, 73 million people are listening to some podcasts every month, and there are as many as 48 million users who use podcast every week. Furthermore, the average user is listening to about seven podcasts a week. Thompson from these figures said "Podcasts seem like a market worth over $ 300 million."

The following data summarized in 2009 is a graph showing the time consumed by each consumer in each media and the advertisement expenditure sponsored by each media as a percentage. It is said that more advertising expenditure is being spent on the proportion of time spent by consumers on TV and printed matter. On the other hand, the Internet said that the advertising expenditure that is thrown is smaller than the time spent by consumers, that is, "the media worth advertising expenditure". In addition, about 10 years have passed since 2009, the gap between the interest in the Internet and the advertisement expenditure is gradually being buried.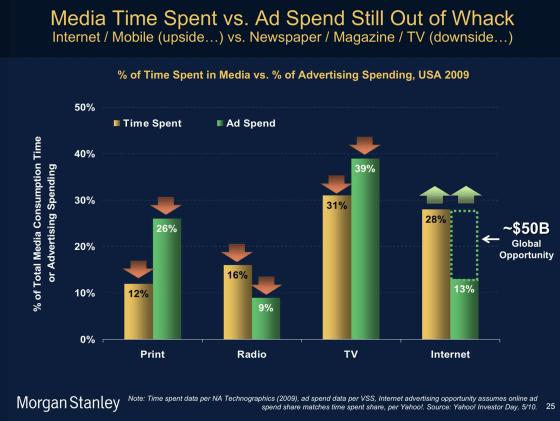 Then, as for the advertisement business in the podcast market, Midroll is the biggest podcast advertisement at the time of article creation. Midroll is located between the advertiser and the podcast distribution company and gains one-third of advertisement revenue, distributes advertisements, distributes discount codes, etc.

In 2016 Midroll has acquired a podcast company called Stitcher and also has a platform to distribute podcasts. However, as Stitcher has not gained so much share in the podcast market, Midroll has not yet obtained the necessary infrastructure to expand the podcast advertising market.

Like Midroll, Apple is likely to be a competitor of Spotify in the podcast market. Apple has a superiority not found in other companies called iOS podcast app. However, Apple is not currently looking into the podcast market. In other words, Spotify, which is trying to demonstrate its power as an advertising platform in the podcast market, has no major rival.

"Apple Podcasts" on the App Store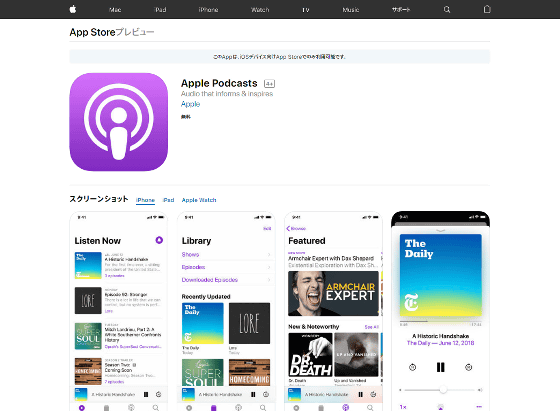 Everything is an important element that Spotify is interested in podcasting and Mr. Thompson needs Spotify "How to differentiate service from Apple music in particular" and "Content that does not need to pay fixed costs" He insists that. And Gotto Media, a podcast related company acquired by Spotify, conforms to both conditions. Podcasts delivered by Gimlet Media before being acquired can be watched for free at the time of article creation, but "It is clear that it will be dedicated to Spotify in the future," Thompson said. In addition, Spotify did not just acquire Gimlet Media's own podcast, but rather "I seem to have acquired Gimlet Media to successfully manage podcasts that will increase in the future," Thompson I'm thinking about it.

Spotify basically expects podcasts to be more monopoly than music, and there is plenty of possibility that this will be a major driving force for differentiation from other services. In addition, if users who like podcasts increase on the platform Spotify, it will lead to an increase in the number of users and the number of users in the whole service without increasing the viewing of the music, thus increasing the profit margin while increasing the company's overall sales There is also a good possibility that it will become possible.

At the same time, "The acquisition of Gimlet Media is not a sustainable strategy," Mr. Thompson wrote and the technique of acquiring a podcast company and increasing its own podcast is not a realistic strategy for Spotify As pointed out, it becomes important that there is a company called Anchor whose acquisition was announced at the same time as Gimlet Media. This Anchor is a company that provided a service to easily create and distribute podcasts, and Spotify is one of the important elements for becoming an aggregator of podcasts.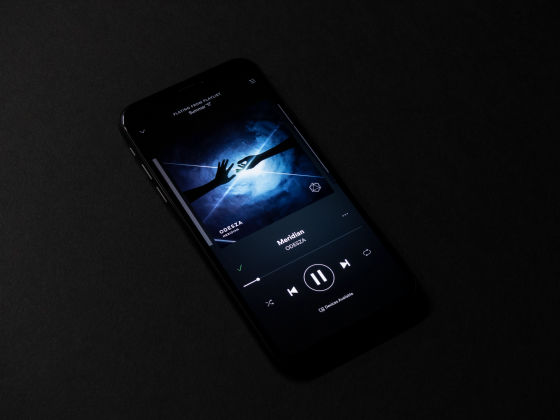 by Tyler Lastovich

Acquisitions that Spotify made to enhance its presence in the podcast market will theoretically lead to solving many problems. Thompson said, "In order to increase advertising revenue throughout the podcast industry, a central player who can take advantage of a large user base is essential.Spotify is in the podcast industry as far as Apple is not far from second place , It is also a rapidly growing player and the important point is that Spotify has a rapidly growing advertising business.This advertising business is already larger than the whole podcast market, "In the podcast industry, I am evaluating that the foundation for monetizing podcasts is well aligned with advertisements while being second in the podcast industry.

Also, Mr. Thompson has pointed out that podcast openness is "making it difficult to monetize directly directly," but at the same time Spotify has already established a platform for monetization, Of podcasts have the potential to bring higher profit margins than Spotify users even more than music. "

Anchor is seen as useful to link the podcast creator with Spotify and it will be useful to get a lot of content at a much lower rate than paying to established podcast creators such as Gimlet Media Mr. Thompson estimates.

Mr. Thompson said Spotify's decision to "advance into the podcast industry" is a success and, if successful, eventually it could be the biggest player in the podcast market. However, it does not mean that a new business model that directly connects suppliers and consumers will not emerge, and like the Spotify that regained power from the pirated version to the music industry, a completely new business model also exists in the podcast industry It is said that there is a possibility that it will come.