How can a completely unknown artist earn views by abusing Spotify?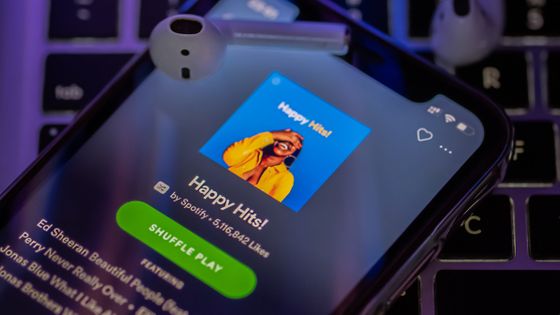 Spotify music streaming service has revolutionized the way people meet and music, indie musicians said, 'I began to earn money in the music thanks to Spotify' is in
existence
then. Meanwhile, it is reported that some people are making money by abusing Spotify's mechanism, even though they are hardly popular as artists.
Want to Make Quick Money Using Spotify? Try SEO Spamming | OneZero
https://onezero.medium.com/why-spotify-has-so-many-bizarre-generic-artists-like-white-noise-baby-sleep-c9ce09dc9002
Hundreds of thousands of listeners a month listen to songs by strangely named artists such as '
Relaxing Music Therapy,
' '
Pro Sound Effects Library,
' and '
Yoga
,' according to tech media One
Zero
. And that. These artists are generally almost unknown, and it seems that they are often not active on platforms other than Spotify in the first place, but Spotify earns tens of thousands to hundreds of thousands of yen a month depending on the number of views. I'm getting from
'The key to success is to give Spotify a fake artist name that Spotify users are likely to find,' said OneZero as to why these artists are so popular on Spotify. By adding words that are easy to use when describing music, such as 'Relax', 'Sound', 'White Noise', 'Sleep', 'Pop', and 'Rock' to the artist name, it is easy for users to find something when searching for something. It seems that it has become.
In addition, people who use this method frequently post songs with titles related to fake artist names, making it easier to earn views. For example, the account 'Relaxing Music Therapy' has posted a song named 'Stream in the Forest With Rain' 616 times.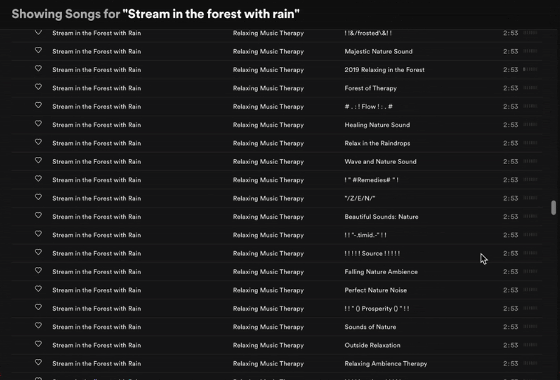 One Zero says the strategy of 'using names that are easy to find in search results' fits into Spotify's unique marketing strategy. Spotify
aims to
be 'a platform that provides music that suits the mood of the time' rather than 'a platform that emphasizes the most popular artists.'
George Howard, an associate professor of music business and business administration at Berklee College of Music, said, 'Spotify has allowed the majority of listeners to separate music authors from music through a series of user experience decisions and operations. Pointed out. People who abuse the mechanism of Spotify's platform are believed to have devised strategies to use easily searchable words from the perspective of 'Spotify's policy' and 'how users find music.'
Jason Cerf, the founder of
SubmitMusic
, who buys songs from artists and posts them to Spotify, is one of the people who makes money from strategies that use Spotify's mechanics. Cerf buys songs from a wide variety of genres, devises artist names, track names, and album designs suitable for streaming, and releases them on Spotify to make money.
'We have a creative team that develops large-scale metadata strategies,' said Cerf, who is conducting brainstorming sessions to create artist names that are easy to play on Spotify. thing. In addition, although Spotify does not have a clear rule about SEO strategy, Mr. Cerf seems to give a name that matches the content of the song to the last.
'If you release a classic album under the artist name'George Smith', digital consumers won't be attracted. If you call it'Classique Elegante' If you publish classical music by name, you'll see the right name for the song in the top and center, which will probably increase your digital activity and clicks, 'Cerf said.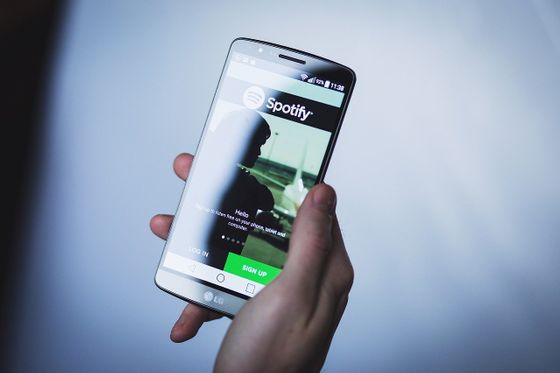 As a way to increase the number of views on Spotify, in addition to using words that are easy for users to search for music that suits their mood, very popular songs such as 'Happy Birthday' There is also the one that uploads a lot of covers of.

Accounts whose artist name itself is ' Happy Birthday ' upload different styles of 'Happy Birthday' from EDM to acoustic. In addition, the account ' Children's Music ' is 'Wheel on the Bus (originally' Wheels on the Bus ')', 'If Your Happy and You Know It (originally' If You're Happy and You Know It '). It seems that he earns the number of views by posting songs with only a part of the song title changed many times.

In addition, accounts that use specific genre names as artists, such as ' Lofi Chillhop ' and ' LoFi Chill, ' are said to be earning views by uploading songs of unknown origin. As a result, the songs of artists working on other platforms may be used to earn money without your knowledge.

As an effort to protect the copyright of artists, Spotify has introduced the digital content identification system ' DistroLock ' provided by its partner music distribution service DistroKid, and plans to strengthen the ownership of songs using blockchain. Has been announced. However, as of September 2020, these efforts have not yet been implemented on the Spotify platform.

Howard points out that for people who use different strategies to make money on Spotify, there's no reason not to use Spotify's system to increase views. There was a flaw in Spotify's system itself, and people claimed to behave strategically within it.