Web site 'Waqt' which can easily create your own world clock by simultaneously displaying the times of various countries all over the world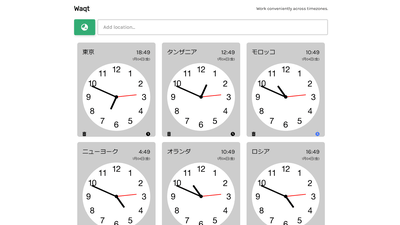 Waqt is a web site that makes it easy to check the time of other countries online, or "When in Tokyo at 9 o'clock, what time is it in other countries?" When a friend or colleague is staying abroad, it is a useful website even if you examine the current time of the country as crispy or when the game start time such as sports has only local time notation.

Waqt - Work conveniently across timezones.
https://waqt.app/

Access " Waqt ", enter the name of the country you want to check time in the entry field, and press the enter key. For example, if you type in "Tokyo" in Japanese ... ...




A clock indicating Japan Standard Time appears at the bottom of the entry field.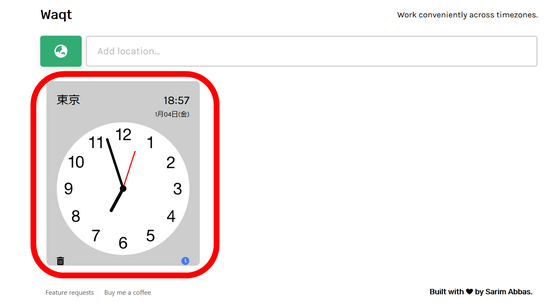 By entering a name in the entry field, you can add clocks in many countries. Standard Time in Tokyo Japan Standard Time and Standard Time in New York Eastern Standard Time difference between is there 14 hours in non-daylight saving time, Tokyo time, but it will have advanced 14 hours from the time of New York, certainly also on Waqt The time in Tokyo was ahead of the time in New York.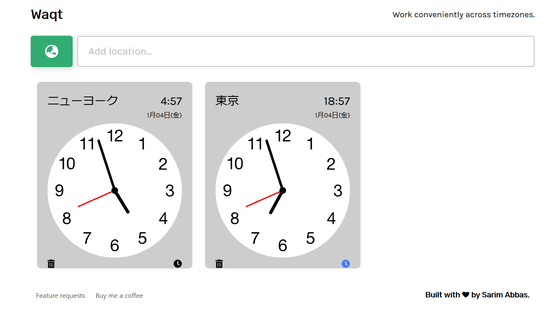 You can easily understand that "When Tokyo is 9 o'clock in the morning, what time is it in New York and London?" First, click the green button on the top left.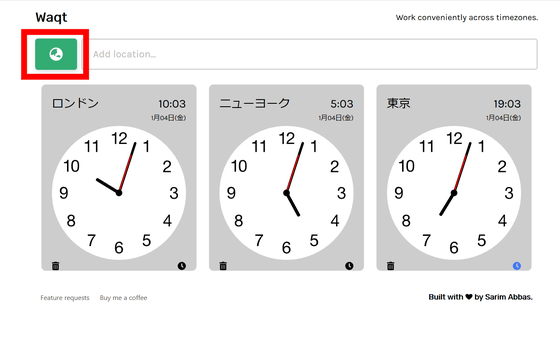 Click the clock icon displayed in the lower right corner of the country you want to start as, and enter the desired time in the input field. For example, if you want to investigate based on "9 o'clock in the morning in Tokyo", click the clock icon in the lower right corner of Tokyo and enter "9: 00" in the entry field OK.



When you enter the time, the time reflecting the time difference between Tokyo and each city is displayed on each clock as follows. If it is 9:00 in Tokyo, you can see that it is 0:00 in London and 19:00 the day before in New York.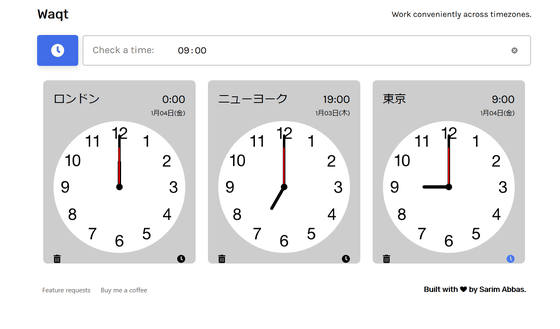 Waqt can also be accessed from a smartphone. From the smartphone the clock is displayed in one row, and in order to check multiple clocks it was necessary to scroll the screen.