As iPhone XR appeared, the number of transit users from Android increased, and the result of overturning the report that 'demand for expensive iPhone is low'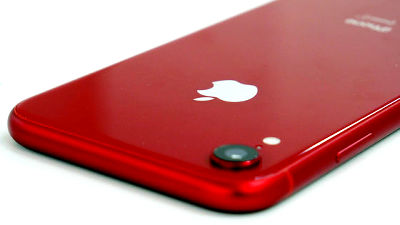 According to the latest report published by the investigative company Consumer Intelligence Research Partners (CIRP), the iPhone XR has acquired more switching users from Android than the 2017 model iPhone such as iPhone 8 and iPhone X in the first month after launch It has become clear that it was.

Microsoft Word - CIRP news release 2018-12-26 Apple.docx
(PDF) https://files.constantcontact.com/150f9af2201/4faf00dd-9f5d-4bcf-93c3-7a21215e69c3.pdf

iPhone XR launch attracted more Android switchers in the US than the iPhone 8 & iPhone X
https://appleinsider.com/articles/18/12/26/iphone-xr-launch-attracted-more-android-switchers-in-the-us

According to CIRP data, about 16% of users who purchased iPhone in the first sales month of iPhone XR (from the end of October 2018 to the end of November) was a user who switched from Android to iPhone XR. Compared to iPhone 8, a model released in 2017, users who transit from Android to iPhone XR increased by 33%, compared with iPhone X by 45%, iPhone XR compared to 2017 model Numerals reveal that it is a more appealing terminal for Android users.

The following data is a survey of the market share of each model of the iPhone in the US in September 2016, September 2017, November 2017, November 2018. The iPhone XR released in November 2018 has a sales share of 32% in the first month since its launch, and iPhone XS and iPhone XS Max total 35%. On the other hand, iPhone X was 30% market share in the first month after launch, iPhone 8 25%, iPhone 8 Plus 30%.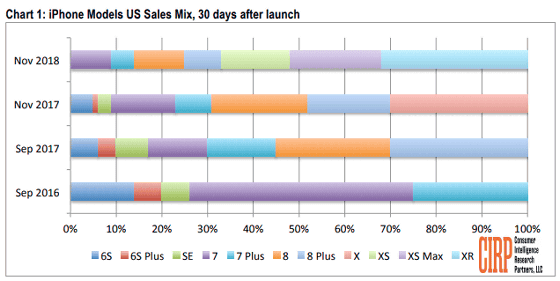 Mike Levin, co-founder of CIRP, said in a report, "The report showed that iPhone XR is now serving to attract Android users, and of course, We do not clearly state the release strategy, but based on price and function, we can infer that Apple is positioning iPhone XR as a terminal to appeal to "those considering switching from Android" I write it ".

IPhone pricing for Android users has long been an important issue. CIRP has analyzed that Apple has positioned iPhone SE as a "terminal targeting users who transfer from Android". iPhone SE is the cheapest model as iPhone, but as of December 2018 it has been discontinued, so there are not so many users trying to purchase new. CIRP estimates from survey data whether the new terminal aiming at this layer is iPhone XR.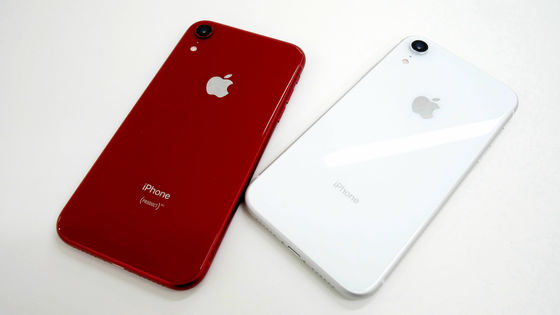 At the same time, you can see from CIRP data that 'Apple has succeeded in moving users to a high-end model'. The most popular device as of 2016 was not the most expensive iPhone 7 Plus, but the middle range iPhone 7. However, in 2017, the most popular model has changed from iPhone 8 Plus to iPhone 8, and when the high-end iPhone X comes up iPhone X has turned into the most popular model.

At the time of release, it was reported that " iPhone X finished in 1 year ", etc. It was reported that the sale of iPhone X which is too expensive is not good. Likewise, the iPhone XR reported that demand is decreasing . However, considering that the new iPhone 3 model equipped with Face ID released in 2018 occupies more than 65% of the whole iPhone, and these are being sold at the same time as iPhone 7 and iPhone 8 which were greatly discounted , Media coverage saying "iPhone purchasers are seeking cheaper iPhones" is quite outrageous, even users switching from Android are willing to purchase more expensive iPhones, said AppleInsider , a news site He wrote.

According to a graph that summarizes the results of questioning smartphone users, "Why do you want to continue to purchase the smartphone brand you are currently using?" Tweeted by data analyst Horace Dediu, according to the graph of Apple's iPhone Samsung (53%) and Huawei (53%) have thought that a majority of Android makers wish to use this brand smartphone while 70% of users are thinking to keep using it. 54%), and it is possible that more Android users will switch to iPhone XR in the future.

Reading across the top line is shocking. Pic.twitter.com/TSFZnABjrA

- Horace Dediu (@ asymco) October 10, 2018