What is the most popular model among the many iPhones?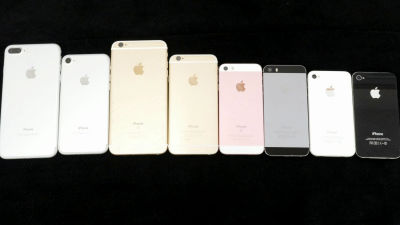 Before the introduction of the new iPhone, I found that the most used iPhone is "iPhone 7" by survey targeting iPhone users. Whether you can dig up demand for old terminal users including iPhone 6 seems to greatly influence the success of the new iPhone.

13 graphs and 9 questions about the 2018 Apple launch - Mixpanel
https://mixpanel.com/blog/2018/09/10/12-graphs-and-9-questions-about-the-2018-apple-launch/

The survey company Mixpanel conducted data analysis of iPhone users and announced trend data of the latest US domestic iPhone users as of August 2018. The obtained data is graphed so that the movement of iPhone users can be understood.

◆ OS occupancy rate - In the United States, iOS terminals account for 61.75% of mobile phones.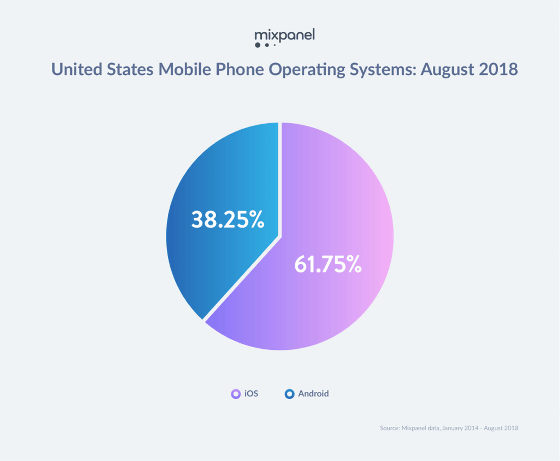 ◆ Old Model Penetration Rate - Current market shares for each iPhone user are as follows. The top is 17.34% of iPhone 7. This is followed by iPhone 6s (13.01%), iPhone 7 Plus (12.06%), and iPhone X is 12.00%.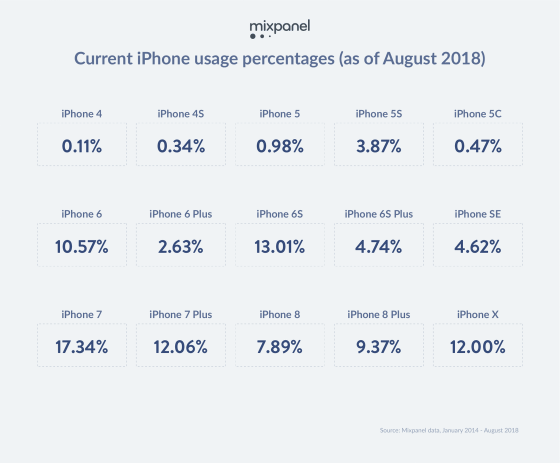 Because there are over 50% of users using iPhone 6 (10.57%) and more than two years ago, the new iPhone announced on September 12, 2018 will unleash the demand for transfer of these old terminal users It seems to be a big challenge for Apple.

Worldwide iOS user distribution
The share of users using iOS terminals by country is as follows. In North America, Oceania and Europe, we have over 40% market share, whereas the market share is low in Africa, South America and Asia. While Apple is inferior in competition with Android in emerging countries, it can be said that there is growth.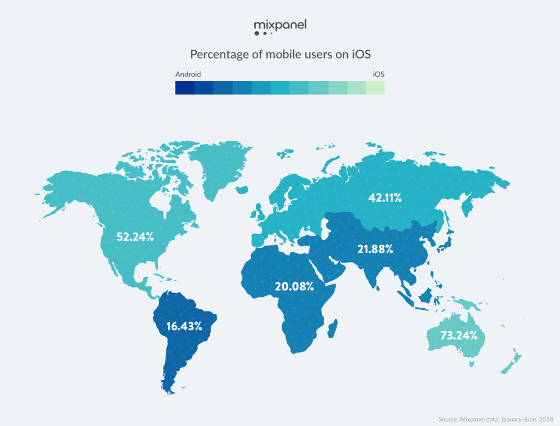 ◆ The latest share rate
The latest Android 8 Oreo share of Android terminal is 27.09%.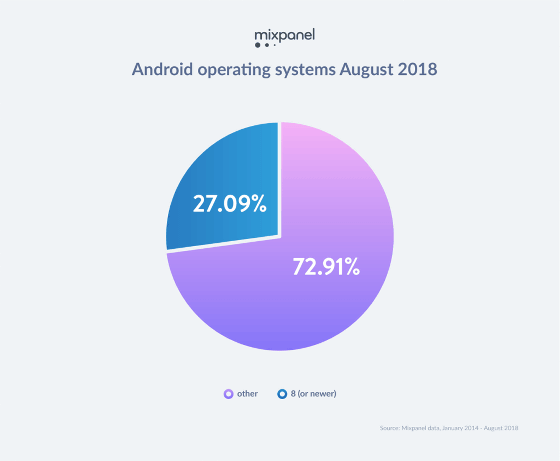 On the other hand, the share of the latest iOS 11 on the iOS terminal is 93.25%, which shows that most iOS users are using the latest OS.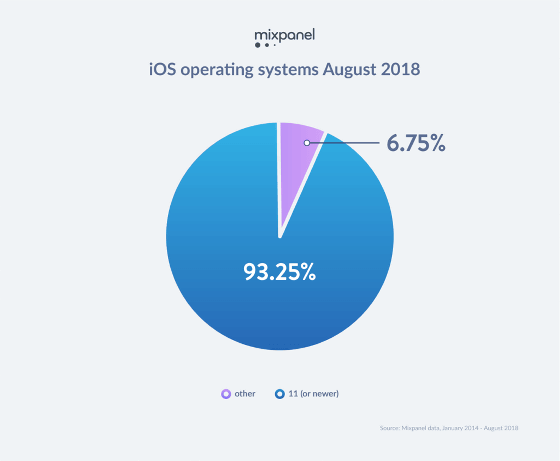 ◆ Time to earn 20% share <br> The number of months that took to reach 20% share in iPhone until now is 6 months for iPhone 6 generation and iPhone 6s generation, iPhone 7 generation and iPhone 8 · X generation It is seven months. With three kinds of new iPhone, it is noteworthy whether 20% share will be achieved in less than 6 months.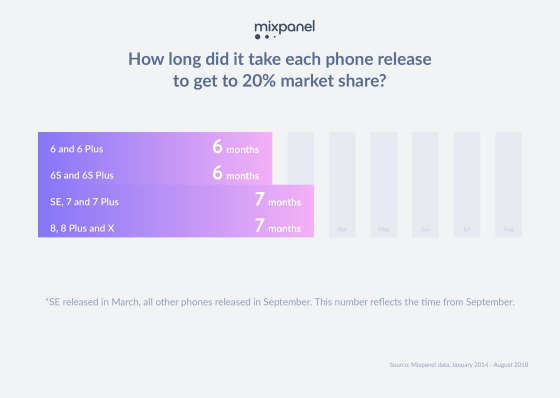 ◆ Share Top Term - Comparison of lengths of periods in which each generation iPhone is at the top share. The iPhone 6 generation has kept the top for the longest, and it seems that it is becoming difficult for generations to proceed as new models are reached.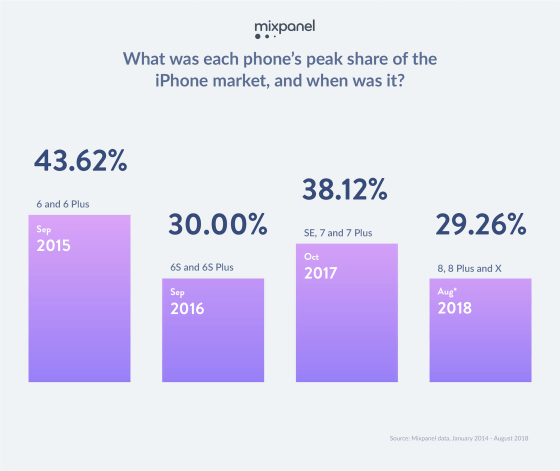 ◆ Maximum Share - The maximum share of each model in iPhone is as follows. After iPhone 6 exceeding 33%, the maximum share value shows a declining trend, and you can see that the distribution of users' terminals is progressing. In addition, the large screen iPhone 8 Plus seems to exceed the standard iPhone 8 with the largest share.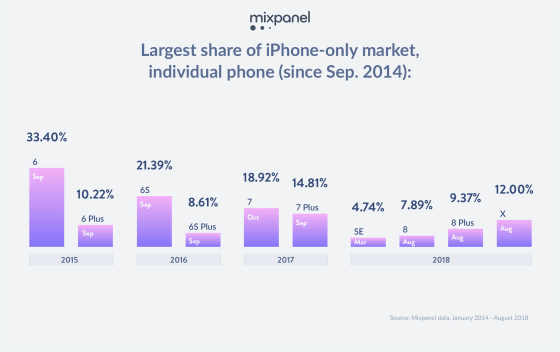 ◆ Share of each terminal
Trends in market share of iPhone 8, iPhone X, iPhone 7, and iPhone 6 are as follows.

IPhone 8 to constantly increase market share.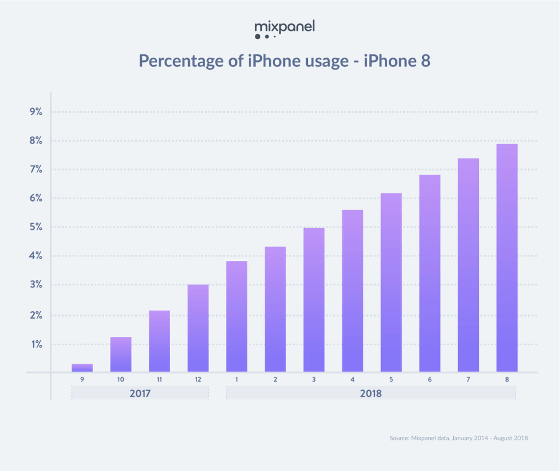 iPhone X has steadily expanded its market share, after sharply increasing market share immediately after release.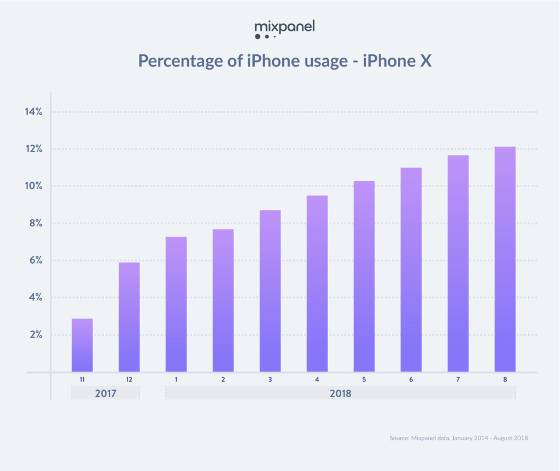 IPhone 6 which became the hit terminal of the monster class. Every time a new iPhone is introduced, the market share is decreasing, but we still maintain a share of over 10%.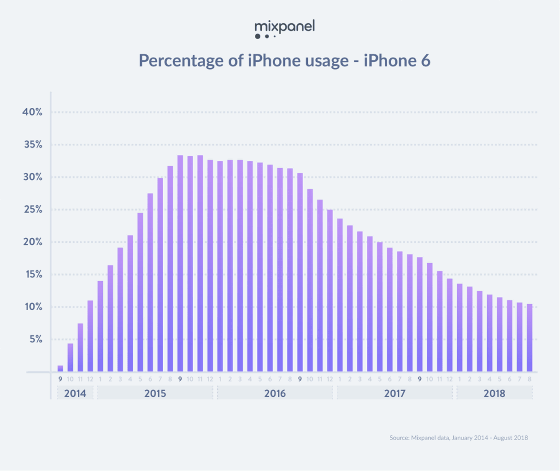 IPhone 7 with the highest market share as of August 2018. It is interesting to see if the iPhone 7 user will be changed over 2 years after the launch by the new iPhone.