Windows XP turned out to be out of support and it turned out that it still had a 29% share


Windows XP released in October 2001 will be discontinued on April 8, 2014, but according to the latest survey results, the share of XP is still 29%, the movement of XP is going on late The situation that is not found out.

Weeks before expiration date, Windows XP still has 29% OS market share | Ars Technica
http://arstechnica.com/information-technology/2014/03/weeks-before-expiration-date-windows-xp-still-has-29-os-market-share/

StatCounter Global Stats - Browser, OS, Search Engine including Mobile Market Share
http://gs.statcounter.com/#os-ww-monthly-201303-201402

This is a graph showing the global OS market share in February 2014. Although it is Windows with about 90% share, if it turns to breakdown, it still remainsWindows XP maintains 29.53% share. It seems that Microsoft can be said to be a problem for Microsoft more than Windows 8 / 8.1 growth is slow.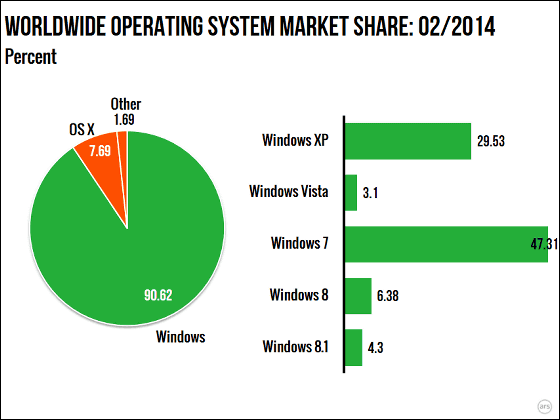 The graph above shows Ars TechnicaNetMarketShareAlthough it is a graph created based on the data ofStatCounterIt is clear that Windows XP still maintains a high share of data.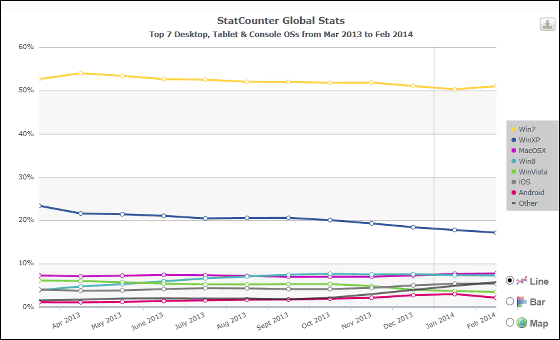 Share of Windows XP in January 201412.5% ​​in North America, 16.9% in Europe, and in the mature market it is relatively smoothly moving to Windows 7 and Windows 8 / 8.1. However, it is still popular with 26.4% in Asia and 32% in Africa.

StatCounter's CEO Ordin Karen said, "Because of the security implications of security and system and data at the end of support, discontinuation of support is a major problem for users and companies operating Windows XP."

Support for Windows XPScheduled to be closed on April 9, 2014 in Japan timeis. However, if you stop XP support that still maintains a 30% share, big confusion is inevitable. It is worth noting how Microsoft responds to this popular OS.