Worldwide browser share February 2014 edition, IE's runaway continued Share fluctuation is almost zero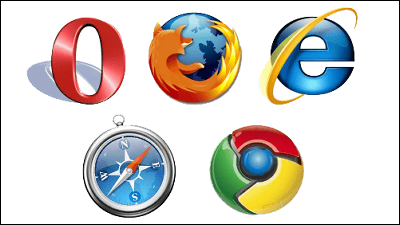 ByKjhosein

In February 2014, it is the latest version of FirefoxFirefox 27AndGoogle ChromeIt is the latest version ofVersion 33Was released and was installed in Windows 8.1Internet Explorer 11It is also the time when the fifth month has passed since the release.The Next WebAccording to the survey, it turned out that Google Chrome showed the biggest share growth in February.

IE 10 falls below IE 9 in market share, Firefox hits 60-month low, and Chrome again gains the most - The Next Web
http://thenextweb.com/insider/2014/03/01/ie10-falls-ie9-market-share-firefox-hits-60-month-low-chrome-gains/

We are investigating the usage share of search engines such as browsers, OS and net on The Next WebNetMarketShareAs a result of analyzing based on the data of the Internet, it is said that the browser currently used on the desktop PC is the Internet Explorer (IE) series of Microsoft at present.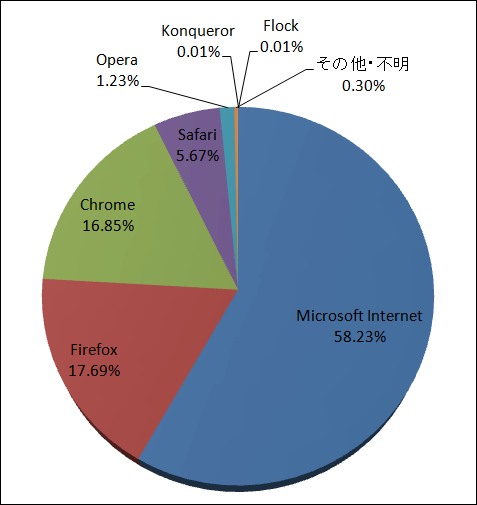 However, looking at the change in share ratio from last month, the biggest growth was Google Chrome, its share increased by 0.49 points from 16.35% to 16.84%. IE has declined by only 0.02 points from 58.21% to 58.19%. Firefox 0.34 points, Safari 0.11 points, Opera also showed a decrease of 0.05 points, and as for the share rate increase and decrease only, it is showing the appearance of Google Chrome's single win.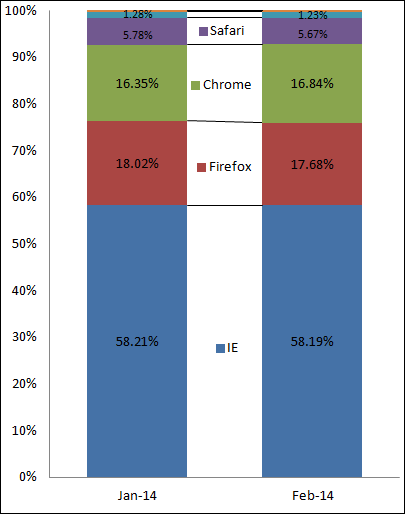 IE version change chart by version is here. IE 11.0, which is the latest version, shows an increase of 1.31 points from 11.49% to 12.80%, but IE 8.0 with a share rate of 21.73% still reigns at the top, so this situation will change greatly for a while It seems not to be. It is also interesting that the IE 6.0 has increased slightly to 0.11 points. Since the numerical value of the graph is omitted from the numerical value of other company's browser, the total does not become 100%.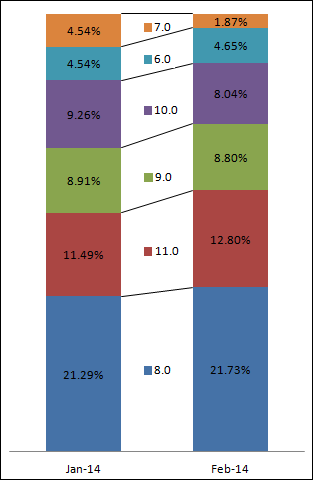 However,StatCounterAccording to the results of the survey, the result that the browser of the top share is Google Chrome has also been announced.

Top 5 Desktop Browsers from Feb 2013 to Feb 2014 | StatCounter Global Stats
http://gs.statcounter.com/#desktop-browser-ww-monthly-201302-201402-bar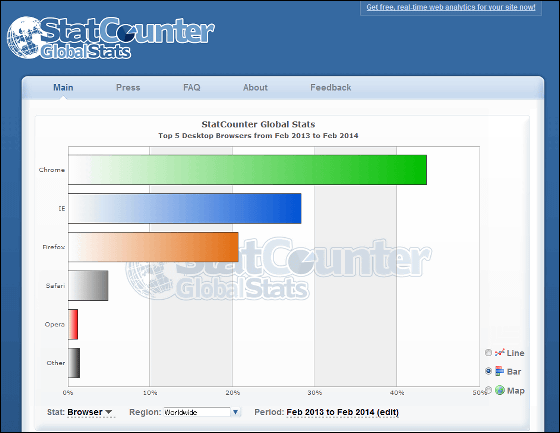 It is not a comparison under exactly the same condition because the survey method for each company is different, but it seems that there is no doubt that IE · Firefox · Chrome is the center of browser fighting as of 2014.