2019 Anime Award Calendar Appears Using Illustrated Side M & Bunko Stray Dogs Illustration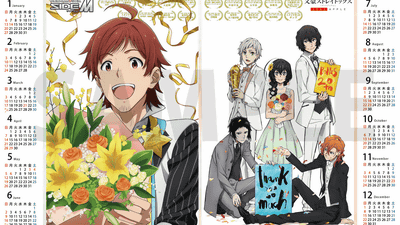 Illustration of " Idolmaster Side M " (TV · Distribution Works Section) and " Bungo Otoko Stray Dogs DEAD APPLE " (Theatrical Screening Division) which won the prize in " New Type Animation Awards 2017-2018 " held in October 2018 A poster calendar (A4 size) of 2019 was created and distributed by using the poster calendar.

Tokushima Bank: About "Newtype × Machi ★ ASOBI ANIME AWARD CALENDAR 2019"
https://www.tokugin.co.jp/newsrelease/news2018/news_181214.html

Machi ★ Asobi vol.21 2018.09.22 ~ 10.08 held
http://www.machiasobi.com/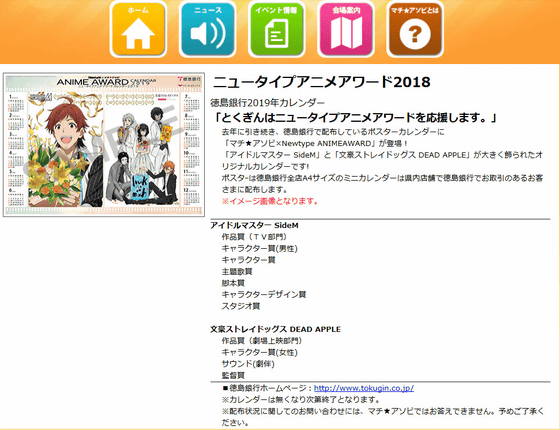 Creating a poster calendar using illustration of a work that won the award of the animation award is done from the calendar for 2013.

In the calendar for the 2019 year, which is the seventh time, the former lawyer idol Tendomi of "Idol Master Side M" receives flowers and Atsushi Nakajima, Akira Izumi, Dazai Osamu who appears in "Bungo Otomo Stray Dogs" Illustrations are drawn by drawing depicting the figure that five members of Akutagawa Ryunosuke and Nakahara Nakaya are blessed.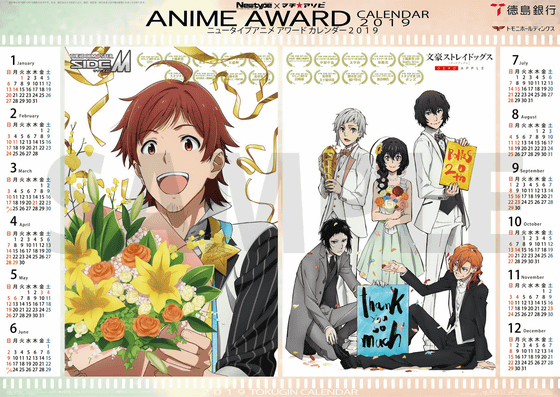 Distribution of this calendar is supposed to be carried out at the Tokushima Bank's stores in limited quantities to people with transactions with the Tokushima Bank.