Fate / stay night [UBW] & PSYCHO-PASS 2016 poster calendar distributed by Tokushima Bank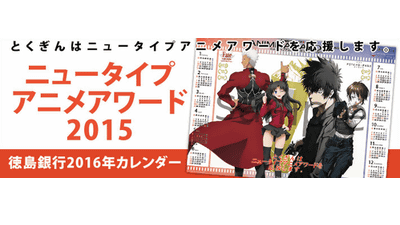 At the end of the year the calendar of the following year will be sold or free of charge, but at the Tokushima Bank, in accordance with the example of the last few years, at the "Machi ★ Assoby × New Type Anime Award 2015" held in October Award-winning "Fate / stay night [Unlimited Blade Works]"When"PSYCHO-PASS psychopath of the movie versionIt was decided to distribute a poster calendar featuring greatly.

Machi ★ Asobi vol.15 2015.09.26 ~ 10.12 held
http://www.machiasobi.com/events/tokugin.html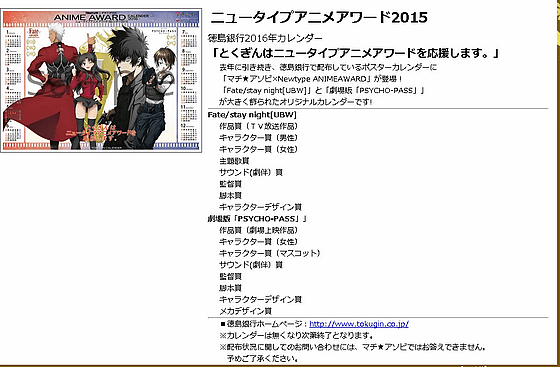 Tokushima Bank: 2016 About the Tokushima Bank Calendar "Newtype × Machi ★ ASOBI ANIME AWARD"
http://www.tokugin.co.jp/newsrelease/news2015/news_151203.html

"New Type Anime Award 2015" is a magazine "New Type" andWebNewtypeIn response to the voting results at the event, from among the animation works broadcast from October 2014 until September 2015, an event that selects outstanding works in each department.

"New Type Anime Award 2015" Result Presentation, FateUBW · My Personality of Guile · Deremas - GIGAZINE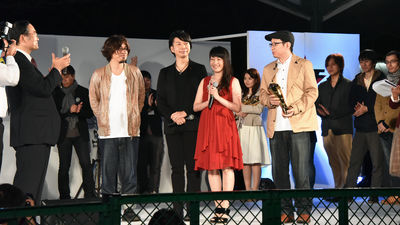 Fight / stay night [Unlimited Blade Works] won three crowns of the work prize (TV division), director's award, theme song award, men's character prize, Archer 3rd place Miyashiro was ranked 6th, Lin Tosaka Rin ranked 2nd, Saber ranked 8th, Screenplay Award 3rd, Character Design Award 3rd, Sound Award (theatrical accompaniment) 2nd in the female character award.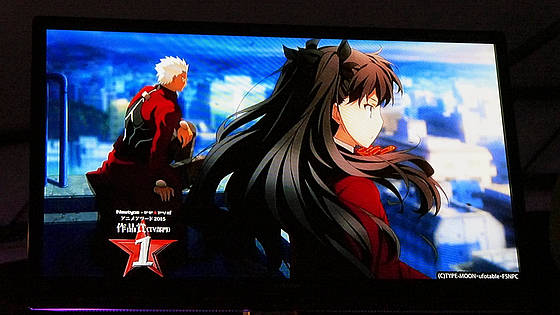 "Movie version PSYCHO-PASS psychopath" won the two crown of screenplay prize and work prize (theater screening department), further 2nd Mechanical Design Award, 3rd place of director award, 3rd prize prize, 3rd place of female character prize 3rd place · Character design award 6th place · Mascot character prize 7th place, in addition, the TV series "PSYCHO-PASS Psychopath 2" is in the 7th place of the work award (TV division).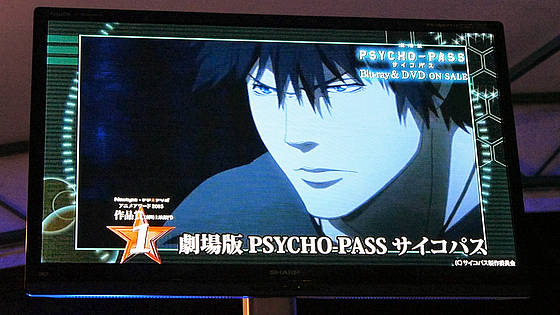 The calendar design where the character of the 2 work was used is like this.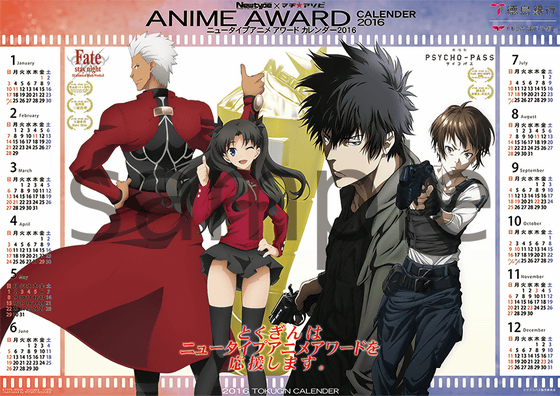 For the poster calendar I made so far at Tokushima Bank, the idolmaster & Fate / Zero for 2013, the giant & advances gate in 2014, the year 2015 to the other side of THE IDOLM @ STER brilliant! & Kirakiru, works that do not seem to be a poster calendar of the bank are lined up.

Incidentally, the poster calendar will be distributed at the store from December 14 (Monday) for those who have an account at Tokushima Bank. There is a limit to the number of sheets, distribution will end as soon as it is gone.
in Anime, Posted by logc_nt