I tried 'Seven Premium Mongolia Tangen Naka Shin Sashimi Soba' excellent compatibility of Mongolia Tanmen Nakamoto's baked soba with hot and cold noodles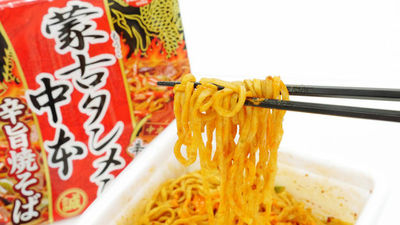 Cup noodles that the popular famous ramen popular famous ramen shop " Mongolia Tanmen Nakamoto " collaborated with Seven Eleven has become a popular series continuing from 2008. " Seven Premium Mongolia Tangen Normal Shin Sashimi Soba " which appeared on Monday, October 22, 2018 is a commemorative commemoration of the 10th anniversary of the series. I tried to eat it so as to make Mongolia Tanmen burned under the supervision of shopkeepers of Mongolia Tanmen Nakamoto, and to see what kind of taste it is.

Omni 7 - Ito Yokado Online Mail order | Seven Premium Mongolia Tanmen 中 本 辛 味 焼 焼 込 176 g Online shopping
https://iyec.omni7.jp/detail/4902105243848

"Seven Premium Mongolia Tanmen Normal Shin Sashimi Soba" (235 yen including tax) is characterized by a package based on red as if it appeals spicy.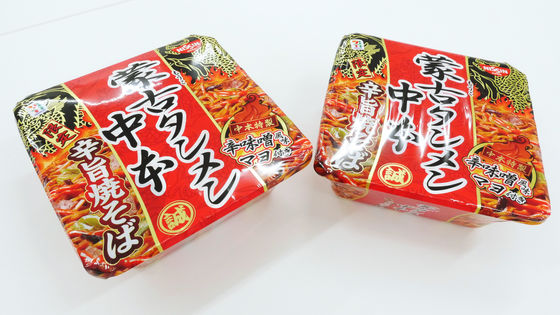 At the top of the package is written "Nakamoto special-made spicy miso flavored mayo".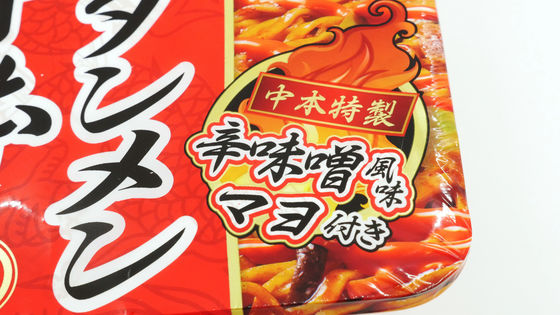 Looking at the raw material name, the sauce includes seasoning such as "vegetable seasoning," "onion", "vegetable seasoning oil", "onion powder", etc. to the seasoning of the pig system such as "lizard" and "pork seasoning" in addition to "powder miso" Materials that make use of the flavor of vegetables are used. At first it seems that "cabbage", "seasoned pork", "carrot" and "kikuragage" are contained.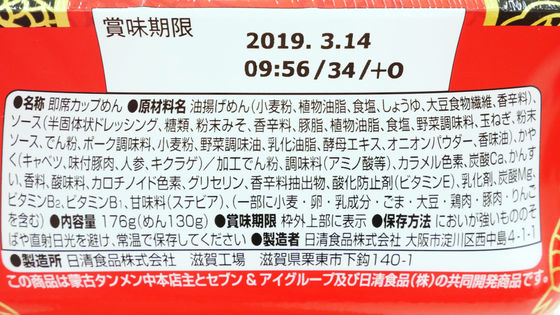 Heat quantity per meal (176 g) is 764 kcal.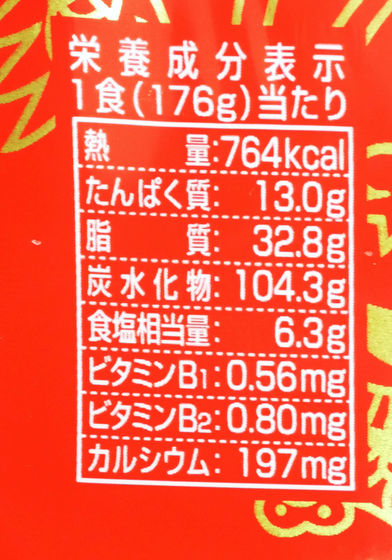 When opening the lid, there were several sachets in the cup.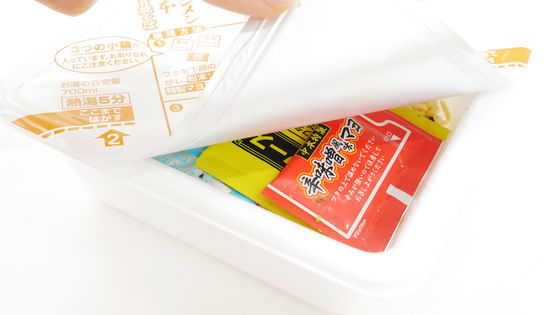 When I took out all the bags, "powder sauce" was colored blue, "liquid sauce" was yellow and "spicy miso flavored mayo" was color coded red. Everything is put just before you eat, but only the liquid sauce is written as "Please warm it on the lid" and the other two are written "Please do not warm on the lid".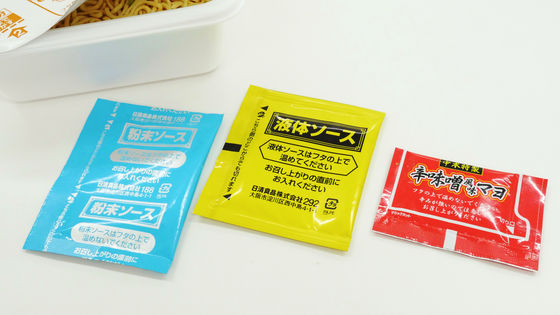 Put hot water in the inner line ......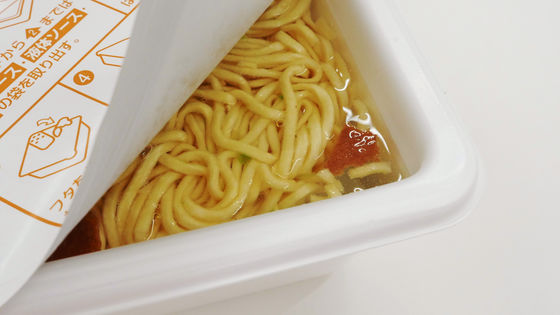 Wait 5 minutes while warming the liquid source on the lid.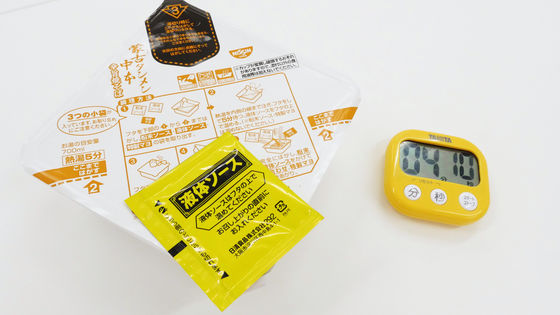 After 5 minutes peel off the part of the hot water cut in the lid and drain the hot water.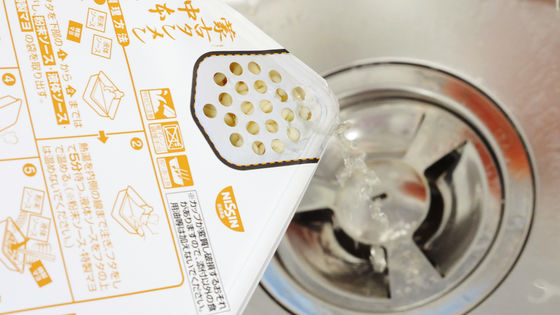 Peel off the lid completely, then put the powder sauce, liquid sauce ... ...



Mix well.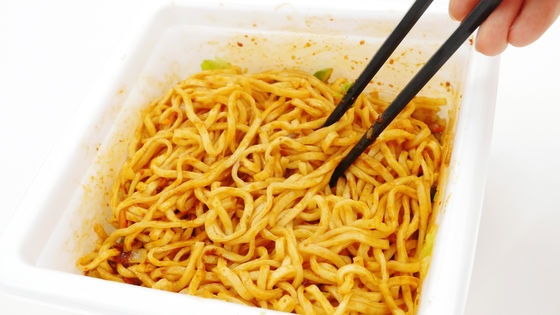 Finally it is finished with orange special sauce.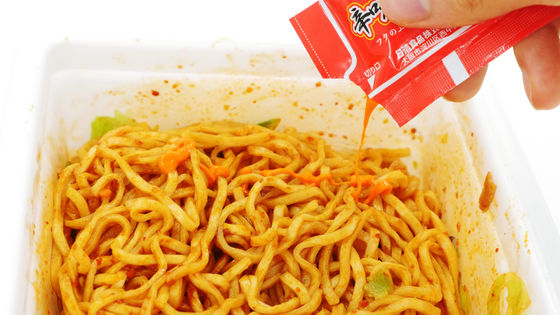 A very spicy and appetizing smell with garlic and spices combined is around and you need to be careful when eating in a place with many people.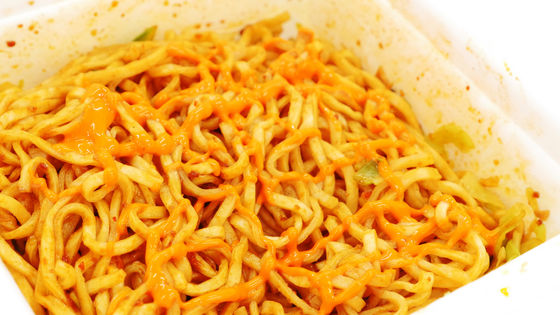 As soon as I ate a bite, my skin got stuck in my mouth at once. It is so spicy that you reach the water unexpectedly, so be careful when eating people who are not good at it. Nevertheless, the taste does not end only with a bitter taste, and the umami of garlic, miso, and mayonnaise are also firmly felt, so it tastes like it wants to eat the next bite as it is painful. Extreme match with exquisite taste of rich source is exquisite to eat and is dense.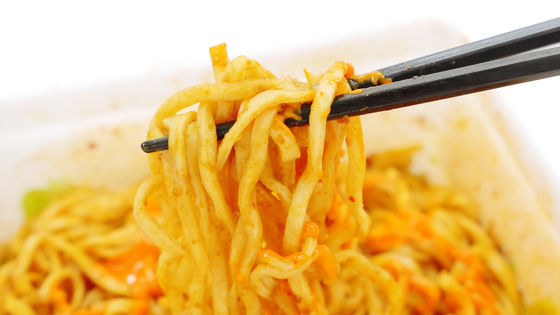 In addition, "Seven Premium Mongolia Tangmen Normal Shin Sashimi Soba" is about 21,000 nationwide nationwide by Seven & i Group companies, and it is said to have appeared sequentially from October 22, 2018 (Monday).