I went there because 'MOMOFUKU NOODLE (Momofuku Noodle)' which allows you to create your favorite cup noodle of 2145 street is opened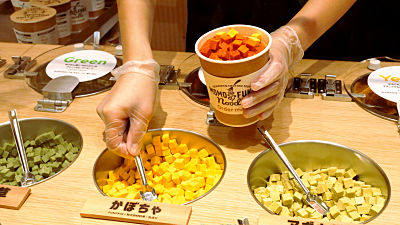 " Momofuku noodle " which can custom-make premium cup noodles with the concept of "plenty of vegetables" to your liking has opened in Osaka's Hankyu Umida basement 1st floor food department. Noodles are non-fried noodles with whole grain flours and dietary fiber, it is said that you can combine three types of soup, 10 kinds of cube type vegetables "Yasaikoro" like things you like, so immediately go to the shop and make original noodles It was.

Ocean Corocoro "Yasai Koiro" & Smoothie Soup! Opened at Hankyu Umida main store for custom-made cup noodle shop "MOMOFUKU NOODLE"! | Nissin Food Group
https://www.nissin.com/jp/news/7349

10/3 (Wed) New Open "MOMOFUKU NOODLE (Momofuku Noodle)" Information on purchase | Hankyu Umida Main Store · Sales Area Information
https://www.hankyu-dept.co.jp/honten/information/foods/00679523/

Momofuku noodle is opened at the food department on the first floor of Osaka · Hankyu Umida main store.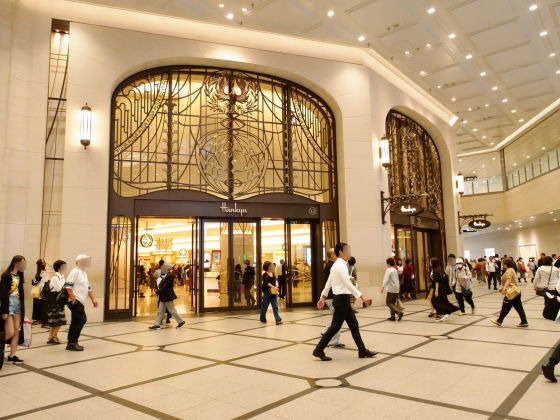 When I go to a store ......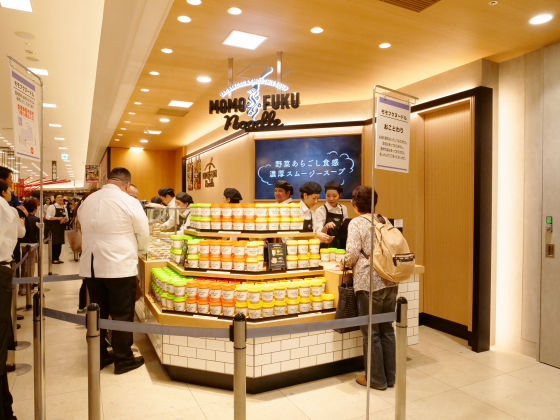 The impression that 5 to 6 people are in line, "Are you not in line than you thought?" But in fact the people in front of the store were only part of the whole row. It is said that it is an open day, and distributing numbered tickets.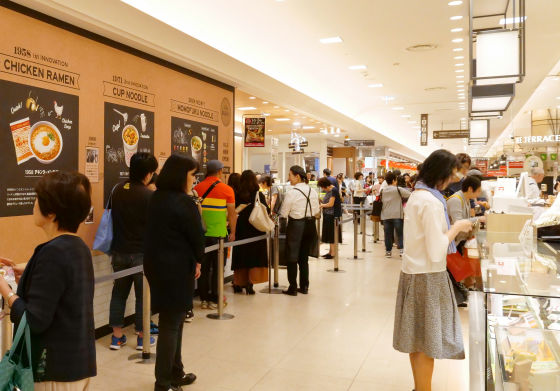 "Since the numbered ticket is distributed at the 15th exit on the 1st floor of Hankyu Umida," it goes.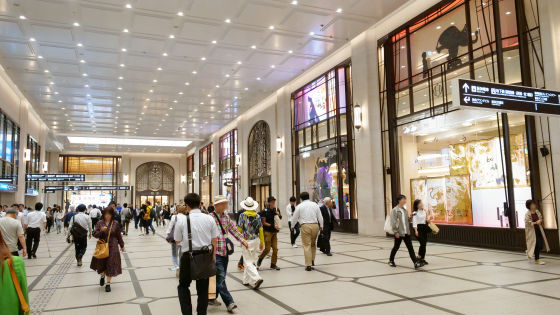 Discover people distributing numbered tickets.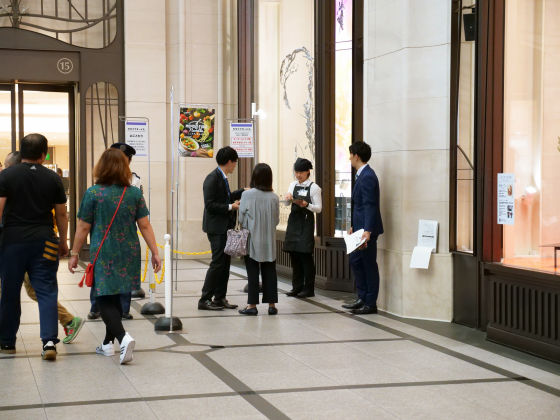 There are 2 kinds of Momofuku noodles that can be purchased on the open day, up to 6 meals of "Recommended Set" which is "custom-made type" which can combine up to 2 tailor-made and 1 recommended meal and items recommended in a recommended combination in advance There was "Recommended Select" which can be purchased. I'd like to combine myself this time, so choose "custom-made type".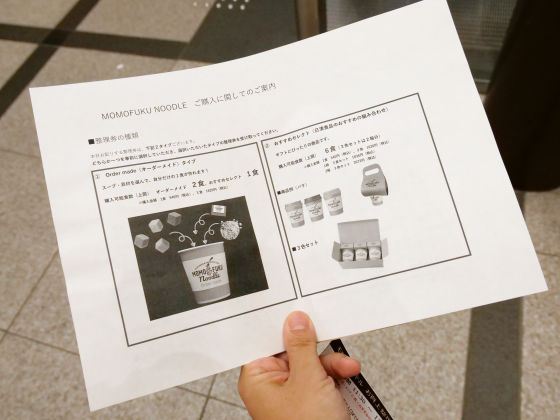 I got a numbered ticket like this.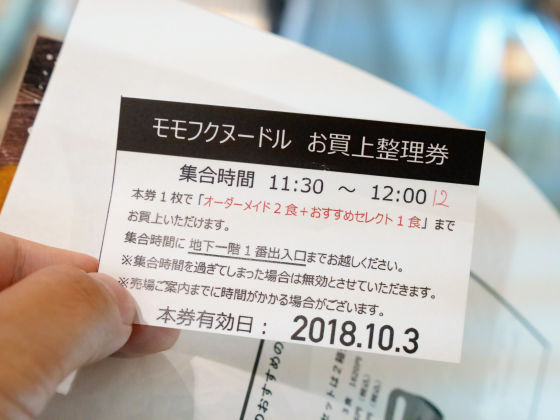 When I go down to the basement level 1, there is a row outside the building with such feeling ......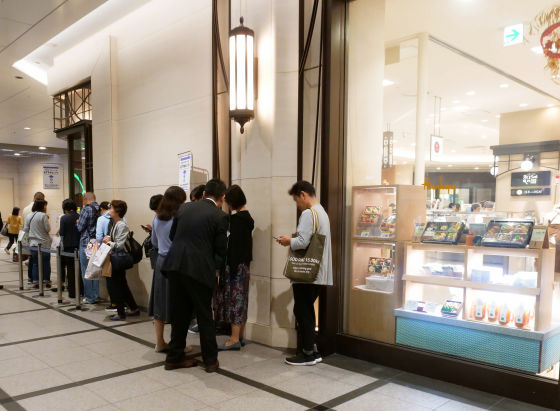 Among them, we will line up in the "custom made" column.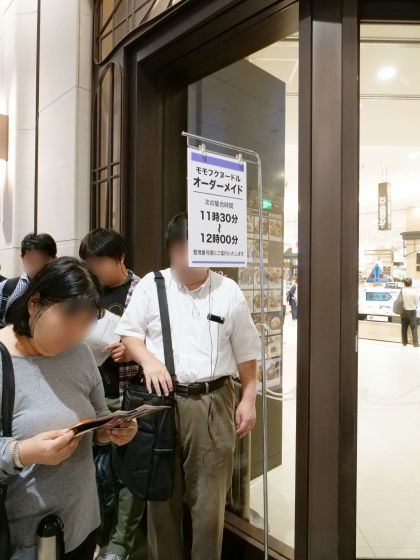 While checking out the pamphlets side by side, think about what kind of combinations to make. There are one type of Momo Fuku noodle noodle, but you can choose from 3 types of soup, 1 type of soup, and 4 types of "Yasaikoro" with vegetables cube. By combining these, 2145 street original noodles can be made.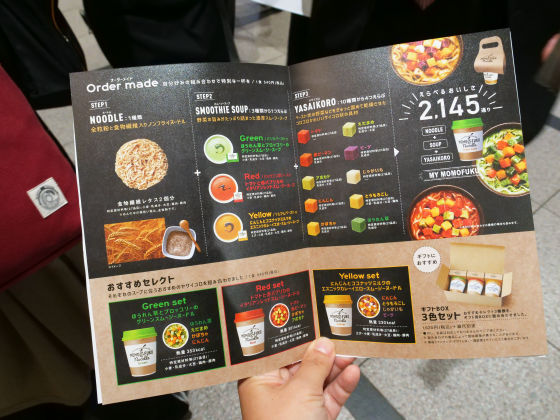 In addition, since Yasai Koro can choose up to "four", "People who like green soybeans" can also make only Edamame as a ingredient.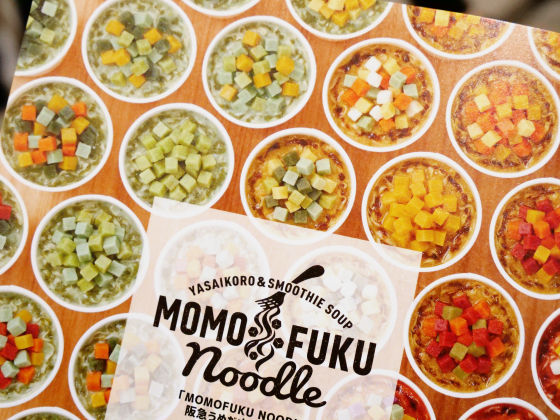 The store clerk announced that he was waiting for a while ... ...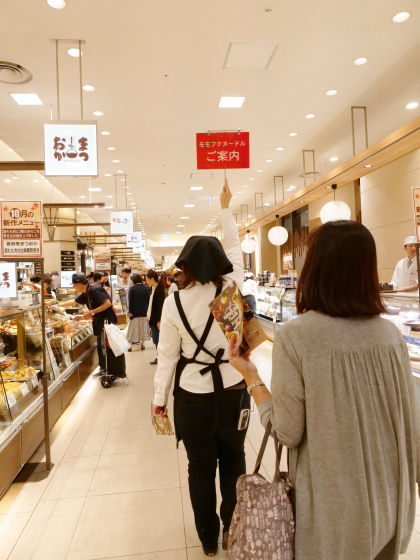 I line up in front of the shop I visited the first time.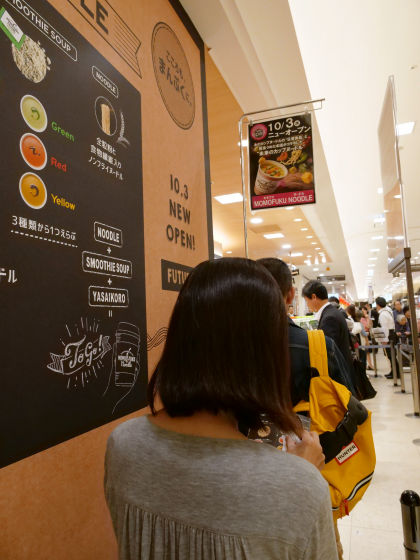 And in front of the counter. With a feeling like a subway, three kinds of soup and ten different roses are lined up side by side, and we will choose whatever you like from here.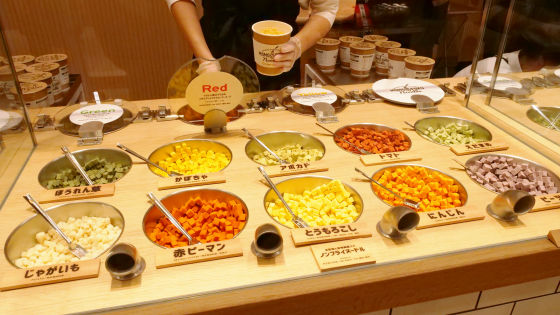 The soup powder is thrown into the cup containing noodles beforehand in advance ......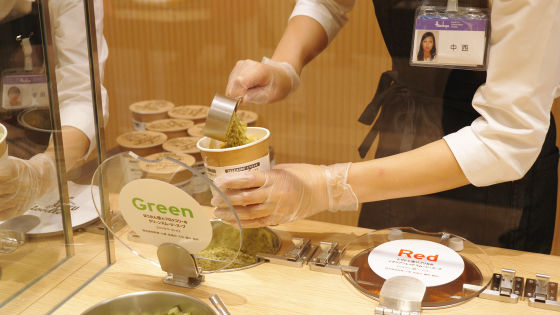 After that Yasaikoro will be put on.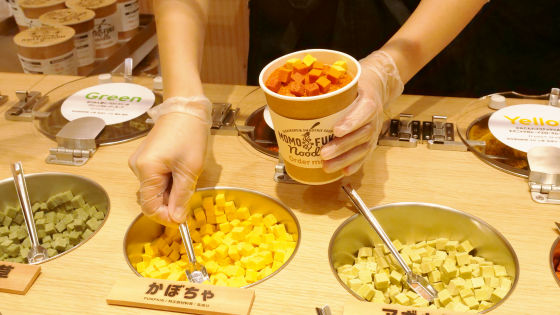 When completed, the clerk showed the contents of the cup.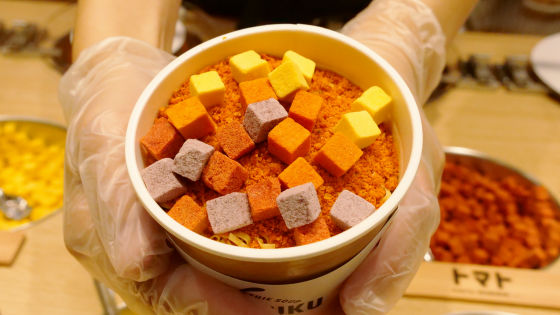 The appearance of Momofuku noodles being made in front of you can be seen from the following movies.

Made-to-order cup noodle "MOMOFUKU NOODLE" - YouTube


After choosing ingredients, proceed to the front of a silver machine.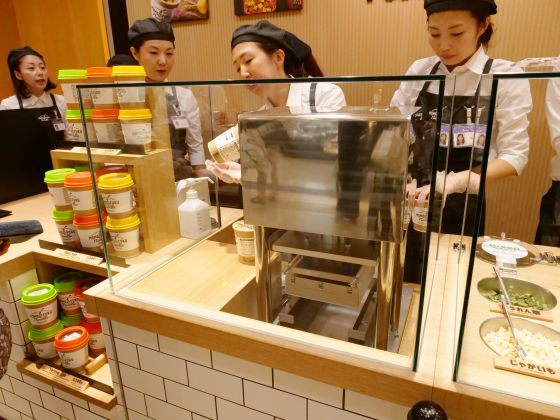 With this machine, I will lid the cup of Momofuku noodles I made earlier.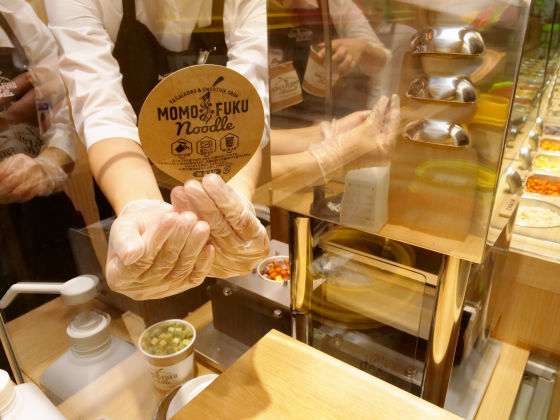 Go to the checkout as it flows.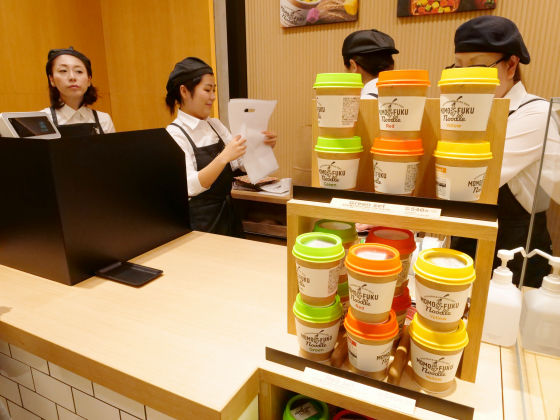 Here, packaging is completed one by one, and purchase is completed. When I visited around 11:30 on the open day, I bought it for about 1 hour or so after I arrived at Hankyu department store.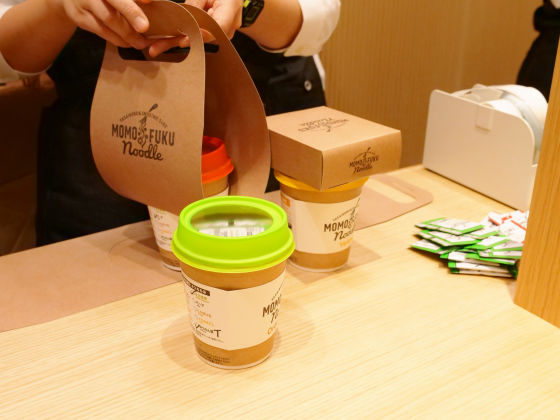 Momofuku noodle has no eat-in space, so take home what you purchased to the editorial department. I was handed a big paper bag ... ...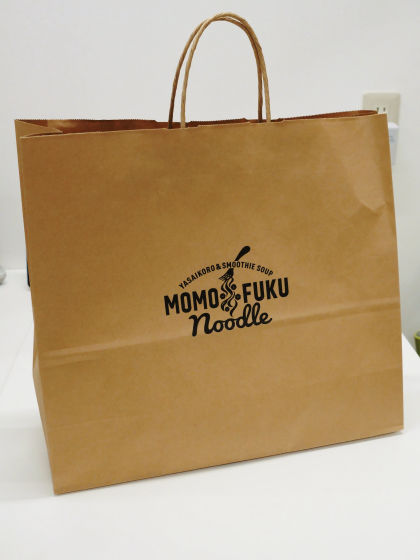 There are three Momofuku noodles that were inside. Because each package is somewhat large, it seems that the takeaway bags are getting bigger.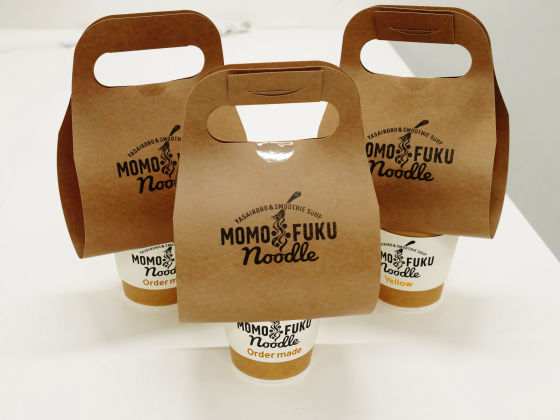 Since the handle is attached one by one, you can carry with feeling fashionable if you purchase only one.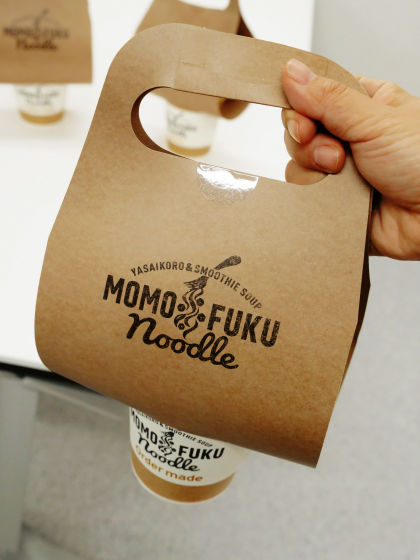 This is 3 kinds of Momofuku noodles purchased this time.



Green and red are made to order on the spot, but yellow is "Recommended Select", so powder and ingredients of soup are attached as an attachment.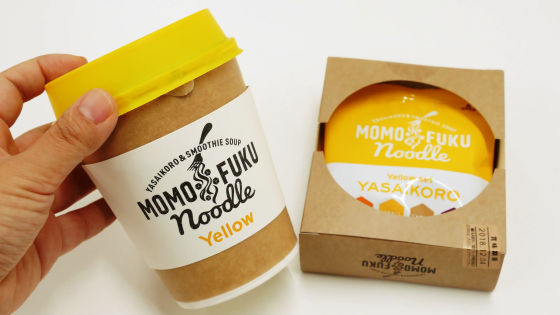 So, firstly from the green. When I removed the plastic lid, it contained basil paste.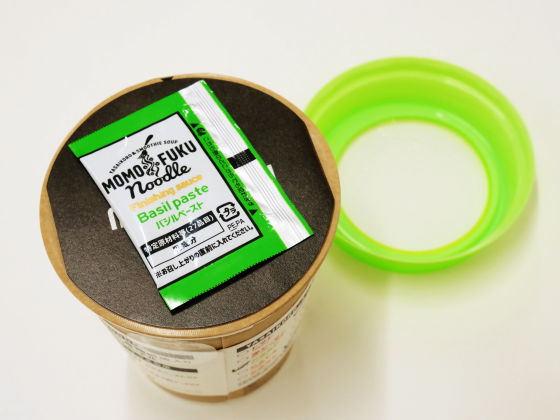 Size is about the same as original cup noodles.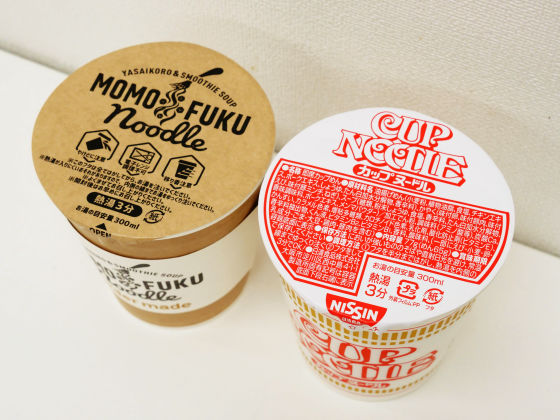 On the side of the cup you can see something you choose for soup and ingredients. The soup is "green" ......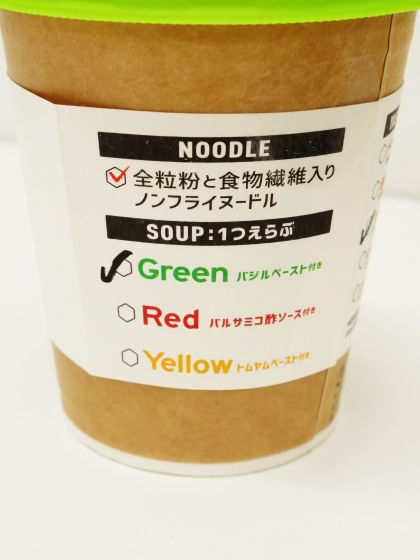 The ingredients are "Avocado", "Eimamome" and "Spinach". Spinach was double, so "T" was written next to it.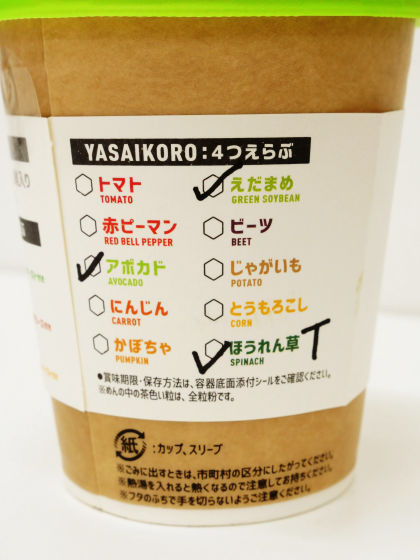 The expiration date was one month from the creation.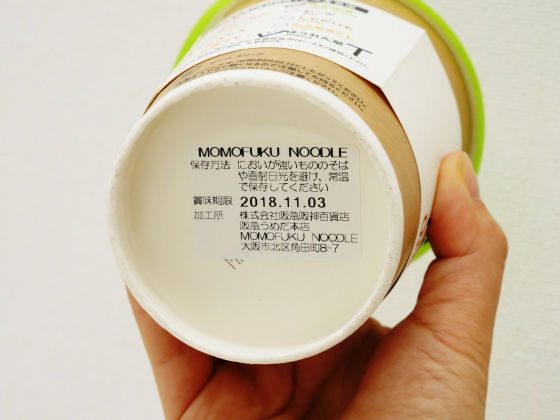 "Green" is "It is made to order made ... ...." So I tried to make a green noodle.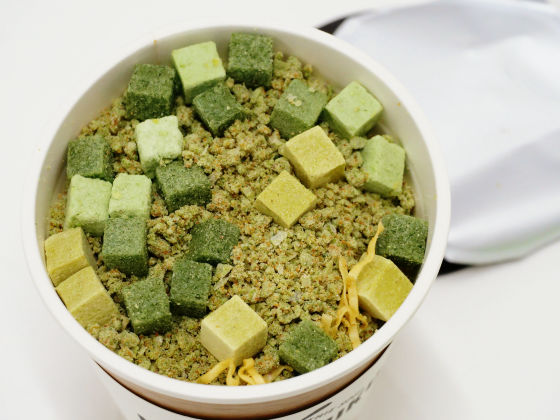 A somewhat yellowish greenish cube is avocado, light green is dark and dark green is spinach.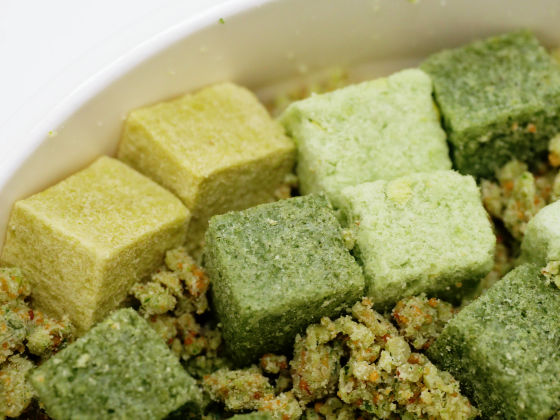 The way of making is the same as common cup noodles. However, put the hot water in a state where the lid is completely peeled off.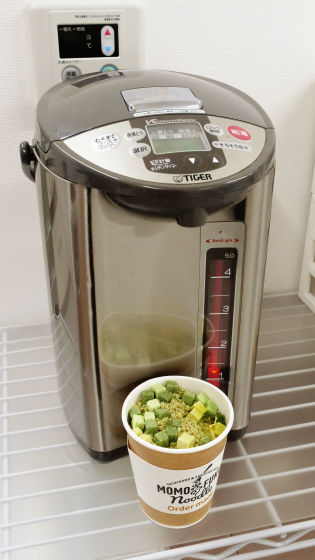 Place a plastic lid and wait for 3 minutes.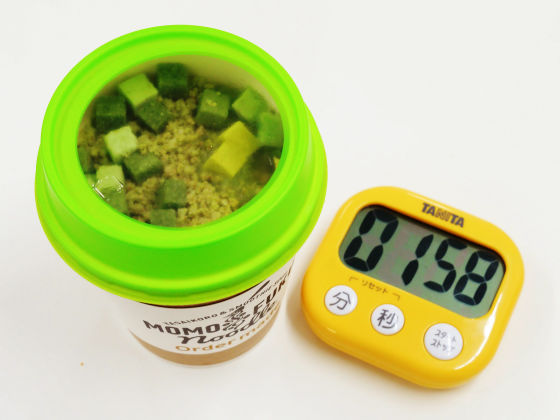 Three minutes later, when I put in basil paste, the editorial staff I saw next was muttering like "Dishpia rice like ...".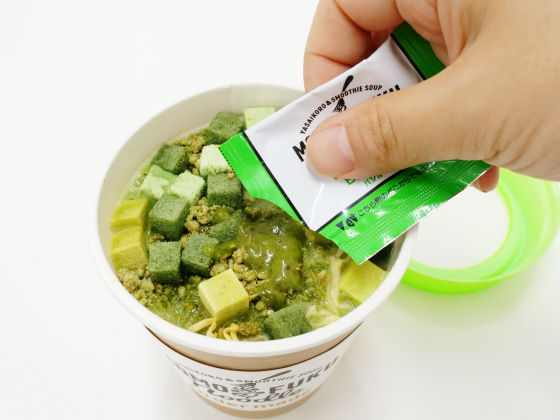 Stir well and ......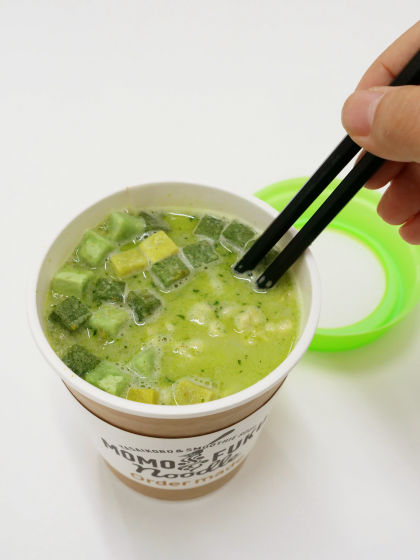 When I tried it, the comment of the first word is "High soup completion degree !!!" The Green Momofuku Noodle is a spinach and a Broccoli's Green Smoothie Soup, a creamy finish like a potage. Since the aroma of the basil sauce that I added later is strong and there is no junk of the cup noodle at all, it looks like pasta rather than ramen. Because it is too gentle finish, people who are looking for cup noodle feeling are so "feeling unsatisfactory".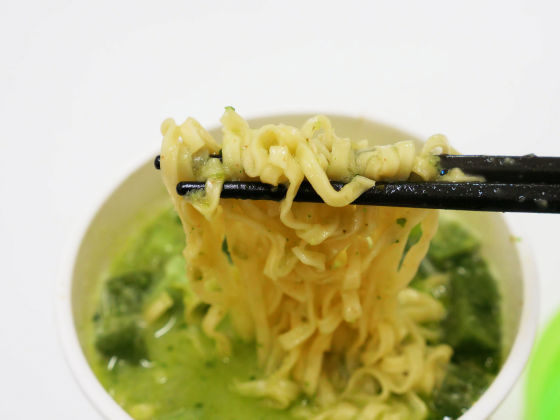 However, even if it is "gentle taste" it is not "thin", it is a taste that does not get tired because the sweetness of vegetables is felt, so "completeness of pretty much even if you care about healthy things". It is an atmosphere like Soup Stock Tokyo with noodles.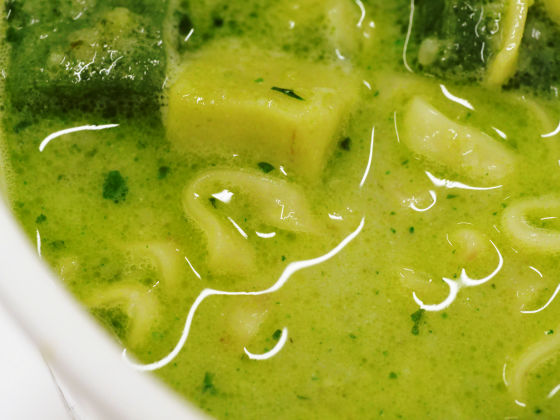 Spinach spinach was loosely moaned and felt a distinctive flavor.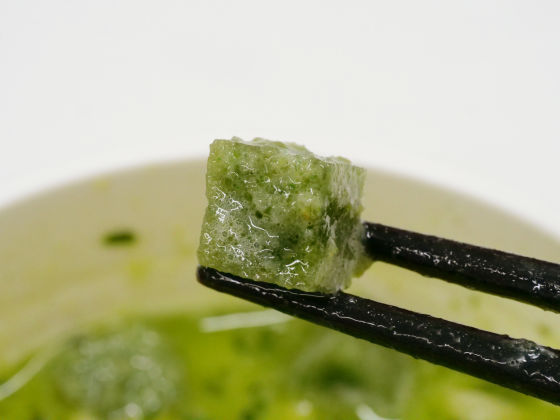 Although there was also a taste of eat something firmly, avocado was originally characterized as "habitless" and "oily", so the feature disappears by freeze-drying and its presence is diluted.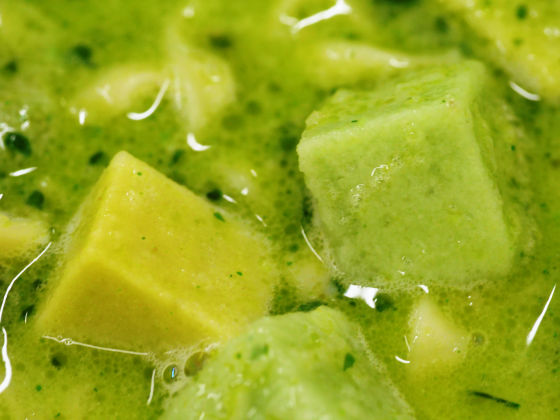 Subsequently, "custom-made" red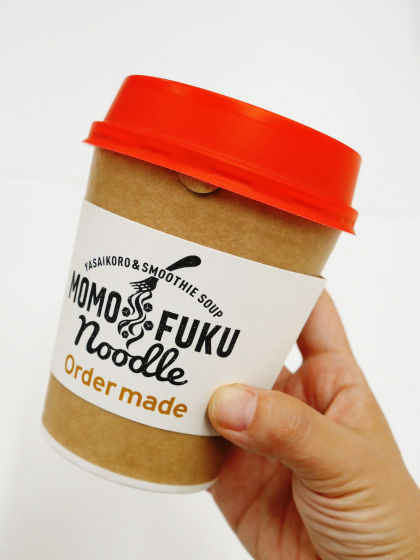 Balsamic vinegar sauce under the plastic lid.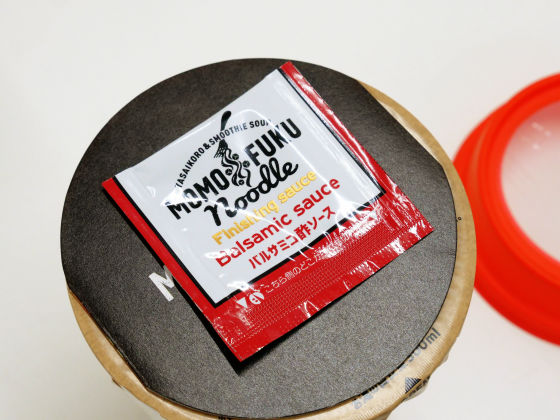 It is like this when the lid is removed.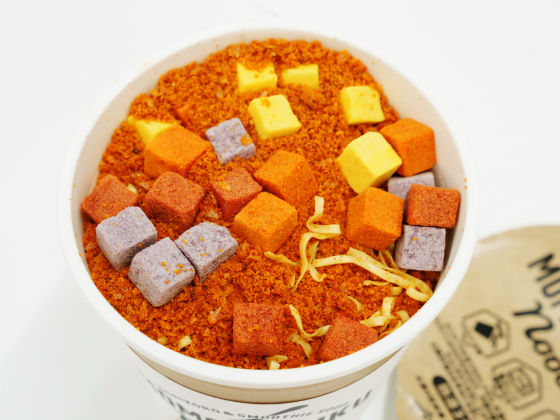 Yasai Koro has chosen four of tomatoes, red peppers, pumpkins, and beats.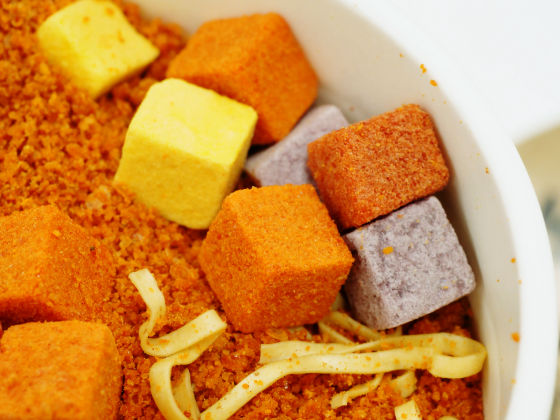 After 3 minutes after putting hot water ......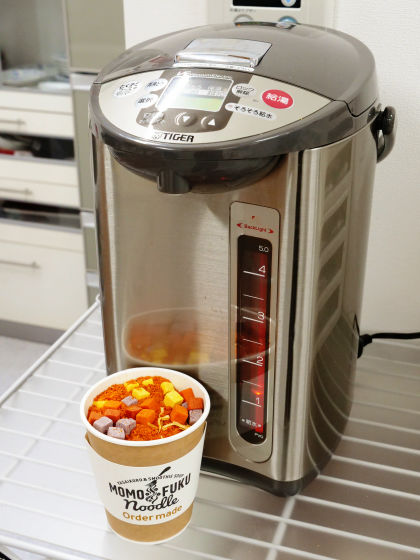 Balsamic vinegar sauce was introduced.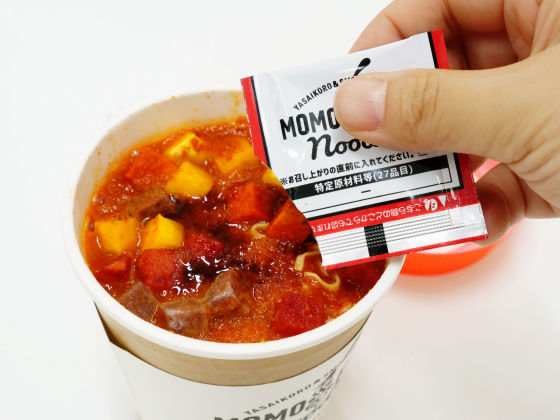 After mixing well and eating it, the garlic crispy tomato soup was tangled firmly with the noodles. It is like sourcing soy sauce and consomme from the chill tomatoes of cup noodles to make the tomato thicker, the sourness of balsamic vinegar is heard. It looks spicy, but it has a slightly tingy stimulation, it feels like Arabiata.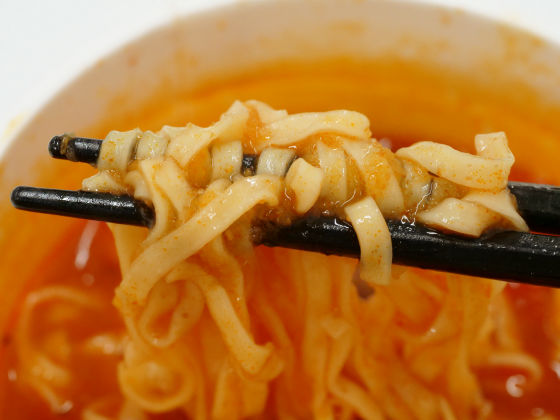 I can feel the sweetness of the pumpkin, but since I never eat beet very much in the first place, I could only say "This is beet ......". It is a bit sweet potato with vegetables.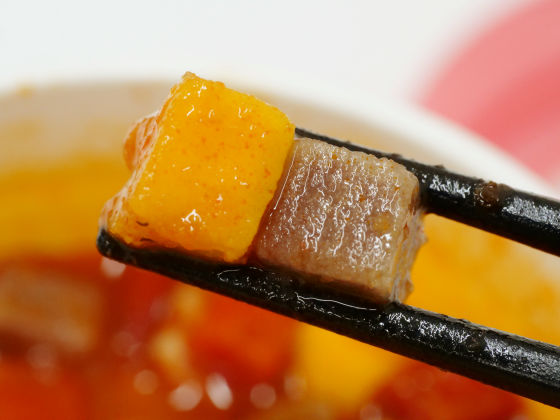 Red peppers did not have much presence, but tomatoes have rough texture, so it was close to the crushed raw tomatoes. However, since the soup tastes with punch where the garlic has been heard, it also makes me feel like "I want meat ......"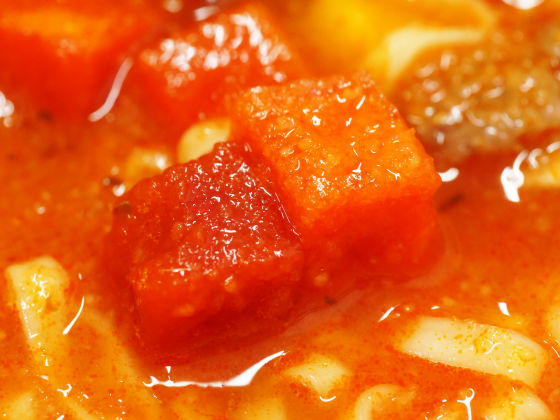 The third is Yellow of "Recommended Select".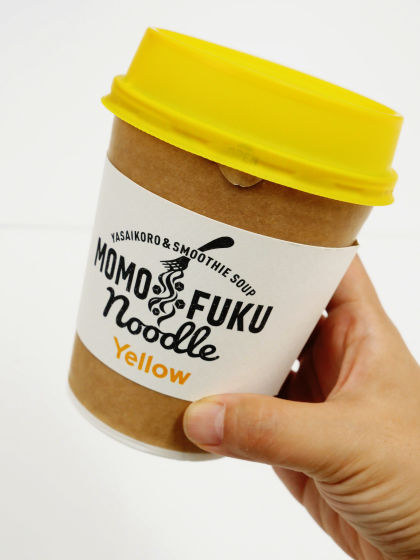 This is accompanied by soup, Yasaikoro, Tom Yam paste.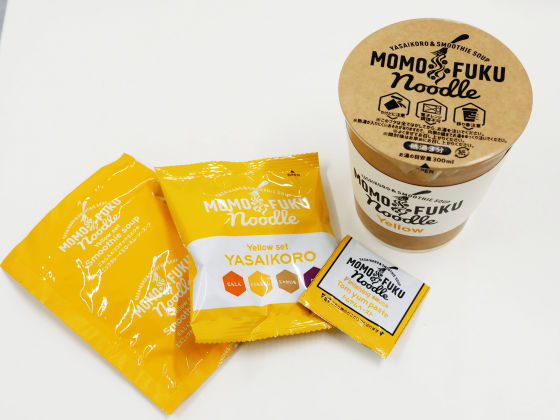 Since it was packaged in advance, raw material name and calories were also noted. The soup contains coconut milk powder, tom yam paste, fish sauce, carrots, curry powder and so on.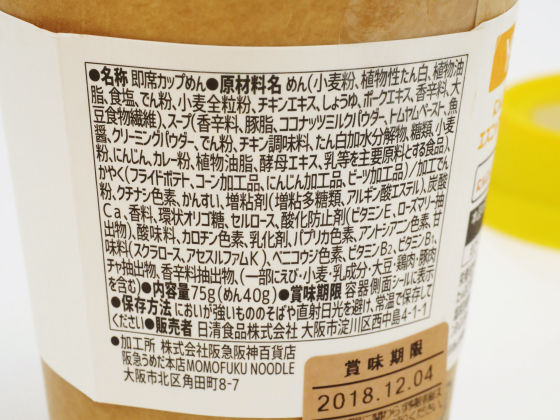 The calorie is 330 kcal per 75 g of meal.



When I opened the cup, the noodles look like this. Both Momofuku noodles are common noodles, non-fried noodles with whole grain flour and plant fiber.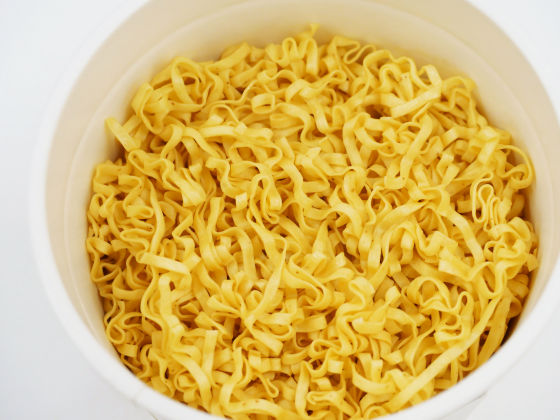 Flesh and soup put in ... ...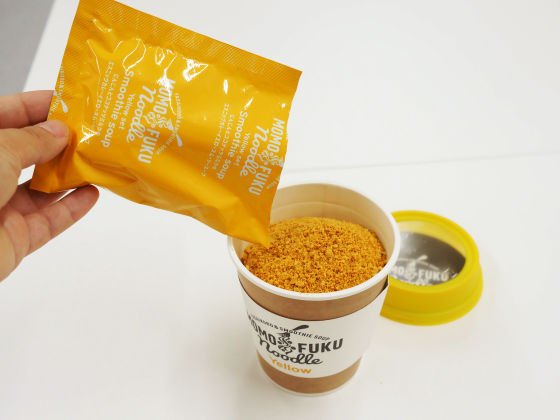 I also introduced Yasaiko. Yasai is a carrot, corn, potato, beet.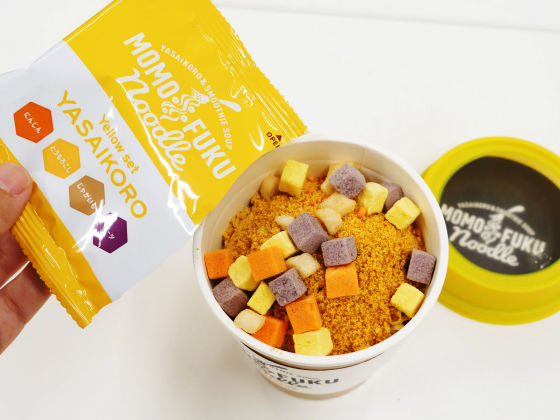 Three minutes after putting hot water, put Tom Yam paste.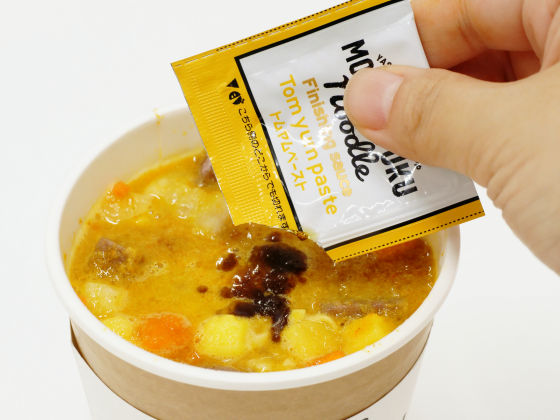 Firmly mixing it will drift coconut milk and ethnic scent of fish sauce.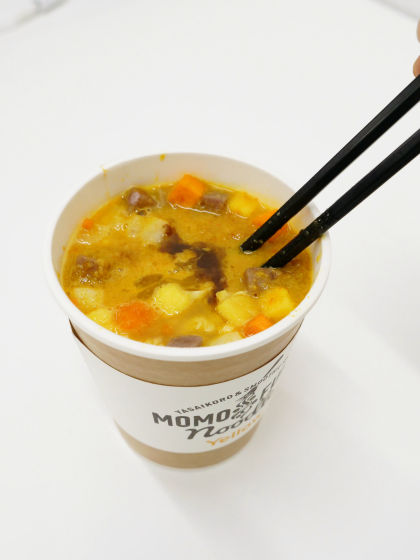 It is a solid authentic ethnic taste that makes you feel the genealogy of Tom Yum Cun noodle and Singaporean laxa , but because of plenty of carrot, it is still gentle finish as a whole.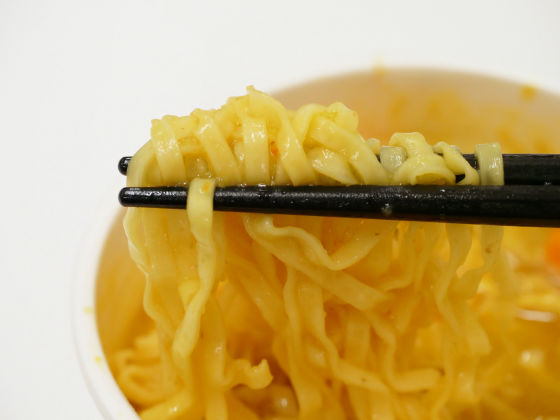 Carrots and potatoes Yasaikoro was not surprised with the feeling "The Cup noodle", but it was a sweetness that concentrated potatoes.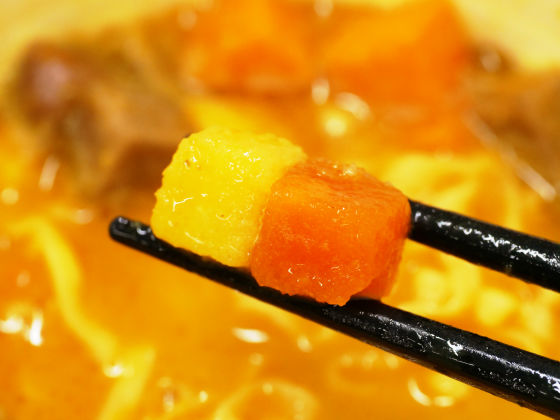 In both cases, the sweetness and taste of the vegetables were condensed in the soup and it was enough to drink the soup that remained after eating the noodles with bread and rice. Momofuku noodles are 540 yen per meal, if you ask for junk of cup noodles you may notice shoulder watermarks, but in the case of recommendation, green is 353 kcal, red is 301 kcal, yellow is 330 kcal and even at night relatively I felt it was going to be able to eat without feeling guilty.