I compared the 'Nissin Curry Mesa Cup Noodle Curry Taste' that the brain is likely to be confused as 'Cup noodle curry taste curry meshes' compared with the real eating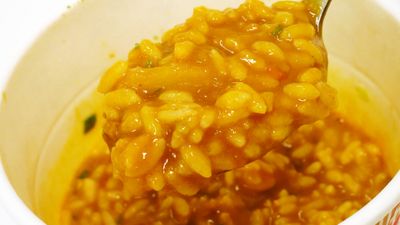 " Nissin Kalee Mesh Cup Noodle Curry Taste " of " Nissin Kaleh Meshi" that you can enjoy a thick curry simply by pouring hot water into the cup will appear from February 4, 2019 (Monday). Cup noodle curry not only mild curled but also the flavor of frying noodles, so that you can feel the sweetness of vegetables and the flavor of chicken · pork, so it's like being committed to the flavor of Noodle Food I ate first and confirmed it.

"Nissin Kale Mesh Cup Noodle Curry Flavor" (released February 4) | Nissin Food Group
https://www.nissin.com/jp/news/7515

"Nissin Kale Meshi Cup Noodle Curry Taste" package is designed to be conscious of "Cup Noodle".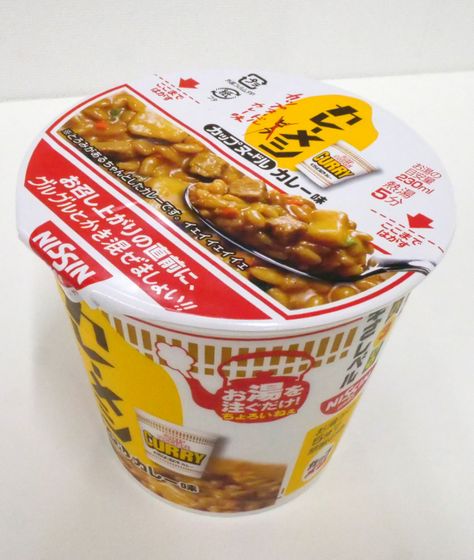 Compared with "Cup noodle curry" on the left this is like this. The right curry meshes "beef taste" is corrected to "cup noodle curry taste".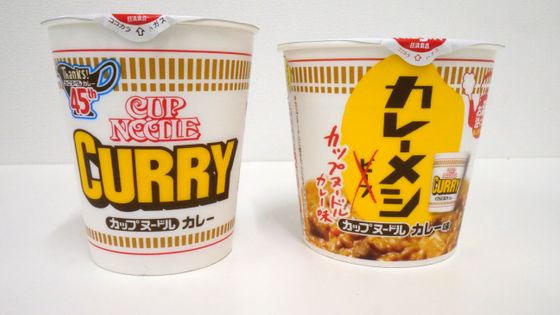 Spicy level is 3 in 5 steps.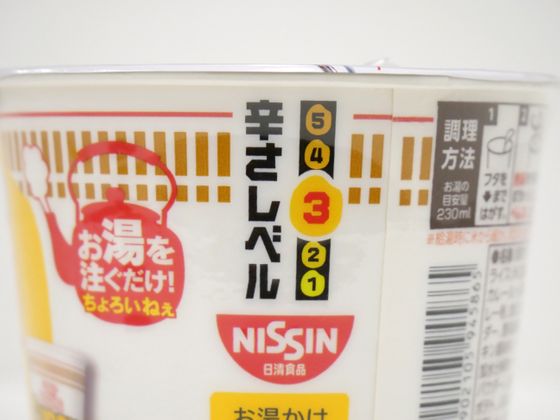 On the side, it is appealing that "people who are tired of cup noodles are also onouneme ".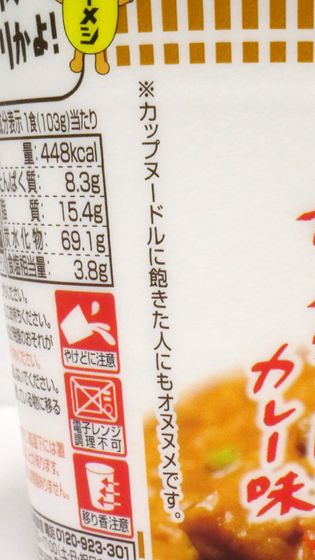 I checked what kind of difference the raw materials have. The raw material of "cup noodle curry" looks like this.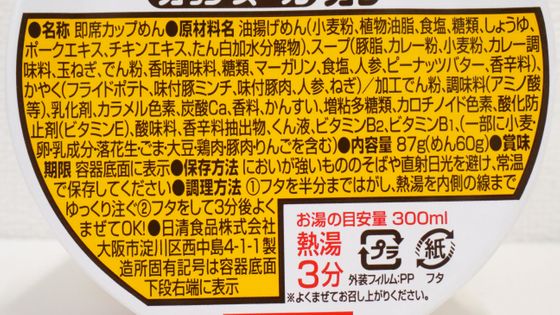 And, the raw material of "Kalemesi cup noodle curry taste" is kore. Of course there is a natural change from "fried noodles" to "rice", but in a small part, "wheat flour" "sugar" that gives a thick to ru comes before "curry powder", "cup noodle curry" Then it turns out that the place where "onion" was changed to "onion powder", it is not necessarily "just replacing rice with rice".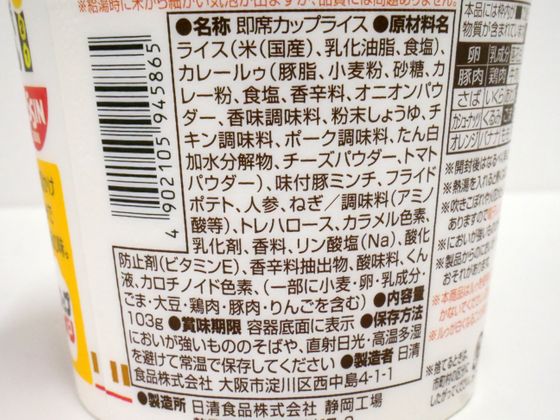 The calorie per 103 grams of "Kalemesi cup noodle curry taste" is 448 kcal. "Cup noodle curry" is 722 kcal with 87 g per meal, so when comparing it is slightly more content both in terms of content and calories.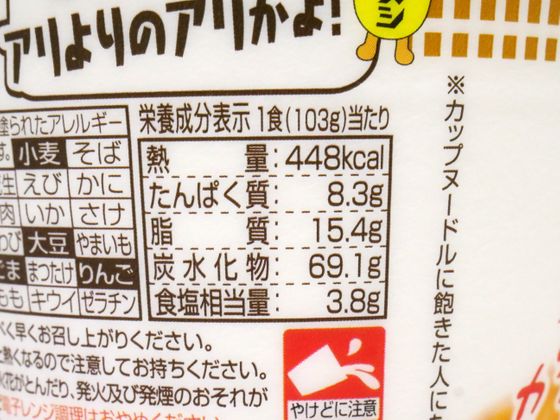 "Cup noodle curry" opens the lid and you can see that the powder soup and potato ingredients are clogged on the noodles in this way.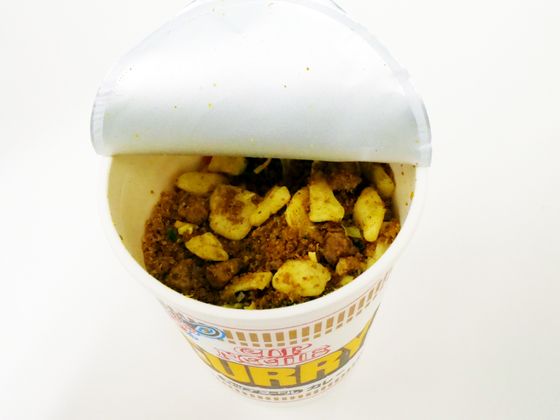 On the other hand, "Curry Mesh Cup Noodle Curry Taste" had lots of solid Ru on the freeze-dried rice when opening the lid. Unlike cup noodles with ingredients on top of noodles, ingredients of curry meshes are not very noticeable as they are mixed with rice.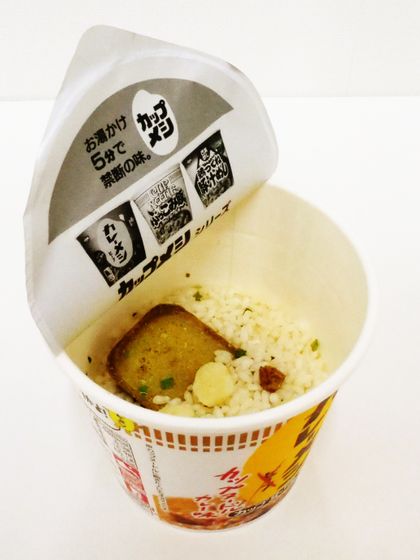 Pour hot water into "Curry Mesh Cup Noodle Curry Taste" and set the timer at 5 minutes and wait.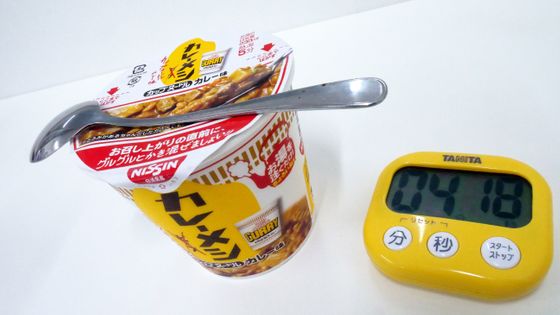 After a lapse of 2 minutes, put hot water in "cup noodle curry" and wait for 3 more minutes.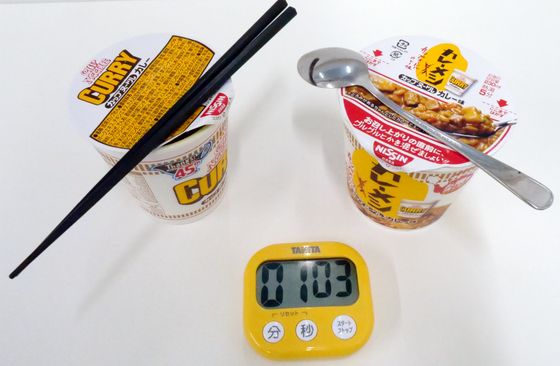 As the timer rang after 5 minutes, I tried opening the lid of "Curry Mesh Cup Noodle Curry Taste" first. The rice does not have a color that seems to be curry yet, and you can see bubbles standing.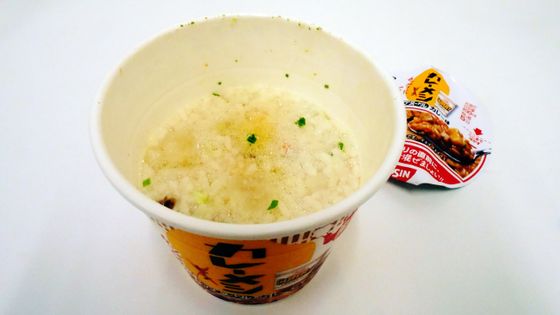 Stirring around with a spoon makes Ru melt ... ...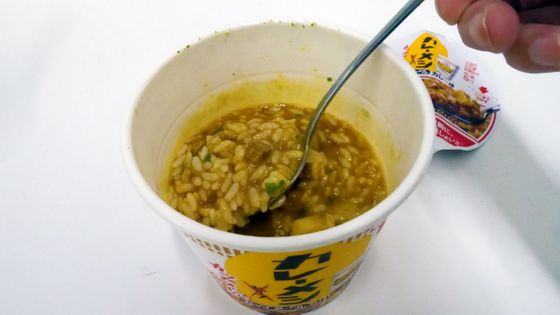 A thick curry mesh has been completed.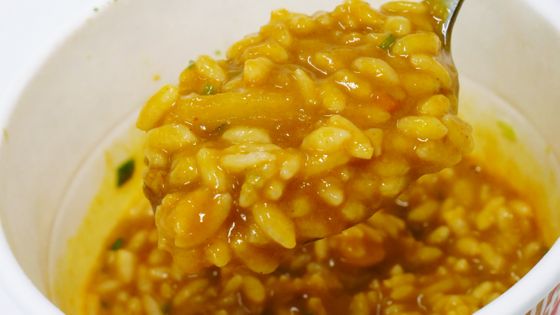 While I was doing it, the cup noodle was finished and I will eat it at once.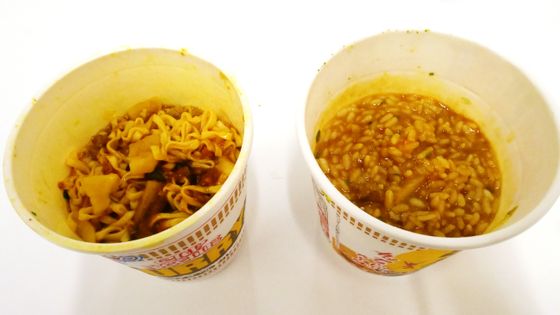 First off from a cup noodle. The noodles have a smooth texture and elasticity, and you can feel the fragrance of flour and the fragrance of oil by frying. The soup involved in the noodles was melting in the firmness of sweetness of the vegetables and lump of rice in a firm spicy.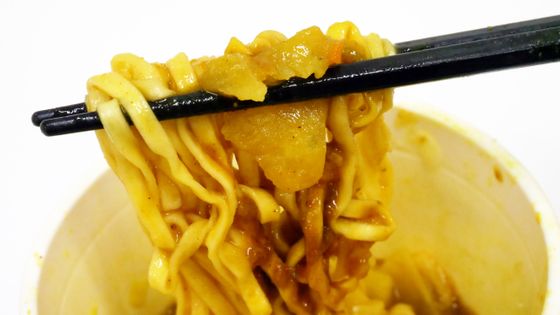 Next, when I tried "Kalemesi Cup Noodle Curry Taste", Ruu's taste itself was almost the same as cup noodles and it was said to be the degree of reproduction. Since cup noodles are different from noodles and soup, the spicy and spicy feel of curry is felt sharp, while at Kala Mesh we mix the thick roux and rice firmly and eat it, so the overall taste mixes and the mildness increases It is.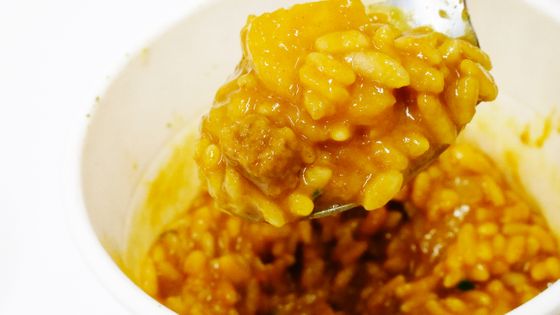 Cup noodle diespoke, also known as "mystery meat" is also solidly included. As Ru has flavor like fried chicken and pork flavored and rich with fried eggs, I felt "Oh, this is the flavor of the noodles I fry."