I tried eating two new curry ramen such as a curry ramen supervised by kokoichi and a spice curry ramen by ace cook CoCo Ichibanya stimulant.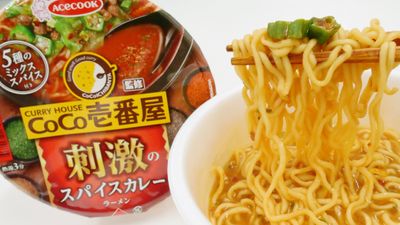 A curry specialty store 'Curry House CoCo Ichibanya' and Ace Cook collaborate to eat a ' curry spice curry ramen ' supervised by CoCo Ichibanya , adding additional spices with five spices to a curry soup that tastes like chicken and tomato. And, since two kinds of cup noodles, creamy curry ramen ' CoCo No. Banya edifice mellow creamy curry ramen ' which made a vegetable taste act on pork-based soup, appeared from April 15, 2019, actually I ate it.

Spice curry ramen irritated by CoCo Ichibanya | Product Information | Ace Cook Co., Ltd.

https://www.acecook.co.jp/products/detail.php?id=952
壱 CoCo Ichibanya ク リ ー ク リ ー creamy curry ramen | Products | Ace Cock Co., Ltd.
https://www.acecook.co.jp/products/detail.php?id=953
'Curry House CoCo Ichibanya' supervised product which featured the theme of 'stimulation' and 'Marika' comes up! Spicy curry ramen inspired by CoCo Ichibanya irritating creamy curry ramen
(PDF file) http://www.acecook.co.jp/news/pdf/1903_COL.pdf
First of all, I will start with 'CoCo Ichibanya spiced curry ramen'.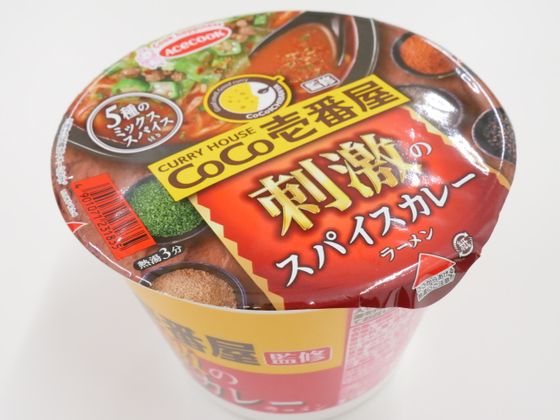 The side of the cup, 'CoCo Ichibanya supervised' and printed large.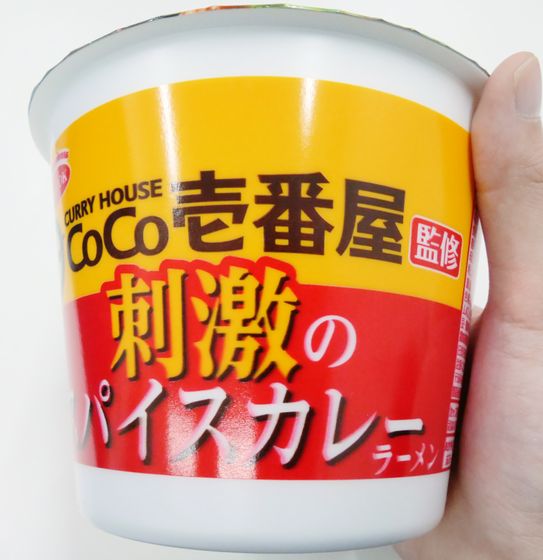 The upper lid is an image photo of curry ramen with reddish soup and okra green.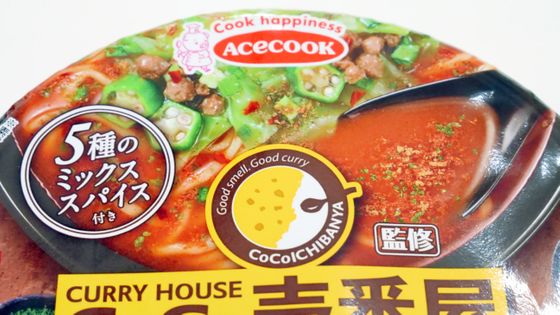 In terms of raw materials, ingredients such as 'Cabbage' and 'Chicken and pork seasoned meat soboro' and ingredients such as 'Curry powder', 'Vegetable powder' and 'Chicken extract' are used in the soup containing kayaku I understand.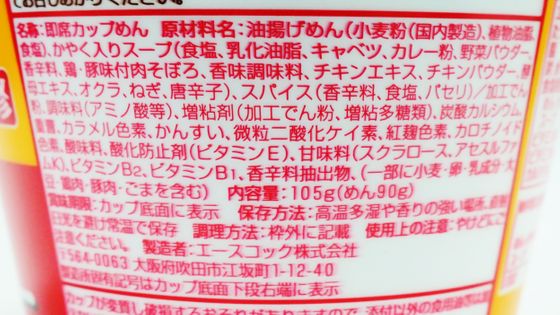 Calories per meal 105g are 440kcal.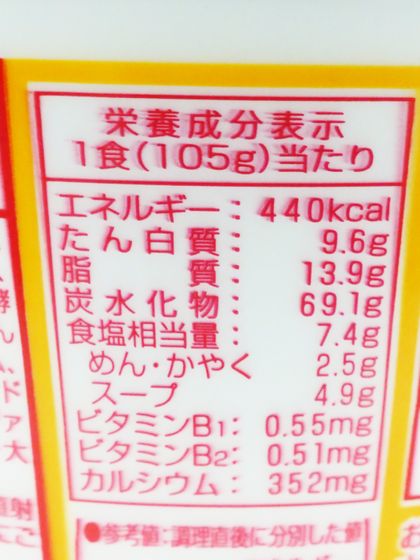 When the lid was opened, a spice sachet and a powdered soup were contained inside.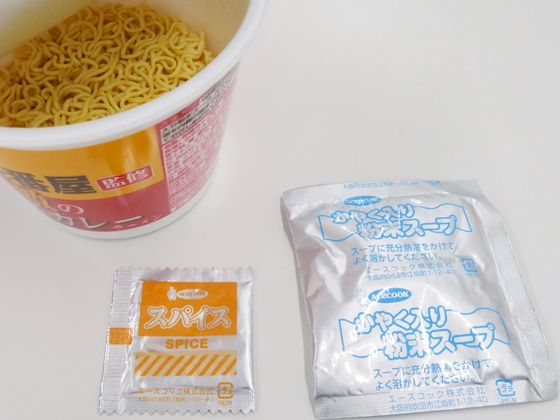 First, put the powdered soup in a cup.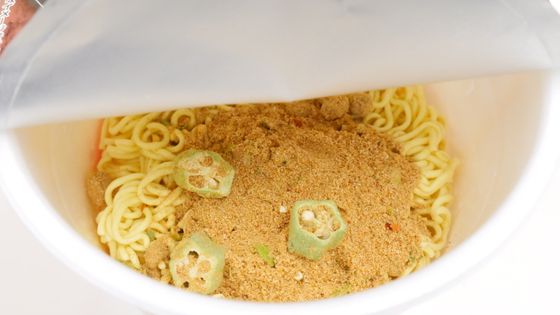 Next time I pour the water, set the timer to 3 minutes and wait for it to finish.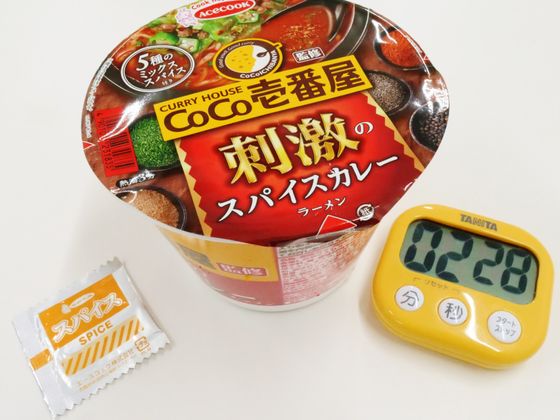 After 3 minutes, add additional spices ...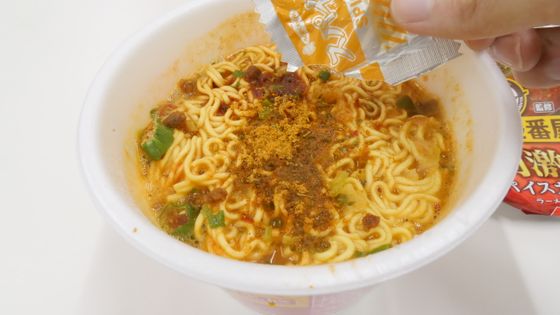 Stir well and you're done.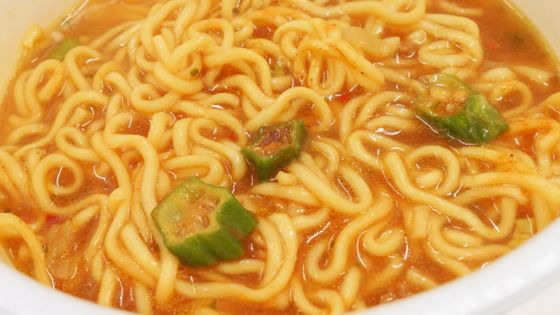 When you sip a bite of the soup, the spice stimulates your tongue and you feel hot at first, but it's not enough to pull back. Because of that, it was finished in a well-balanced hot taste where the umami of chicken and tomato sourness and richness that were dissolved in the soup were felt while tasting well.



There is a sense of presence in the texture of okra, and it has a crunchy accent of sticky noodles. The noodles were almost straight and the soup was exquisitely entangled, and I was able to fully enjoy the curry soup that combines the spicyness and the umami of the ingredients.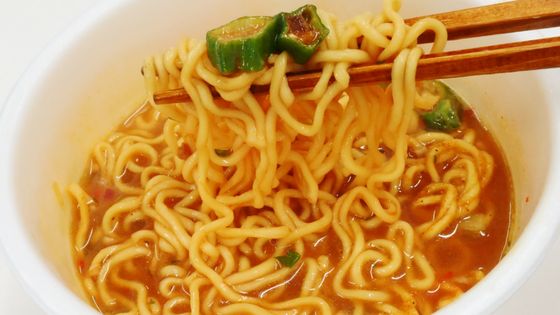 Next, I will try eating "CoCo Ichibanya modest creamy curry ramen".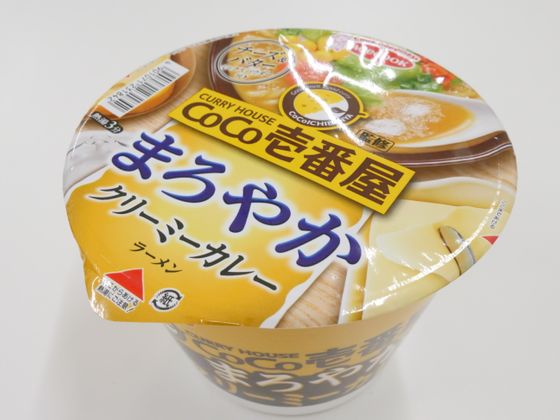 A photo of curry ramen with plenty of vegetables along with a kokoichi mark on the lid.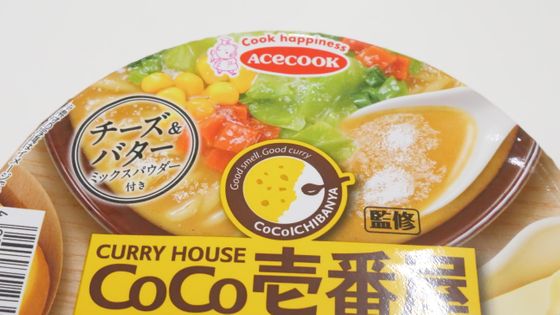 If you look at the ingredients, the 'Cabbage' is first written in the column of the soup containing kayaku, and other vegetables such as 'corn', 'carrot' and 'negi' are described. 'Curry powder' which was included in 'Spirit curry ramen' is not used.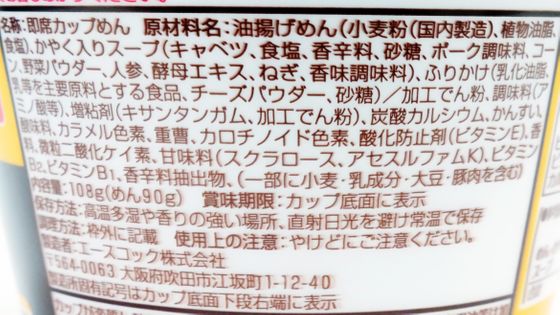 The calories per serving of 108g are 452kcal, which is slightly higher in content and calories than 'Stimulus Curry Ramen.'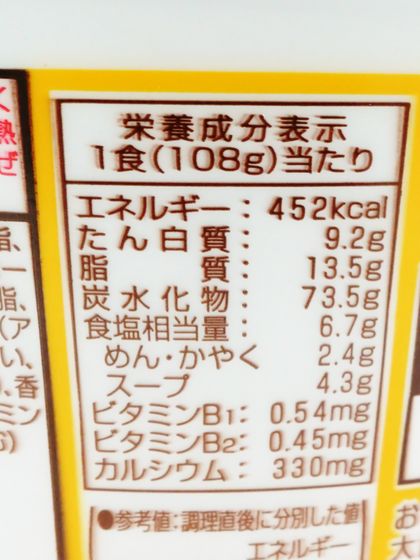 When I opened the lid, it contained powder soup and sprinkles.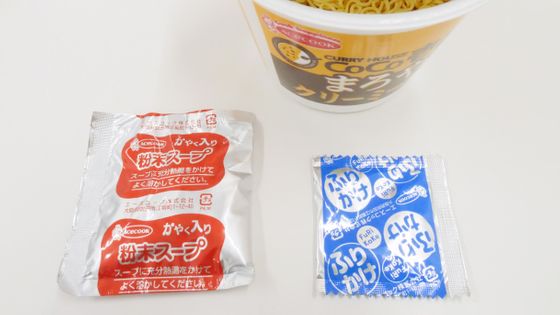 Put the soup in a cup and pour hot water, wait 3 minutes.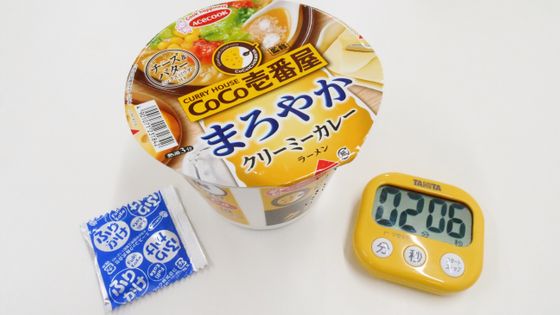 When the timer sounds, put on sprinkles ......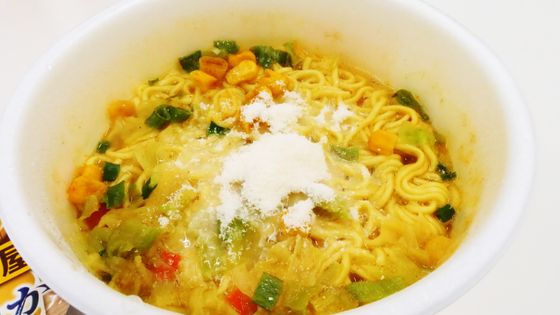 Stir in a bowl and you're done.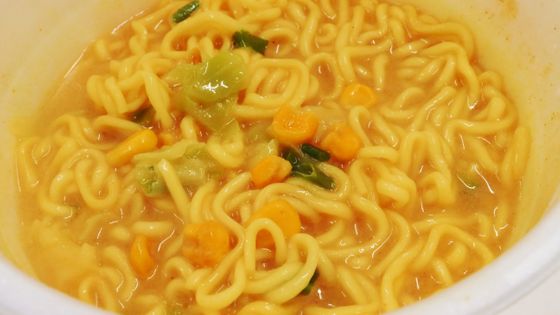 When I eat it, I can feel the rich flavor of cheese and butter, and it tastes like a corn potage soup with the texture of corn ingredients. When I ate crispy cabbage and crushed corn, every bite spreads the sweetness and the umami of the vegetables in my mouth, which matches well with the mellow, rich soup. I felt the smell of curry on the aftertaste, but since there was almost no stimulus such as hotness, it was a mellow curry ramen that can be recommended for people who are not good with hot things and children.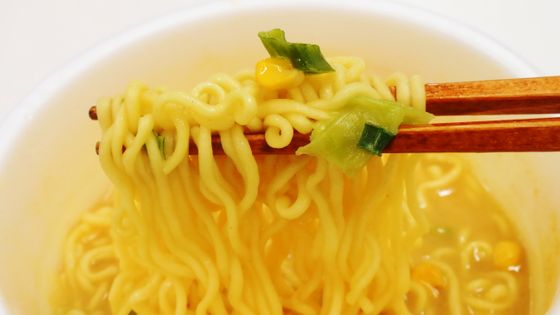 ACE COOK's 'CoCo Ichibanya-excited spice curry ramen' and 'CoCo Ichibanya-supervised mellow creamy curry ramen' can be purchased at retail stores nationwide from April 15, 2019, and the price is 216 yen including tax. .