Violent internal mail leaked by stakeholders of the top secret plan "Project Maven" to utilize Google's AI militarily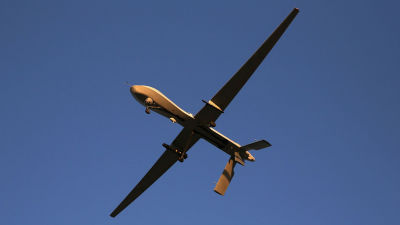 In March 2018, the top secret plan that Google will provide military AI technology to Pentagon (Department of Defense) "Project Maven"Is revealed, the opposition from Googlers gathered and petition is submitted to CEO Thunder Pichai, Google company is rough. Meanwhile,InterceptBut got internal e-mails of persons in charge who were involved in the negotiation of Project Maven. Project Maven is a big project promised a huge contract, and Google is told vigilantly that he was wary of being able to harvest information from the beginning from the beginning.

Leaked Emails Show Google Expected Lucrative Military Drone AI Work to Grow Exponentially
https://theintercept.com/2018/05/31/google-leaked-emails-drone-ai-pentagon-lucrative/

More than 4000 Googlers signed a petition that "we should stop military cooperation with the Pentagon," more than 10 technicians decided to leave the company by rebelling against Google's policy, shaking greatly inside Google You can tell about Project Maven which is in the following article.

More than 3,000 Google employees should petition petition to CEO Pichai, "We should stop cooperating with Department of Defense" - GIGAZINE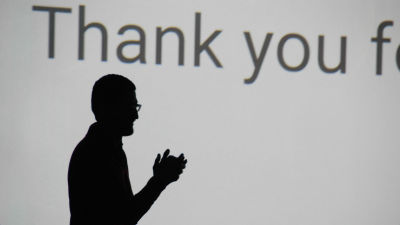 Mail received by Intercept was mailed to Mr. Scott Floeman, colleague in September 2017 by Mr. Eileen Black, a member of Google's defense sales team. Mr. Black said that Pentagon is doing military technology development competition at a huge cost to high-tech enterprises, and that Google is also involved. Mr. Black expressed "a long AI race of five months", and I know that Amazon was participating in the competition besides Google.

In the e-mail of Mr. Black, "The total amount of transactions is 25 million to 30 million dollars (about 2.7 billion to 3.3 billion yen), of which 15 million dollars (about 1.6 billion yen) over the next 18 months to Google. If you grow, you can expect to be $ 250 million per year (about 27 billion yen), which is directly related to the notes on 13th September you sent last week. " Please note that "September 13th note" was not attached to the e-mail received by Intercept.




Bloomberg(cache)According to Mr. Black as expected one month after this mail, the Pentagon added an additional $ 100 million (about 11 billion yen) to Google's Project Maven from the budget. Incidentally,New York TimesAccording to Mr. Black, Mr. Florman's manager, Mr. Diane Green, general manager of Google Cloud who was exchanging e-mails, "According to" Project Maven delivers "only" $ 9 million (about 1 billion yen) It is a relatively small transaction, "but as of September 2017 it can be seen that Google's Maven officials were convinced that it would be a much bigger contract.

Mr. Black wrote in the mail that Mr. Black was concerned about "the eyes of the public" about Google concerning military technology development once had a company policy of "Do not be evil" It is. Mr. Black wrote in an e-mail "Project Maven" is "blood dripping meat" for the media seeking everything that will cause damage to Google Perhaps you are Mr. Ellon Mask's "AI is the third world war "If the media starts picking up the theme that Google secretly develops AI technology that can be a weapon for AI weapons and defense industry, we will measure what happens Google Cloud launched the theme of "democratizing AI" in 2017, and Diane and I have talked about humanitarian AI for companies.I want to protect such a positive image I've been paying close attention to it, "and it is wondering that the existence of Project Maven was wary of the brightness You.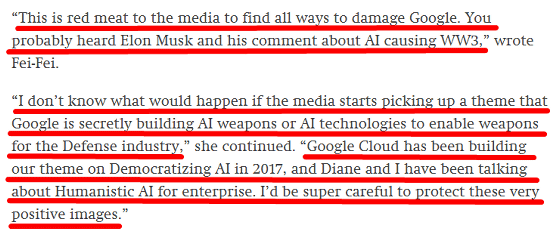 Mr. Black also said that "(Project Maven) contracts are not made directly to Google, but through partner ECS Federal, and should avoid avoiding press releases without mutual consent, (Pentagon) We are not saying anything without Google's approval "and it can be inferred that measures were taken to prevent Google's cooperation with military technology from becoming light.
in Note, Posted by darkhorse_log