Manga app "GANMA!" Broke through 10 million downloads that you can read manga without rest as much as you want.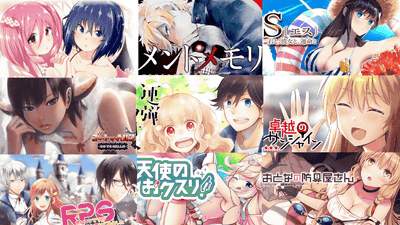 In April 2018Over 10 million downloadsPopular manga app that I did "GANMA!"You can read more than 150 manga completely free from one story to the latest story. In addition to being able to read manga stress-free without needing points and tickets, comments and illustrations excite fans among fans, you can directly support the author by watching advertisement movies, two-way communication is also substantial I will.

GAMMA! (Gamma) - Do not gaman comics with gamma!
http://ganma.jp/

GANMA! - All original stories are free to be read all-you-can-app from Google Play
https://play.google.com/store/apps/details?id=com.COMICSMART.GANMA

"GANMA! - Original cartoon is unlimitedly readable with no limit" on the App Store
https://itunes.apple.com/jp/app/id709003148

From the application page, tap "Install"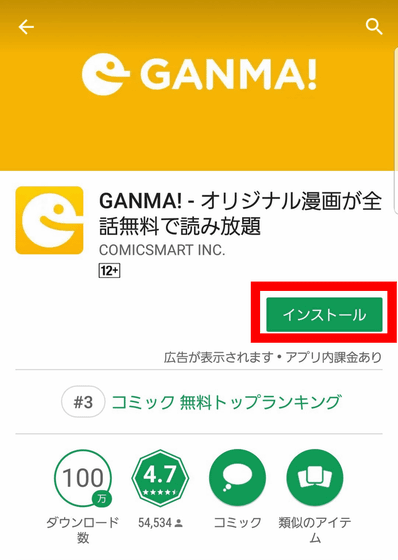 Tap "Open" when installation is completed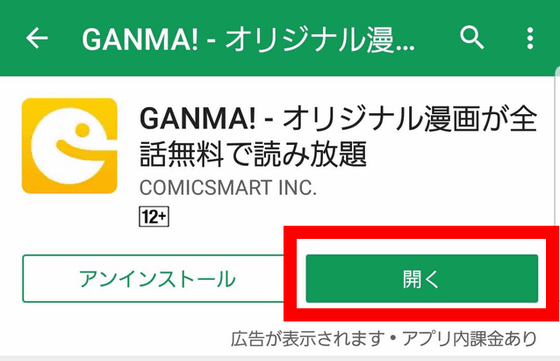 On the top page of GANMA!, Thumbnails of narrow and manga are lining up. Because there is no menu button anywhere, it may be a bit confusing to start suddenly. The day of the week to be updated is displayed in the upper left of each manga, and the updated work is marked with "New".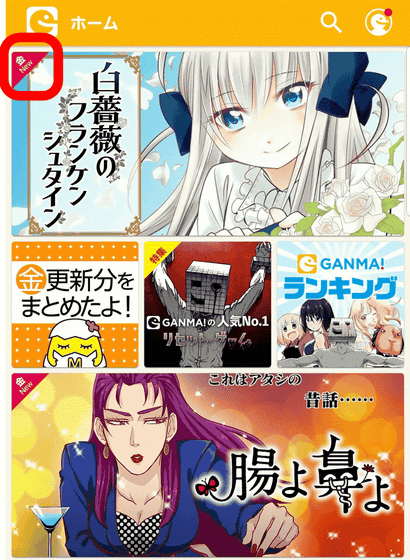 I wondered what to read and went swiping down, found a special feature entitled "First off!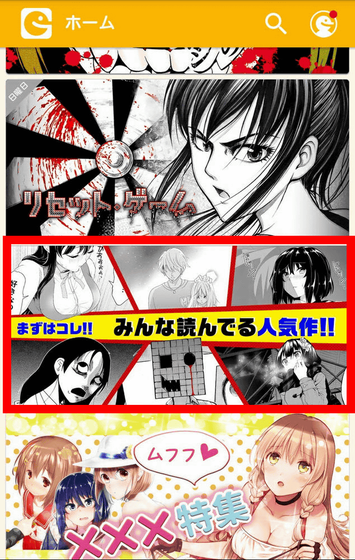 It is a corner introducing popular works frequently seen in web advertisements, and there are certainly plenty of familiar characters in somewhere.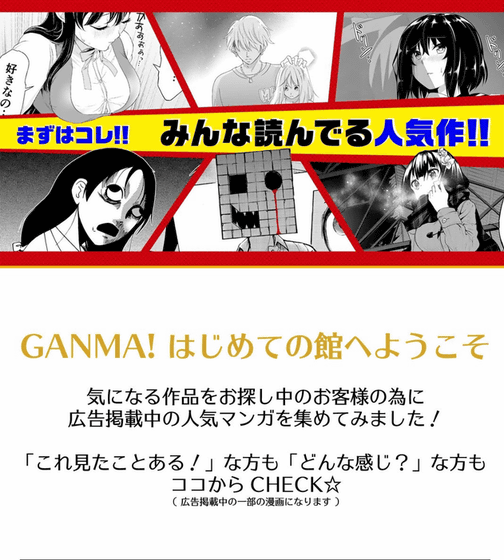 Tap the search icon on the screen if you want to find a work better suited for your preference.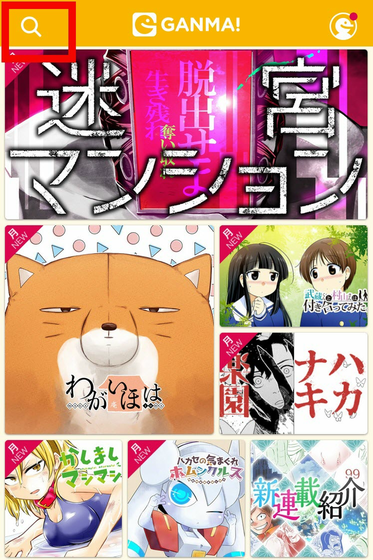 In addition to being able to search popularity ranking and work name, you can search from various genres. Tap "Sports" to try.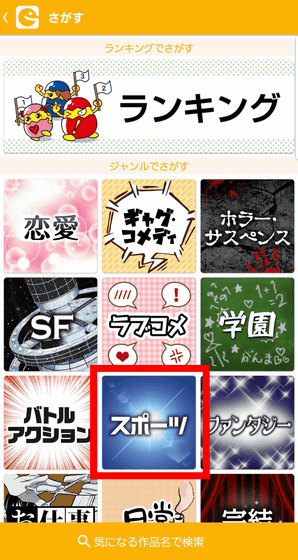 Icons and titles of the work, and a brief synopsis are written so it's easy to choose what came. Tap on the work name you care about.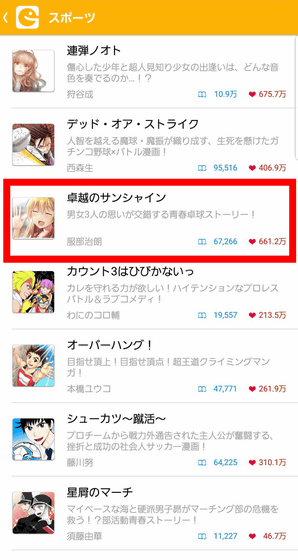 On the work page, there was a "Read from Continuation" button that you can read from the continuation if you have read so far, and a "To the first episode" button that you can read from the beginning. In this case, it is very convenient because you do not have to choose the number of talks on your own.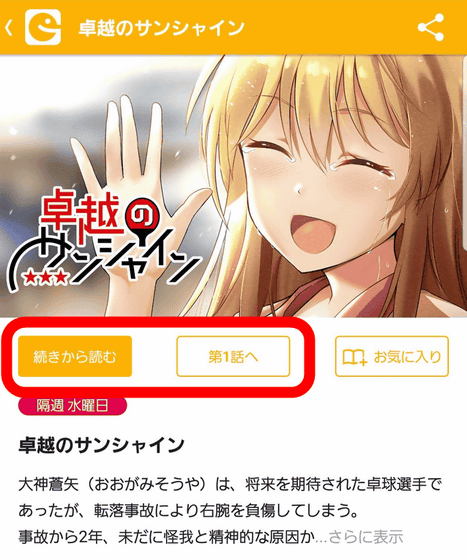 Moreover, since it can display and search every 10 talks, even if you want to read only the specific number of talks of a long series of works, you can find it without difficulty.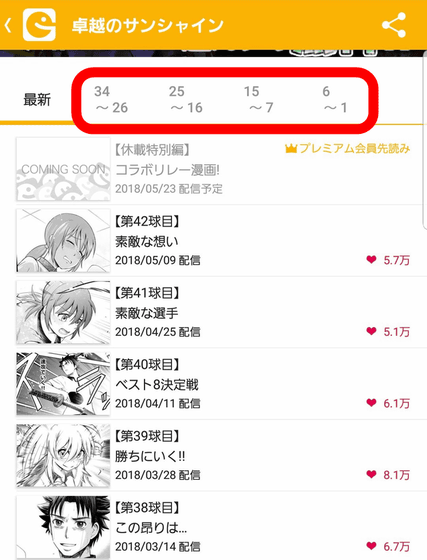 Choose between 6 and 1, tap "1st ball" which is the 1 st story.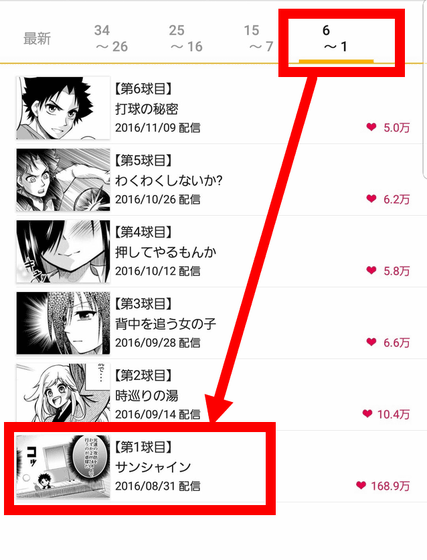 Viewer of GANMA! Is like this. You can move pages by swiping or tapping the left and right of the screen, but there are no scroll bars to move the page at a stretch and jump buttons like "to the next story" that let you skip the number of talks quickly, and as a function of the viewer a little I feel inconvenienced.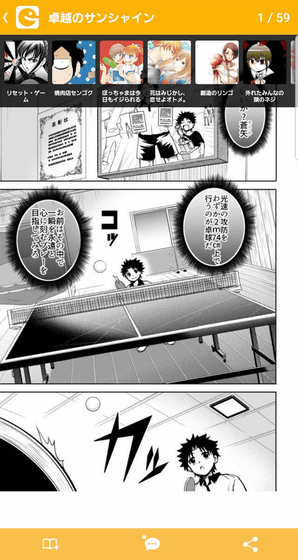 On the other hand, when I finish reading one episode, I do not need to select or read the next number of stories at all, swiping it and going to the next story is pretty crispy to read. In the case of saying "I want to read the manga all the way from one talk to the latest talk", it seems to be able to read very smoothly.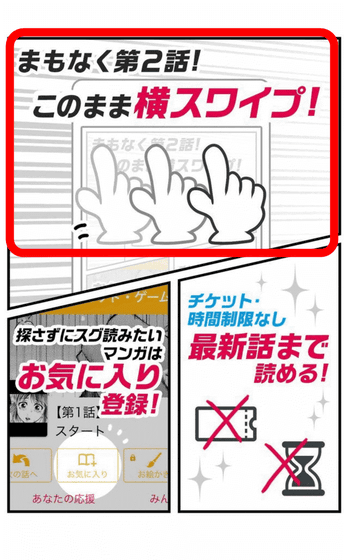 When each story is over, comment · support page is caught. "Support with Heart" is a function that you can recommend favorite works to other users only, "Support by advertisement viewing" can directly support the author by viewing video advertisements. In the completely free manga application, there are things that it is difficult to directly support the author unless a book is issued, but in GANMA! You can deliver the intention of "support to this author!" As it is.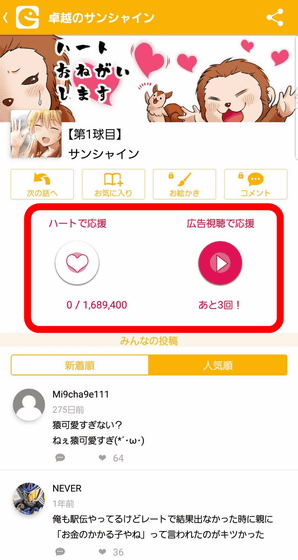 Once you have delimited reading comics, you can also switch to another recommended comic book directly from Viewer. Tap the icon of the work displayed above ... ....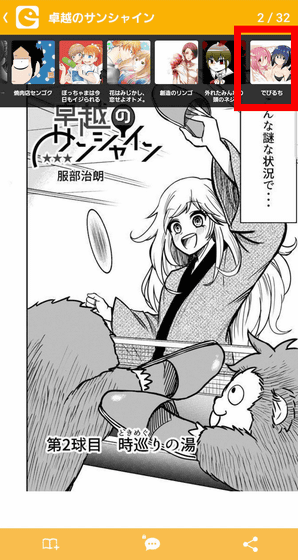 I will move to the page of that work.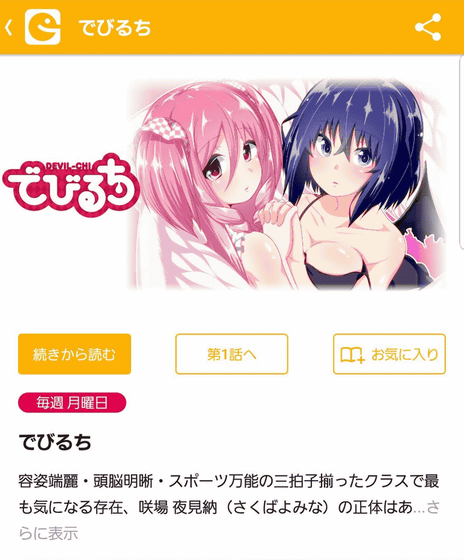 In addition, I can post illustrations on the comment page, and I also saw fan art by fans of the work. It is an advantage to have such a communication page, but because it is caught between announcement → advertisement → advertisement → announcement → advertisement → comment page → advertisement → advertisement for each story, it seems that you can read crisply and feel it is troublesome to the contrary Also.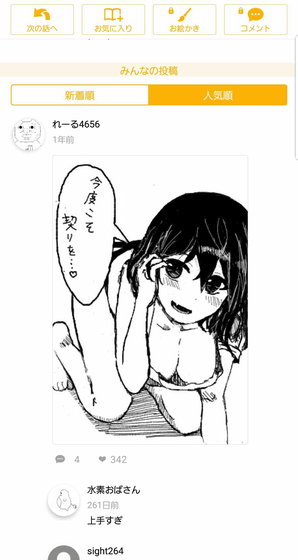 By tapping the icon in the lower left corner of the viewer, you can register your work as a favorite. Because GANMA! Has a large number of manga anyway, it is a nice feature that it is easy to put in your favorites instantly when you like while reading comics. Tap the book icon .........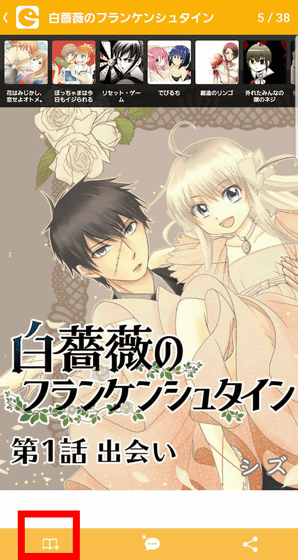 Icon changes from plus mark to check mark.




Works registered as favorites can be checked from My page. Tap the icon in the top right corner of the home screen.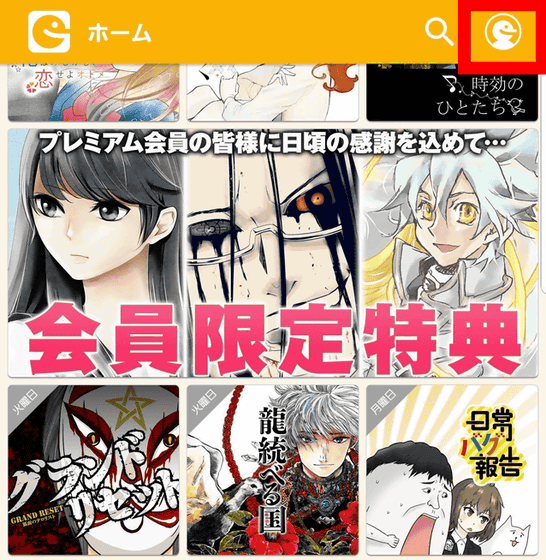 When you open My page, the registered works are lined up. It is recommended to customize My page by making use of this favorite function anyway. Since the distribution date of the latest talk is also written, if you check my page, update information of your favorite work should be more visible.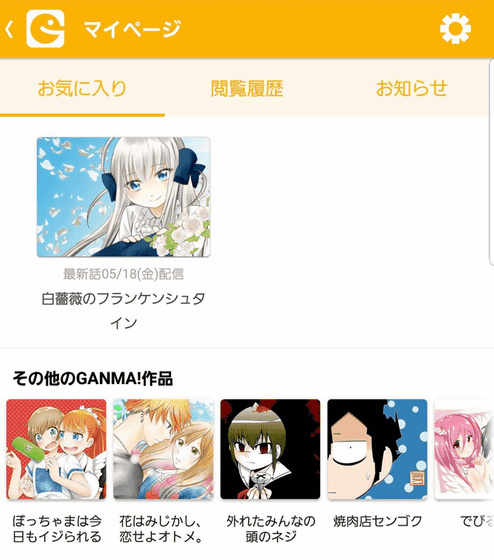 By tapping "browsing history", you can check the work that you read the most recently. It is useful if you forget to register as a favorite or read it again when reopening the application.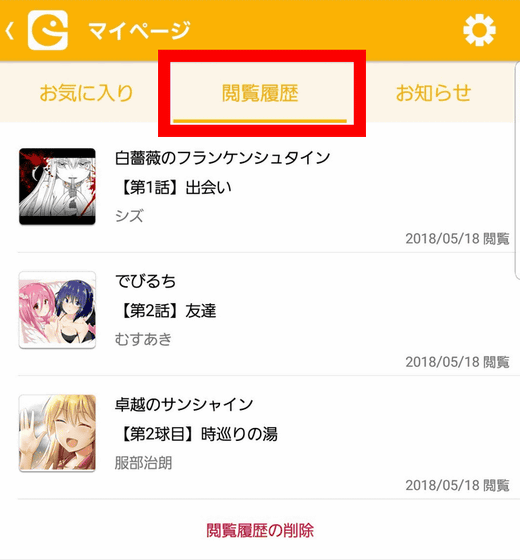 Various settings can be done from the gear icon on the top right of My Page.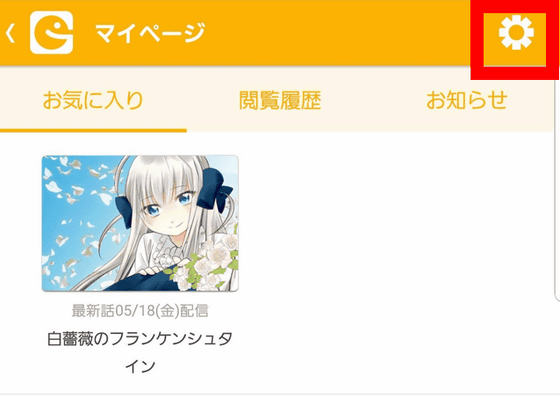 Tap free member registration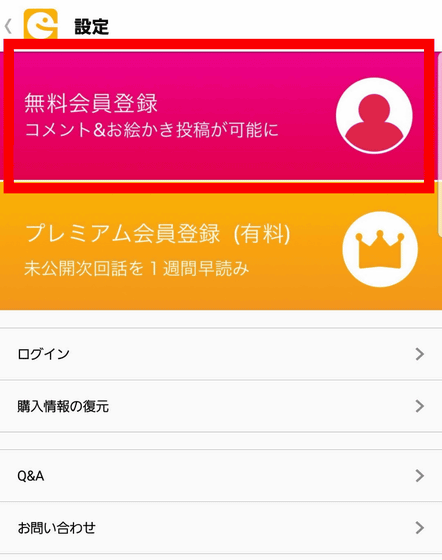 Once you register as a free member, you can set your own icon, you can post comments and fan art. In addition, you can hide or block posting by a specific user if there are unpleasant comments or comments you do not want to display in the comment field. As a free member registration can be done with a Twitter · Facebook account in addition to a mail address, it is recommended to register for the time being.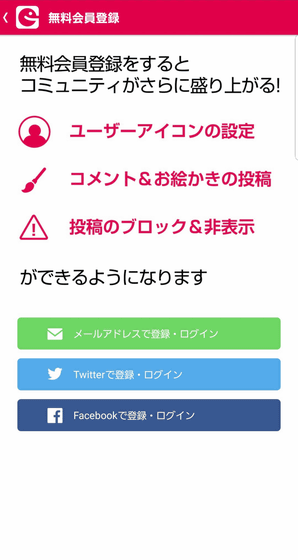 When you become a premium member (300 yen per month), you will be able to read the latest talk before publication one week earlier. I want to read it as soon as possible! Although it is good for the person saying that, I want a privilege that can reduce the advertisement plentifully displayed in the application, and an additional benefit like a ticket that can further support the author.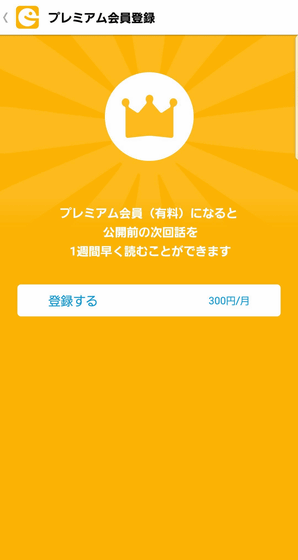 It is highly recommended for those who want to read manga and want to communicate with anyone who wishes to read manga anyway as well as unlimited reading of original manga of colorfulness, and UI which can advance reading crisply anyway. It is a disadvantage to feel hard to find a work because there is no menu, but on the other hand, because the charm of comics and characters overflows from the top page spreading just the comic thumbnails alone, if you open the app for the time being, It is no doubt that you are missing your favorite manga before you know it.