Kodansha's manga application 'D Morning' that can read free-of-charge works such as 'Space Brothers' and 'Cooking Papa' for free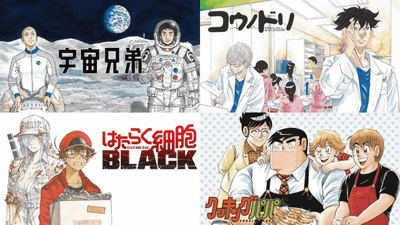 In the electronic version of Kodansha's weekly manga magazine 'Morning' 'D Morning', although the number of serial works that can be enjoyed for free is less than other manga applications, 'Space Brothers', 'Cooking Papa', 'Ashita no Joe' You can read famous works without an unknown person such as. Although you can read Morning on the service " Comic DAYS " which you can read all 6 types of manga magazines, I tried to use what exactly is the exclusive application "D Morning".

D Morning | The latest issue of weekly manga magazine 'Morning' can be read!
http://d.morningmanga.jp/

"D Morning (Manga Magazine App)" on the App Store
https://itunes.apple.com/jp/app/id608757493

D Morning - An application that you can read Morning Magazine Weekly - Apps on Google Play
https://play.google.com/store/apps/details?id=jp.co.excite.kodansha.morning.weekly

From the application page, tap "Install"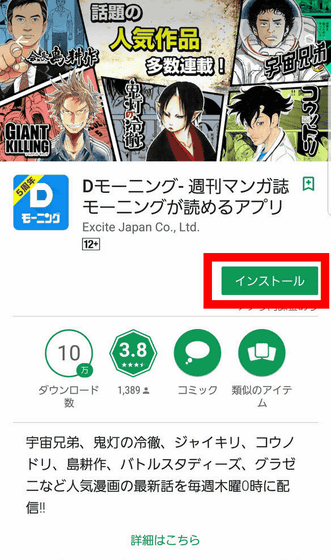 Tap "Open" when installation is completed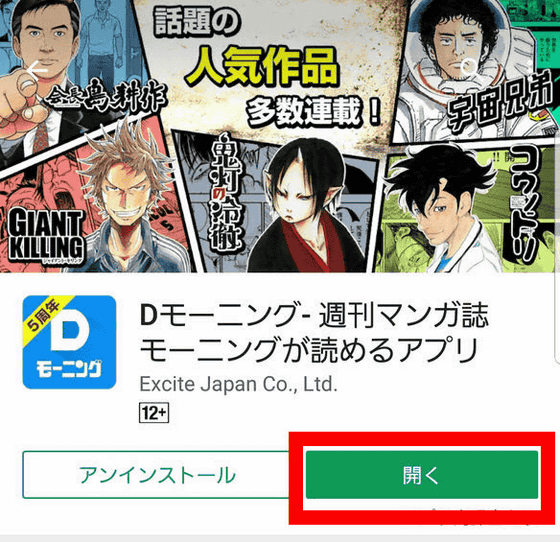 The latest issue of "D Morning" will be delivered at the fastest at midnight every Thursday same as "Morning." If you do not have paid member registration, the free version is delivered at 6 o'clock in the morning. Tap "Next".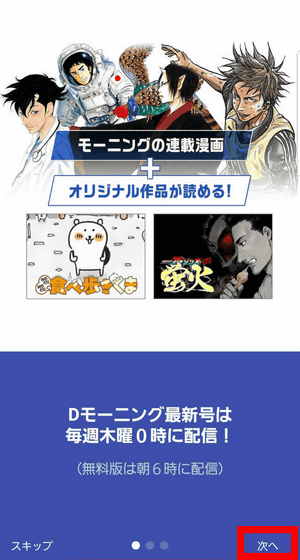 Works that you can enjoy free of charge are limited, but only when you first use the application, you can try and read the latest issue of D Morning for free. Tap "Start".



D Morning was a super simple thing that only "bookshelf" page exists. Since the latest issue of D-Morning of the first activation benefit was displayed, immediately tap "Download" and try reading.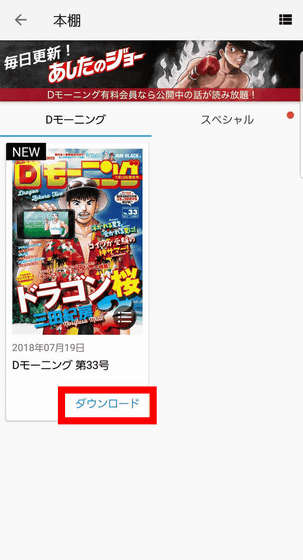 Tap 'Yes' to start downloading.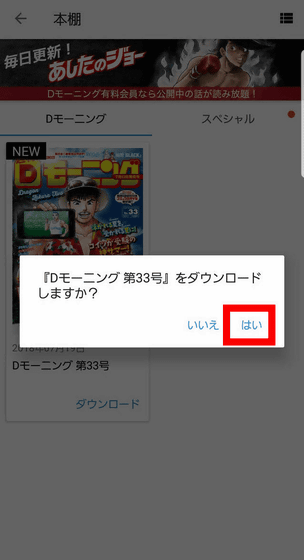 D viewer of Morning is like this. In addition to being able to feed pages freely with the scroll bar, you can jump to the work you want to read by the table of contents function. Tap "Contents".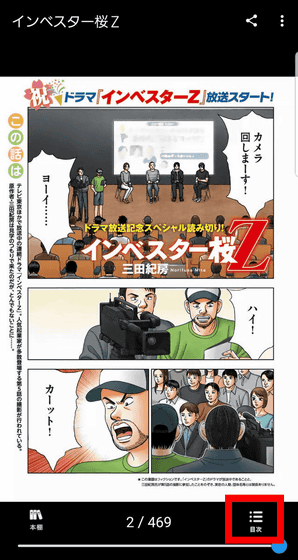 In addition to the serial works of this magazine, D Morning series also serializes works of "D Morning Original", and there is more volume than this volume. Tap the piece you want to jump.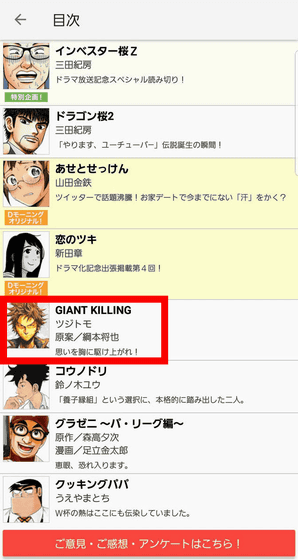 You can jump to the selected work. Also, instead of tapping for page feed, if you press and hold the left side of the viewer ......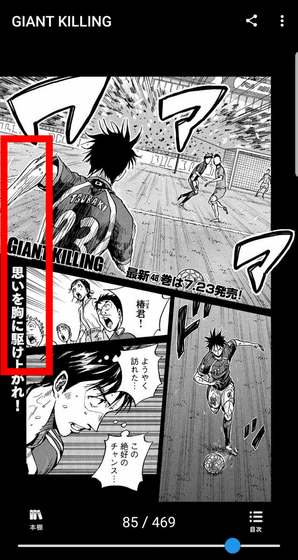 It is also possible to jump to the posted work one by one. In addition, the viewer is equipped with a function to save and share the page. Tap the trimming icon.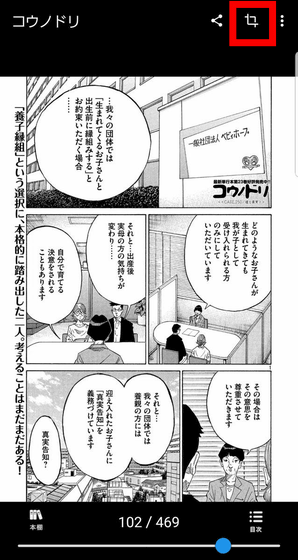 After selecting the area you want to share, you can save the image with "Save" or post it to "SNS" from "Share".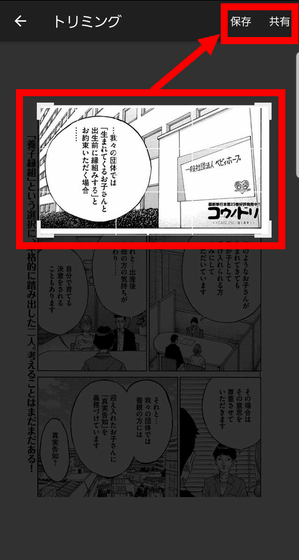 In addition, you can see information such as the outline of the work from Viewer. Tap 'Work information' from Viewer menu.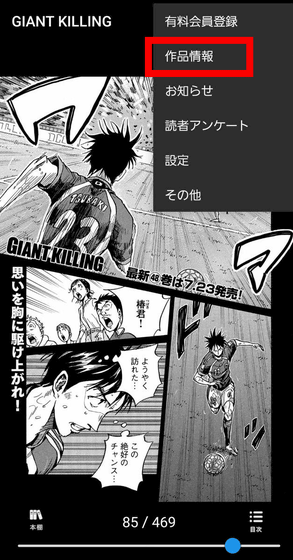 In addition to being able to check the plot of the work and the characters, you can do "Try reading the first episode".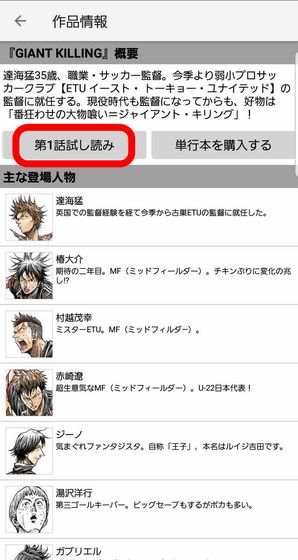 Paid membership registration is necessary to read all posted works of D Morning except for the first time. If you do not register, you can download only the "FREE version" of the latest issue.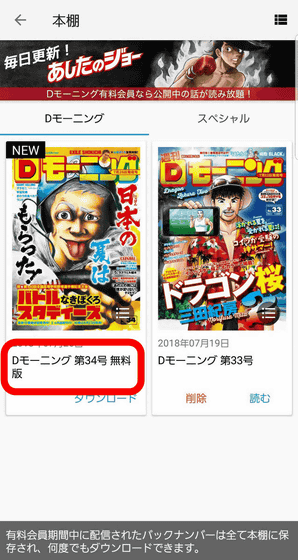 Although the work published in this magazine and some Doron Morning original works can not be read as "paid members only", famous works such as "Cooking Papa" and "Space Brothers" and animations started from July 2018 " "Spin-off of the free content, such as free content was also enriched.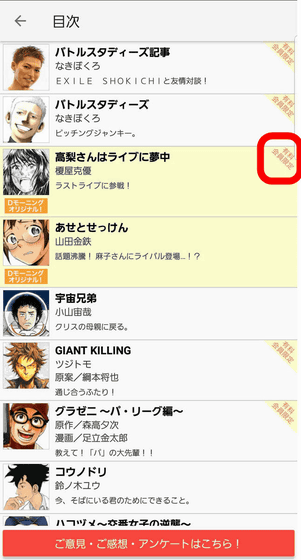 If you say "I am worried, but I'm not sure about registering a paid member," D Morning has a special issue for readers who touched the first morning work. From the "Special" tab of the bookshelf, select "Issue to read the first story of all works" and tap "Download".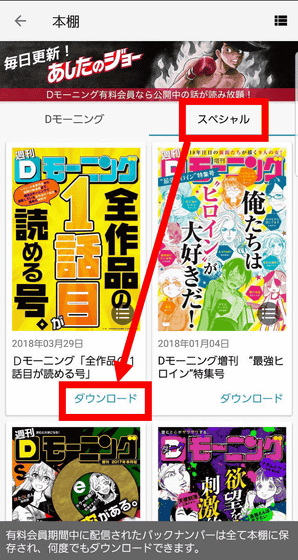 You can try trial reading of large volume exceeding 1000 pages. There are also a number of works that have been serialized for a long time, so there are parts that it is difficult to get out with only the first episode, but it is a pleasant place for those who are worried about "it is anxious but hard to start new". In addition to 'Issue that can read first story', there is content that can be read for free, such as extra number or special issue, in specials, so it seems to be good to check these at first for free.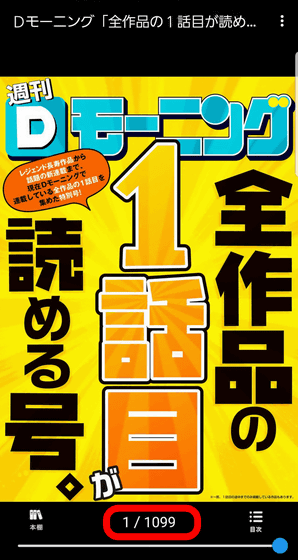 Also, a series of reprints commemorating the 50th anniversary of "Ashita no Joe" was done. Tap the campaign banner displayed on the bookshelf.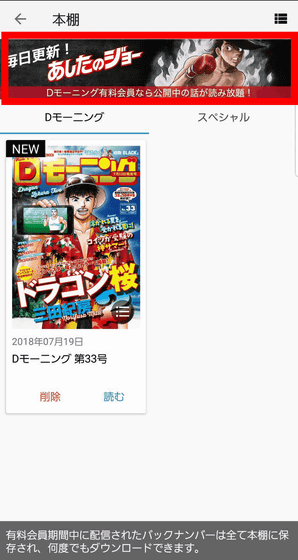 You can read the number of stories updated everyday for free. Because there are some delivery periods, it will be impossible to read if the time is too long, but if you subscribe to a paid member, you can read all the stories being delivered without restriction on the period.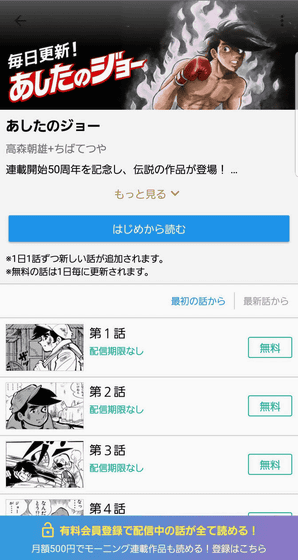 Because Morning This volume is about 300 yen per book, paid members of D Morning who will be ready for a monthly charge of 500 yen are quite profitable. However, Kodansha has a service called " comic DAYS " which can read the original series in addition to six magazines including morning, and is available for 720 yen per month for weekly magazines "Morning" and "Young Magazine", "Evening", "BE · LOVE" Bi-weekly magazine, "Afternoon" "Kiss" monthly magazine is all you can read. For those who say "I want to read the original series of D Morning" or "I am not interested in other magazines", paid members of D Morning are recommended, but those who "want to read manga anyway" While enjoying free content of morning, we will also consider comic DAYS together, because it should be ant.