The official manga application "Magazine pocket" outstanding for ease of use can read the latest story such as "Advance giants" "Bakemonogatari" for free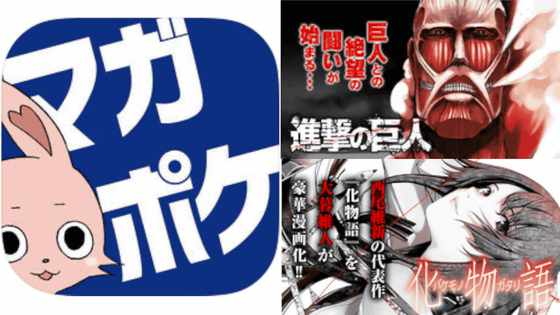 There are many smartphone applications that can read comics free of charge, but one of the manga applications that is full of works is Kodansha's "Magazine pocket (Magapoke)"is. Not only the original application works, "Weekly Shonen Magazine"When"Separate boy magazine"It is said that most of the work can be read for free, anyhow becoming a heavyweight app.

Magapoke | Official free comic book application for boys magazine
https://pocket.shonenmagazine.com/

"Magapoke - Comic App that Popular Manga Enjoy Everyday" on the App Store
https://itunes.apple.com/jp/app/id998542154

Magapoke - Popular comics can be read for free! Weekly Shonen Magazine Official Comic App "Magazine Pocket" - Google Play App
https://play.google.com/store/apps/details?id=jp.co.kodansha.android.magazinepocket

Magapoke can be installed on both Andoroid and iOS. Tap "Install".



Tap "Open" when installation is completed.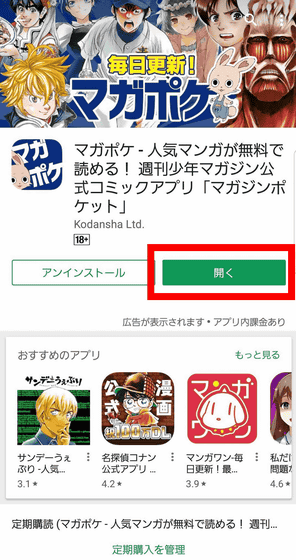 On the top page of the magazine pocket, in addition to news and series information, popularity rankings are posted. If you are unsure what to read, it is recommended to reference this ranking for the time being.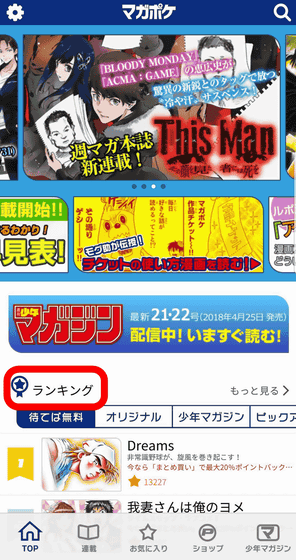 When you tap "Original", the ranking of the original application is displayed. The mark "☆" is the number of people who set the work as "favorite", and the "good" mark is the number that was evaluated as "interesting" after reading.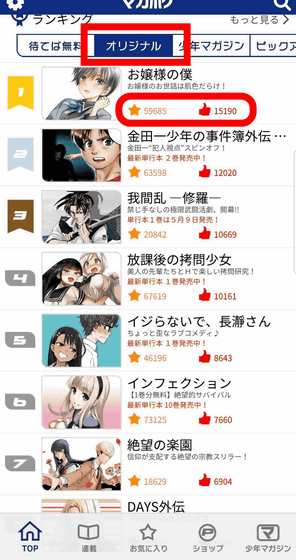 By tapping "Shonen Magazine", you can check what is popular in the works published in this journal. There are many things that have been published for free for one volume of long series, so it is a pleasing place for those who start reading newly.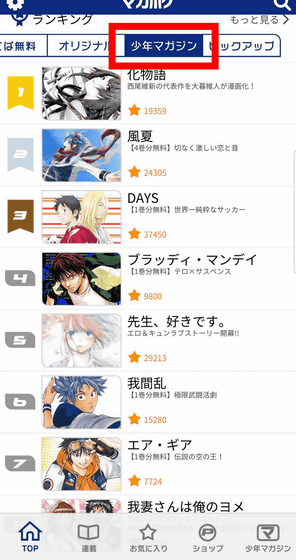 By tapping "Series", you can check series works of each day. When you read a work written as "Point gift subject", you can get the point to read the work for which free release has been completed, so you can explore the points that you have not read before while trying out points for your favorite work It is recommended.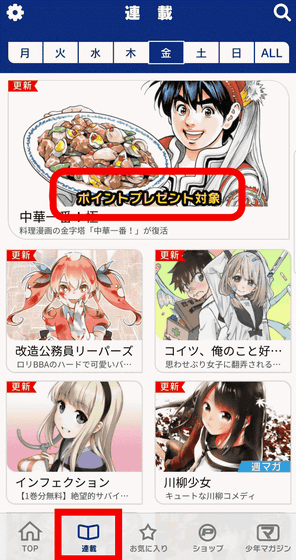 Tap the day of the week to move to the list of serial works of each day. Although the point gift is only on the day of renewal, since the free talk of the latest story continues for three weeks, it is safe to miss reading to some extent.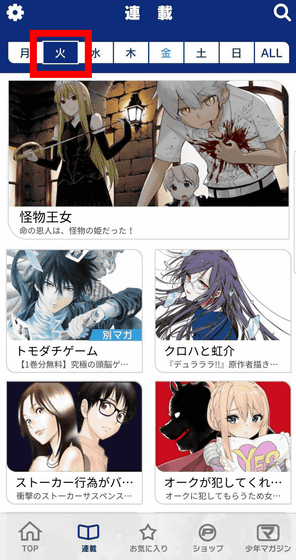 "A work ticket" function was added in April 2018 when a function called "When there is a work that is worrisome but it got lagged behind." While "Dreams" is released for free until 6 episodes, you need to purchase from point 7 onwards ... ...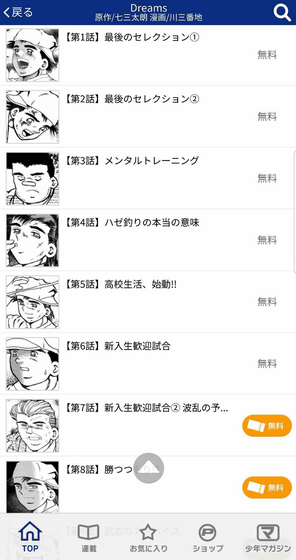 If you choose "Read with work tickets", you can read the number of stories free for 3 days only. "Work tickets" will be available again every 23 hours, so you can read one story a day at a time.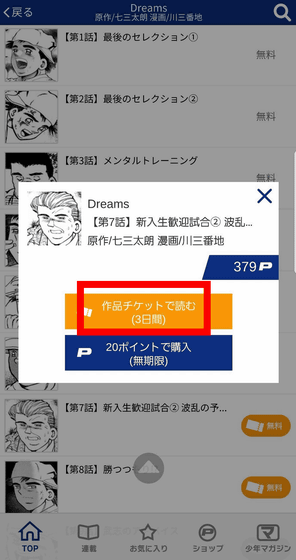 By tapping "Shonen Magazine" you can check the serial list of Weekly Shonen Magazine. In order to read the latest story you need to purchase at point, but if you are late for 3 weeks you can also read the works in this magazine for free. Although "Hajime no Ippo" has not been posted yet, "Seven Great sins" is pay only, but in addition to popular works "Anime of Diamond" and "Student Councilor Both", the popular novels and animations are extremely popular It is very profitable that you can also read Comic Carize of the story free of charge.



If you tap "another maga", you can also read it for free though it is three months behind. Series of staff including "Advance giants" whose stories are entering a fairytale, and four-panel manga "Youth strangles! 240 school" where the characters appearing in popular artists and Nishio Ishin works mainly focus on "bakemonogatari" are enriched, too.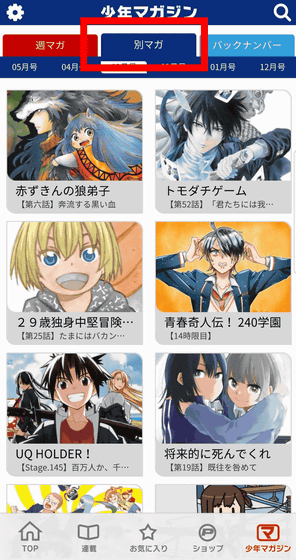 "When you do not know the work as much as you purchase a magazine," "I want to pursue the latest story only by this work", it is convenient to purchase for each work and each talk number. 50 points for original works, 80 points for 'serialized works of' Weekly Shonen Magazine ', 150 points for' separate volume boys magazine ', you can purchase latest stories. As we can get about 10 to 20 points per day, it is recommended at the beginning to chase the latest story only for my favorite works because of everyday kotsukoto.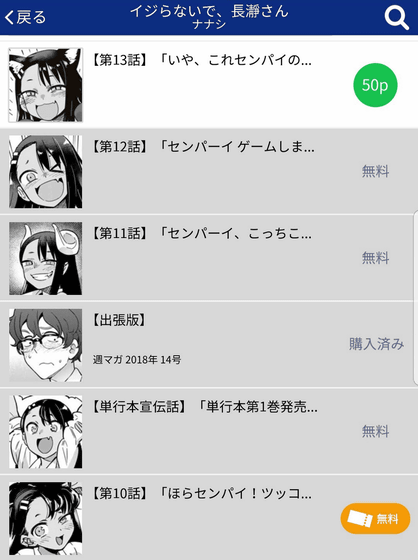 Especially if you want to pursue the work you want to follow, you can easily access it when you want to read it, if you register it as "favorite", you can receive notification when updating the latest talk. From the work page, tap "favorite".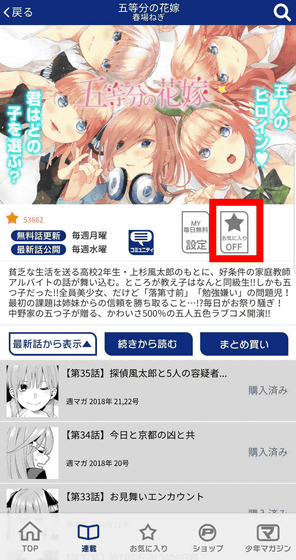 The work registered to the favorite page is displayed. Normally you need to search from the "ranking" list in the case of searching for works or from the "serial" list, so bookmarking is simple but a nice feature. In addition, although it is likely to happen in the weekly series like "I am chasing after recently knowing but I can not read the first person," Magapoke is OK even if it is delayed to some extent by doing "MY free setting". Tap "MY free daily setting" on the right of the work name.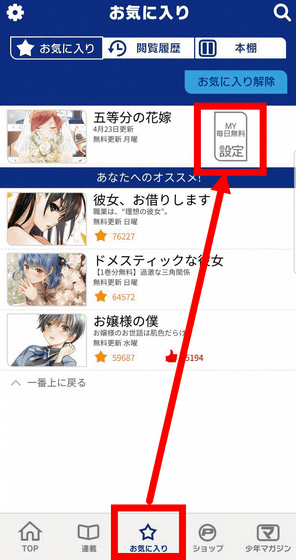 When you tap "Yes", "Free setting every day" is completed. Based on the set timing, it is updated every day from 24 hours later. What I have to be aware of is that it misses if I do not read every day because I advance with nonstop once I set it, and that it is a one time function at the time of article creation. As long as it is within the period you can also switch the work in the middle, so I'd like to use it well.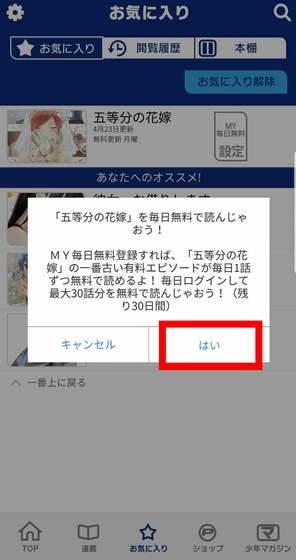 Magapoke does not have magazine's planning page and gravure posted on it, but it is a convenient UI anyway for those who say "enough to read manga". There are many applications that have scroll bars on a magazine level basis, but when the number of pages is large, it is difficult to make a fine transition. Since Magapoke has a scroll bar for each work, page transition such as when there is a page to read back is easy to use anyway.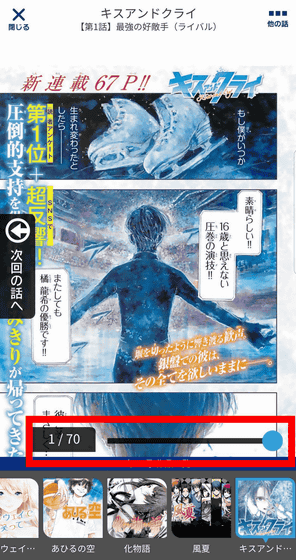 It is also a pretty nice place to jump easily to the work you want to read from "Sequential works list". Although there are table of contents functions in most manga app magazines, the feeling of use of Magapoke 's table of contents function is top class among them.



In addition, even in the weekly series "Although it may be said what was the previous story", in Magapoke you can proceed crisply by tapping "To the previous story" "Next story" from the work page . Anyway, in terms of being able to read manga in a stress free way, I felt that there are other useful functions that are unprecedented.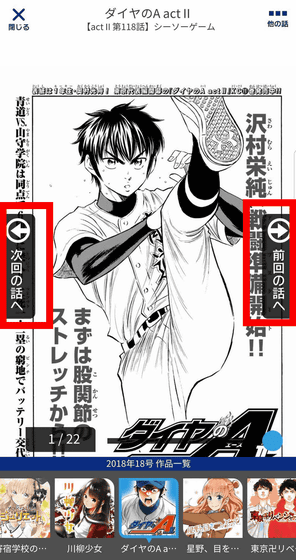 Just during such discoveries, we found inconvenient points that spread page is not rotated even if smartphone is laid. Although spreading display is possible with Web application, I can not see that spreading can not be viewed with smartphone application is a small disadvantage.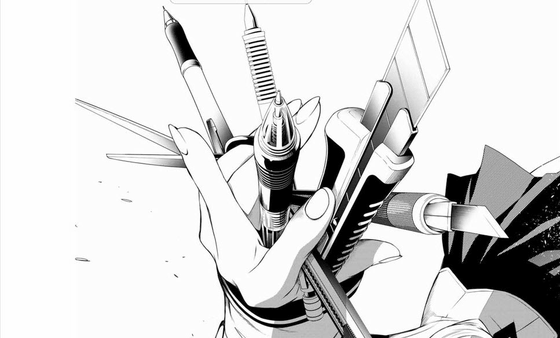 When you buy "Weekly Shonen Magazine" at Magapoke, you can also read the latest stories of some Magafoke original works ......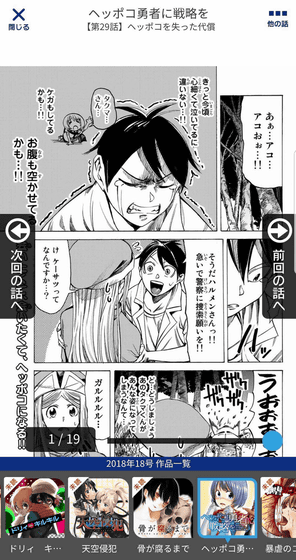 You can also get a series of reprints of already finished works such as "FAIRY TAIL" and "Yamada kun and seven witches" at the same time.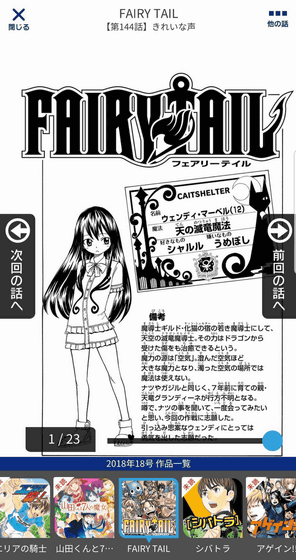 On the "Shop" tab, you can purchase points for reading the latest talks and talks on which the free public has ended, and you can also get points even with roulettes that you can challenge everyday. Select "Shop" and tap "FREE", video advertisement of 20 seconds to 30 seconds flows.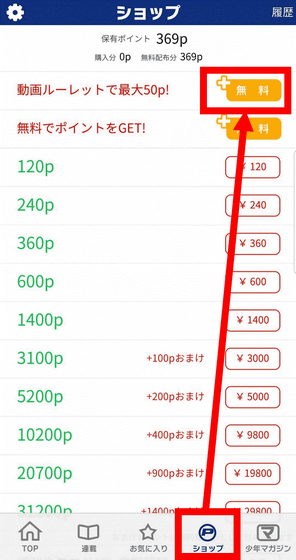 You can challenge roulette once you have finished advertising. Tap "START".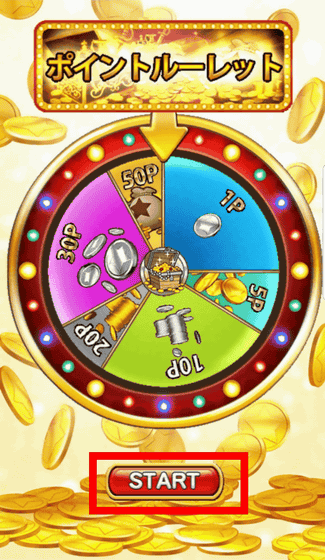 Stop roulette with 'STOP' ...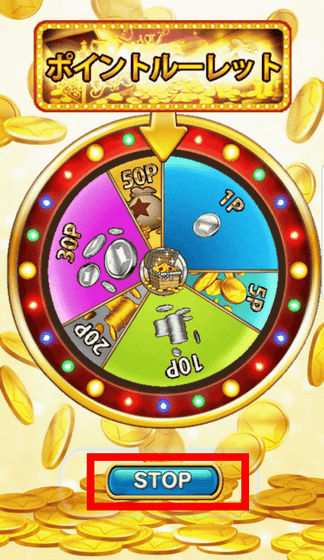 Earn points where roulette stopped. Since you get an average of about 10 to 15 points per day, you have the opportunity to purchase the latest story for one piece every week.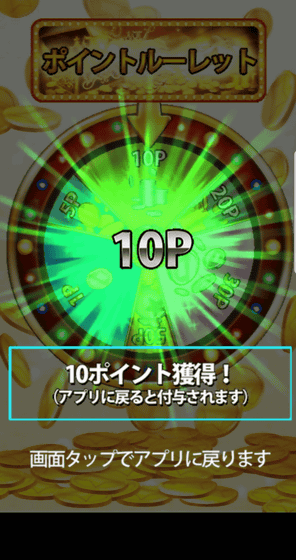 People who want to enjoy things called "comic books" together with gravure pages, planning pages, authors' comments are also unsatisfactory, but for those who want to read manga anyway, I feel that Magapoke is fulfillingly fulfilling It was. It is a pleasing place for fans who want to read the latest issue of magazines at midnight as soon as possible. The "Weekly Shonen Magazine" also sells at the Kindle store, so here you can read the planning page and authors comment page except the top gravure and "Hajime no Ippo", so if you would like to enjoy "magazine feeling" more than Kindle It is also recommended to purchase at. Instead of Maga Poke original work, it also comes with a series of "FAIRY TAIL", "Diamond A", "Tomodachi game", "Koi and a lie" again.

Weekly Shonen Magazine 201 · 21 · 22 [released on April 25, 2018] | Kindle Store | Amazon