SQUARE ENIX manga application 'Manga UP!' Which can read a large volume of mediaized work for free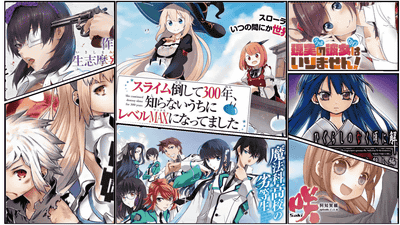 " Manga UP! " By SQUARE ENIX of "Gangan" serializes a lot of popular media mix works, and the number of updates every day is also the top class among manga applications. Similarly, " Gangan ONLINE " released by SQUARE ENIX is in the form of a manga magazine application published twice a week, while "Manga UP!" Is a manga application whose serial series is updated every day. In addition to the works of " Gangan GA " which collaborated with the light novel's GA bunko with recorded works, the original works of the application are enriched.

Manga UP! | SQUARE ENIX
http://www.jp.square-enix.com/magazine/mangaup/

"Manga UP!" On the App Store
https://itunes.apple.com/jp/app/id1178874028

Manga UP! Manga comic apps that can read everyday squirrel manga comics · Comics are free - Apps on Google Play
https://play.google.com/store/apps/details?id=com.square_enix.android_googleplay.mangaup_en

From the application page, tap "Install" to install the application. Many manga applications can be read by web browsers, but from the homepage of manga UP! You can only read trivia books, so if you want to read comics, installing apps is essential.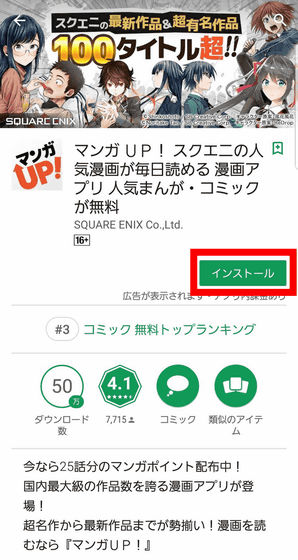 Tap "Open" when installation is completed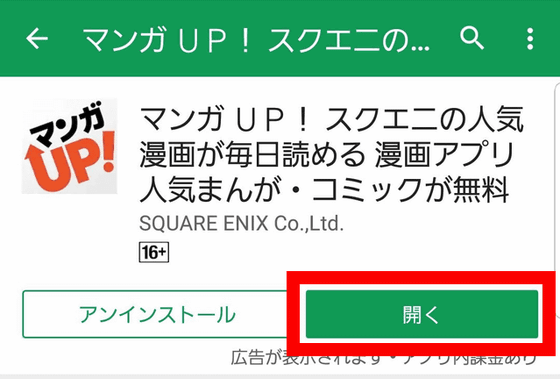 Tap "Confirm Terms of Service" and read the terms of use, then tap "Accept Terms of Service and Next".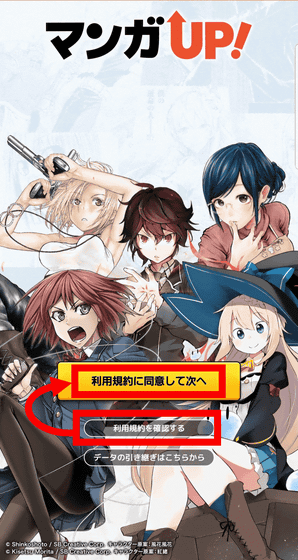 When you open the application for the first time, you can check "Advertisement posting title" before the top page. Works that I have seen in banner ads etc. are lining up so it may be possible to see the works I was interested in.



You can also tap "Popularity Ranking" to see the ranking. Ranking is "for adults", "for boys" or ...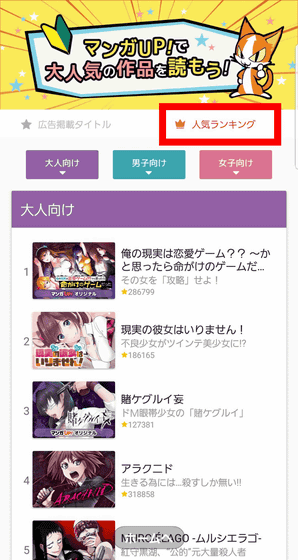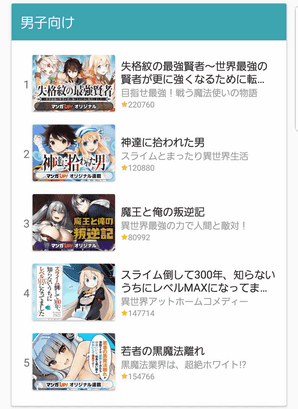 It is divided for "girls" and it is easy to reference according to your taste even though there are many works.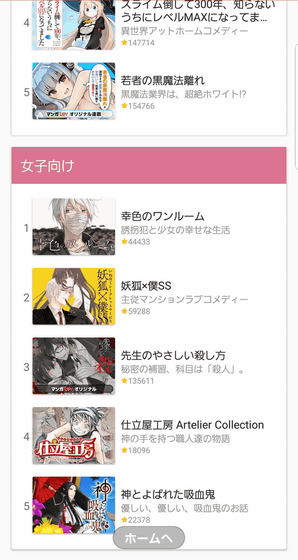 Tap "To Home" to move to the application top page.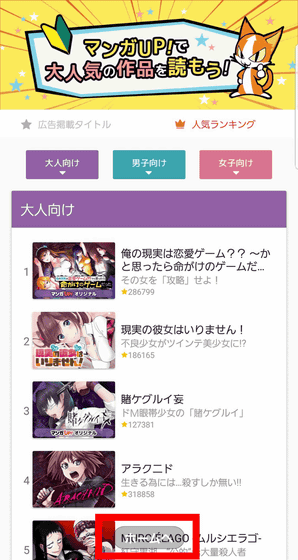 The top page of Manga UP! Looks like this. Since the work updated on each day is displayed at the top, it is easy to use for those who check every day. To check more works, tap "To serial list".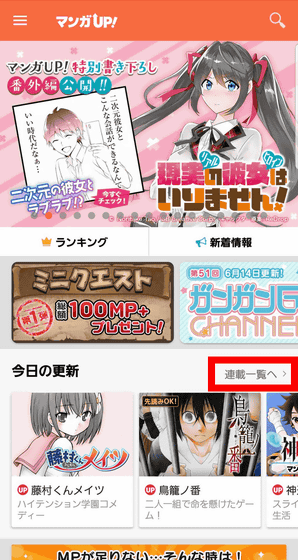 Series works are listed for each updated day. Not all works are renewed every week, but there are also works that are updated occasionally, but in the work on which the latest story has been updated the flag of "UP!" Is easy to understand about the upper left. To know more detailed information, tap the thumbnail of the work and go to the work page.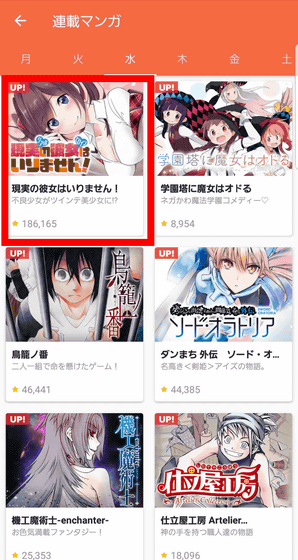 On the work page, the period of the update schedule is displayed like "update every Wednesday twice", and the work which can be read by flying ahead of the update is marked with "prefetch OK!" In addition, since genre tags that can be searched as they are when tapped are attached, it should be easy to find works of your favorite taste.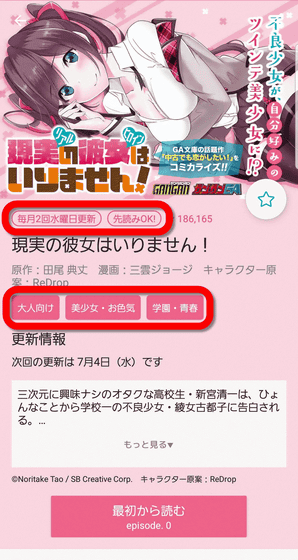 Manga UP! Can be used to read periodic updates and can be used for "manga points (MP)" and "lookahead" that can be automatically recovered, but "Manga point + (MP +)" can only be obtained by checking advertisements etc. , And "Manga coin" which you can get by billing for those who want to read manga. "You do not need real life!" Can only read "episode.0" without points etc., but when you tap "episode.1" ... ...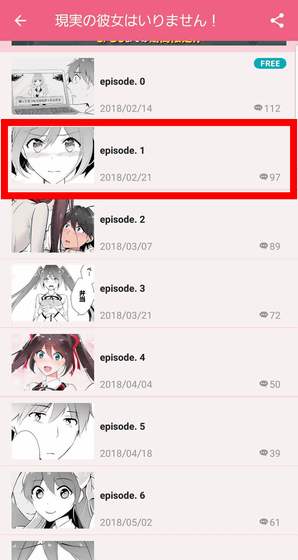 "I will consume 20 MP (free)" was displayed. MP can recover automatically over time and can hold up to 80 MP so you can read 4 talks completely free at once. Tap "Read consumed MP" to open Manga Viewer.


If you turn on notifications from Manga UP!, You will be notified by notification when MP recovers, so you can enjoy it to the utmost. However, despite the large volume that nearly 20 works are renewed everyday, I feel that I can only read 4 stories at once, somewhat unsatisfactory. Also, since the recovery of MP is only two times at 8 o'clock in the morning and at 8 o'clock in the evening, up to 8 stories can be read on MP per day, and if there are many works to read, perhaps it can not be done with MP alone .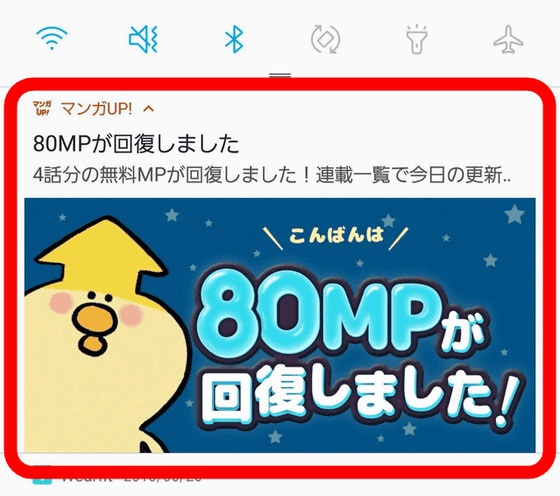 Also, most of the works of Manga UP! Are recorded far beyond the periodical update, and you can do "look ahead" if you can not wait for updating by all means. Tap the number of stories that is "lookahead" ... ...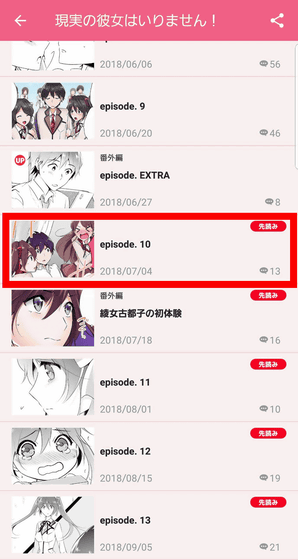 "Consuming 20 MP +" was displayed. MP + can be acquired for free, but unlike MP it does not automatically recover, so we need to gather consciously. You can prefetch by tapping "Consume and consume MP +".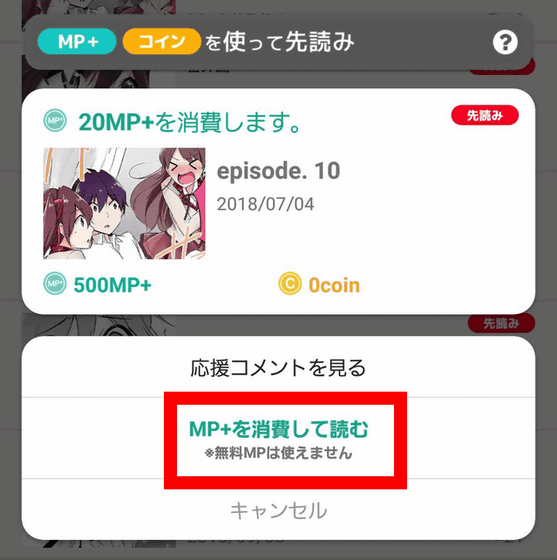 You can get MP + as a daily bonus only once a day by watching short video advertisements. Because I can earn 20 MP + here, I can prefetch my favorite work once a day. In addition, since MP + can be used instead of MP, you can also read additional update work of everyday that only MP can only read 8 episodes.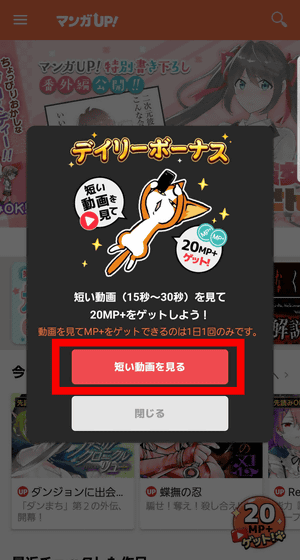 If you want to get additional points and coins to read comics, tap the menu icon from the home screen.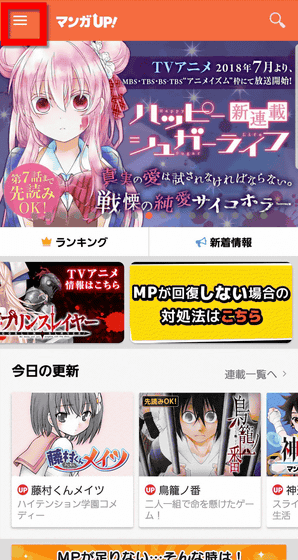 The current MP and the time to recover were displayed in the menu. MP does not recover slowly over time, but when it reaches the time it will recover all at once, so careful not to worry about the elapsed time and probably too many points will be wasted.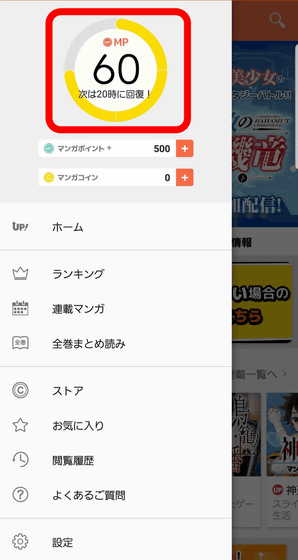 If you want to get MP + as a prefetching or MP addition, tap "Manga point +".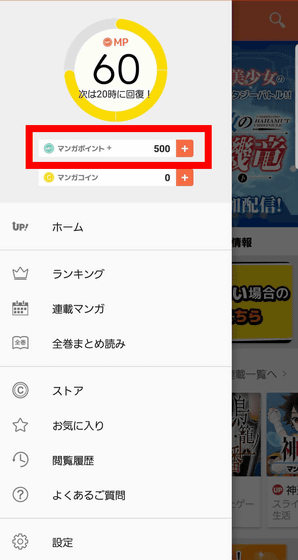 "Manga point +" can be obtained only by registering services and trying other than the daily bonus.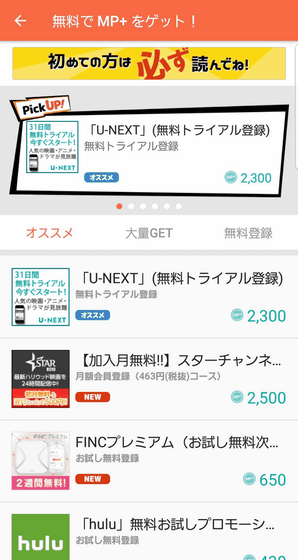 Also, if you want to buy manga coins, tap "Manga Coin".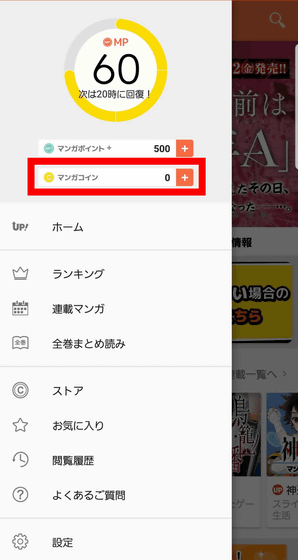 Because there is a limit on the monthly charge depending on the user's age, select your birth date and tap "Decide".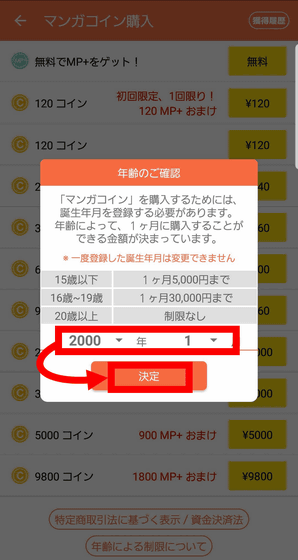 In addition to being able to purchase coins for 1 coin = 1 yen, extra MP + comes with the number of coins purchased at the same time.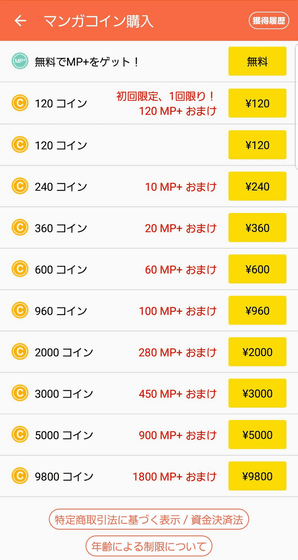 If it is only for daily series, you can read the MP and daily bonuses of automatic recovery as long as the work you want to read is not hardened in a day so much, but popular works of Gangan etc are free to the end for comic UP! There is also "whole body comprehension reading" which can be read with MP. From the menu tap "Total volume consolidated reading".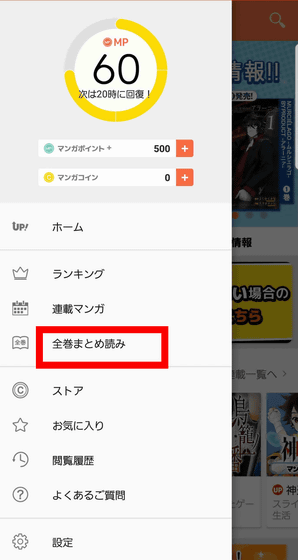 Tap the thumbnail of the work and go to the work page.



Works of the whole volume compilation reading can be read not only by the number of talks of "FREE" which can be read for free with MP, but also by the free MP only until the final story. There is a limitation of up to 8 episodes per day with only MP, but if you finish reading my favorite work of updating every day and putting MP in there, I will use it like putting it in the whole volume compilation. Tap the number of stories you want to read.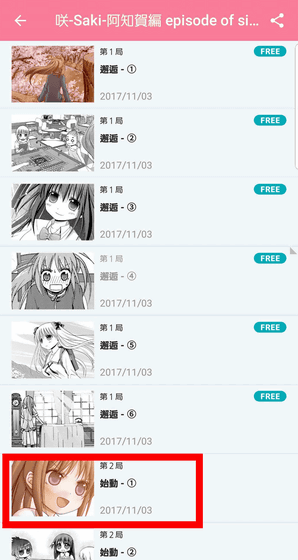 It can be read with consumption of 20 MP same as serial works.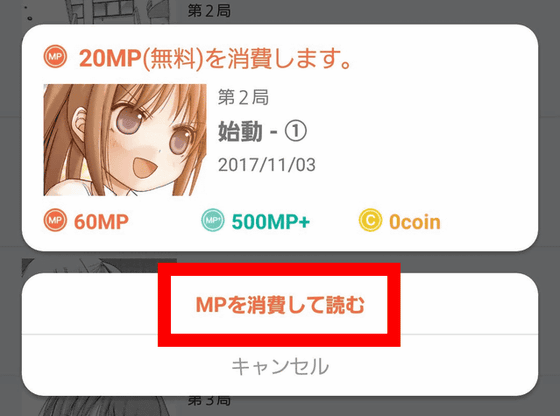 Manga UP! Has popular works of Gangan reprinted in series, and popular light novels such as Comicareis of GA Bunko such as a lot of works of GA GA are recorded and the topic work is ruffled, but it can only be read with Manga UP! There are also many original works. As you scroll the top page downwards, there are special features of "Manga UP! Original Work", so tap "more".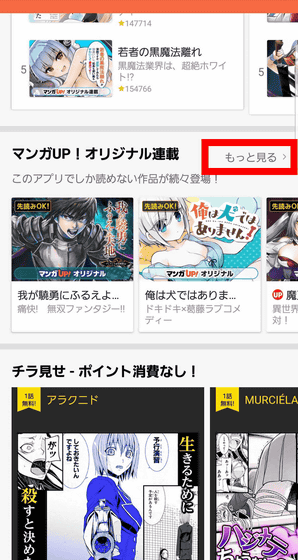 Manga UP! You can check the original works in the list. As for the original work as well, about 3 episodes are readable only by MP + or coins, so "prefetching" is prepared so that you can read the most recent episode as soon as possible.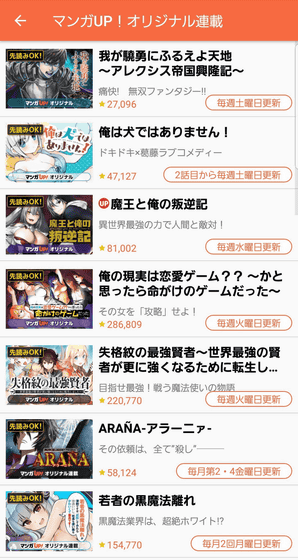 Also at the bottom of the top page there was a special feature "Recommended for you!" I suggest that you recommend recommended works from your favorite genre and reading history, so you may be able to meet works that you have not seen yet. Tap "more", you can check the list of recommended works.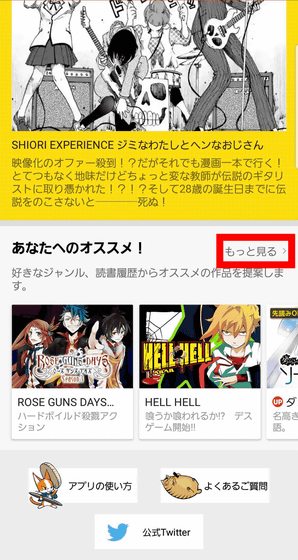 Manga UP! Basically has no viewing deadline, but the situation that "I can not read back because I missed" does not occur, but I want to notice the update of the latest story as soon as possible! If it says "favorite" function is convenient. Tap the star icon on the work page.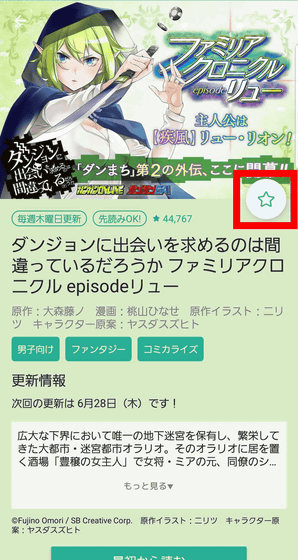 Registration is completed when the icon looks like an image.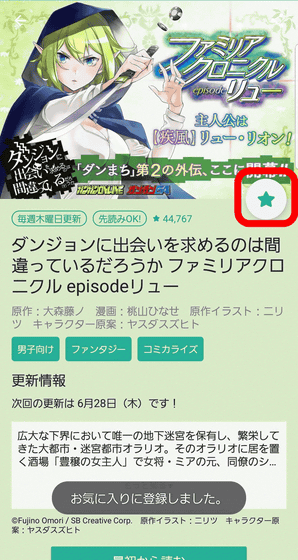 To check the work registered in favorites, tap "favorites" from the menu.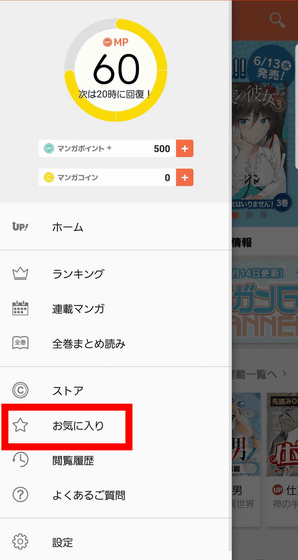 You can check the list of works registered in favorites.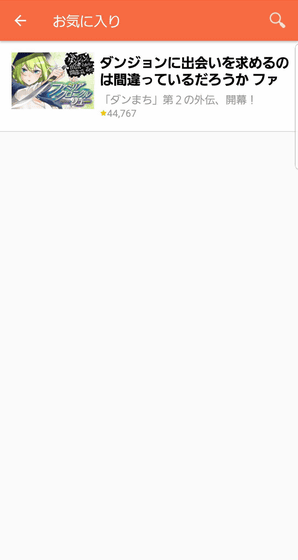 Also, if the work registered in favorites is updated, notification will be attached to the "favorite" part of the menu. Tap "Favorite".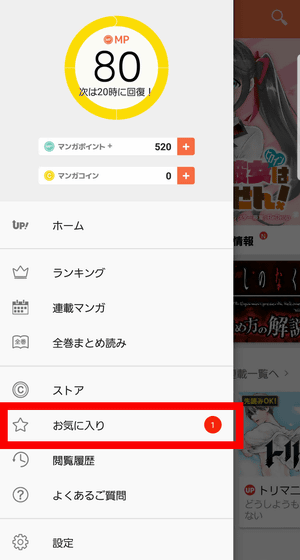 Since the flagged "UP!" Flag is attached to the work that has been updated, there is no worry of missing it even if there are plenty of favorite works.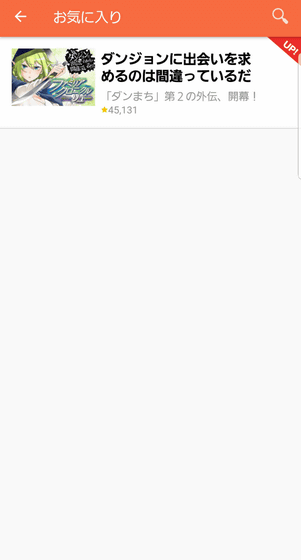 Manga UP! Has a lot of comicalization of popular media mix works, including Gangan GA's works, and the number of serialized everyday is also the top class among manga applications, you can also recommend to love animation as well as cartoon lovers as well as light novels. However, if you consider the automatic recovery MP as "you can read it as much as you want up to 8 episodes if you like," every day's satisfaction is satisfactory, but it is not enough to think that "the updated latest story can only read 8 works" I felt that it is necessary to use the favorite, using the favorites "to arrange the pieces of work to be checked for each day of the week, and to finish the MP + that can be used additionally.