Manga app "pixiv comic" which can read 179 comic magazines and 5.5 million posted works for free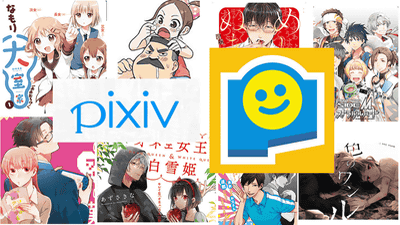 Speaking of web comics, it is time to say that things such as those posted on a personal site are things of personal production, and now many publishers and media have released official web comics free of charge on sites and applications. Commercial web comics are guaranteed quality, but there are a lot of people who like to look for masterpieces hidden from personal and web-made personal comic web magazines. Creative posting site "pixivComic application "pixiv comic"In addition to official serial works of over 4000 works, you can read more than 5.5 million user contributed works for free.

pixiv comic | Comic site of comics and newly released information that can be read for free
https://comic.pixiv.net/

pixiv comic on the App Store
https://itunes.apple.com/app/apple-store/id975414811

pixiv comic - everyone's manga app - Google Play app
https://play.google.com/store/apps/details?id=jp.pxv.android.manga

Tap "Install" from the application page. At this time, there are multiple pixiv related applications such as "pixiv" and drawing "pixiv Sketch", so careful not to make a mistake.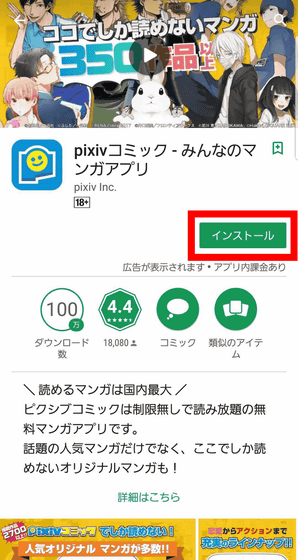 Tap "Open" when installation is completed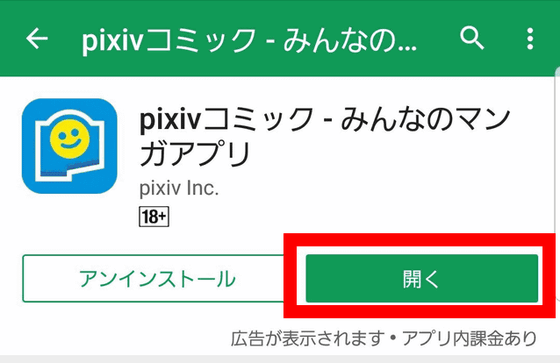 When using for the first time, a simple guide will be displayed. Tap "Next".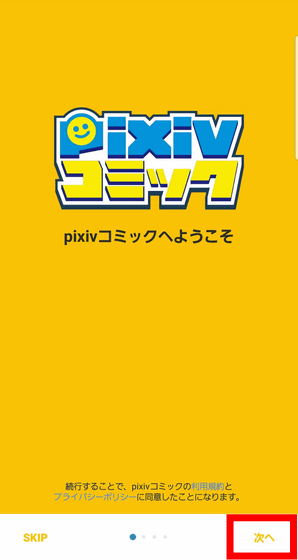 In the pixiv comic, a lot of original works on topics such as media mixes and business trip series of popular comics of other magazines are published.Official siteAccording to, the number of works updated to the moon is actually more than 400, the official work being serialized is more than 4000.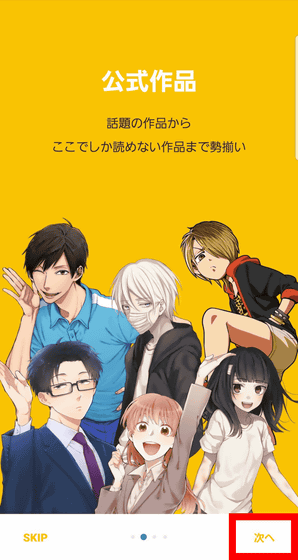 Also, it is also a feature of pixiv comic that the works posted by pixiv users are fulfilling. According to the official website here as well, the number of contribution works seems to be more than 5.5 million. Although it excludes 18 banned manga, you can also read comics of secondary creation.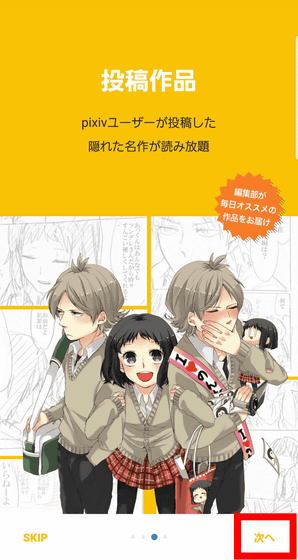 Following the work you care about, you can receive update information. As serial works of pixiv comics are also frequently updated irregularly, it is recommended that you follow follow work. Tap 'Start'.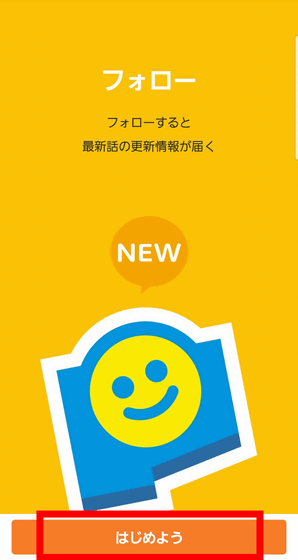 The top page of pixiv comic is like this. You can check "Recommended for popularity ranking" and first-time people "First of all it's one pressed manga!"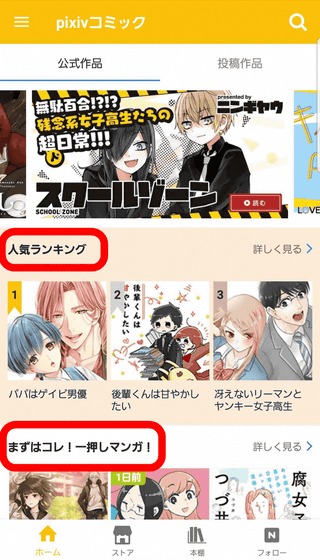 Also, as you scroll, you can check the new works as a list as "New series of May 2018!"



By tapping "contribution work" at the top of the page, you can check the user contribution work. Although it is a user contributed work with a huge number of people, "Every day" "attention work" ... ...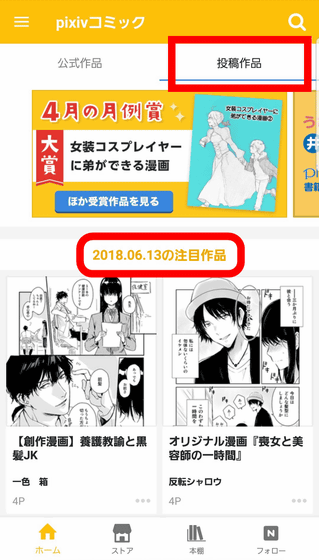 Since I pick up the editor's recommendation manga, I might be able to meet a hidden masterpiece when I check it frequently.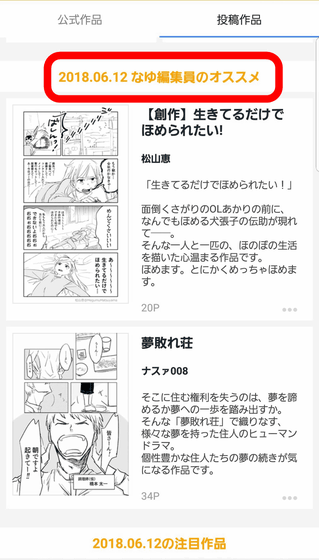 In the pixiv comic you can not check the update information like "Okay update work" which is common in manga applications. If you want to find a work, tap the menu icon.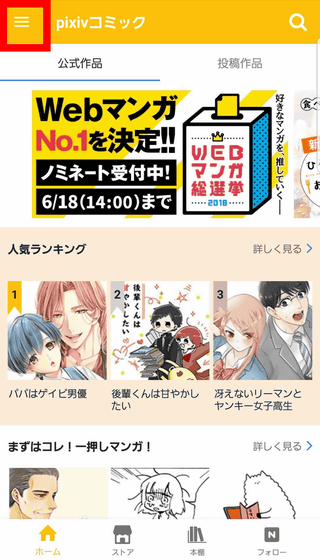 Tap "Mitsukuru"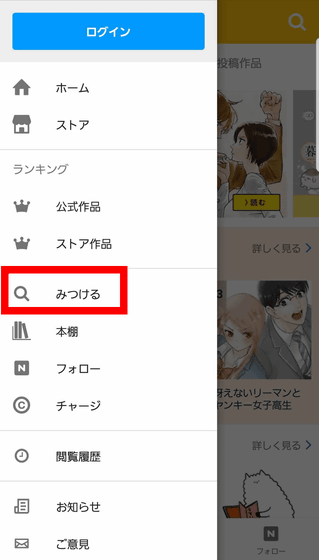 Official works, submitted works, and stores (charged) You can perform title search and category search for each work. Tap "Romance" category.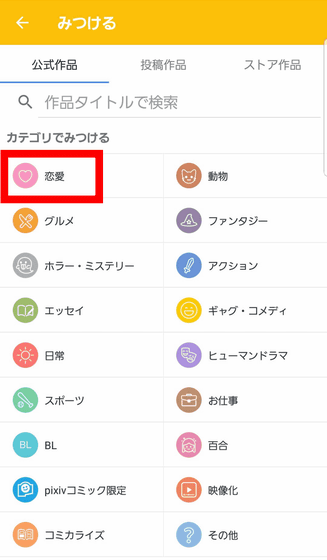 The works in the category were displayed in order of newest update. Tap the work thumbnail to the work page.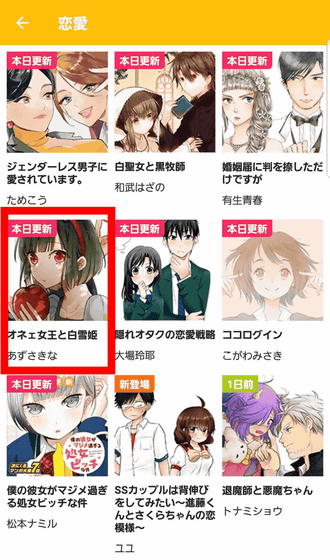 The work page looks something like this. In pixiv's "official work" there is a pixiv comic original work and a business trip series from other magazines, but pixiv comic original work has tag of "pixiv comic limited" tag.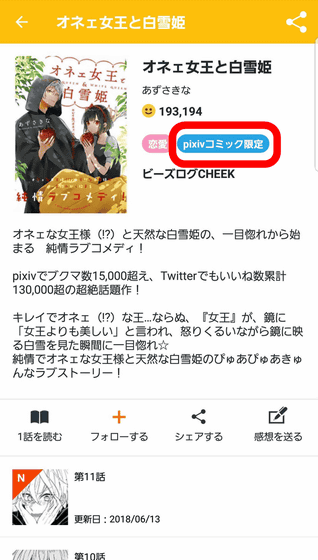 In pixiv comics, although you can read the number of talks published totally free, there is no system to read the number of talks finished with a ticket or point etc, but only to purchase comics at the store. Many manga applications can read the progress of time and browsing advertisements, etc., while the pixiv comic feels a bit inconvenient for newly starting people.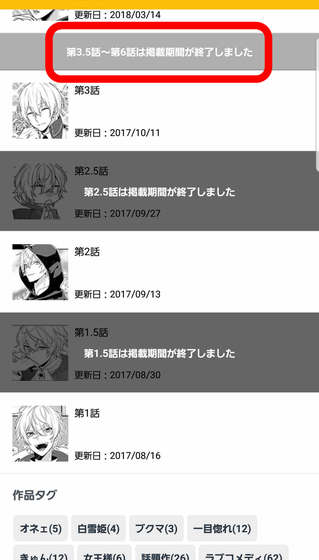 Viewer of pixiv comic is like this. By tapping the page you can jump to "Series List" or "Next Story", and ads will be displayed at the bottom of the page. Advertisements will not get in the way by reading comics.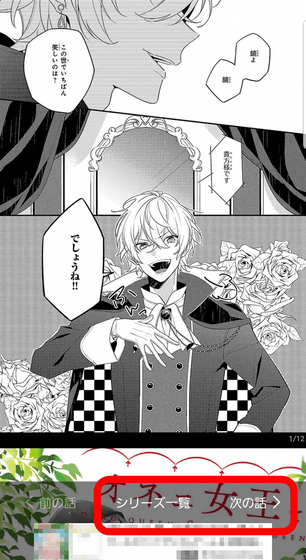 pixiv The comic viewer is a vertical scroll of the scroll type with page and page connected. On the other hand, since there is no scroll bar, if you want to page jump, you have to scroll thoroughly and you will feel that it is difficult to read because the page is not fixed on the screen.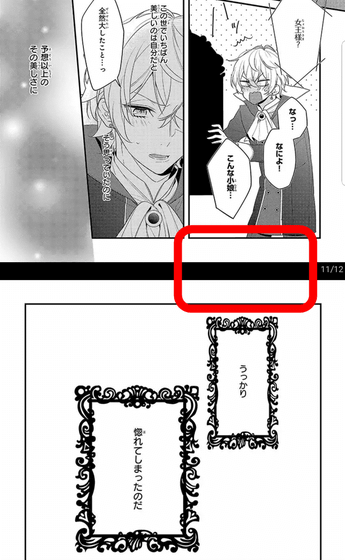 Double tap the page to enlarge it. It is convenient that only the tapped page is expanded, and it is not necessary to return it when scrolling to the next page.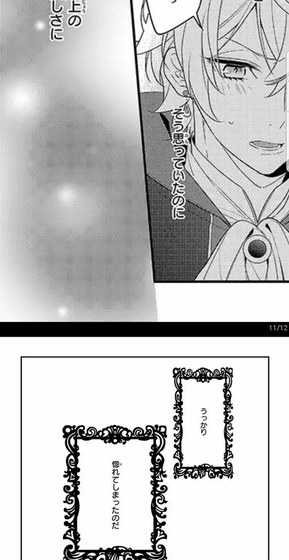 When you finish reading, tap "Follow my work", you can receive notification of the update.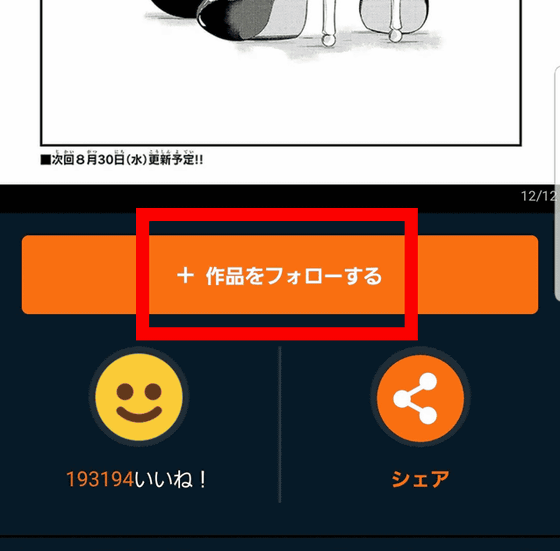 When the continuation of the following work is updated, the notice will be displayed on "Following" on the menu bar. Since the pixiv comic can not confirm the update on every day of the week, since there are also a lot of irregular updates, it is convenient to follow the work you care about, rather than follow follow up rather than follow Follow is mandatory is.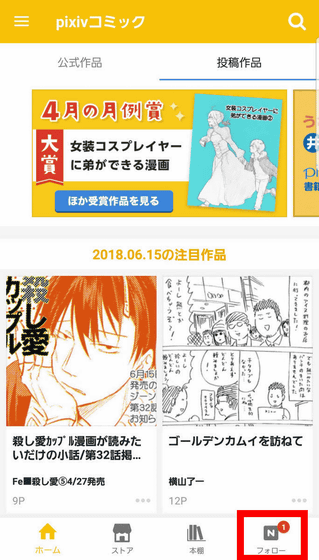 If you want to find more pixiv original work, tap "pixiv comic limited" tag on the work page.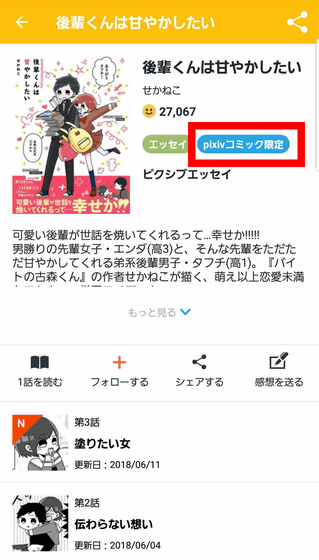 pixiv You can check the original work of the comic in order of update.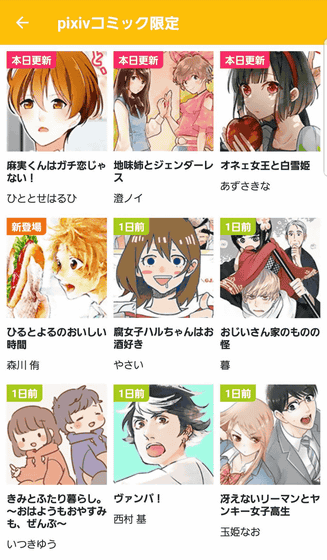 Also, pixiv comic has a lot of other business trip series and trial reading, but if you want to check here, the browser is more recommended than the application. For example, monthly comic flapper's "book store in Denki street" can read the latest story of 1 talk and reprint serial for free. And tap "Monthly comic flapper" ......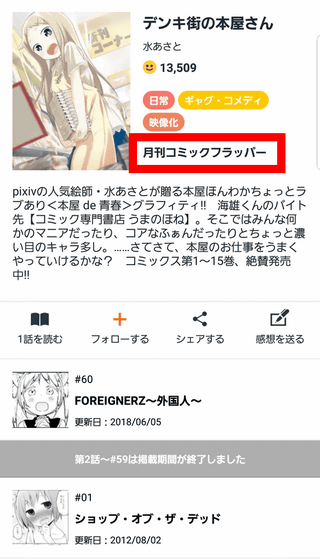 You can check the work of the monthly comic flapper that you can make business trip and trial reading with pixiv comic in the list. It is convenient in itself, but it was inconveniently inconvenient to know that "Denki street bookstore" is posted in the first place or if it happens to find it not on this page.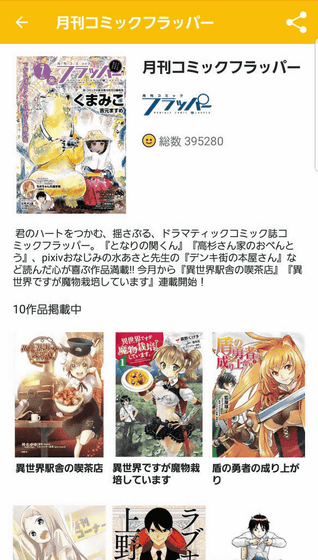 On the other hand, on the pixiv comic homepage, clicking "Comic Journal List" at the bottom of the page ... ...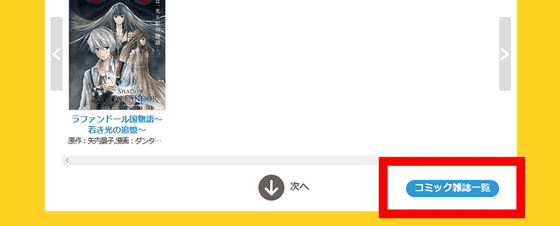 Since it is possible to check the comic magazine list which can read the business trip / trial reading, this one is overwhelmingly easy to find the work which is worrisome.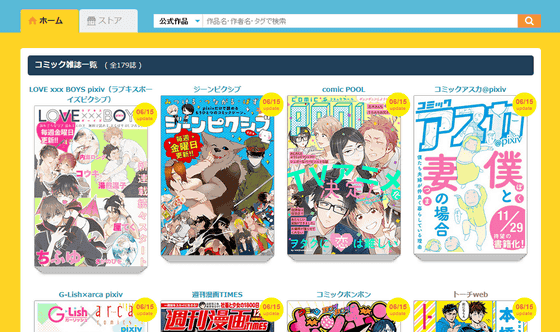 When searching for user contributed works, author search can be done if the author knows, but for the time being, tag searching is recommended. Tap the tab of "Submission".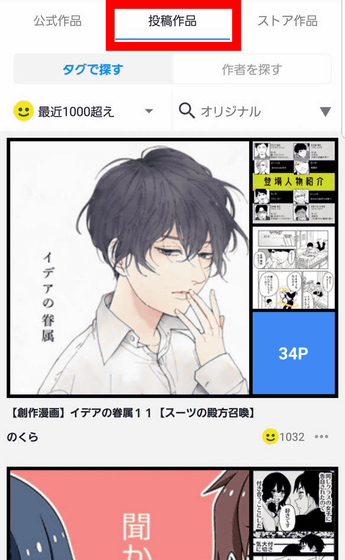 You can select and input tags and search for related works. You can also read not only the original but also the secondary creation, and as long as the author has published it, you can read all from free up to 1 story up to the latest update.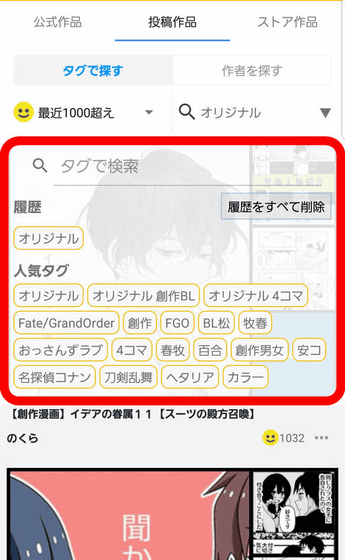 You can also set a filter on how much you like the "good" rating.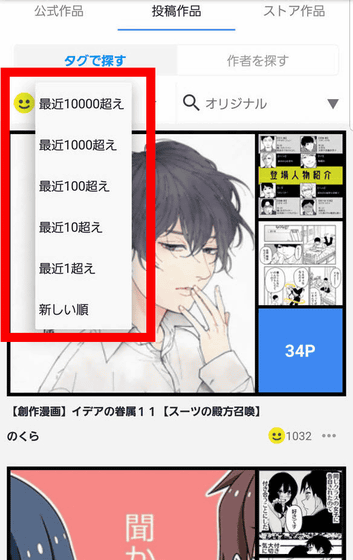 If you want to purchase a book in the store you need to purchase a pixiv coin. Tap 'Charge' from the menu.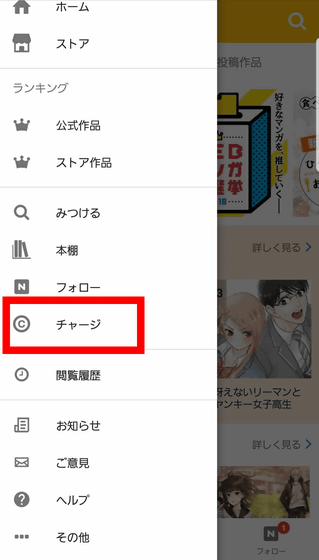 To purchase coins you need to log in with the pixiv account. Therefore, in order to use pixiv comic seriously, cooperation with pixiv is necessary, but coins purchased with pixiv comic can not be used with other pixiv related services · applications.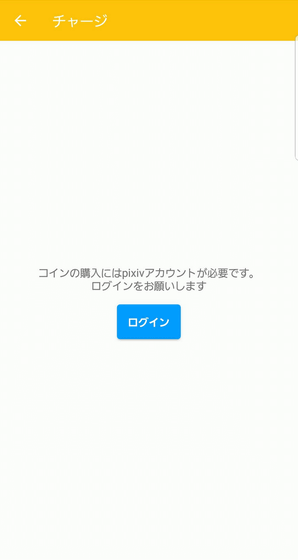 pixiv There are over 150,000 e-books that can be purchased at the comic store. For those who really want to use "electronic comic books in pixiv comics" basically, the original reading is enriched and original A series of business trips of works and other magazines, a huge user posting comic comes in, so it may be ali to make a full transition. On the other hand, for people who read "Multiple manga apps differently and read every day", you need to purchase the end of posting period by comics, so the part not so much is big as well.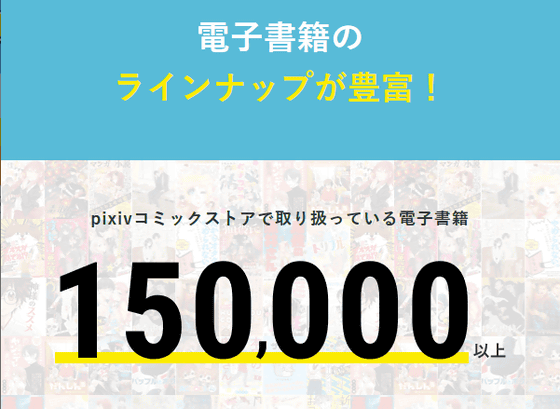 The pixiv comic has more than 5.5 million posted works by users, and it is easier to find and more readable for users' submissions than pixiv in the main house. For that reason, it is highly recommended for those who read not only a large number but also a user posted work that has a lot of quality to shine, and want to digress hidden masterpieces. People who want to enjoy Pixibu official comic books and business trips on other paper, too many artworks can be read, so it is "Ali to use as a portal app to find cartoons wanting to buy across magazines". People who use "use multiple apps to check everyday updates" are also recommended to first find their favorite works because it is easy to check the update if you "follow" anything you care about anyway.