Compact EV with a price of 600,000 yen sold more than 10,000 units in China will further expand sales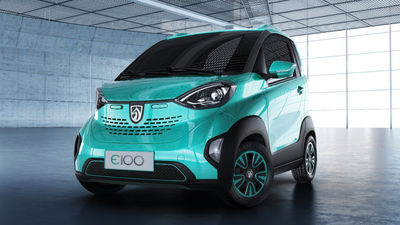 A compact two-seater EV "Houjubei E 100" sold by SAIC-GM Woolin (Gwacheon Automobile for Safety), a Chinese joint venture company that one of the leading automakers in the US plays a part, It is a car that can be purchased at 5800 yuan (about 600,000 yen). When it is released in the area limited in 2017, it gained popularity due to the subsidy effect, and it is said that it delivers more than 11,000 in just 5 months. Such E100 seems to be expanding sales area in 2018.

This small electric car made by GM's Chinese joint-venture can cost just $ 5,600 | Electrek
https://electrek.co/2018/02/08/baojun-e100-electric-car-cheap/

E100 are manufactured and sold by joint venture company "SAIC-GM Woolin (Guangzhou Automotive Co., Ltd.: Guangxi Automobile Co., Ltd.)" jointly established by GM and Shanghai Automobile (SAIC)SGMW)"is. SGMW was founded in 2002 and is an automobile manufacturer with annual production volume exceeding 1 million units in 2009.

SGMW launched E100 in July 2017. When we accepted advance reservation on July 10, 5000 people gathered enough popularity to apply for 200 limitations. The sales area was limited to Liuzhou city of Guangxi Zhuang Autonomous Region, but it is said that Liuzhou City was equipped with a very strong EV subsidy system.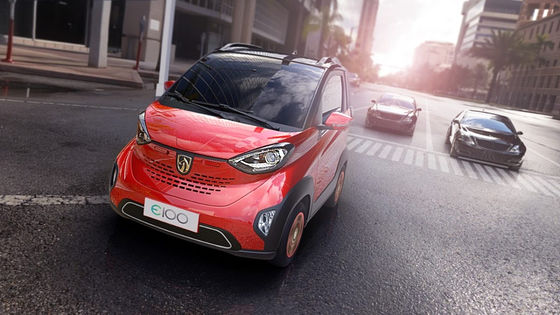 In China, in order to prevent air pollution accompanying the rapid popularization of automobiles, the government aims to increase the number of EVs by introducing subsidies. The price of the E100 included in the subsidy is from 35,800 yuan (about 600,000 yen), but if it is a fixed price without subsidy it will be around 2.5 million yen about. In other words, it seems that we accepted a lot of applications by subsidizing two thirds of vehicle price with government subsidies.

The E100 is a small two-seater EV with a total length of only 2.5 meters, the maximum output of the motor is 29 kW, the maximum torque is 110 Nm and discreet. The maximum speed is 100 km / h, the maximum cruising distance is up to 155 km, it is possible to fully charge in 7.5 hours. As mentioned above, when it was released only in Liuzhou city, the number of units sold exceeded 11,000 units as the application flooded, it seems that it became the best selling car in the city.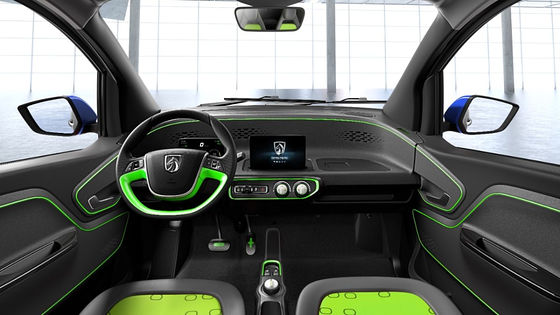 In February 2017, SGMW announced that it will add several cities in the same Guangxi Zhuang Autonomous Region as Liuzhou City to the sales area of ​​E100. Because the subsidy is reduced, the vehicle price will be increased from 48,000 yuan (about 790,000 yen) to 58,800 yuan (about 1 million yen) depending on the specification, but it is still less than half the price compared with the regular price It is a large bargain price.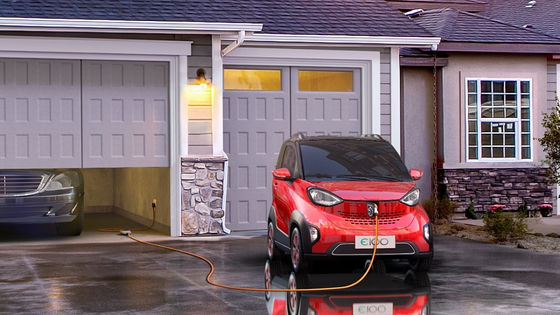 The EV development competition in China continues to overheat, and a wide range of development is being carried out from low-priced model like E100 to super EV which demonstrates the performance of super car fare. Developed by EV maker "NIO"EP 9Is a monster EV with four powerful motors and a total output exceeding 1 megawatt. We have established a phenomenal time of 6: 45, 9 in the Nürburgring / North course of Germany which is a benchmark of the hyper sports car. This is about 2 seconds faster than Porsche 911 GT2 RS in September 2017 as "the fastest commercial car", 6 minutes 47 seconds 3, but the point that EP 9 is "not a commercial car" needs to be added there is.

NIO EP 9 Breaks the Nurburgring Nordschleife Lap Record - May 12 2017 - YouTube


Output 1 megawatt, China EV super car new record New ... Ulakan over 6 minutes 45 seconds | Response (Response.jp)
https://response.jp/article/2017/05/17/294823.html

Approximately 24 million cars are sold in China in one year, and sales of EV account for approximately 2% of that. Although it feels that the proportion is not so large, in fact it is a market of 500,000 units, so the development competition is getting heated up involving automobile manufacturers both inside and outside China. In 2017, it is reported that the American EV maker Tesla plans to build a factory in China to start EV production.

Tesla found a plan to build a factory in China and plan to start EV production - GIGAZINE