The benchmark score of the ARM version Windows 10 machine appeared, will it be released within 2017 as planned?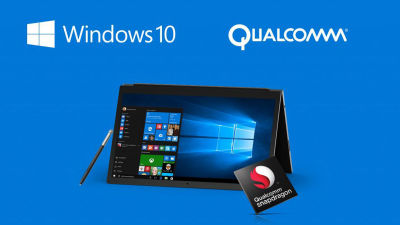 Windows 10 machine with ARM-based processor will be released within 2017Although it was announced,GeekbenchBenchmark scores are beginning to appear at rapid pace with terminals equipped with ARM version of Windows. As planned, a long-lived notebook PC with ARM version Windows installed in 2017 seems to come out.

Windows 10 auf Snapdragon 835: Erste Benchmarks & amp; Details zu Geräten - WinFuture.de
http://winfuture.de/news,100537.html

Windows 10 ARM Notebooks: Geekbench Scores, HP Launching 12 '' Notebook With 8 GB RAM & 256 GB Storage - Gizmochina
https://www.gizmochina.com/2017/11/13/windows-10-arm-notebooks-geekbench-scores-hp-launching-12-notebook-8gb-ram-256gb-storage/

First leaked benchmarks of Windows 10 on ARM alarming - MSPoweruser
https://mspoweruser.com/first-leaked-benchmarks-windows-10-arm-alarming/

You can see the demo of the Windows 10 demo which runs cheaply on the ARM base processor in the following article.

Full-featured Windows 10 that runs on ARM-based processor Snapdragon, and demonstration of Win32 applications moving crisply - GIGAZINE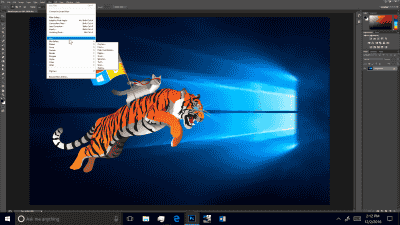 "It is an SoC for mobile terminalsSnapdragon 835"Windows 10 laptops that adopt Windows XP will appear in the fourth quarter of 2017," Qualcomm's CEO Steve Molenkov revealed in April 2017. The benchmark score of Windows 10 running on that mobile SoC frequently appears in Geekbench since late October 2017WinFuturePointed out.

qualcomm cls - Geekbench Search - Geekbench Browser
https://browser.geekbench.com/geekbench3/search?utf8=%E2%9C%93&q=qualcomm+cls

8 core terminal with the model name "Qualcomm CLS" is a Windows machine with ARM version Windows 10. It came to appear frequently in Geekbench from late October 2017.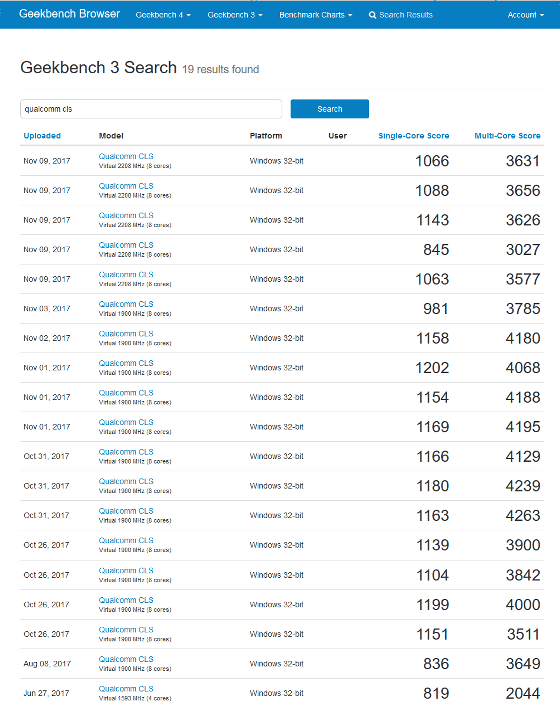 The newest benchmark result at article creation is "single core score" 1066 ", multicore score" 3631 ". You can see that OS has Windows 10 Pro (32 bit), 8 core processor (2.21 GHz), 8 GB memory installed.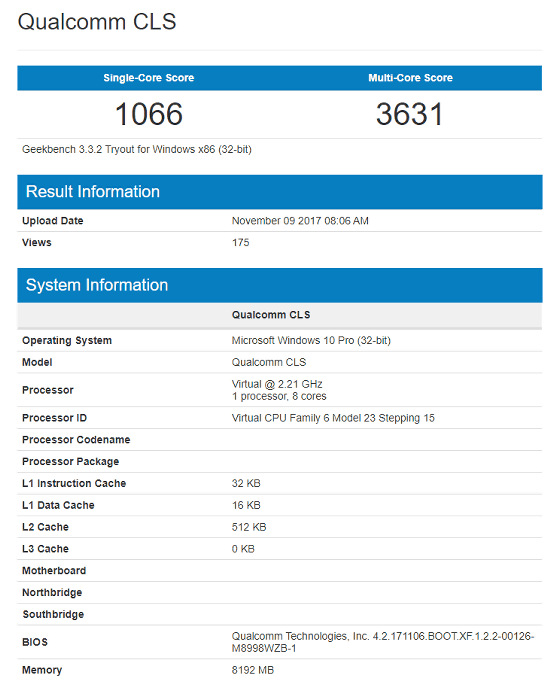 Performance of integer arithmetic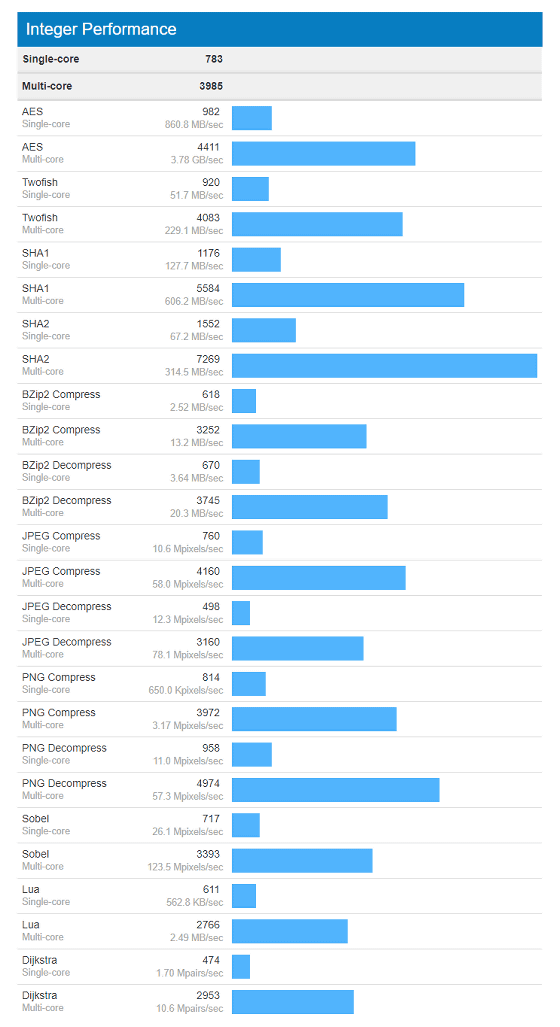 Performance of floating point arithmetic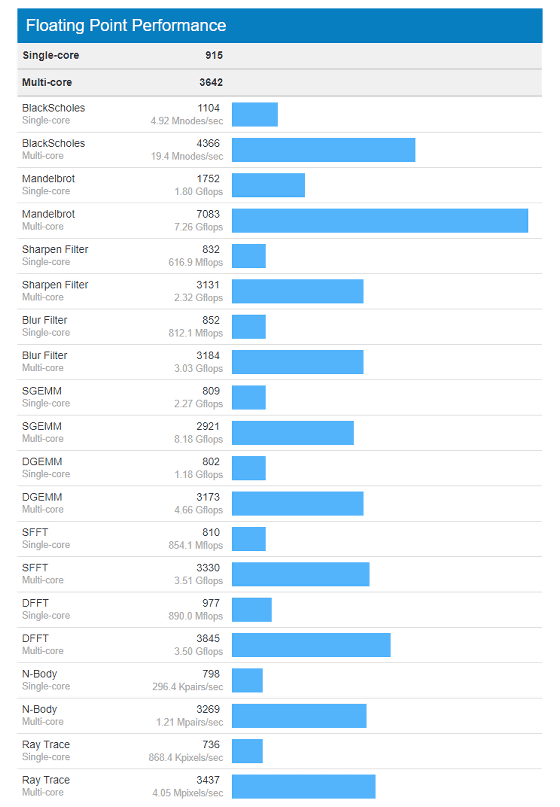 Memory performance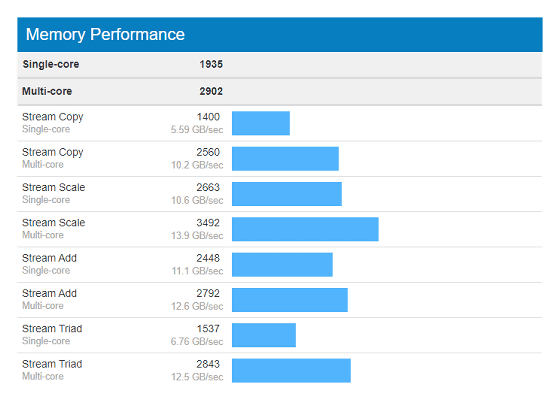 Since the Geekbench score of Intel's Core i3-8100 (4 cores) Windows 10 notebook is single core "3692" and multicore "11860", the benchmark score of ARM version Windows 10 is significantly lower than the score of Intel processors It is.




Also, the score of the ARM version Windows 10 terminal is not so good compared with the Geekbench score of Android terminal with Snapdragon 835 being about 2,000 for single core and about 6000 for multicore. However, it is the score of the test stage to the last, there is a possibility that the score improves greatly at the time of marketing.

·bonus
As for the ARM version Windows 10 notebook PC, the information is erroneously written in HP's warranty service care pack page, and the existence of a machine equipped with Soap with Snapdragon 835, 4 GB memory, 128 GB UFS type SSD has been clarified .