Nintendo Switch ideal hardware to use streaming service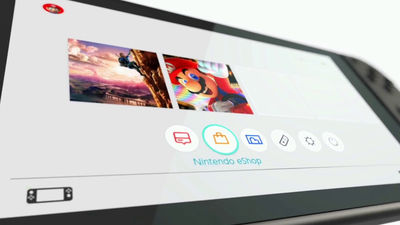 As a video streaming service for the Nintendo Switch, in Japan it is possible to watch Nico Nico video and niconico live broadcast "niconico"Delivery has been made, but" Hulu "for distribution to North America has started distribution. In response to this, overseas game related mediaPolygonIs posting an article "Why is Nintendo Switch the ideal streaming hardware?" And claims that the Nintendo Switch is the most suitable device for using video streaming service.

Why the Nintendo Switch is the ideal streaming hardware for parents - Polygon
https://www.polygon.com/2017/11/9/16628198/nintendo-switch-hulu-streaming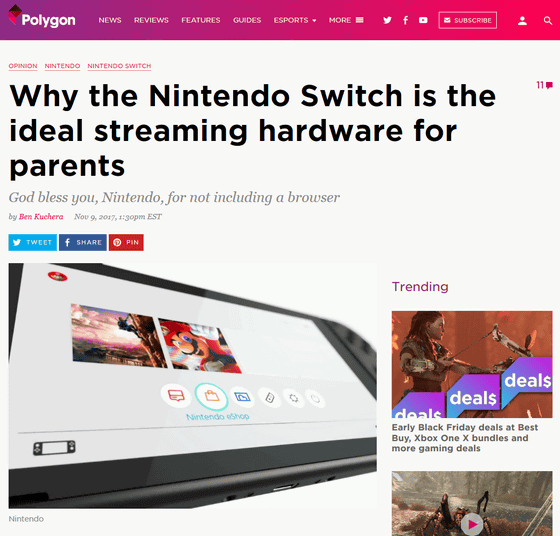 Nintendo Switch is a game terminal which can hardly be said to have strong machine power compared with PlayStation 4 Pro, Xbox One X, etc. Also,Movement of save data between movie capture and game machines could not be done until October 2017As you can see, Nintendo Switch was not equipped with the features that other game consoles have. But even soNintendo Switch was the most popular game machine in North America in July 2017As soon as Nintendo Switch's sales are releasedIt has grown steadily.is.

With such Nintendo Switch, video streaming serviceHulu exclusive applicationIt started distribution. Hulu is the first video streaming service application available in the United States, and considering the portability of Nintendo Switch, Hulu applications are considered attractive services for many people. Smartphones and tablets installed with video streaming applications are also competitors, but paying attention to "what can be done with the Nintendo Switch", Nintendo Switch is better than mobile devices such as smartphones, especially for parents with children It seems to be a good choice.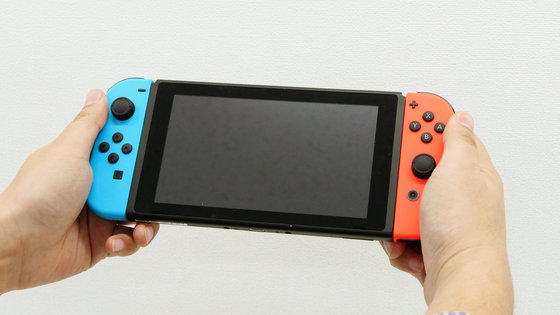 Since Nintendo Switch is a game machine in the first place, there is no need to incorrectly make a phone call like a smartphone, so there is no worry that children will install dubious apps. Also, since the Nintendo Switch does not have a web browser, you do not have to worry that children will be connected to someone who is malignant and strange through SNS etc.

In addition, since Nintendo Switch can set a password to enter Nintendo eShop which can purchase download version of game and download trial version,A child buys a paid game without permission of his parentsI am not worried.

Although Polygon's Ben Kukela saying that there are five children can set a password for smartphones and tablets so that children can use it safely, even if I use the same terminal, It is pointed out that turning on / off those safety locks is not "easy to use". On the other hand, Nintendo Switch claims that it can be a mobile device that can be given to children with peace of mind, and welcomes the fact that it is now available for streaming services as well as games with the newly introduced Hulu application.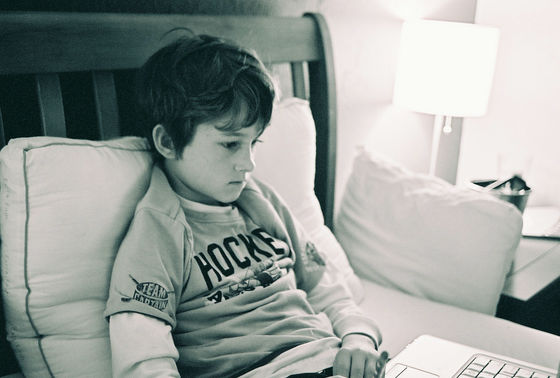 ByKevin Mullet

To prevent Nintendo Switch from connecting online from other than Nintendo Switch leads to eliminating the possibility that children will encounter unnecessary danger, and also on the fact that only limited functions are installed , Indicating that you can gradually add features with the update, Polygon has rated it as "a sound strategy."